An easy weeknight meal, these Barbecue Rubbed Pork Chops with Cheddar Grits combine grilled pork chops that are spiced with a simple barbecue blend with cheesy, creamy grits.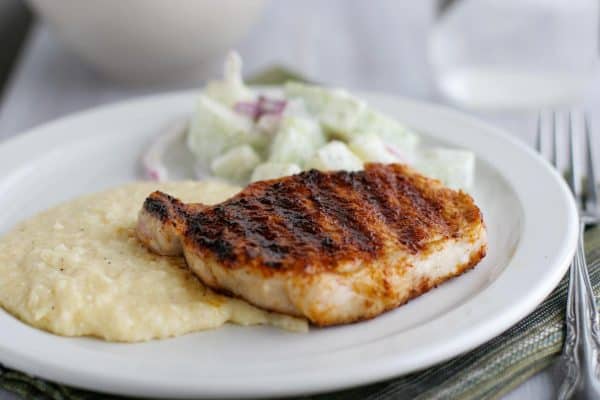 Photo Updated January 2013
One of my favorite things that they do in the Cooking Light magazine sometimes is layout a full meal plan. They give you the main dish, plus a side or two, and give you the timing – or a "Game Plan." Why do I love this so much? Well, if you have been reading my blog, you know that I have a hard time coming up with side dishes, so this takes the guessing game away for that. Plus, I am horrible at meal timing. I'm sure I could make dinner faster and more efficient most days, but I'm bad about knowing when to start one thing, or what I should be doing while another thing cooks. This game plan lays it all out for you, and you end up with a quick and effortless meal!!
I was especially excited to try this meal because I had never had grits before. Growing up, I was never a fan of hot cereal for breakfast. I could do without oatmeal or Cream of Wheat. Even today I'm not a big fan. So needless to say, I had never made grits with dinner. Well, my husband was on a grits kick for breakfast, so we had some at home, and when I saw this meal plan, I decided to give it them a try!
The pork chops don't get much easier. The recipe calls for bone-in chops, but I think I had some boneless chops in my freezer, so I used those and they worked just fine. A rub is made from spices I already have in my spice cabinet, and the the chops are grilled. Since it was December, I just used my grill pan, but I bet these would be great on the bbq grill.
Not only were the grits easy to prepare, but I couldn't believe how much I really liked them!! Maybe it was the cheese, because if you put enough cheese on something, I'm sure I'll like it, but I really fell in love with the whole dish! I'm thinking that I need to re-visit the idea of grits for breakfast now…
On the menu, it lists a cucumber-red onion salad, but a recipe is not given. I couldn't see us eating just cucumbers and red onions mixed together, so I just threw a few things together and came up with this salad. It was very refreshing and delicious!! In fact, my husband liked it so much that there was nothing left!
Overall, this was a delicious and satisfying meal. I can't wait to try it again this summer when we have the grill out and I can use fresh cucumbers from the garden!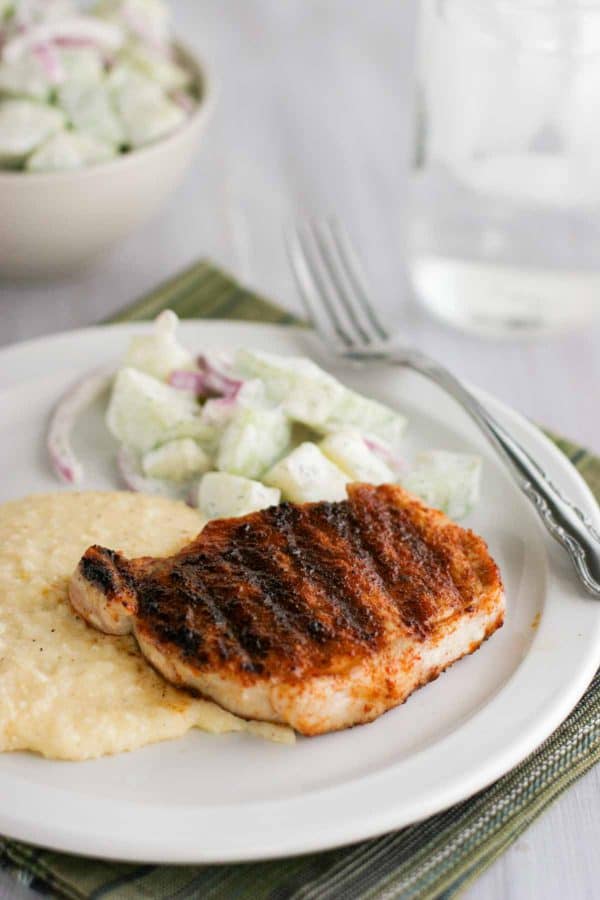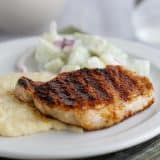 Barbecue Rubbed Pork Chops & Cheddar Grits
---
Author:
Prep Time: 10 minutes
Cook Time: 15 minutes
Total Time: 25 minutes
Yield: 4 servings 1x
Category: Main Dish
Method: Grill
Cuisine: American
Description
An easy weeknight meal, these Barbecue Rubbed Pork Chops with Cheddar Grits combine grilled pork chops that are spiced with a simple barbecue blend with cheesy, creamy grits.
---
Scale
Ingredients
Pork Chops
1 tablespoon light brown sugar
1 teaspoon salt
1 teaspoon paprika
1 teaspoon chili powder
3/4 teaspoon garlic powder
3/4 teaspoon ground cumin
1/4 teaspoon dry mustard
1/8 teaspoon ground allspice
1/8 teaspoon ground red pepper
4 boneless pork chops (about 1/2 inch thick)
Cooking Spray
Cheddar Grits
2 cups fat-free milk
1 1/4 cups water
3/4 cup quick cooking grits
1 cup reduced-fat shredded sharp cheddar cheese
1 tablespoon butter
1/2 teaspoon salt
1/8 teaspoon freshly ground pepper
---
Instructions
For the pork chops:
Combine the brown sugar, salt, paprika, chili powder, garlic powder, cumin, dry mustard, allspice and red pepper. Rub over both sides of the pork.
Heat a grill pan over medium-high heat. Spray with cooking spray. Cook the pork for 2 minutes on each side. Reduce the heat to medium and continue to cook the pork until done, turning occasionally. Remove from pan and let sit for 5 minutes before serving.
For the cheddar grits:
Combine the milk and water in a saucepan and bring to a boil over medium-high heat. Slowly whisk in the grits. Cover and reduce heat and simmer for 5 minutes, or until thick. Remove from the heat and add in the cheese, butter, salt and pepper. Stir until the cheese melts.