Dinner (and lunch!) made easy! Make up a batch of this BBQ Chicken Salad with Ranch to serve as a sandwich on a busy night, then turn it into wraps for the kids' lunches the next day.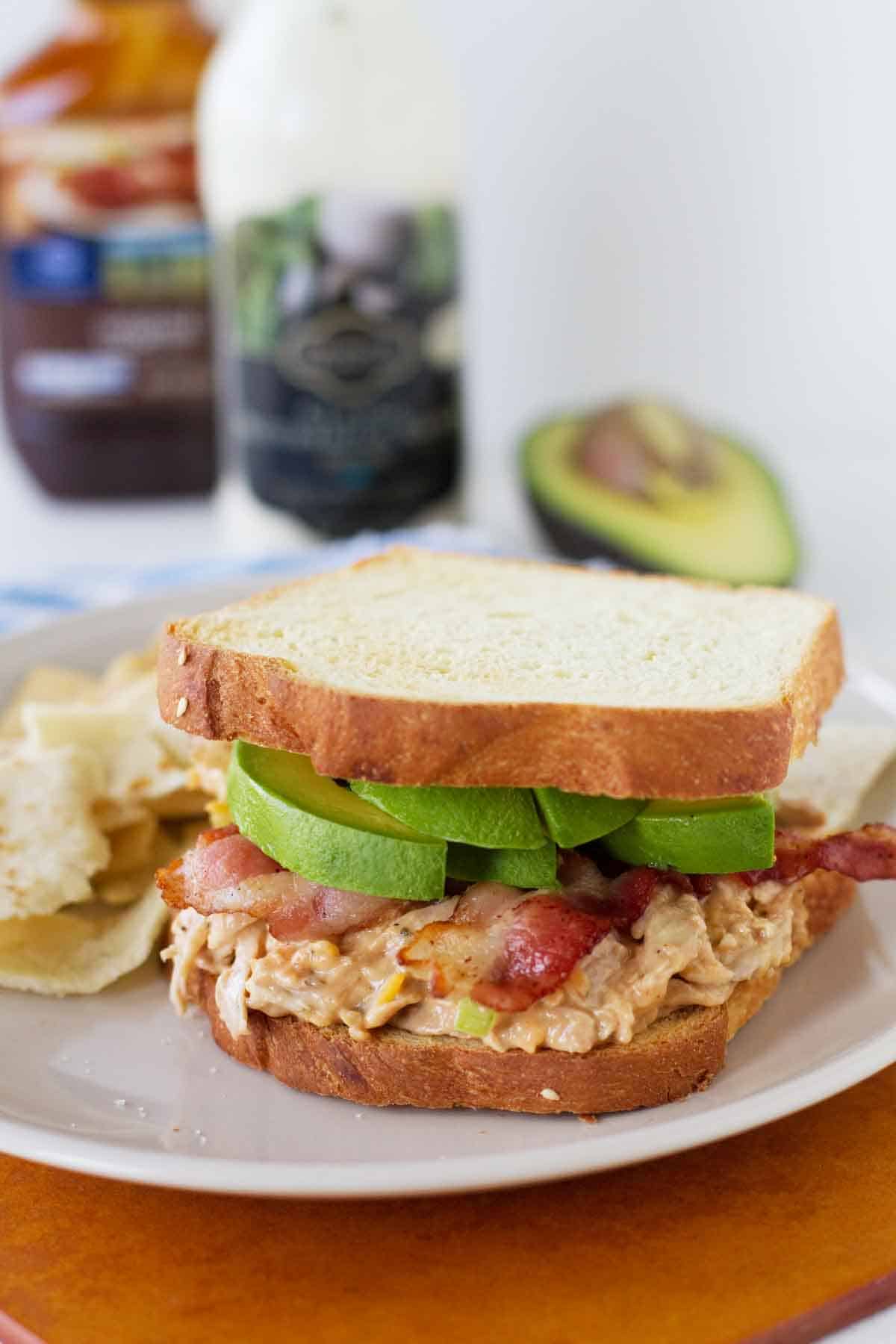 This post is sponsored by Kroger
If you all follow me on Facebook, you know that I sometimes struggle with making lunches. It's just that I never really feel very creative. But now that it's back to school time, I've got lunches on the brain again.
For myself, when I'm at home, I'm totally ok eating leftovers, just heated up. But my kids? Not so much. So I'll usually end up making them something new, which isn't always easy or convenient for me.
So I decided to try to find a way to disguise those leftovers. A way to get them to eat those leftovers. And I wanted something that would be great to send in a lunchbox to school.
I'm excited to announce that I am partnering up with Kroger to bring you a few posts – this first one all about that school lunch. Making it quick and easy, and something that the kids will love! But do you know what would make it even better? If it starts with dinner the night before!
Since it's back to school time, which means that life is crazy as everyone settles into a new routine, I know that dinnertime often gets put on the back burner and isn't the biggest priority. So when we have days like that, I like to resort to sandwiches. They are fast, easy, and frankly – my whole family loves them. This sandwich was a total winner at our house – and by starting with a shredded Kroger Wholesome @ Home Rotisserie Chicken, this seriously came together in about 10 minutes – or 15-20 minutes if you count the time it takes to shred the chicken. Talk about an easy weeknight dinner. And who can resist the ranch/bbq combination? I know I can't!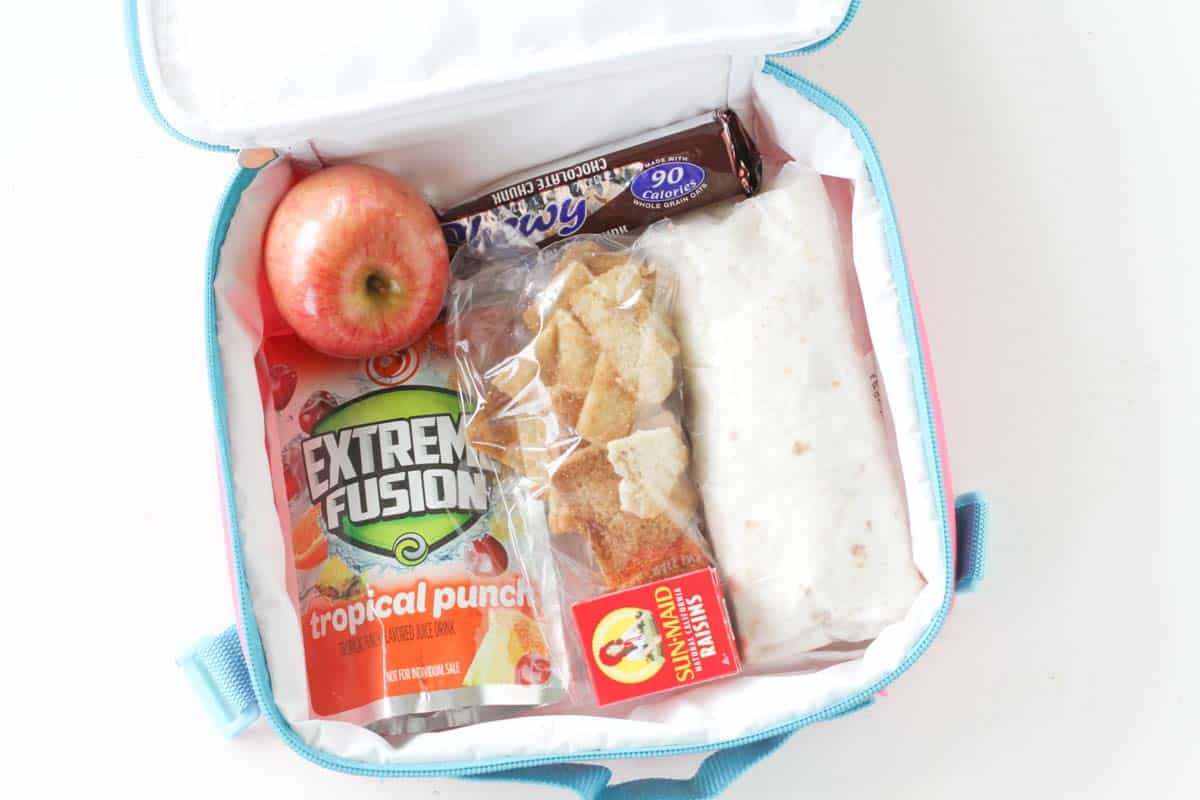 This recipes makes enough for 4 sandwiches for dinner, with leftover chicken salad to make into wraps for the next day. Now, I know that this isn't re-inventing the wheel, and going from a sandwich to a wrap isn't wildly different, but to kids, it is. In fact, I think my daughter actually liked the wrap the next day even better! I love turning it into a wrap for several reasons. Mostly because you can make them the night before and pack the lunch so that you don't have to worry about rushing the next morning. I loved the avocado on the sandwich, but opted to leave it out of the wrap because I didn't want to end up with brown, mushy avocado the next day. And the bacon is optional, depending on if it's something your kids like or not.
To finish out the lunch box, I found all kinds of Kroger products that my kids go crazy for. Extreme Fusion Tropical Punch, the Private Selection Cinnamon Sugar Pita Chips (I go crazy for those, too!), and a Kroger granola bar. Round it out with some fresh fruit, or Kroger even makes individually packaged applesauce or yogurt tubes that are perfect for school lunches. Let me tell you – this was the easiest lunch box I've ever put together, and both of my kids loved everything in it!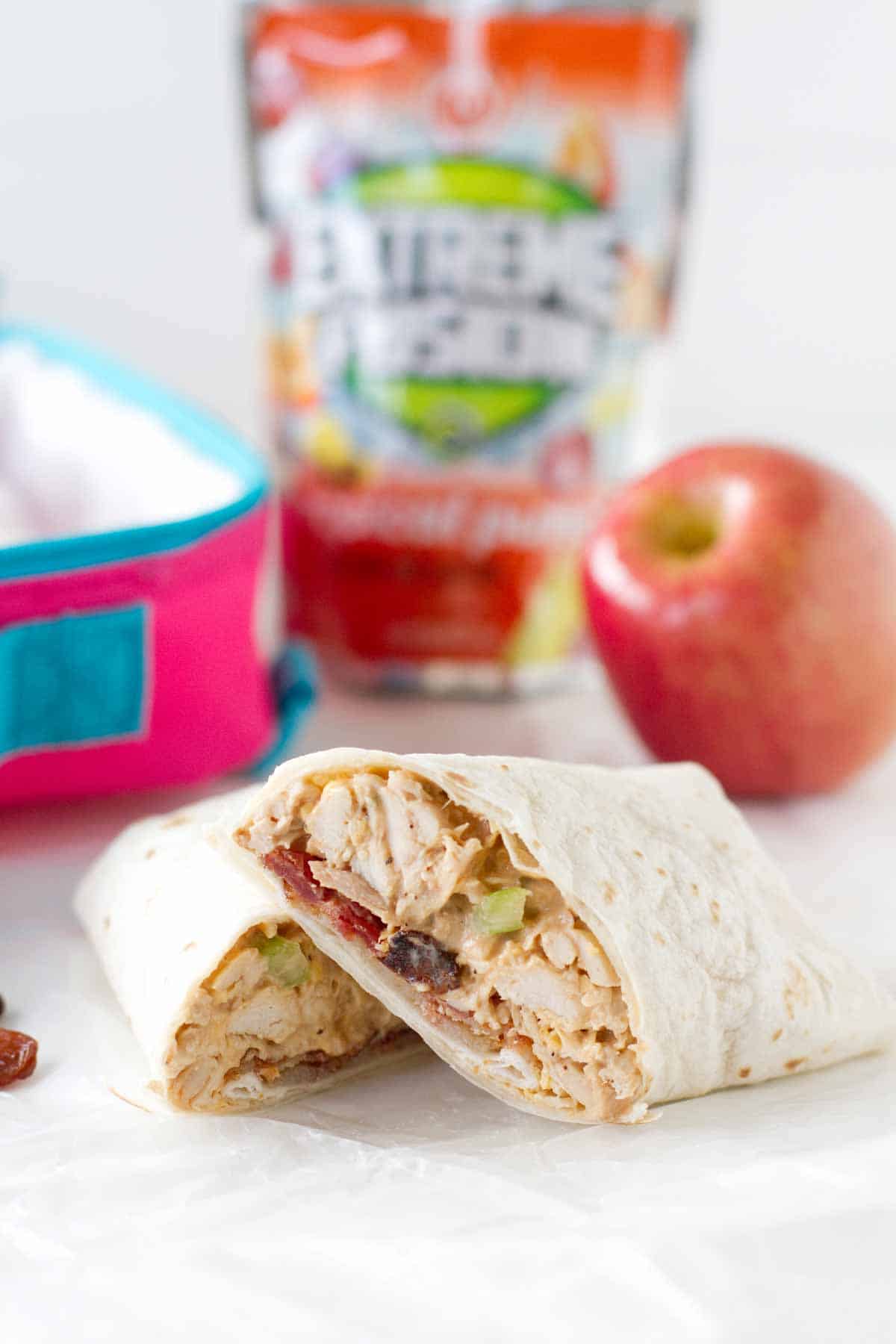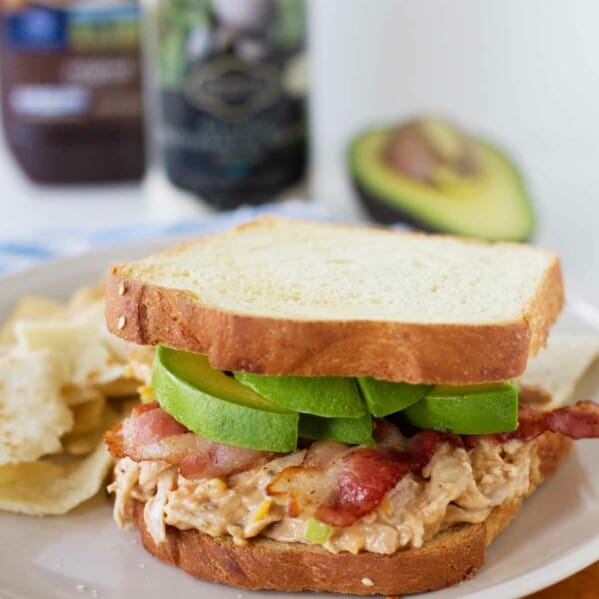 BBQ Ranch Chicken Salad
---
Author:
Prep Time: 10 minutes
Total Time: 10 minutes
Yield: 8 servings 1x
Category: Main Dish
Method: No Bake
Cuisine: American
Description
Dinner (and lunch!) made easy! Make up a batch of this BBQ Chicken Salad with Ranch to serve as a sandwich on a busy night, then turn it into wraps for the kids' lunches the next day.
---
Scale
Ingredients
4 cups shredded Kroger Wholesome @ Home Rotisserie Chicken
1/2 cup Private Selection Classic Buttermilk Ranch Dressing
1/2 cup Kroger Original Barbecue sauce
2 tablespoons mayonnaise
1/2 cup chopped celery
1 cup shredded cheddar cheese
salt and pepper
12 slices bacon, cooked
for sandwiches: 8 slices bread, sliced avocado
for wraps: 4 tortillas
---
Instructions
In a large bowl, combine the chicken, ranch dressing, barbecue sauce, mayonnaise, celery and cheese. Mix together. Season to taste with salt and pepper.
For sandwiches – Top each sandwich with some of the chicken salad mixture, 2 slices of bacon and some sliced avocado.
For wraps, place one piece of bacon across each tortilla, then top with the chicken salad. Wrap up the tortilla.
Keywords: bbq chicken salad