Burritos stuffed with quinoa, black beans, shredded chicken, cheese and lettuce, as well as a homemade chipotle guacamole.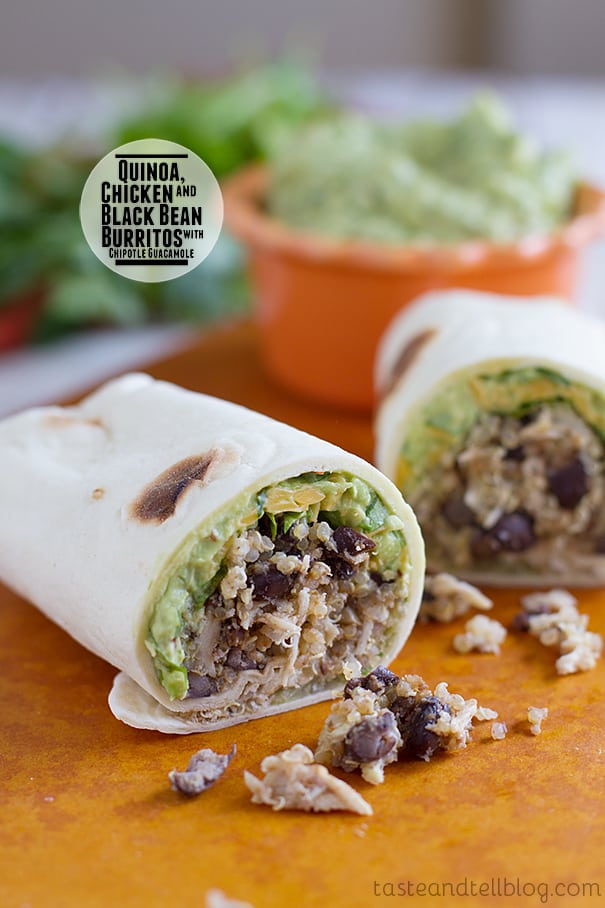 Whenever anyone asks what my food blog is about, I tell them that it is family friendly food. This doesn't mean chicken nuggets and corn dogs, (although I do have both of those!!), but it means what I am feeding my family. My family of 3 young children and a husband with a semi-picky appetite. Does this mean that my kids always eat what I make? Oh, how I wish!! But when I do my meal planning, I plan with my family in mind.

Every once in awhile, though, I'll come up with a recipe idea or run across a recipe somewhere that I'm pretty sure my family will hate, but I want to make it anyway. It doesn't happen often, mostly because I love cooking for others, and if no one else will eat, it's a lonely dinnertime for me. 🙂 But sometimes, I just have to take that chance.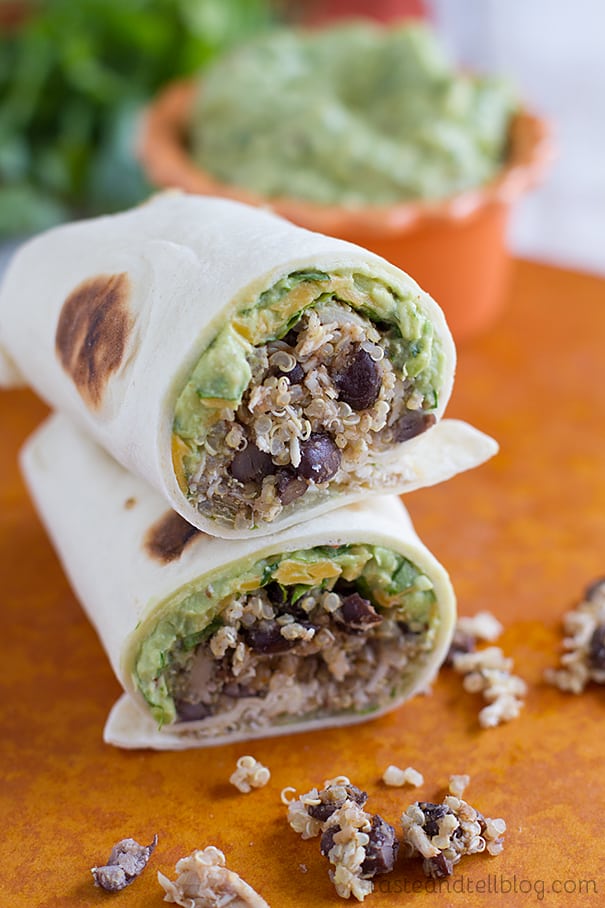 That's what I was feeling when I set out to make these burritos. I knew right from the get-go that my husband wouldn't like them. He has a weird thing against quinoa – he won't touch it. Which explains why there is very little of it here on Taste and Tell. But I decided to be selfish and make these.
The real test, though, was the kids. I wouldn't exactly look at these and call them child friendly.
But guess what??
All 3 kids ate these. Devoured them. It was truly a miracle, as my 3-year old doesn't eat anything that isn't chocolate or bread. But even he cleared his plate.
My husband may have to suffer more in the future if it means all 3 kids are eating dinner. Go figure that the dinner I thought no one would want would be one of the most successful ones!!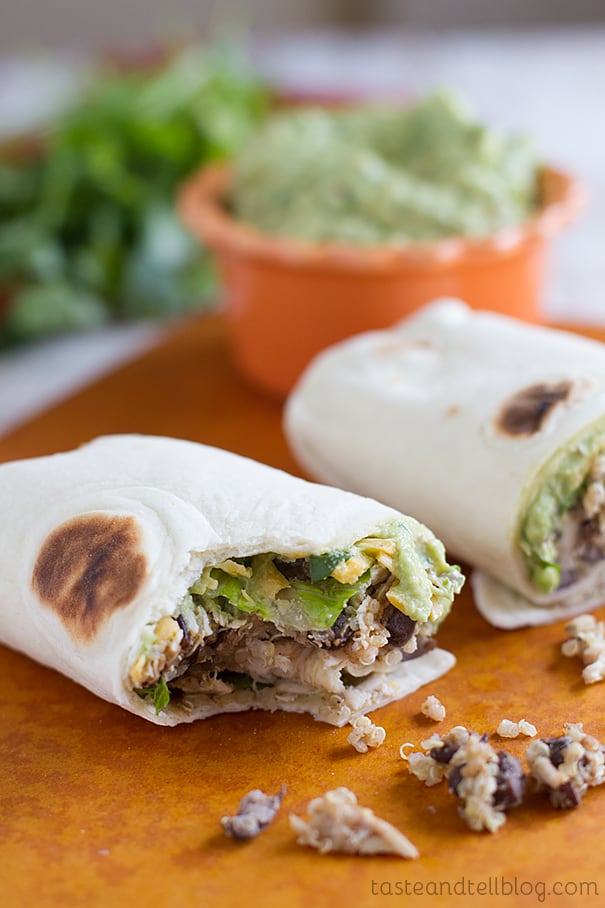 Like what you see here? Make sure you are following Taste and Tell for more great recipes and ideas!!

Facebook ** Pinterest ** Twitter ** Instagram ** Google+
or you can subscribe to my newsletter or Feedly or Bloglovin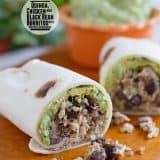 Quinoa Chicken and Black Bean Burritos with Chipotle Guacamole
---
Prep Time: 20 minutes
Cook Time: 10 minutes
Total Time: 30 minutes
Yield: 6 servings 1x
Description
Burritos stuffed with quinoa, black beans, shredded chicken, cheese and lettuce, as well as a homemade chipotle guacamole.
---
Scale
Ingredients
Chipotle Guacamole
2 ripe avocados
1 chipotle pepper in adobo, seeds removed and minced
2 tablespoons sour cream
juice of 1 lime
handful of cilantro leaves
Burritos
1 tablespoon extra virgin olive oil
2 cloves garlic, minced
1 teaspoon chili powder
1 teaspoon cumin
1 can (15 oz) black beans, drained and rinsed
1/4 cup water
2 cups cooked quinoa*
2 cups cooked, shredded chicken
6 burrito sized tortillas
shredded cheddar cheese
shredded lettuce
---
Instructions
Make the guacamole:
In a bowl, roughly mash the avocados. Stir in the chipotle pepper, sour cream, lime and cilantro. Season to taste with salt.
Make the burritos:
Heat the olive oil in a large saute pan over medium heat. Add the garlic, chili powder and cumin and cook until fragrant, about 60 seconds. Stir in the black beans and the water and cook until the beans are warmed though and soft, about 8 minutes.
In a large bowl, combine the quinoa and the chicken. Stir in the black bean mixture.
To assemble the burritos:
Spread some of the Chipotle Guacamole down the center of a tortilla. Top with some of the quinoa mixture, shredded cheddar cheese and lettuce. Roll up into a burrito. Repeat with the remaining ingredients.
Recipe Notes:
*I like to cook my quinoa in vegetable or chicken broth to add more flavor.
More Burrito Ideas: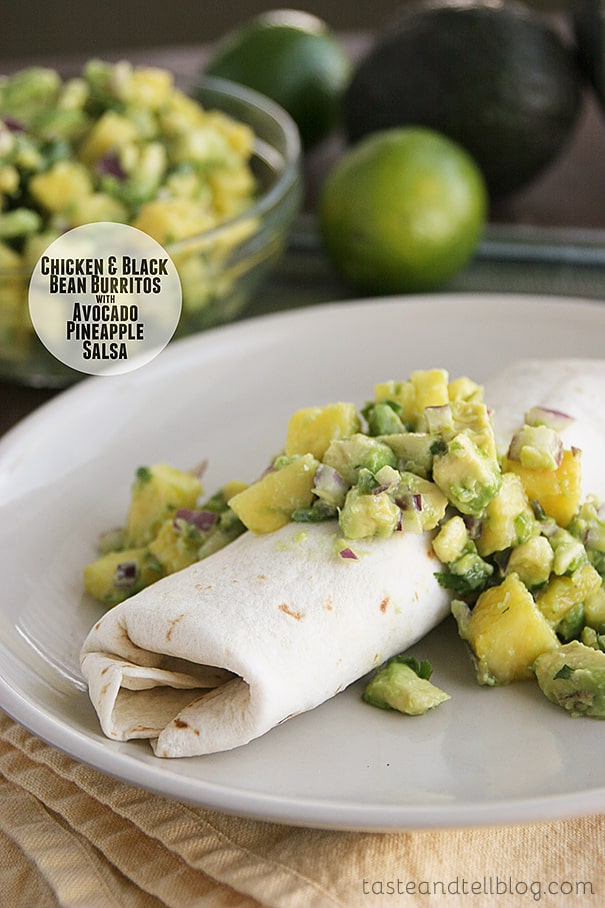 Chicken and Black Bean Burritos with Avocado Pineapple Salsa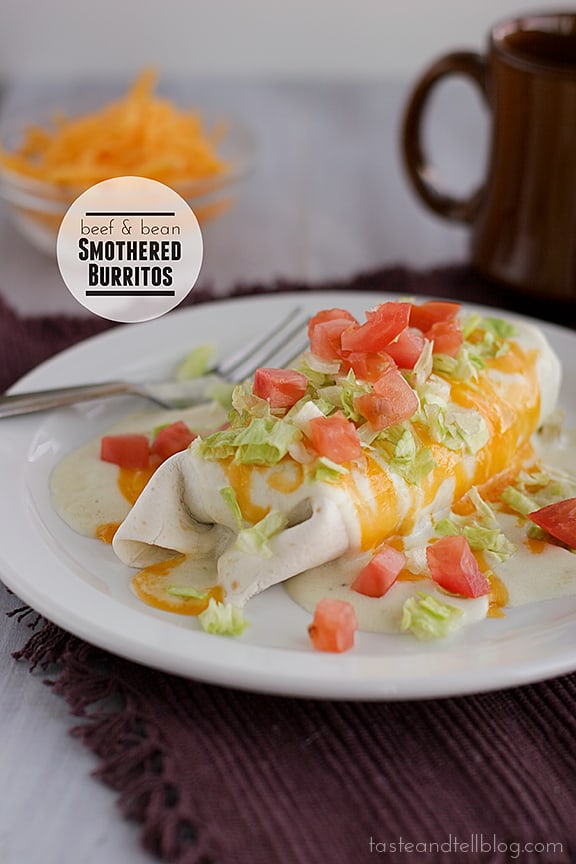 Beef and Bean Smothered Burritos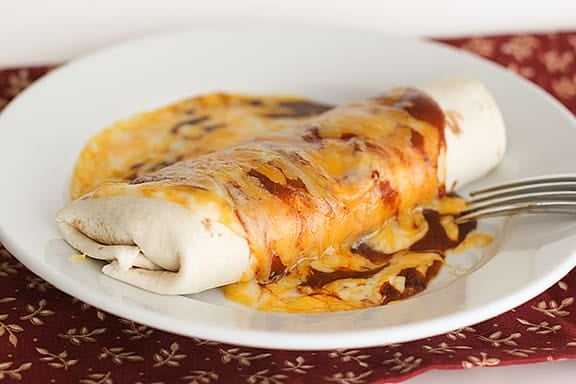 Around the Web:
Neato Frito Overstuffed Burritos fro Foodie with Family
Cafe Rio Sweet Pork Burrito from Favorite Family Recipes
California Burrito with Grilled Zucchini from Sweet Basil