This easy stir fry chicken is super simple and done in 30 minutes. Leeks and sesame seeds turn this into a dish filled with flavor with only a few ingredients.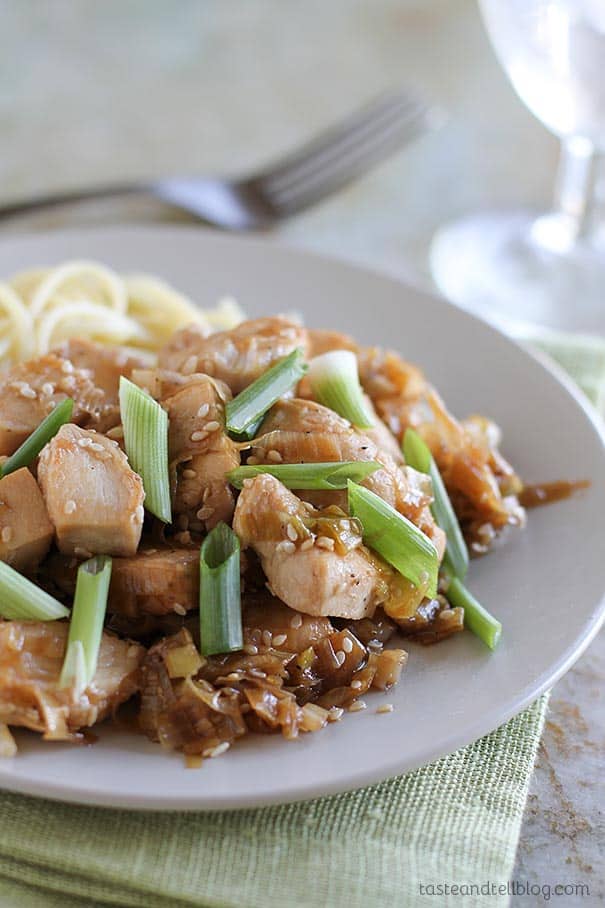 Photos Updated October 2014



Originally posted June 16, 2008 – As we head into the holiday season, I'm stock piling easy, no fuss dinner ideas. This Stir Fry Chicken recipe is one from the archives that I recently remade and re-fell in love with. Except for the leeks, I keep everything else on hand, so it's a great go to recipe!
Do you remember back when I asked for your leek recipes? Well, if I was on top of it, I would have posted this recipe right after that post, with a follow up post shortly after on what I decided to do with the remaining leeks. But I'm not on top of it. In fact, I feel like I'm not on top of anything in my life lately. I keep thinking that things are going to slow down, but maybe that is just the nature of today's world – too much to do and too little time!!
So it may be late, but here is my first recipe featuring leeks. I will post the second on Wednesday – and I did use one of the suggestions I received.

This recipes comes after trying to work my way through my cookbooks. Now that I am posting this recipe, I can cross another cookbook off the list!
Back in my single days, I didn't really cook very often. I guess mainly because cooking for one is not as much fun as cooking for more than one. Plus, living with roommates, there is just not a lot of room to keep a decently stocked kitchen. Add to that the busier social calendar – meals just didn't come out of my kitchen very often. But I've always been a sucker for a new cookbook. I didn't have as many back then, but I would always go through the shelves at bargain stores like TJ Maxx and Ross. They were never well known cookbooks, but they were always filled with tons of pictures and lots of tasty sounding food. In fact, some of my favorite recipes have come from these cookbooks. This is one of those "bargain" cookbooks. I actually think I bought a copy of this chicken cookbook as a gift, but after looking through it, I decided that I wanted a copy of it for myself as well, so I went and bought another copy. And then there it sat. Another cookbook that I have looked through many times, but have never actually cooked out of. Well, that has now changed.
This is an easy and fast stir fry chicken recipe. And it got me to use an ingredient that wasn't as familiar in my kitchen – the leek. The recipe says to serve with pasta or rice – we opted for some angel hair pasta, and it was perfect! I'm always looking for something different to do with chicken, and this stir fry chicken recipe is just that! We loved it!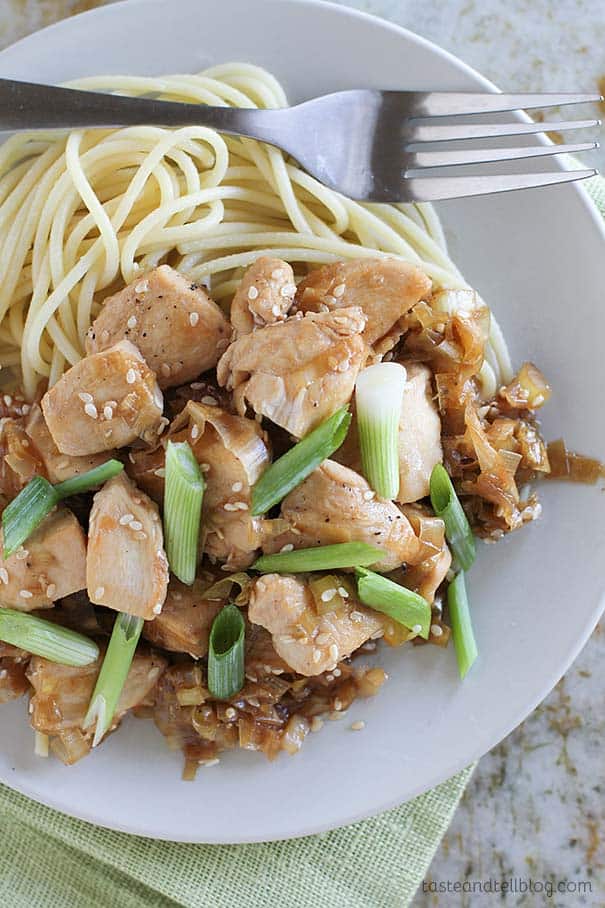 Like what you see here? Make sure you are following Taste and Tell for more great recipes and ideas!!

Facebook ** Pinterest ** Twitter ** Instagram ** Google+
or you can subscribe to my newsletter or Feedly or Bloglovin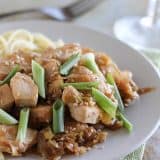 Stir Fry Chicken with Sesame and Leeks
---
Prep Time: 15 mins
Cook Time: 15 mins
Total Time: 30 mins
Yield: 4 servings 1x
Description
This easy stir fry chicken is super simple and done in 30 minutes. Leeks and sesame seeds turn this into a dish filled with flavor with only a few ingredients.
---
Scale
Ingredients
1 leek
2 tablespoons sesame seeds
1 tablespoon vegetable oil
2 teaspoons sesame oil
1 1/2 lbs boneless, skinless chicken breasts, cut into bite sized pieces
2 cloves garlic, smashed
2 tablespoons soy sauce
1 tablespoon mirin
1 teaspoon sugar
sliced green onions
---
Instructions
Cut the leek in half lengthwise, then cut into half-moons, about 1/4 inch thick. Place the leeks in a large bowl of water and swish them around, letting the grit and dirt fall to the bottom of the bowl. Remove the leeks with a slotted spoon to a paper towel. Let drain and dry.
Heat a large skillet or wok over high heat. Add the sesame seeds and cook until they are golden brown, stirring constantly. Remove to a bowl.
Add the vegetable oil and sesame oil to the skillet and swirl to coat the skillet with the oils. Add the chicken in three batches, cooking until browned. Return all of the chicken to the skillet.
Add the leek and the garlic to the chicken and cook for 2-3 minutes, or until the leek is soft. Check the chicken to see if it is cooked through; if it is not, reduce the heat and cover the skillet and allow the chicken to cook until cooked through.
Add the soy sauce, mirin and sugar to the chicken. Add the sesame seeds and stir to combine. Season to taste with salt and pepper. Serve topped with the green onions.
I love to serve this over pasta, but it's also great with rice.