This creamy butternut squash risotto is the perfect autumn comfort dish.
I don't think I'd make a very good Italian.
Don't get me wrong – I love Italian food. I just don't think that I eat my Italian food like an authentic Italian person. Take risotto, for example. Granted, I have never had risotto outside of my house, so I don't even know how my risotto compares to an "authentic" risotto, but I have yet to make a recipe that I don't end up adding a lot more liquid to, because the rice is still too al dente for my tastes. And while I don't like my pasta way overcooked like my husband does, I still like it pretty soft.
I was watching a show on tv the other day, and the chef – who is very Italian, made a pasta dish. When he served it up, I could tell that it would have been way undercooked for me. At first, I thought it was just because he was doing a tv show and was under a time crunch, but he described it as "crunchy". Please tell me that is not how the pasta is actually cooked in Italy!!
But regardless, I still love Italian food. And I'll continue to cook it my way, which may mean a little more liquid! (The recipe below has the original amount of liquid – I probably added an additional cup of broth.)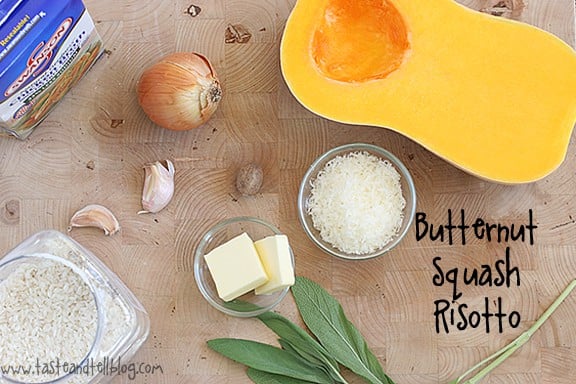 Kind of funny – I actually had this recipe on the menu to make on Wednesday night. Then that very day, on Facebook, the Rachael Ray Magazine linked to this exact recipe. It was a bit ironic, considering that this recipe was printed in a 2007 issue of the magazine. Talk about fate!!
I did end up switching this up just a little bit. The recipe calls for frozen butternut squash puree, which would be super easy, but I've never seen frozen butternut squash puree here. Plus, it's super easy and super cheap to make your own – it just takes a little bit of time to roast the squash. One squash will give you more than you need for this recipe, so you'll need another butternut squash recipe to make something with the leftovers, or you can always freeze the remaining puree to use later!
This risotto is going right at the top with my favorites. This was truly a dish of fall comfort on a plate. Even though the temps are still high here, this made it feel like autumn. And it felt good!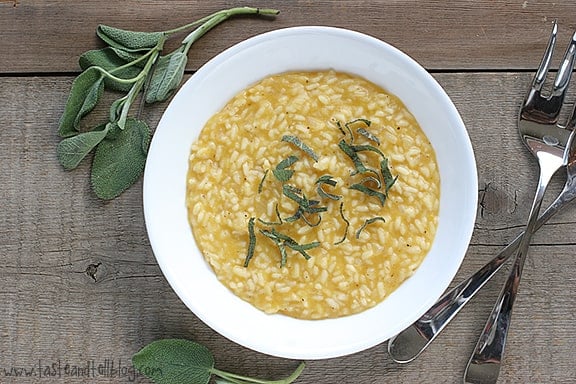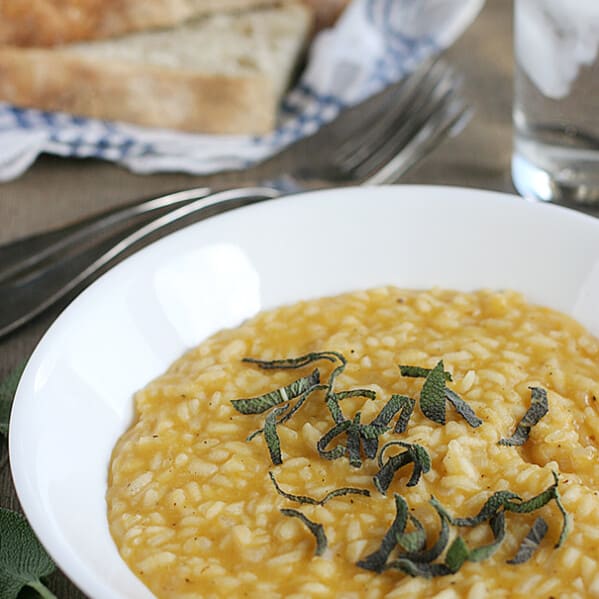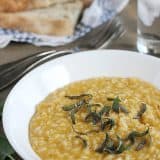 Butternut Squash Risotto
---
Prep Time: 15 minutes
Cook Time: 1 hour 15 minutes
Total Time: 1 hour 30 minutes
Yield: 4-6 servings 1x
Description
This creamy butternut squash risotto is the perfect fall comfort dish.
---
Scale
Ingredients
1 small butternut squash
5 cups chicken broth
2 tablespoons extra-virgin olive oil
1 small onion, finely chopped
2 cloves garlic, grated or finely chopped
2 cups arborio rice
nutmeg
salt and pepper
1 cup grated Parmigiano-Reggiano cheese
2 tablespoons butter, cut into pieces
10 leaves fresh sage, slivered
---
Instructions
Preheat the oven to 400F. Slice the butternut squash in half through the long side. Set both halves on a cookie sheet, then cook in the preheated oven until the squash is soft, about 30 minutes. (This could be less or more, depending on the size of your squash. You can check to see if it is done by piercing it with a fork. It will be soft when it is done.) Remove from the oven and allow to cool.
When cool, process in a food processor until smooth. Weigh out 12 ounces, and store away the rest of the squash for another use.
In a large saucepan, bring the chicken broth plus 1 cup water to a boil over medium-high heat. Turn the heat down to low and allow to simmer.
In a large skillet, heat the olive oil. Add in the onion and cook until softened, about 2 minutes. Add in the garlic and cook until fragrant, about 30 seconds. Add the rice and toast for 3 minutes.
Add 2 ladlefuls of the warm broth to the rice and stir until the liquid evaporates. Repeat with the remaining broth, cooking until the risotto is creamy, about 20 minutes. During the last 3 minutes of cooking, stir in the butternut squash puree. Season with the nutmeg, salt and pepper. Stir in the butter and cheese, stir until combined, then serve, topped with the sage.
Recipe adapted from Every Day with Rachael Ray November 2007
——————————–
More delicious butternut squash recipes:
Creamy Butternut Squash Soup from Taste and Tell
Butternut Squash and Balsamic Onion Sandwich from Naturally Ella
Curried Butternut Squash Soup with Homemade Apple Chips from Cooking Melangery
Butternut Squash Mac and Cheese from Oh She Glows
Simple Butternut Squash Soup from Greedy Gourmet