Celebrate fall with this Bacon and Spiralized Butternut Squash Pizza – creamy ricotta cheese is topped with spiralized butternut squash and crispy bacon for a pizza packed with fall flavors.
Every year it's the same thing. Fall rolls around, and everyone starts going pumpkin crazy. I love pumpkin as much as the next guy, but my thoughts always go to butternut squash. Yes, this large, thick-skinned squash is what makes me all heart-eyed.
Almost equal to my love of butternut squash is my love of pizza. We have homemade pizza several times every month. My kids always want pepperoni or plain cheese, but I like to switch it up sometimes and make an "adult" pizza, as well. This Bacon and Spiralized Butternut Squash Pizza combines that love of butternut squash and that love of pizza for the perfect fall pizza.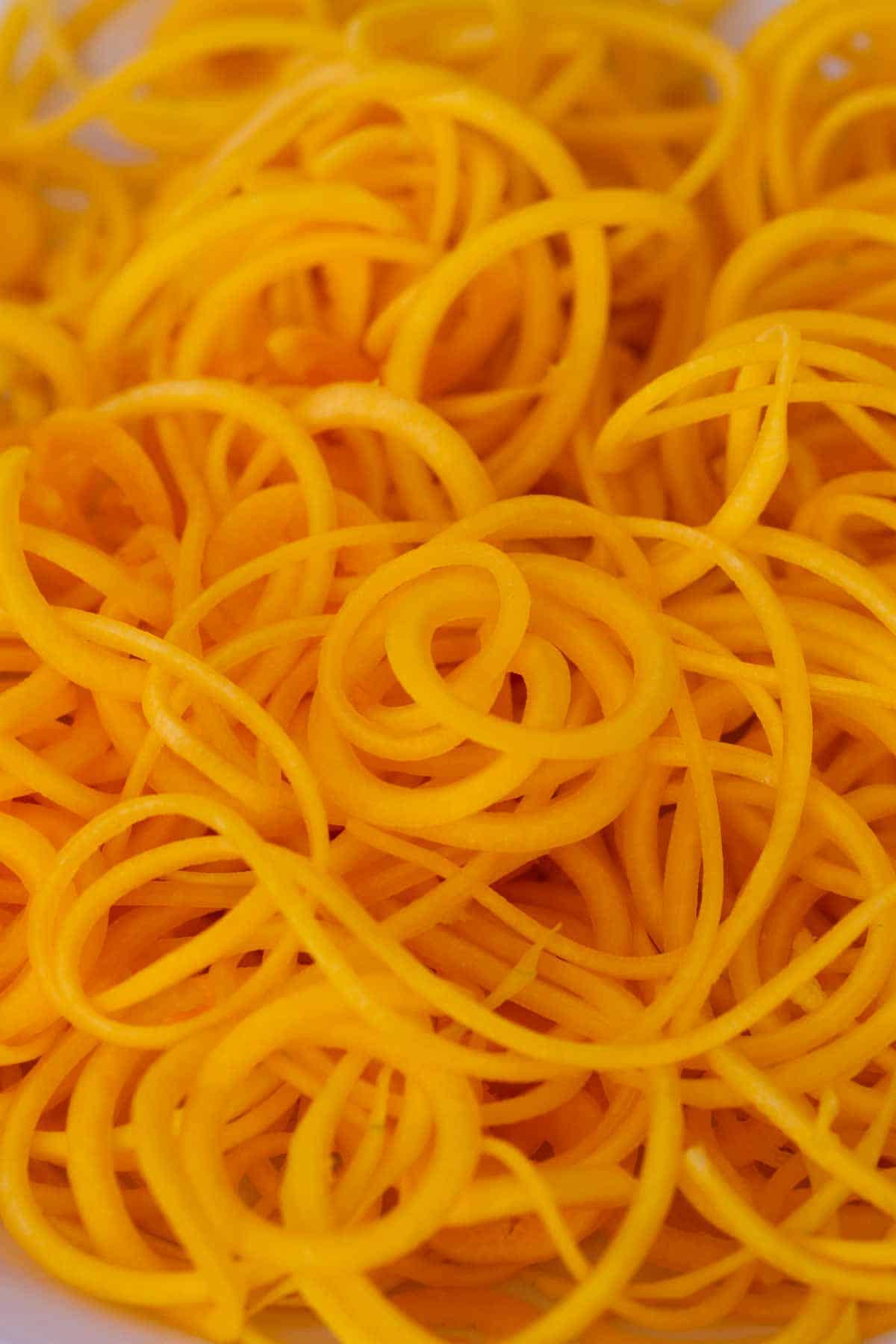 Now, my husband almost thought I was crazy when I was making this. Spiralized butternut squash on a pizza? I know it's a bit different. But when I saw this idea in a recent magazine, I immediately wanted to give it a try. Plus, my spiralizer doesn't get nearly enough use these days, so it was about time I broke it out.
This was the perfect way to combine butternut squash and pizza. By spiralizing the butternut squash, you don't have to precook it – it is thin enough to just bake right there on the pizza. The combination of butternut squash and bacon – as well as a garlic ricotta on the bottom – well, it just makes the perfect, sophisticated pizza.
My kids may have passed this one up for the pepperoni pizza, but I went to town on this. And I can't wait for the next pizza night.
Looking for more butternut squash recipes?
Skillet Butternut Squash Lasagna
Butternut Squash Chili with Beef
Butternut Squash and Sage Pizza
Stuffed Butternut Squash
Looking for more pizza recipes?
Artichoke, Tomato and Spinach Pizza
Blue Cheese and Bacon Pizza
Egg Pizza with Creamed Spinach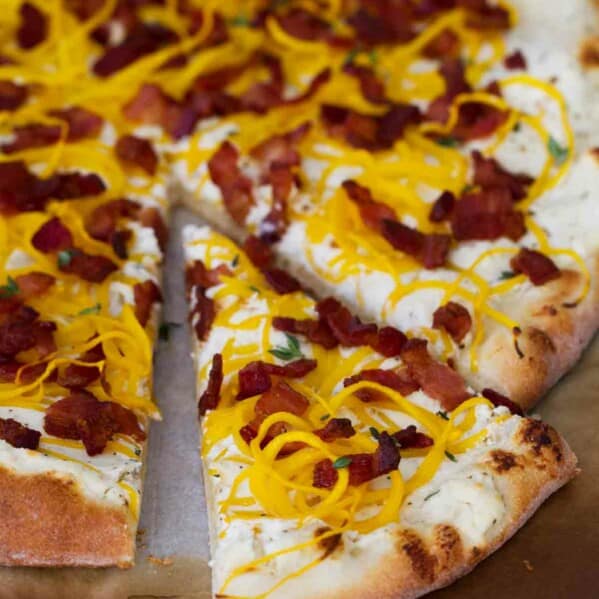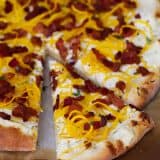 Bacon and Spiralized Butternut Squash Pizza
---
Author:
Prep Time: 30 mins
Cook Time: 10 mins
Total Time: 40 minutes
Yield: 4 servings 1x
Category: Main Dish
Description
Celebrate fall with this Bacon and Spiralized Butternut Squash Pizza – creamy ricotta cheese is topped with spiralized butternut squash and crispy bacon for a pizza packed with fall flavors.
---
Scale
Ingredients
8 oz bacon
1 lb pizza dough
1 cup ricotta cheese
2 cloves garlic, minced
1 teaspoon thyme
1/4 teaspoon salt
1/4 teaspoon pepper
2 cups spirlaized butternut squash
---
Instructions
Place a pizza stone in the oven and preheat to 450º – 500º F. (As high as your oven will go.)  Let the oven heat for at least 30 minutes.*
Meanwhile, dice the bacon. Cook in a skillet over medium-high heat until crisp, then remove with a slotted spoon to a paper towel lined plate.
Roll the pizza dough out on a piece of floured parchment paper. (Alternately, you can roll out on a cornmeal dusted surface.)  Roll the dough out into a large circle.
In a bowl, combine the ricotta, garlic, thyme, salt and pepper.  Spread evenly over the pizza dough. Top with the butternut squash, then sprinkle the bacon over the top.
Transfer the pizza to the oven and bake until the crust is crisp, about 10 minutes.
Recipe Notes:
*If you don't have a pizza stone, you can coat a large baking sheet with oil and stretch the dough out on the baking sheet.  It may need to cook a few extra minutes to crisp up on the bottom.
Inspired by Every Day with Rachael Ray November 2017
Nutrition information provided as an estimate only. Various brands and products can change the counts.
Nutrition
Serving Size: 1/4 pizza
Calories: 551
Sugar: 4 g
Sodium: 2893 mg
Fat: 20 g
Saturated Fat: 8 g
Unsaturated Fat: 6 g
Trans Fat: 0 g
Carbohydrates: 66 g
Fiber: 3 g
Protein: 27 g
Cholesterol: 51 mg
Products you may need for this recipe
Spiralizer: I am not one that loves tons of kitchen gadgets, but I do think this one is worth it. If you don't have a spiralizer, you can cut the noodles by hand, or use a vegetable peeler, but a spiralizer is much faster and makes the noodles more even. If you don't want to buy a full spiralizer, there are smaller handheld ones. I haven't tried them, but they would be less of an investment.
Pizza Stone: I have included instructions for baking without a pizza stone, but I 100% recommend buying a pizza stone if you don't have one. You will be amazed what a difference the stone makes! They are relatively inexpensive and will last forever if taken care of. Just make sure you put it in a cold oven and let it heat up as the oven heats up.
Parchment Paper: I started using parchment paper when baking pizza a few years ago because my husband doesn't care for the cornmeal on the bottom of the pizza that you need to use to transfer the pizza to the oven otherwise. The paper will get browned, but I have never had an issue using it. So if you are worried about transferring the pizza to the oven, give the parchment paper trick a try!