Prosciutto Ravioli – ravioli made with wonton wrappers and filled with spinach and prosciutto. The ravioli are served with a simple oregano butter on top.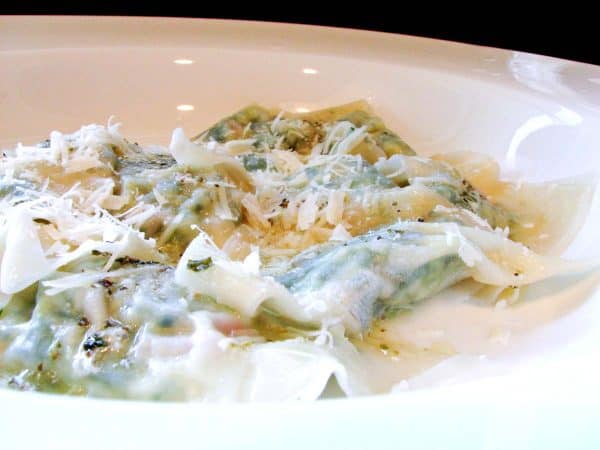 I think I chose very well when I ordered the cookbooks I ordered. I have already fallen in love with David and Dorie, Giada is following closely behind. (What can I say – I love sugar and sweets, so of course those cookbooks are going to be my favorites!!)
I decided to try out one of Giada's recipes this weekend, and her prosciutto ravioli recipe stood out to me from the beginning. I have a hard time finding prosciutto (sad, huh!!) and I happened to find some last week, so I put it to good use in this recipe.
The recipe itself was very easy, but a little bit time consuming. I can't imagine how long it would take to make ravioli from complete scratch!!
I love that she used wonton wrappers for this. I would have to say that these were good enough to eat on their own, without the butter sauce on top, but I did add the butter sauce to mine. I kept the sauce separate to serve on the side because I knew my husband would want marinara on his.
I should have halved the recipe like I usually do, but this gave us some good leftovers for lunches this week. I did have some for lunch today, and I think the leftovers may even be better than when they were first made, although they did stick together quite a bit. I want to try this recipe again some day and experiment with the fillings – different cheeses, meat, etc.
This is the perfect recipe for people who want to try their hand at homemade ravioli, but aren't quite ready to make the pasta from scratch.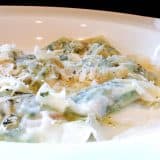 Prosciutto Ravioli
---
Author:
Prep Time: 30 mins
Cook Time: 15 mins
Total Time: 45 minutes
Yield: 6 servings 1x
Category: Main Dish
Method: Stove Top
Cuisine: Italian
Description
Prosciutto Ravioli – ravioli made with wonton wrappers and filled with spinach and prosciutto.
---
Scale
Ingredients
1 (15-ounce) container whole milk ricotta cheese
1 (10-ounce) package frozen chopped spinach, thawed, squeezed dry
4 ounces thinly sliced prosciutto, chopped
2 large egg yolks
3/4 teaspoon salt
1/2 teaspoon freshly ground black pepper
48 wonton wrappers
1/2 cup (1 stick) butter
1 1/2 teaspoons dried oregano
Freshly grated pecorino
---
Instructions
Whisk the ricotta, spinach, prosciutto, egg yolks, salt, and pepper in a medium bowl to blend.
Place 1 tablespoon of the ricotta filling in the center of a wonton wrapper. Brush the edge of the wrapper lightly with water. Fold the wrapper in half, enclosing the filling completely and forming a triangle. Pinch the edges to seal. Transfer the ravioli to baking sheets. Repeat with the remaining filling and wrappers. (Can be prepared up to 2 hours ahead; cover and refrigerate.)
Melt the butter in a heavy small skillet over medium heat. Add the oregano and stir 1 minute. Season, to taste, with salt and pepper. Remove from the heat.
Working in batches, cook the ravioli in a large pot of boiling salted water until just tender, stirring occasionally, about 4 minutes per batch. Transfer the ravioli to a large shallow bowl.
Pour the oregano butter over the ravioli and toss gently to coat. Sprinkle the pecorino over the ravioli and serve.