The perfect fall pasta dish, this Penne with Pumpkin Pasta Sauce is an easy vegetarian dinner that can be done in just 30 minutes.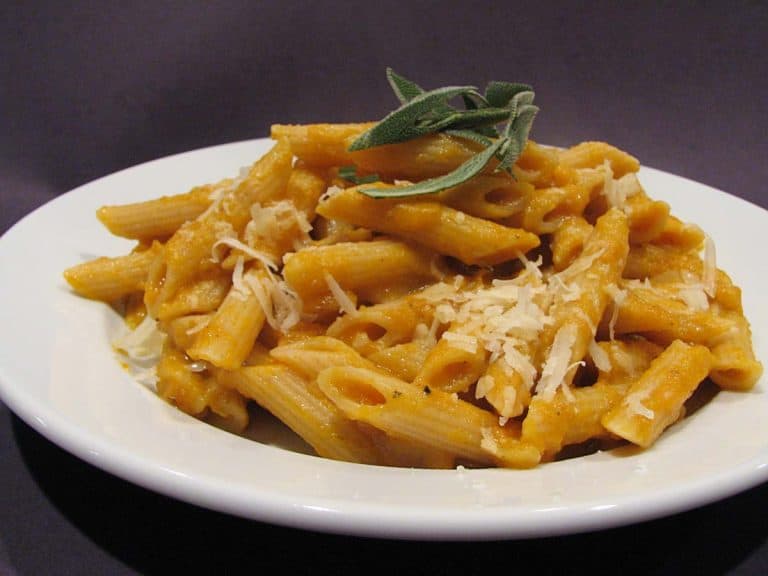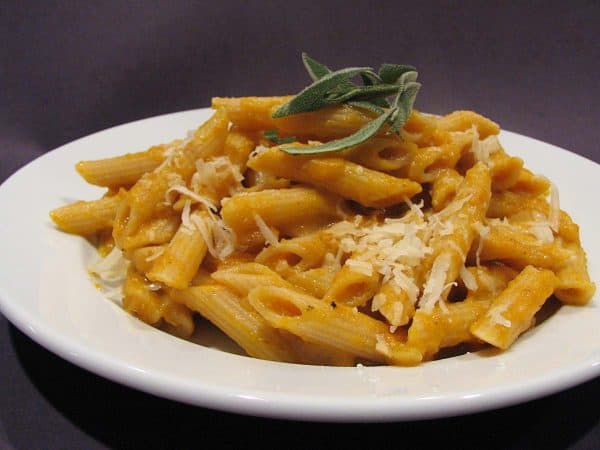 I love the fall. I love fall and winter foods. As much as I love fresh fruits and veggies during the summer, nothing beats comfort food for me. I could eat soup, pasta, and casseroles every night of the week. My pants probably wouldn't fit anymore, but I'd enjoy eating it!!
I picked up an issue of the Rachael Ray November magazine a while back. I had heard that there was a recipe for pumpkin whoopie pies, so that is what I bought it for, but there are many recipes that I want to try! This recipe for pumpkin pasta was one that I marked, but when I saw her make it on 30 Minute Meals, I knew I had to try it out. It is called "Penne-Wise" pumpkin pasta – the "penne" meaning "penny" (it's cheap to make) and the "wise" because it is fairly healthy. It combines some of the wonderful flavors that go well with pumpkin – cinnamon and nutmeg – and turns it into a wonderful pasta dish. It also uses sage. I don't use sage very often, and I really don't know why. I really liked the flavor of it in this dish – don't skip this, because it adds a lot of flavor to the dish.
I just went to the Food Network website to get this recipe, and was reading through some of the reviews because it did not get very good ratings. Many complained that it was very bland – which is strange because I did not find it bland at all. I guess it just goes to show that everyone has different tastes!!
I'm a little behind the times, I guess, because I just discovered that fat free evaporated milk can be a great substitute for cream in recipes like this. It worked wonderfully, and made it even better for me!!
I did leave out the hot sauce, but totally on accident. My husband was in the kitchen, and I didn't want him to see me put it in, because he thinks that he doesn't like it, but when he walked out, I forgot to sneak it in. Oh well…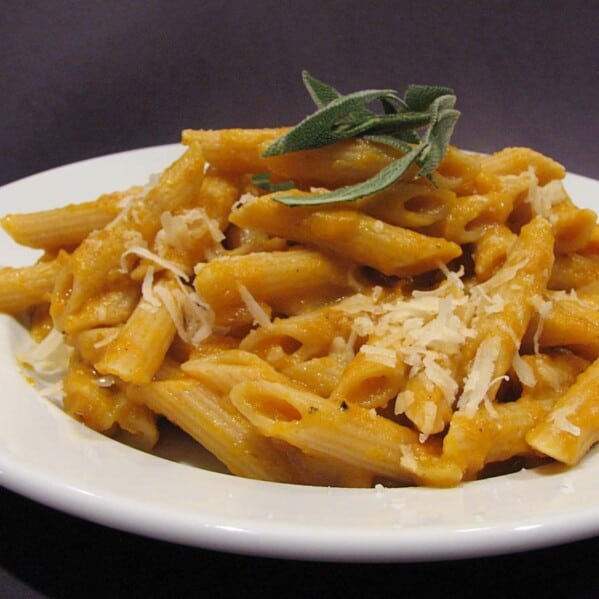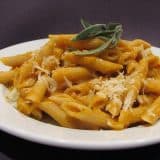 Penne with Pumpkin Pasta Sauce
---
Author:
Prep Time: 15 mins
Cook Time: 15 mins
Total Time: 30 minutes
Yield: 6 servings 1x
Category: Main Dish
Method: Stove Top
Description
The perfect fall pasta dish, this Penne with Pumpkin Pasta Sauce is an easy vegetarian dinner that can be done in just 30 minutes.
---
Scale
Ingredients
salt
1 pound whole wheat penne
2 tablespoons extra virgin olive oil
3 shallots, finely chopped
3–4 cloves garlic, grated
2 cups chicken stock (can use vegetable stock)
1 (15-oz) can pumpkin puree
1/2 cup cream or evaporated milk
1 teaspoon hot sauce, or to taste
freshly grated nutmeg, to taste
2 pinches ground cinnamon
salt and pepper
---
Instructions
Heat water for pasta, salt it well and cook penne to al dente.
Heat the oil, 2 turns of the pan, over medium heat.
Add shallots and garlic to the pan, saute 3 minutes.
Stir in chicken stock and combine with pumpkin.
Stir in cream then season sauce with hot sauce, nutmeg, cinnamon, salt and pepper.
Reduce heat to medium low and simmer 5 to 6 minutes more to thicken. Stir in sage, toss with pasta with grated cheese, to taste.