The perfect fall dessert, this Pear and Raspberry Tart takes advantage of ripe, sweet pears and tart raspberries for a beautiful tart that is worthy of company.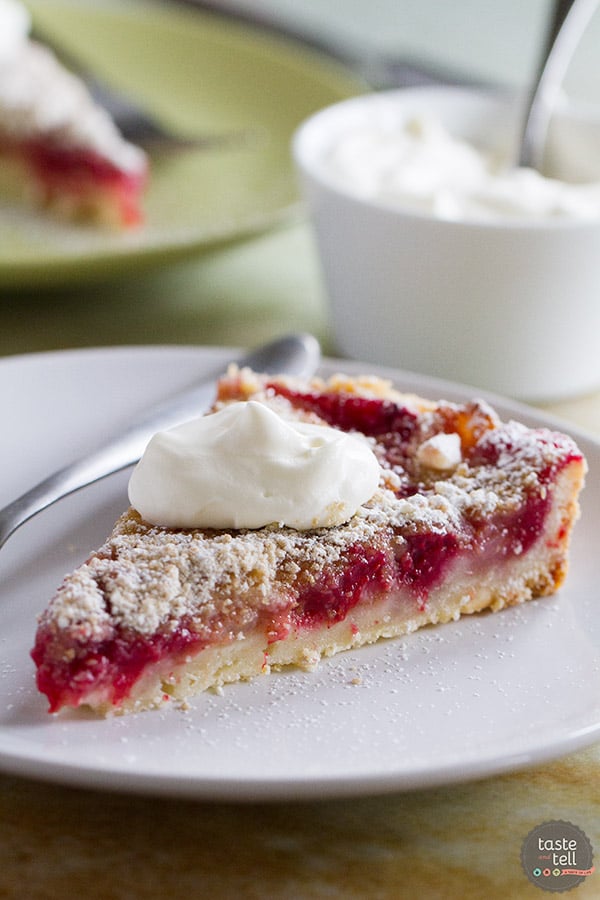 So, Thanksgiving is right around the corner. While I am totally and completely excited (I heart Thanksgiving), I am so not feeling prepared right now. In fact, I still have not decided what I'll be making.
Luckily, I am not making a full meal. Thanksgiving is best when spent with family, so we will be going to my sister's house to spend the day with my family. I will be making the Cranberry Salad, and maybe some Lion House Rolls. I have also volunteered to bring an appetizer (still undecided on this!)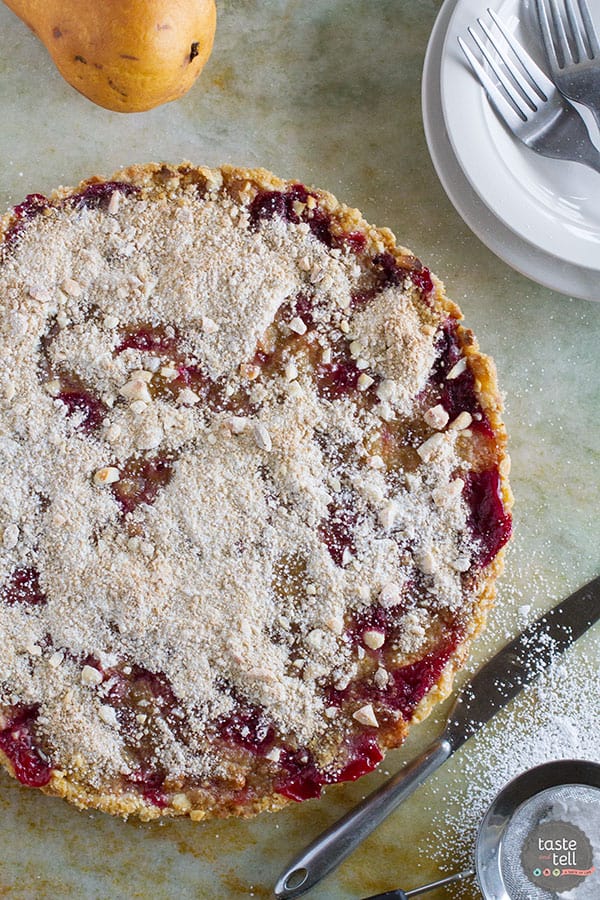 And of course – PIE!! In my family, the dessert is really the most important part of the meal. I've talked about it before, but we tend to go a little overboard in the pie department. But I need to keep up on that tradition, and I have been thinking about what I want to bring.
And since I haven't even posted a full pie or tart recipe for almost a year, which is a travesty, I knew I needed to do something about that. So what did I do? 3 pies in under 24 hours. Yep, I went a little pie crazy. I totally won't deny the fact that I skipped breakfast and lunch that day and instead ate 3 slices of pie.
One pie still needs some work, the other pie will be coming soon, and then there is this Pear and Raspberry Tart. Honestly – it almost didn't happen. It wasn't on the top of my list of the pies that I wanted to make, but after seeing a pile of pears on the counter that were just past ripe, I knew I had to do something so that those pears wouldn't go to waste. Surprisingly, this tart probably took the lead as my favorite pie that day.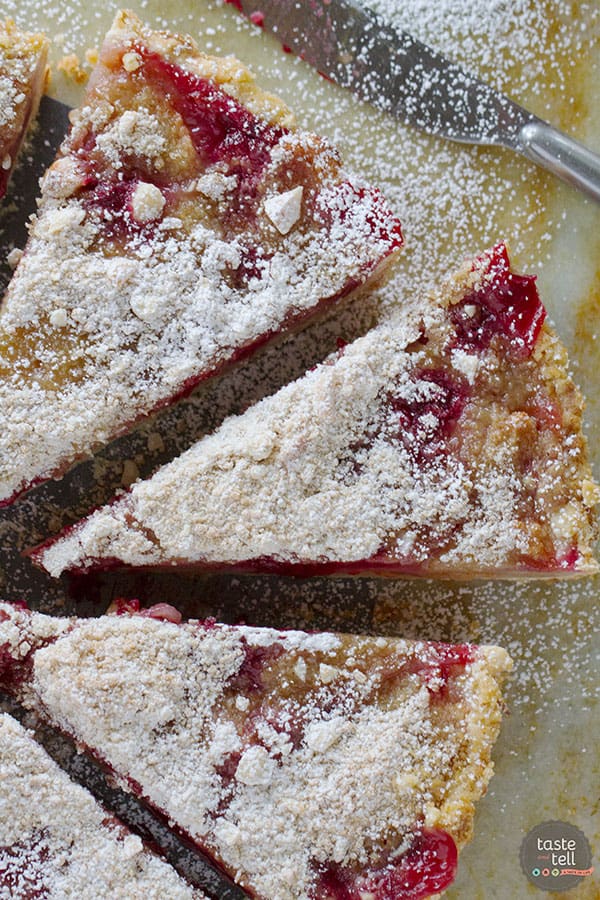 Where do I even start? The crust on this Pear and Raspberry Tart is not a typical pie crust. You make the mixture and just press it into the pan – so much easier than rolling! I use a measuring cup to press the mixture firmly into the pan. The crust ends up almost like a shortbread crust – it is delicious and I loved the texture of it. PS – you can never go wrong with macadamia nuts!!
I was a little afraid that the filling would end up soggy and runny since my pears were so ripe. But it all set up perfectly. I loved the combination of the sweet pears with the tart raspberries. Then there was a kind of crumble top that gave the whole thing a great texture.
This Pear and Raspberry Tart is meant to be on that dessert table this Thanksgiving. Don't blame me if you go back for seconds!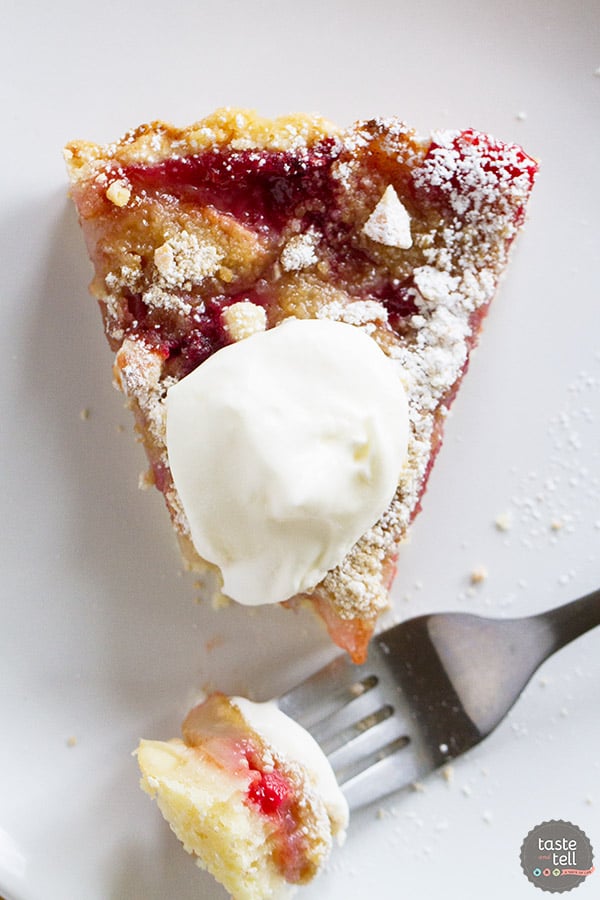 Like what you see here? Make sure you are following Taste and Tell for more recipes and ideas!
Facebook | Pinterest | Instagram | Twitter | Google+ | Weekly Newsletter | Feedly | Bloglovin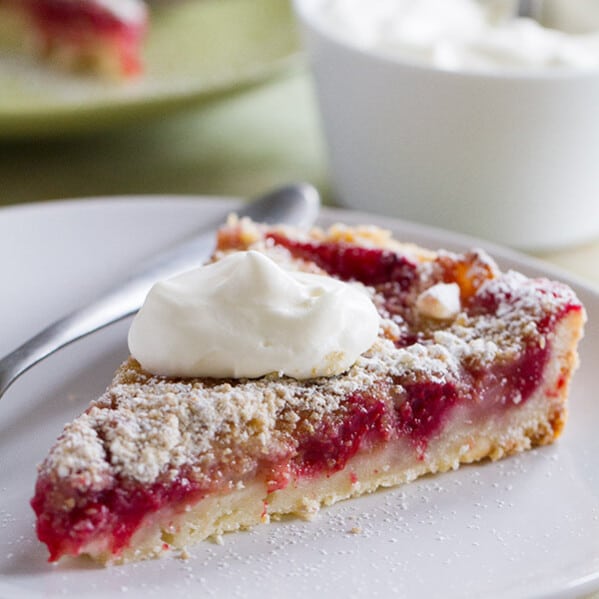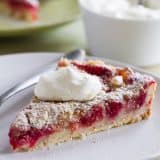 Pear and Raspberry Tart
---
Prep Time: 20 mins
Cook Time: 45 mins
Total Time: 1 hour 5 mins
Yield: 16 servings 1x
Description
The perfect fall dessert, this Pear and Raspberry Tart takes advantage of ripe, sweet pears and tart raspberries for a beautiful tart that is worthy of company.
---
Scale
Ingredients
Crust
1 2/3 cups all-purpose flour
2/3 cup sugar
2/3 cup cold butter
1/3 cup chopped macadamia nuts
Filling
3 medium pears, peeled and thinly sliced
1/2 cup sugar
2 tablespoons cornstarch
1 teaspoon ground cinnamon
1 teaspoon lemon zest
2 cups frozen raspberries
Topping
1/2 cup all-purpose flour
1/2 cup packed brown sugar
1 teaspoon lemon zest
1/3 cup chopped macadamia nuts
powdered sugar and whipped cream, optional
---
Instructions
Preheat the oven to 425ºF.
In a large bowl, combine the flour and sugar. Cut the butter in with a pastry cutter or a fork until it resembles coarse crumbs. Stir in the macadamia nuts. Press the mixture into the bottom and up the sides of an 11-inch fluted tart pan with a removable bottom.
In another bowl, combine the pears, sugar, cornstarch, cinnamon and lemon zest and lightly stir to combine. Gently fold in the raspberries.
Pour the mixture into the prepared crust and spread evenly. Bake in the preheated oven for 25 minutes.
Meanwhile, combine the flour, sugar, lemon zest and macadamia nuts. Sprinkle over the top of the filling. Bake for an additional 15-20 minutes, or until the topping is browned and the filling is bubbly. Remove from the oven and allow to cool.
Don't miss a thing! Follow me on Pinterest to see what I'm pinning!
Visit Taste and Tell's profile on Pinterest.