If you are looking for an easy dinner that is a crowd pleaser, look no further than this Easy Cheesesteak Recipe. By using deli roast beef, this recipe comes together in a snap!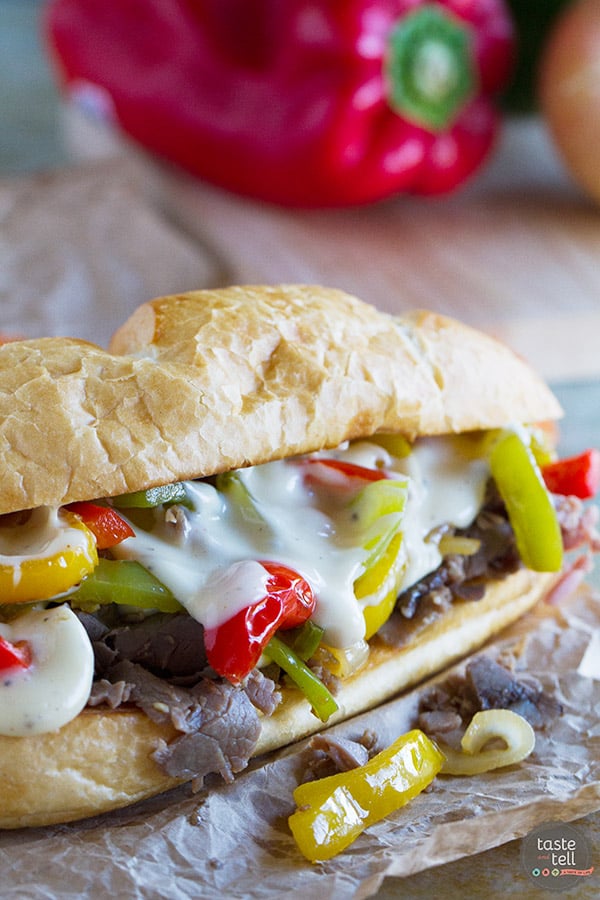 If there is one person who has revolutionized blogging, that person would the The Pioneer Woman. One of the first big bloggers – and the first to really take things to the next level, Ree Drummond is the one that many bloggers look up to. She took a family and recipe blog and turned it into a tv show, children's books, several cookbooks, a cookware/ kitchenware line and more. Not to mention the wildly successful blog she runs. I'm tired just thinking of all of it! But her down home, honest personality and cooking has won over the masses.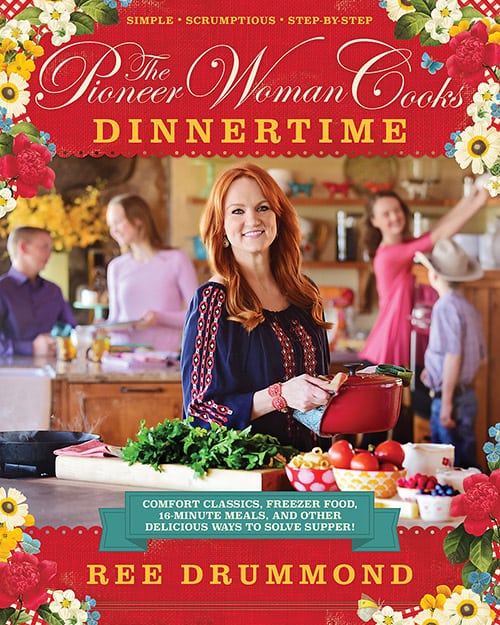 So of course, while shopping one day, her newest cookbook – The Pioneer Woman Cooks Dinnertime – just happen to hop into my grocery cart. I am always on the search for more dinner recipes, and I knew this book would be a winner.
It is a large book, with more than 125 recipes. But just like Pioneer Woman's previous books, there are step by step photos of each recipe, so each recipe covers multiple pages. There are several different sections, including Breakfast for Dinner, Comfort Classics, Freezer Food, 16-Minute Meals, and more. There are even recipes for side dishes, and the book ends with a chapter on easy desserts.
There are some recipes in the book that are also on her blog, but I, for one, love to have a cookbook in my hands. I'm not sure the percentage of new recipes, but I definitely think that the book is worth purchasing.
Here are the details:
Number of Photos: Lots and Lots. That is an understatement. Not only are there step by step photos and photos of the finished dishes, but there are lots of personal photos through the book as well.
Difficulty Level of Recipes: Easy. I think Ree is known for easy recipes that anyone can make, and this book is no exception. And if you did have a question, the step by step photos walk you through everything.
Availability of Ingredients: Easy. I didn't notice any ingredients that would be hard to find, so I'm pretty sure you could buy any of the ingredients at any well stocked grocery store.
Other recipes I want to make:
Sausage, Potato and Kale Soup
Sesame Chicken Salad
Breakfast Quesadillas
Coconut Curry Shrimp
Green Chile Chicken
Seafood Pasta in a Foil Package
Chicken Mozzarella Pasta
Grilled Chicken and Strawberry Salad Wrap
Buy The Pioneer Woman Cooks Dinnertime on Amazon.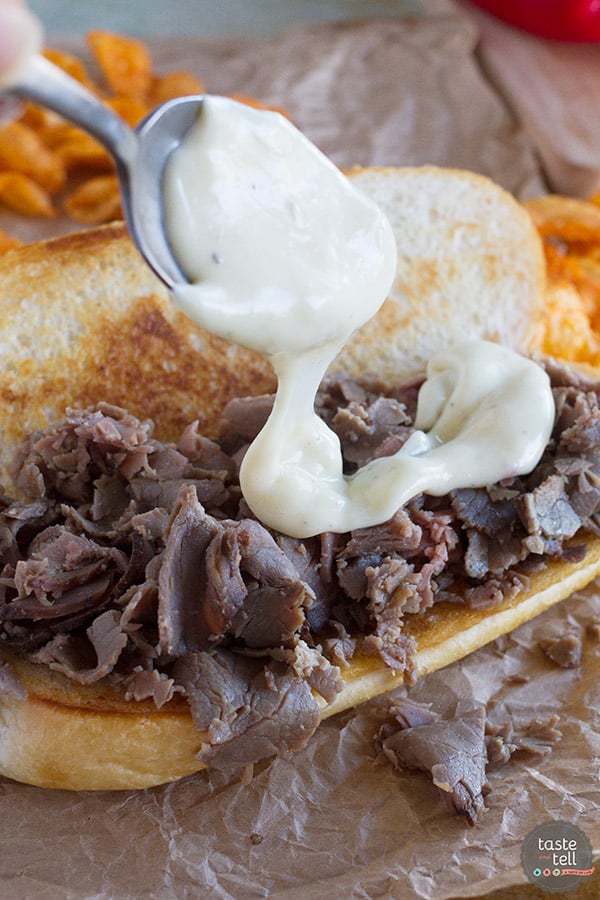 I knew I wanted to make this Easy Cheesesteak Recipe the minute I saw it. She calls them Pawhuska Cheesesteaks – her way of saying that she knows these aren't traditional Philly cheesesteaks. But seriously – I'm all for an easy way to make something, and I loved the shortcut of using deli roast beef. These were so easy to make, and they came together super fast. This is definitely my idea of an easy weeknight meal.
And before you knock on the Velveeta – it's totally necessary here. Trust me on this one. It's definitely not an everyday indulgence for us, but it was totally worth it for these sandwiches.
I think we definitely have a winner on our hands!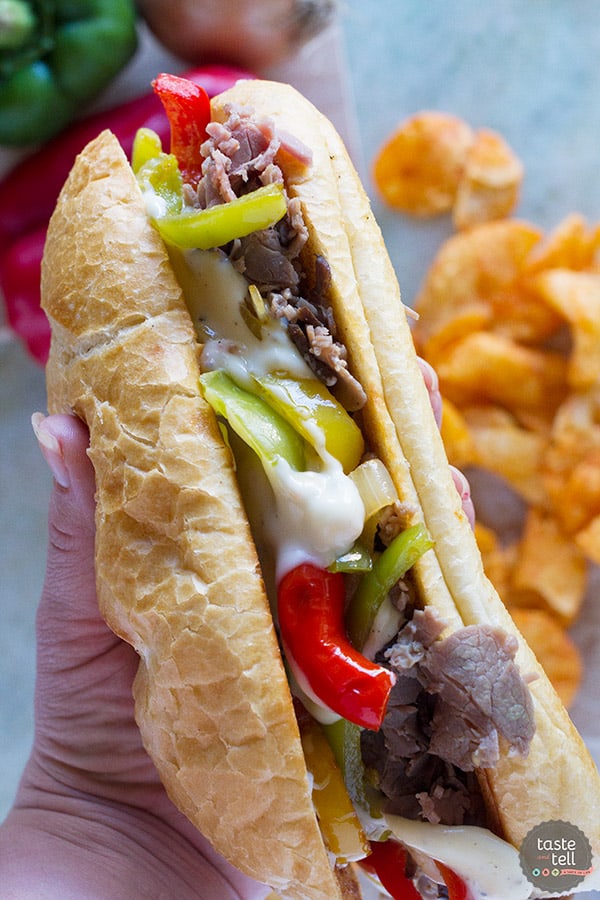 Like what you see here? Make sure you are following Taste and Tell for more recipes and ideas!
Facebook | Pinterest | Instagram | Twitter | Google+ | Weekly Newsletter | Feedly | Bloglovin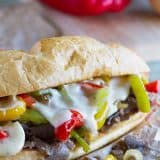 Easy Cheesesteak Recipe
---
Prep Time: 10 mins
Cook Time: 20 mins
Total Time: 30 mins
Yield: 6 servings 1x
Description
If you are looking for an easy dinner that is a crowd pleaser, look no further than this Easy Cheesesteak Recipe. By using deli roast beef, this recipe comes together in a snap!
---
Scale
Ingredients
8 oz Queso Blanco Velveeta
1/2 teaspoon black pepper
1/4 teaspoon cayenne pepper
1/4 cup milk
6 tablespoons butter
6 sub rolls, split in half
2 pounds thinly sliced deli roast beef
1 yellow onion, cut in half and then into half-moon strips
1 green bell pepper, seeded and cut into half-moon strips
1 yellow bell pepper, seeded and cut into half-moon strips
1 red bell pepper, seeded and cut into half-moon strips
---
Instructions
Combine the Velveeta, black pepper, cayenne pepper and milk in a saucepan over low heat. Cook, stirring occasionally, until the cheese is melted and smooth. Set aside and keep warm.
Melt 2 tablespoons of the butter on a griddle and toast the buns, cut side down, until golden brown. Remove and set aside.
Melt 2 tablespoons of the butter in a large skillet over medium-high heat. Add the roast beef and stir it around, breaking it up with a spoon, quickly warming it. (Note – I used a nonstick skillet, so I didn't want to be rough enough to break the roast beef up. So after heating, I transferred it to a cutting board and roughly chopped it.) Remove the roast beef to a plate and set it aside.
Add the remaining 2 tablespoons of butter to the same pan and return it to medium-high heat. Add the onion and the peppers and cook, stirring often, until the peppers are soft, about 10 minutes.
To assemble, layer some of the roast beef on the bottom half of the rolls. Spoon some of the cheese sauce over the top. Top that with some of the peppers and onion, and add a little bit more of the sauce.
Serve immediately.
Don't miss a thing! Follow me on Pinterest to see what I'm pinning!
Visit Taste and Tell's profile on Pinterest.



**This post contains affiliate links. If you purchase an item from Amazon from the link Taste and Tell receives a small commission. Thank you for supporting Taste and Tell through your purchases!**