Be ready for back to school with this Peanut Butter and Jelly Yogurt Parfait Recipe! Perfect for an easy breakfast or a tasty after-school snack, these parfaits are a way to make a protein-packed snack taste like dessert!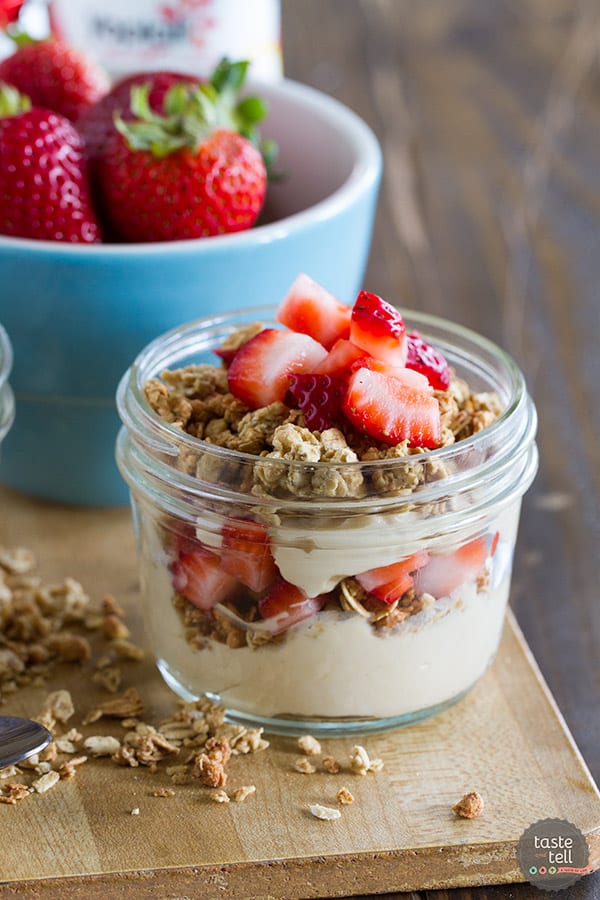 I'm excited to be partnering with Yoplait this year and bringing you delicious recipes, tips and tricks. I have received compensation and all opinions are my own.
Well, the time has come. Abbi started school on Monday, Easton starts next week, and even Camden is going to be going to preschool this year, starting in September. It's officially back to school time.
I'm having mixed emotions about all of it. In one sense, I'm really excited because I'm a schedule kind of girl, and getting back on a schedule is something that I've been looking forward to. And for the first time, I'll actually have a few hours a week completely to myself, which is a little bit exciting for me.
But I'd be lying if I said I wasn't going to miss them. As much as I love having a schedule, the best part about working for myself is having that flexibility to take a day off and go to the museum. Or out to lunch. Or as an excuse to just stay in our jammies all day and play.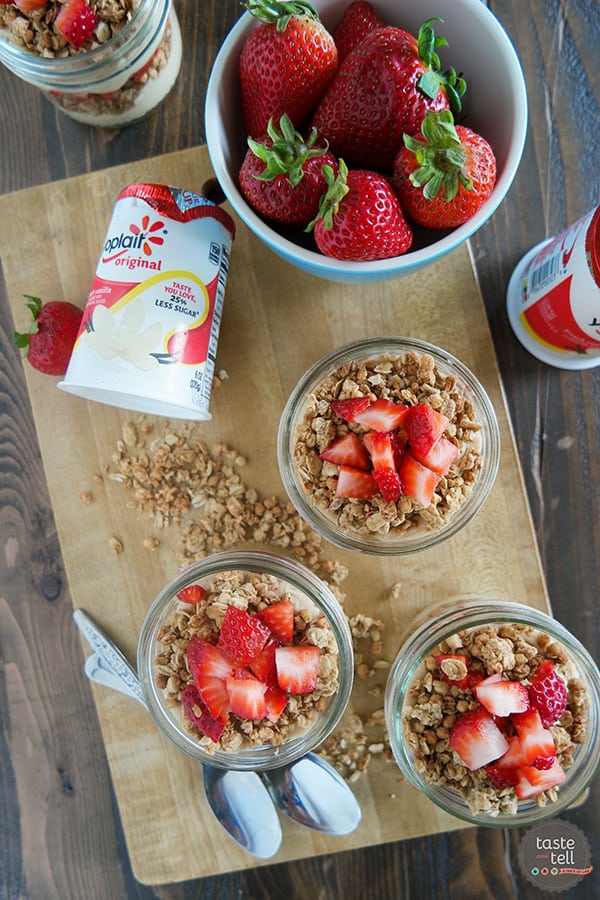 I've said it before, but one of the hardest parts of school days for us is the craziness of the morning. While I was a morning person in my youth, these days, the mornings are the most difficult for me. (Maybe going to bed a decent hour would help!) But between looking for yesterday's homework assignment, trying to find that lost sock and trying to make sure hair is combed and teeth are brushed, breakfast often gets short-changed in our house.
So my goal for this school year is to bring breakfast back. The trick is to find breakfast ideas that are easy, fast, and that my kids will actually eat.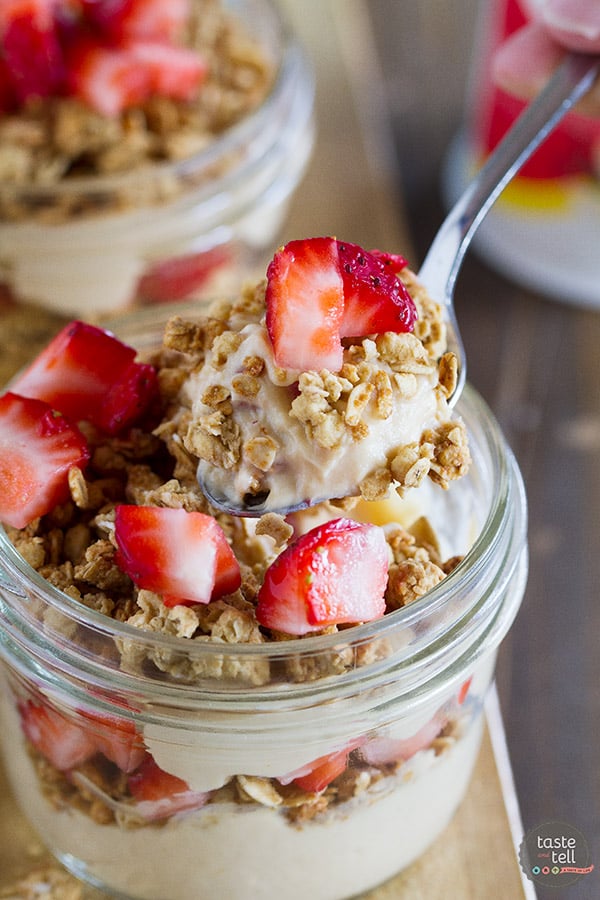 This Peanut Butter and Jelly Yogurt Parfait Recipe is definitely going on my short-list of easy breakfasts. Not only does it take less than 10 minutes to put together, but it's filled with protein, it's SO yummy. Did you know that Yoplait has over 100 flavors of yogurt? I used the Original French Vanilla yogurt, which is one of my favorite classic flavors. But I turned it into peanut butter yogurt by whisking in some creamy peanut butter. If it was just me, I could have stopped here and just eaten the bowl of peanut butter yogurt. 🙂 But to turn this into a fun recipe, I layered the yogurt with strawberries and peanut butter granola, giving a wink and a nod to peanut butter and jelly. I love that I can feel good about feeding these to my kids because not only are they protein packed, so they'll keep my kids fueled for back to school, but there is also no high fructose corn syrup, and in 2015,last year, Yoplait reduced the sugar in the Yoplait Original by 25%.
You should have seen my 3 year old go to town on his. I haven't seen him eat all of his breakfast like that in a long time!
Not only does this make a great breakfast, but this Peanut Butter and Jelly Yogurt Parfait Recipe is perfect for an after school snack. Since all three of my kids will be getting out of school at different times, I can just have everything prepped (yogurt mixed and berries cut) and then assemble them for each of the kids when they get home.
Back to school is going to be looking a lot better with this yogurt parfait recipe on the table!
Yoplait is inviting you all to try all 100+ flavors for a chance to win $100,000! Simply enter the code on top of specially marked lids at Yoplait.com/100Ways and you could win one of more than 3,000 prizes*. You can find a full list of all of the Yoplait flavors at yoplait.com/products.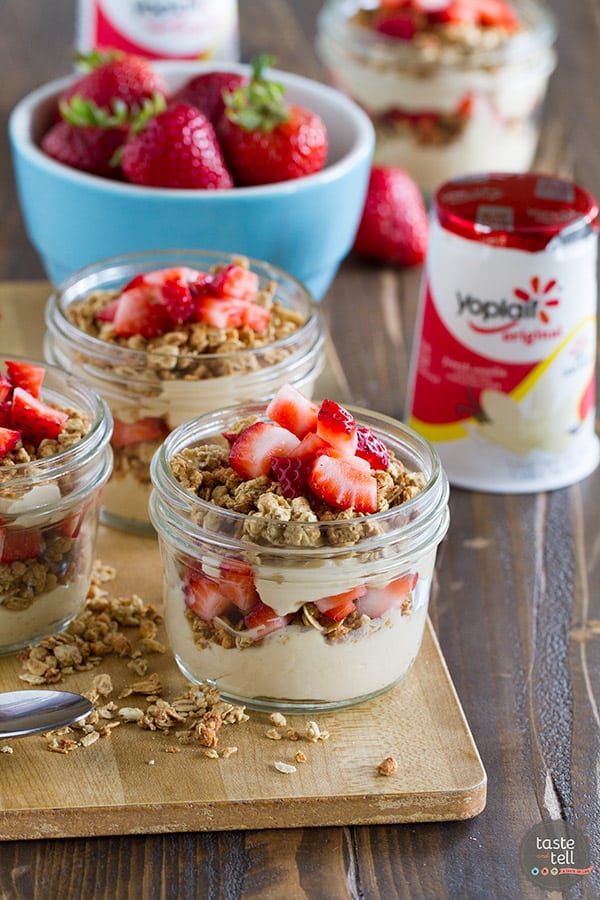 Like what you see here? Make sure you are following Taste and Tell for more recipes and ideas!
Facebook | Pinterest | Instagram | Twitter | Google+ | Weekly Newsletter | Feedly | Bloglovin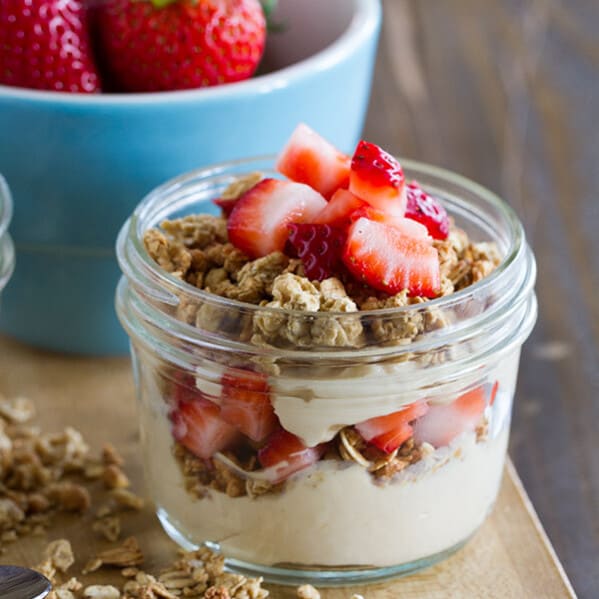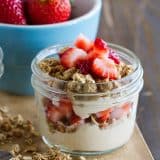 Peanut Butter and Jelly Yogurt Parfait Recipe
---
Author:
Prep Time: 8 mins
Total Time: 8 mins
Yield: 4 servings 1x
Description
Be ready for back to school with this Peanut Butter and Jelly Yogurt Parfait Recipe! Perfect for an easy breakfast or a tasty after-school snack, these parfaits are a way to make a protein-packed snack taste like dessert!
---
Scale
Ingredients
2 (6 oz) containers Yoplait Original French Vanilla Yogurt
6 tablespoons creamy peanut butter
1 1/2 cups Nature Valley Protein Granola Peanut Butter
2 cups fresh strawberries, diced
---
Instructions
Empty the yogurt into a medium bowl. Add the peanut butter and whisk until combined.
Layer 1/8 of the yogurt mixture in the bottom of 4 (4 to 6-oz) jars or glasses. Sprinkle 3 tablespoons of granola over the yogurt in each glass, followed by 1/8 of the strawberries. Repeat the layers, using the remaining ingredients.
Serve immediately.
Don't miss a thing! Follow me on Pinterest to see what I'm pinning!
Visit Taste and Tell's profile on Pinterest.



I am in a working relationship with Yoplait, and this post has been sponsored. I'm so glad to be able to work with companies and organizations that I truly believe in. Thank you for supporting them, too.
*NO PURCHASE NECESSARY. Ends 5/15/17. To play and for Official Rules, visit Yoplait.com/100ways.