Banana bread goes back to school with a peanut butter twist and a raspberry jam swirl in this Peanut Butter and Jelly Banana Bread Recipe.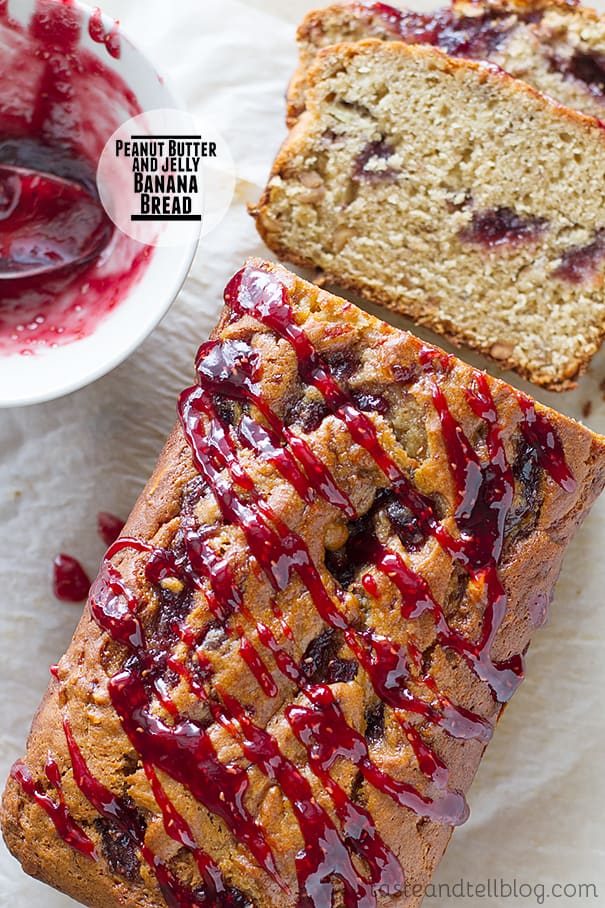 I know what you are thinking – another banana bread recipe? But I say – is there really such thing as too many banana bread recipes? I think not!! Especially when you get peanut butter and jelly involved.
I seem to be on this endless quest lately to use up overripe bananas in a different way every time. (The funny thing is that I've done many variations of banana bread, but I don't even have a basic banana bread recipe here on my site!) But food is supposed to be fun, and why make plain old banana bread when you can jazz it up with peanut butter and jelly?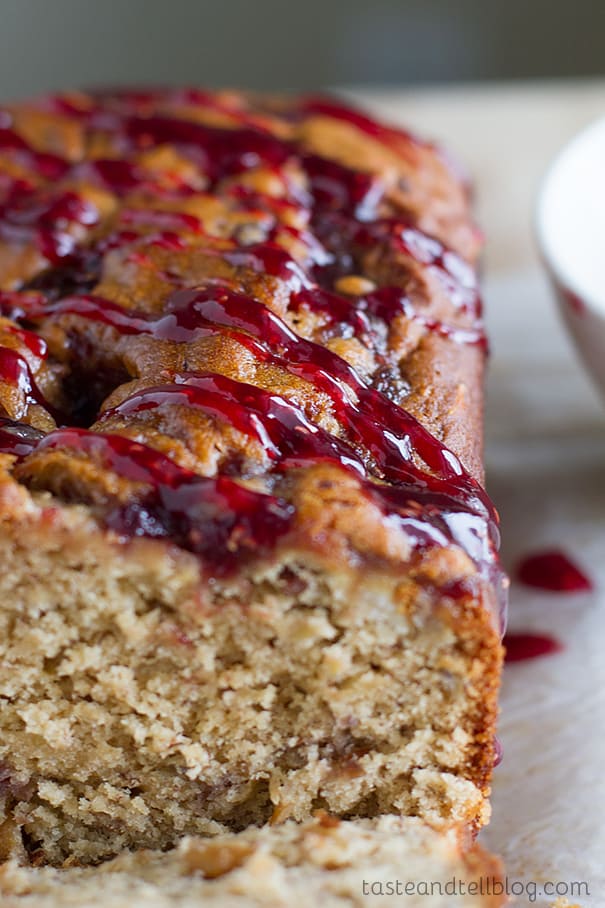 My kids like to choose what they have for lunch every day. I usually let Abbi choose one day, then Easton the next day. While Abbi tends to choose a variety of things, Easton asks for the same thing every. single. time.
Peanut butter and jelly sandwiches.
You would think the boy would get sick of this classic combo, but that is all he asks for, time and time again. So I knew he would go crazy over this banana bread recipe. A moist, tender banana bread infused with peanut butter and then layered with raspberry jam. I used raspberry because I had a lot of it on hand, but I'm sure this would be great with your favorite flavor of jam.
I know that there is nothing wrong with a good slice of regular banana bread, but I will never complain if you give me a slice of this jazzed up version!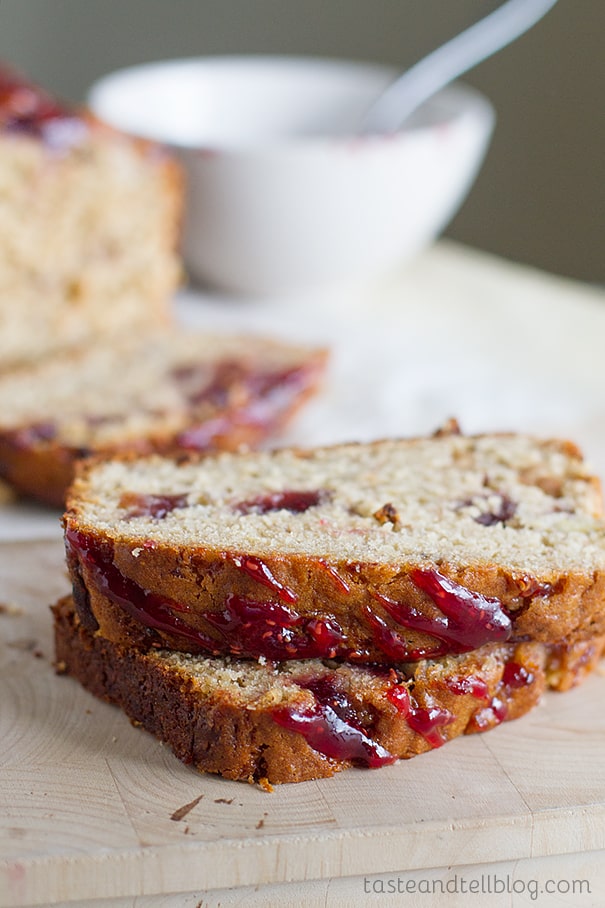 Like what you see here? Make sure you are following Taste and Tell for more great recipes and ideas!!

Facebook ** Pinterest ** Twitter ** Instagram ** Google+
or you can subscribe to my newsletter or Feedly or Bloglovin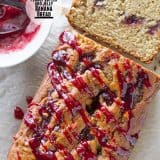 Peanut Butter and Jelly Banana Bread Recipe
---
Prep Time: 25 minutes
Cook Time: 1 hour
Total Time: 2 hours
Yield: 16 servings 1x
Description
Banana bread goes back to school with a peanut butter twist and a raspberry jam swirl.
---
Scale
Ingredients
2 cups all-purpose flour
1 1/2 teaspoons baking powder
1/2 teaspoon baking soda
1/2 teaspoon salt
2 eggs, lightly beaten
1 1/2 cups mashed bananas
1 cup brown sugar
1/2 cup creamy peanut butter
1/2 cup vegetable oil
1/2 cup dry roasted peanuts, chopped
1/2 cup plus 2 tablespoons raspberry preserves
---
Instructions
Preheat the oven to 350°F. Line a 9x5x3-inch loaf pan with parchment paper then lightly spray it with nonstick cooking spray.
In a large bowl, combine the flour, baking powder, baking soda and salt.
In another bowl, beat together the eggs, bananas, brown sugar, peanut butter and vegetable oil. Add the wet ingredients to the dry ingredients and stir just until combined. Fold in the peanuts, then pour half of the mixture into the prepared loaf pan. Take 1/4 cup of the preserves and dollop it on the batter. Using a butter knife, gently swirl the preserves. Pour the remaining batter and top, then dollop another 1/4 cup of the preserves on top, swirling again with a butter knife.
Bake for 60-70 minutes, or until a tester inserted in the center comes out clean. Let cool completely.
Once the bread has cooled, take the remaining 2 tablespoons of raspberry preserves and microwave for 15-20 seconds until melted. Drizzle over the top of the bread.
More Banana Bread Love: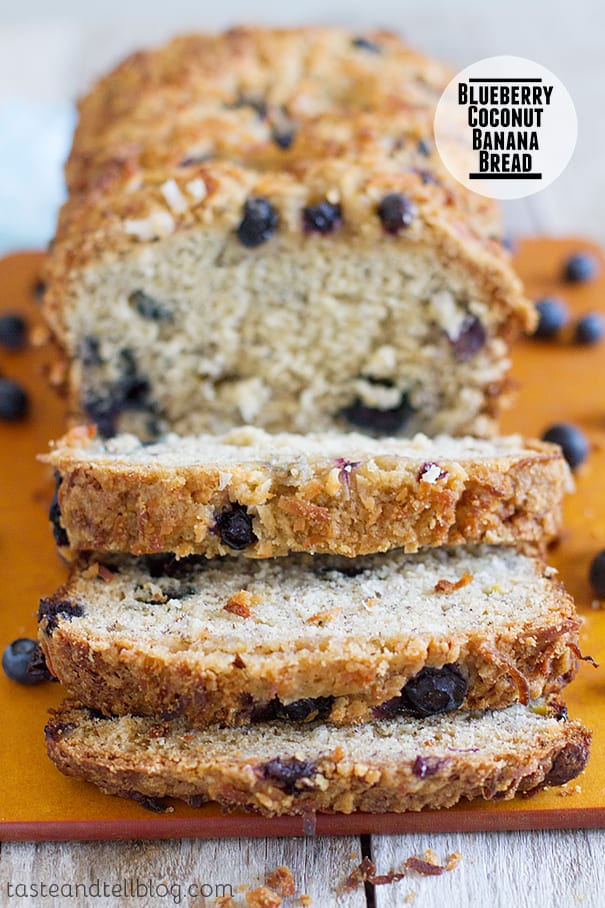 Blueberry Coconut Banana Bread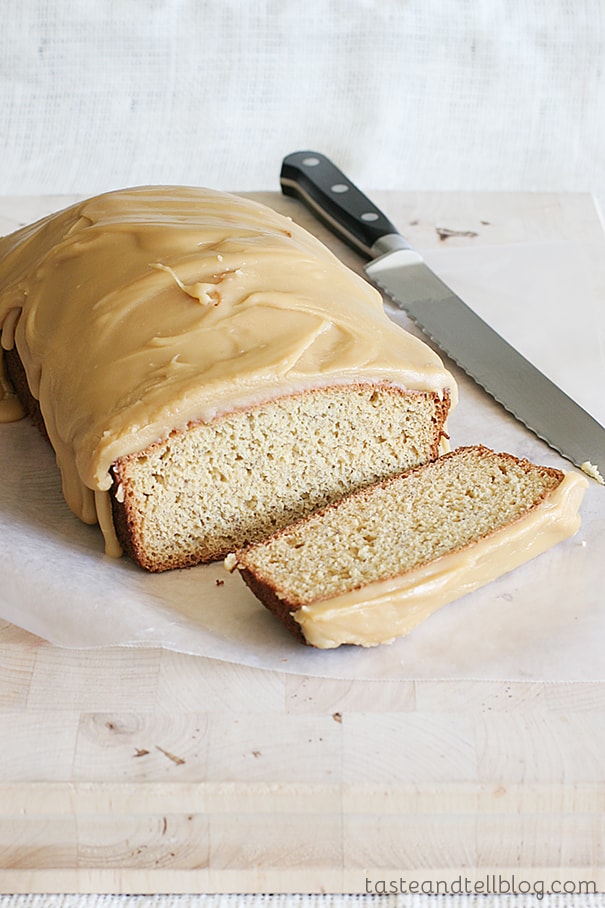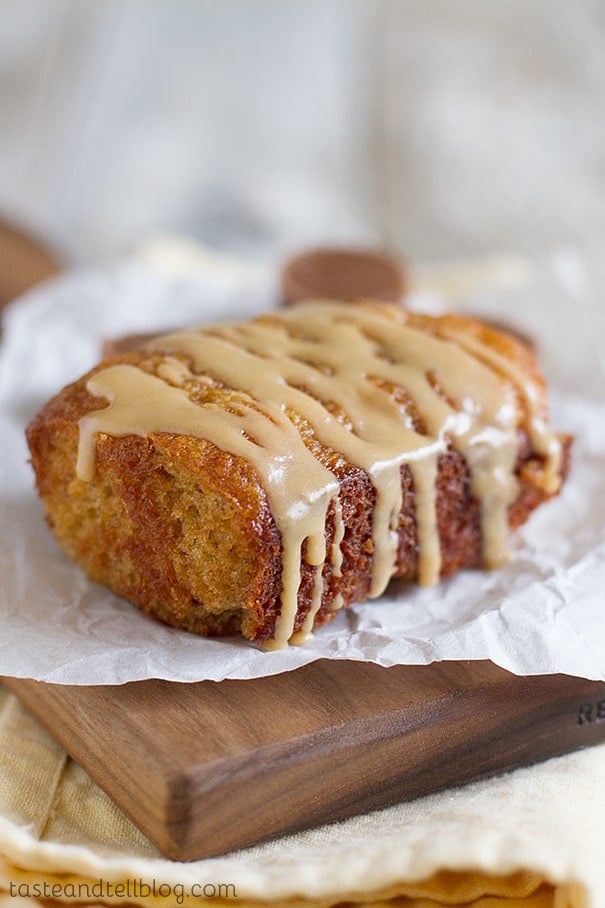 The Ultimate Reeses Peanut Butter Banana Bread
Around the Web:
The Best Banana Bread from My Baking Addiction
Nutella Banana Bread from Chef in Training
Scotcheroo Banana Bread from Something Swanky