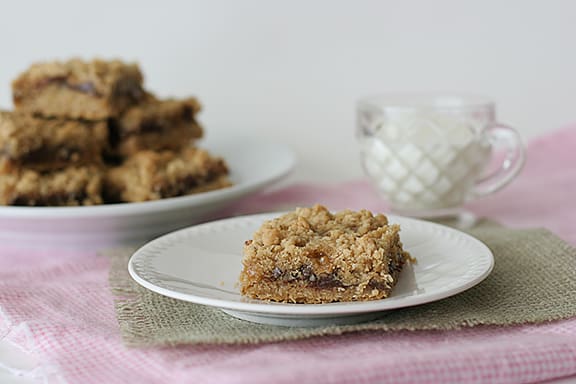 Why does it seem like whenever you are trying to eat better, you are constantly tempted by sweets?? I decided to get serious about losing these last 10 baby pounds, and decided that I'm going to go all week without eating any sugar. And of course, that's when I get the baking bug and when everything looks so good. And then I sit down to write up this post, and of course I just want another batch of these beauties!!
These bars are so good – they are part of the reason I'm still holding onto those 10 pounds. I won't even admit how many of these I ate. So good. I was lucky that I made them to take to someone else, so I didn't have the whole pan sitting at my house to eat.
These bars are the perfect addition to any picnic or backyard bbq – everyone will rave over them.  Just don't be surprised when they are the first thing gone!
Oatmeal Carmelitas
from Pillsbury Best of the Bakeoff
makes 36 bars
CRUST
2 cups all-purpose flour
2 cups quick cooking oats
1 1/2 cups firmly packed brown sugar
1 teaspoon baking soda
1/2 teaspoon salt
1 1/4 cups butter, softened
FILLING
1 (12.25 oz) jar (1 cup) caramel ice cream topping
3 tablespoons all-purpose flour
1 (6 oz) package (1 cup) semi-sweet chocolate chips
1/2 cup nuts (optional)
Heat oven to 350°F. Grease 13×9-inch pan. Lightly spoon flour into measuring cup; level off. In large bowl, combine all crust ingredients; mix at low speed until crumbly. Reserve half of crumb mixture (about 3 cups) for topping. Press remaining crumb mixture in bottom of greased pan. Bake at 350°F. for 10 minutes.
Meanwhile, in small bowl, combine caramel topping and 3 tablespoons flour; blend well.
Remove partially baked crust from oven; sprinkle with chocolate chips and nuts. Drizzle evenly with caramel mixture; sprinkle with reserved crumb mixture.
Return to oven; bake an additional 18 to 22 minutes or until golden brown. Cool 1 hour or until completely cooled. Refrigerate 1 to 2 hours or until filling is set. Cut into bars