Great flavors come together in one pan in this One Pan Enchilada Pasta. It's got the Tex-Mex flavors that mom and dad love, while being mild enough for the kids. And there's only one pan to clean when it's done!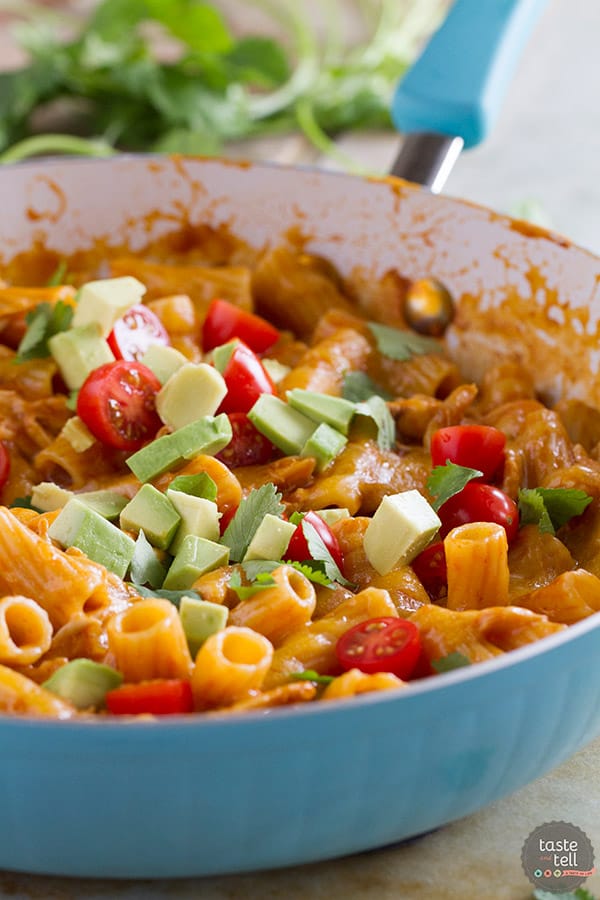 Yum

Sometimes, I feel like I'm completely out of touch with the world. Or at least with the entertainment world. I'm not usually one for awards shows, but I did sit down last night, with popcorn in hand, and watch the Golden Globes. I don't know what came over me, but I thought it would be fun. Then, as I watch, I realized more and more that not only had I not seen any of the movies or tv shows, but I had never even heard of the majority of them. This all coming from the girl who only watches Friends reruns on Netflix and who just discovered all of Downton Abbey on Amazon Prime Video and decided to watch from the beginning before watching the last season. This is the extent of my entertainment (outside of a 6, 4 and 3 year old) lately.
Now, don't get me wrong. I love a good movie. I worked at the local theaters when I was in high school, and was able to go to all the movies I wanted for free. So from 1994-1996, if it was in the theaters, I probably saw it. But the last 10 years have definitely been more hit and miss. When my husband and I actually get away for a date night, it usually ends with a movie, but the rest of the time, sleep is more of a priority than watching a movie.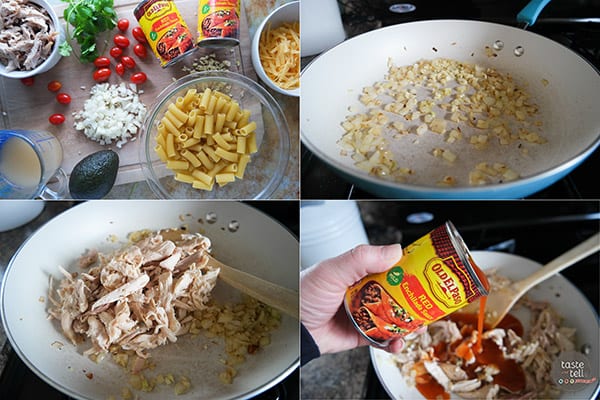 One thing I'm not out of touch with, though, is the easy weeknight dinner. I've totally got that one dialed in! Especially with this One Pan Enchilada Pasta. If you are a regular here, you'll know that I'm a bit obsessed, and I've definitely made my fair share of them. But I'm back with another – this time with a bit of a Tex-Mex spin!
This recipe also uses one of my favorite kitchen time savers – cooked, shredded chicken. I've talked about it to death here, but it's something that I almost always have on hand. Cook up a whole chicken and shred it. Or cook up some chicken breasts. Or even pick up a rotisserie chicken at the market on your way home. Once the meat is shredded, I portion it out and freeze it, and I can't tell you how many times this has saved dinnertime.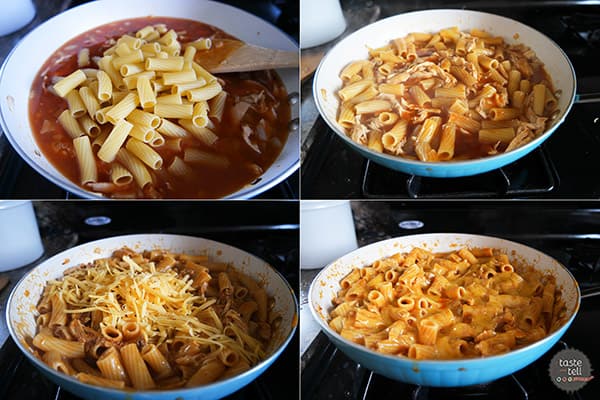 For this one pot pasta, I used rigatoni, but most short cut pastas should work well. But I really loved the rigatoni. The biggest thing to contribute flavor to this dish, though, is the enchilada sauce. I used my favorite – the Old El Paso red enchilada sauce – and decided to go big and use 2 cans. The enchilada sauce, along with some chicken broth, is what the pasta cooks in, flavoring the pasta and the sauce that will coat the pasta. Once everything is in the pan, you'll cover it and let it cook. Then take the cover off and continue to cook until enough of the liquid has been absorbed to cook your pasta, and the rest becomes your sauce. Finish it off by stirring in some cheese, and then topping it with even more cheese, then adding your favorite toppings.
I will never turn away a good enchilada, and now, I will never turn away from this One Pan Enchilada Pasta. Even the kids ate it up, which is a miracle, considering how they have been eating lately. And since you'll save time doing dishes after it's all done, you can spend that time looking up all of the movies you've missed and start making a list of where to start!!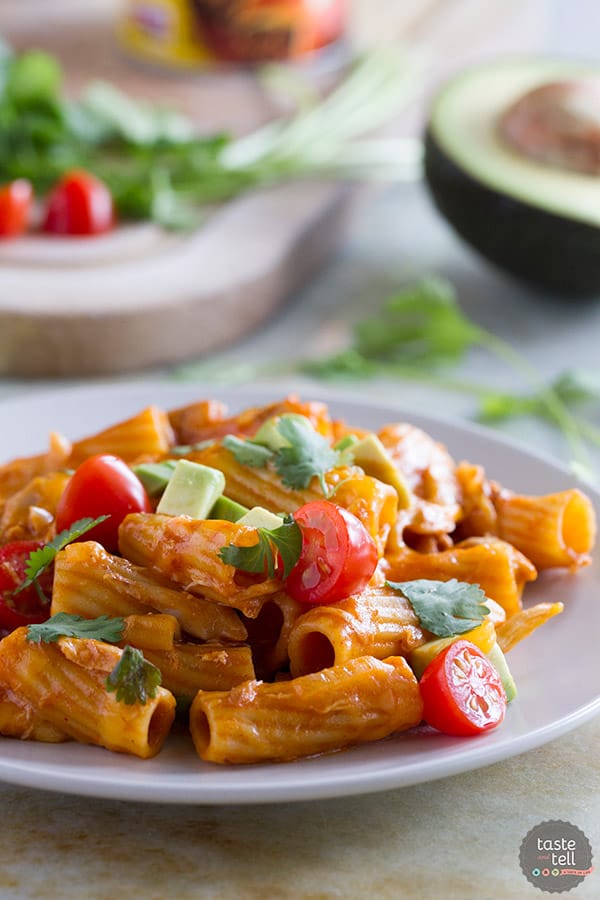 Like what you see here? Make sure you are following Taste and Tell for more recipes and ideas!
Facebook | Pinterest | Instagram | Twitter | Google+ | Weekly Newsletter | Feedly | Bloglovin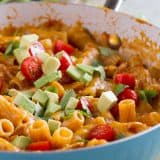 One Pan Enchilada Pasta
---
Author:
Prep Time: 15 mins
Cook Time: 28 mins
Total Time: 43 mins
Yield: 4 servings 1x
Description
Great flavors come together in one pan in this One Pan Enchilada Pasta. It's got the Tex-Mex flavors that mom and dad love, while being mild enough for the kids. And there's only one pan to clean when it's done!
---
Scale
Ingredients
1 tablespoon extra virgin olive oil
3/4 cup diced onion
1 clove garlic, minced
2 cups cooked, shredded chicken
2 cans (10 oz each) Old El Paso Mild Red Enchilada Sauce
1 cup chicken broth
8 oz rigatoni, or other short cut pasta
1 1/2 cups shredded cheddar cheese, divided
desired toppings (I like halved grape or cherry tomatoes, diced avocado and cilantro)
---
Instructions
Heat the olive oil in a large skillet over medium heat. Add the onion and cook until softened and starting to brown, about 5 minutes. Add the garlic and cook until fragrant, another 30 seconds to 1 minute. Add in the chicken and stir to combine.
Open both cans of enchilada sauce and pour them into the skillet. Add the chicken broth, then the pasta. Stir to combine. Cover the pan and cook over medium heat for 15 minutes, stirring once or twice. Uncover the pan and cook an additional 5 minutes, or until most of the liquid has been absorbed. Turn the heat to low and stir in 1 cup of the cheese. Top the pasta with the remaining 1/2 cup of cheese and cover the pan until the cheese has melted, about 3 minutes.
Serve topped with desired toppings.
Don't miss a thing! Follow me on Pinterest to see what I'm pinning!
Visit Taste and Tell's profile on Pinterest.



I am in a working relationship with Old El Paso, and this post has been sponsored. I'm so glad to be able to work with companies and organizations that I truly believe in. Thank you for supporting them, too.