Tender and flavorful, this pressure cooker Chipotle Shredded Beef has just the right amount of spice and is perfect for tacos or burritos. And you can't beat the cooking time!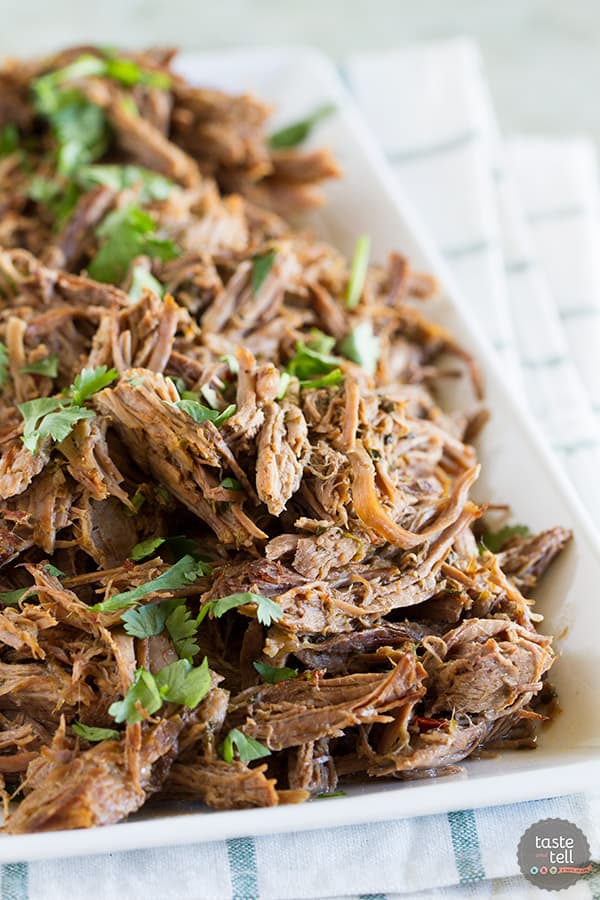 Yum


I have gotten to the point where my kitchen is so full of "stuff" that I'm pretty particular about adding utensils or appliances. And even though I'm in the kitchen all the time, and it's tempting to want to buy every little thing on the shelves of Williams Sonoma, I know that I am moving my life towards minimalism.
But sometimes something catches my eye. Again and again. And peaks my interest. Until I can't resist anymore and I have to jump on board.
Right now, it's pressure cooking. And not just pressure cooking. But this lovely appliance that I keep seeing everywhere – the Instant Pot.
My mom used to use a pressure cooker back in the day. But when my friend Barbara from Pressure Cooking Today started telling me how wonderful pressure cooking is, I knew I wanted to try it. I'm only ashamed that it took me so long.
I use my slow cooker fairly often. I have said it before, though, that I don't always love the texture that meat gets in the slow cooker. And really, I forget to set it in the morning so often anyway, and sometimes I'll look at my menu at 2pm, realizing I was supposed to start the slow cooker at noon for dinner to be ready, and a new plan has to be made.
Well, no more.
Not only does pressure cooking not give you that weird texture, but it speeds up cooking so much. Like today's recipe. Normally, a roast will need to cook hours and hours in the slow cooker, or even just hours on the stove. But in the Instant Pot? Cook time is only 1 hour. You do have to wait for it to come up to pressure, and then release the pressure, but you are definitely still ahead of your game.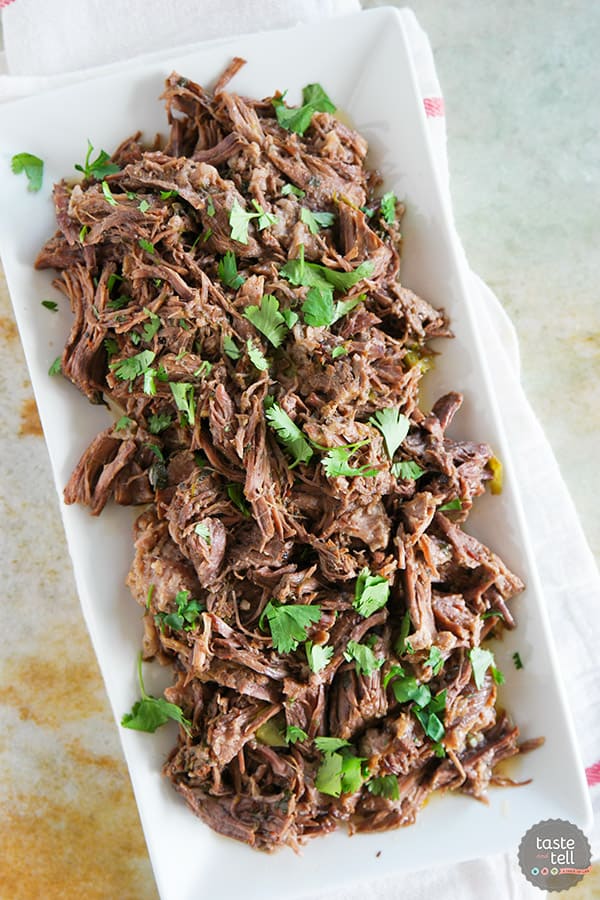 Let's talk about this Chipotle Shredded Beef now. So much flavor. And it's so easy. (I've actually already made it 3 times in the last couple weeks!) It's perfect for Sunday dinner, or you can make it and use it for tacos or burritos, or just about anything. I have about a million recipes that use shredded chicken, but I'm so addicted to this Chipotle Shredded Beef now that I may be subbing in beef for chicken. And I may have a recipe coming to you tomorrow that uses this shredded beef. 😉
I have tested a few different kinds of roasts, and a chuck roast is definitely the way to go on this. It is a lot more tender, and it shreds so much easier. You can use a round roast, and it will work, but it definitely doesn't shred as well or have as much flavor.
I am a complete Instant Pot convert now. I'm already adding recipes to my list to make in mine!!
And check out how easy this Chipotle Shredded Beef is below!
style="position:relative; padding-bottom:56.25%; overflow:hidden;">