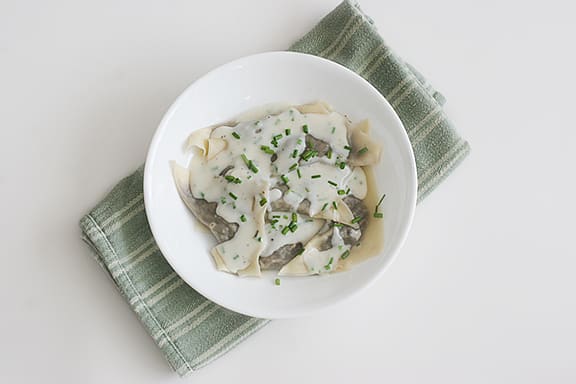 One thing that I keep saying is that we are going to try to eat meat free at least once a week. And I've been doing ok at that, but my problem is, whenever we go meat free, I usually turn to pasta! But we love pasta, so I can't really complain. 🙂
I've made pasta from wonton wrappers before, and I loved the sound of this mushroom filling. But let me give you a few pointers if you ever decided to "make" pasta like this. First of all, the original recipe said to fill the wrappers with 2 teaspoons of the filling. I cut it down to 1 because if you don't seal the edges completely, they will never hold together when you go to boil them. Believe me – I know from experience!! Also, make sure that you don't puncture the wonton wrapper at all, because any kind of hole caused all of the filling to come out of the wrapper.
These really are easy, although time consuming. But the good thing is that you can make up a batch, and then freeze whatever you aren't going to eat. I made the full batch, and now I have enough for another dinner in our freezer for another night when I just don't feel like cooking! So a little bit of time for 2 meals isn't so bad. And I have to admit that I didn't have high hopes for this sauce since it has no butter in it, but I was pleasantly surprised. Overall, I really enjoyed this whole dish!

Mushroom Ravioli with Parmesan Chive Sauce
adapted from Cooking Light Annual Recipes 2008
serves 4+
Ravioli
1/2 (8-ounce) package button mushrooms
6 ounces portobello mushrooms
1 teaspoon olive oil
1 teaspoon butter
2 tablespoons finely chopped onion
1/8 teaspoon salt
2 tablespoons grated Parmesan
30 wonton wrappers
1 teaspoon cornstarch
Sauce
1 cup low-fat milk
2 tablespoon all-purpose flour
4 tablespoons fresh grated Parmesan cheese
2 tablespoons fresh chopped chives
1/4 teaspoon salt
dash of freshly ground pepper
To prepare ravioli, place mushrooms in food processor; pulse 10 times or until finely chopped. Heat oil and butter in a large nonstick skillet over medium-high heat. Add shallots, and sauté for 2 minutes. Add mushrooms and 1/8 teaspoon salt; cook 5 minutes or until moisture evaporates, stirring occasionally. Stir in cheese.
Working with 1 wonton wrapper at a time (cover remaining wrappers with a damp towel to keep them from drying), spoon about 1 teaspoon mushroom mixture into center of each wrapper. Moisten edges of dough with water; bring 2 opposite corners together. Pinch edges together to seal, forming a triangle. Place ravioli on a large baking sheet sprinkled with cornstarch.
To prepare sauce, combine milk and flour in a small saucepan over medium-low heat; stir with a whisk. Cook 4 minutes or until slightly thickened, stirring frequently. Remove from heat; stir in cheese, chives, salt, and pepper. Set aside; keep warm.
Cook ravioli in boiling water 2 minutes or until tender. Drain. Serve with sauce. Garnish with fresh chives, if desired.