Comfort with a twist! This version of Cottage Pie replaces the ground beef with meatballs for a comforting, filling, family-friendly dinner.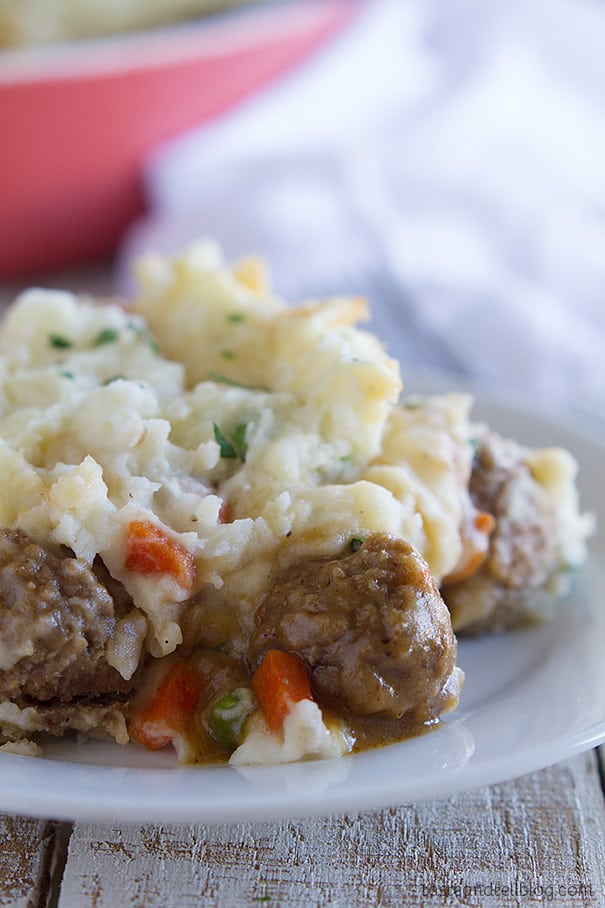 Scroll to the bottom for a giveaway!!
I love the fresh produce of summer and early fall. The corn, the tomatoes, the green chiles from my parents. I just can't get enough.
But really – I have a special place in my heart for the comfort foods of fall and winter. I start getting sad when the temperatures start dropping, but then I remember that I get to make comfort food 24/7 and my heart skips a beat. Yep – call me a casserole girl.
I know that casseroles get a bad rap, but I also happen to know that people really do love them. Even if they don't want to admit to it. Pasta, tex-mex– even for breakfast! – I think that casseroles are the new black.
Because casserole = comfort. And you can't go wrong with comfort.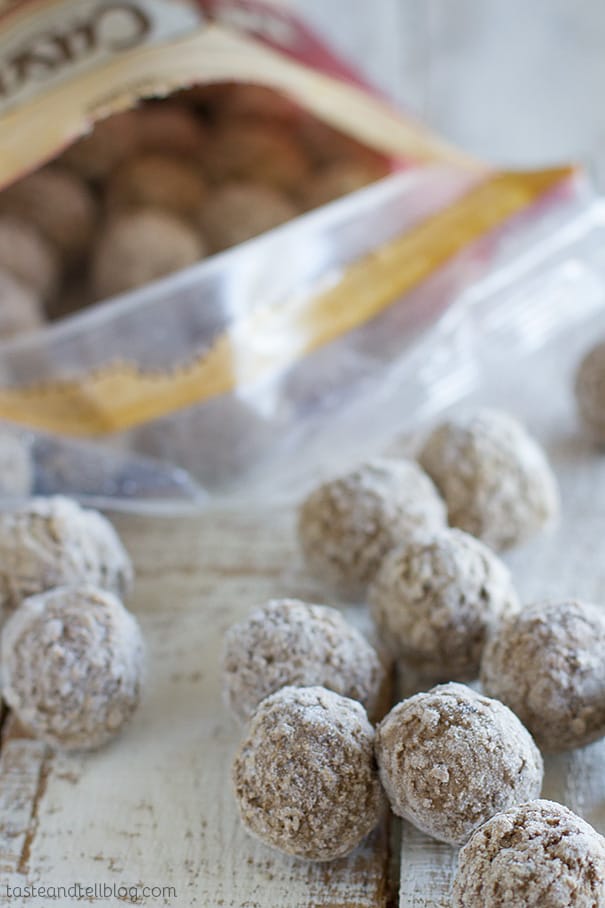 I'm diving right into comfort food season. Up first to bat is this Meatball Cottage Pie.
So I grew up calling it a Shepherd's Pie. But did you know that technically, it has to be made with lamb to be called a Shepherd's Pie? The version that so many of us are familiar with – with ground beef – is actually called a Cottage Pie.
And, well, I'm sticking with beef today. In the form of meatballs.
One of the staples that we keep in the freezer to help out with dinner in a pinch are frozen meatballs. They really are a saver. And they are a budget saver. Did you know that you can buy a whole 6 lb bag of Casa Di Bertacchi meatballs at Sam's Club for less than $15? Casa Di Bertacchi has been making meatballs since the 1960s, and they are the perfect food to have on hand to create a comforting meal for your family any time.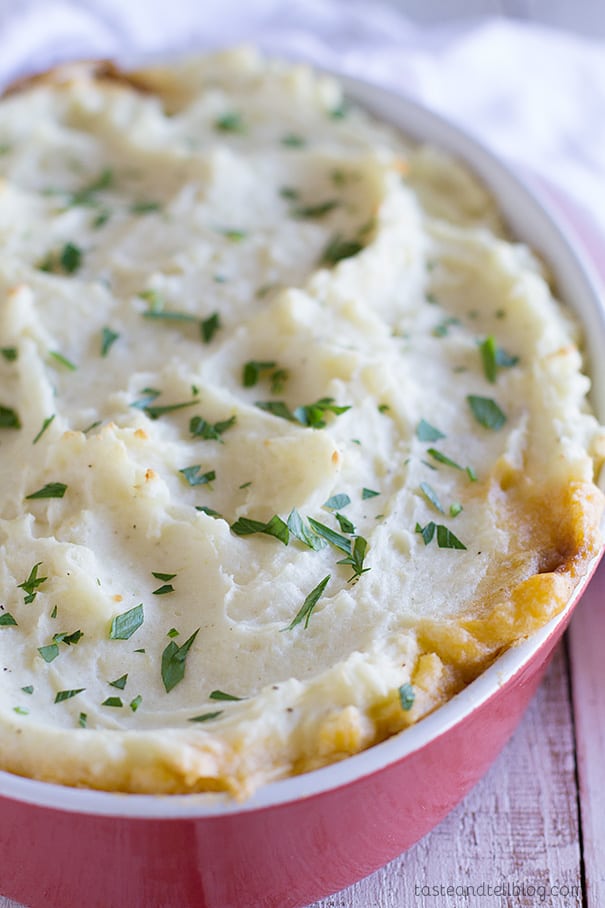 This recipe is super easy. The Casa Di Bertacchi meatballs are cooked in an easy gravy with vegetables, then they are topped with creamy homemade mashed potatoes. Throw the whole thing into the oven, and then dinner is served. While there is some cooking time involved, the hands on time is minimal, and the whole thing can actually be done in advance. Just warm it through in the oven before serving it! I love a good make-ahead meal! And the meal is super budget friendly, as well, which makes it a win-win!
So I'm welcoming in fall with this fun twist on traditional cottage pie. And I'm deeming it official comfort food season!
Find out more about Casa Di Bertacchi Meatballs here.
Find them at a Sam's Club near you here.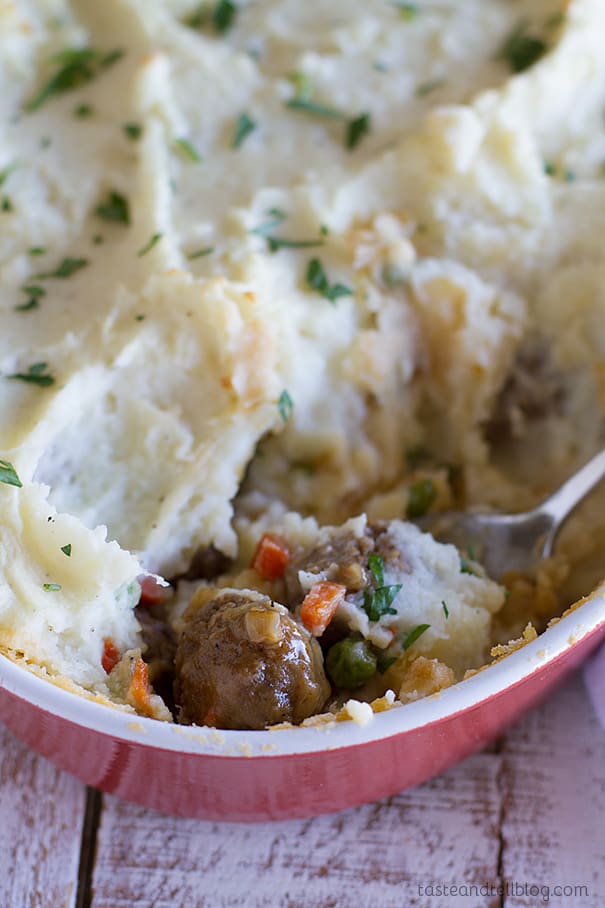 Like what you see here? Make sure you are following Taste and Tell for more great recipes and ideas!!

Facebook ** Pinterest ** Twitter ** Instagram ** Google+
or you can subscribe to my newsletter or Feedly or Bloglovin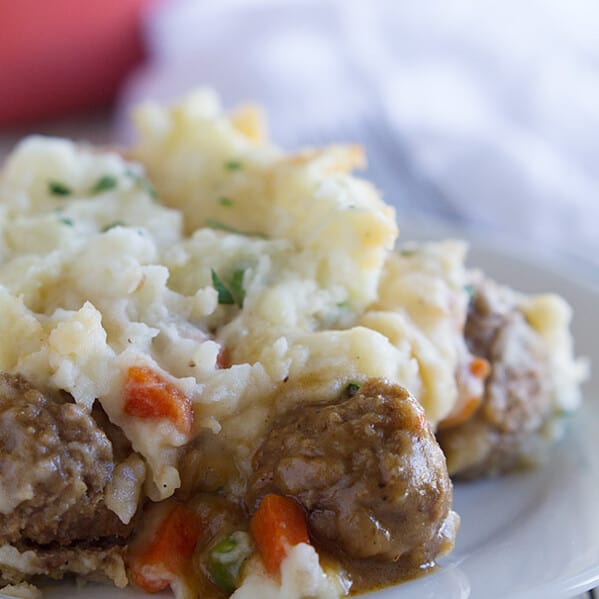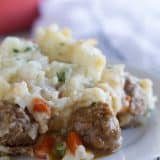 Meatball Cottage Pie
---
Prep Time: 20 minutes
Cook Time: 45 minutes
Total Time: 1 hour 15 minutes
Yield: 6-8 servings 1x
Description
Comfort with a twist! This version of Cottage Pie replaces the ground beef with meatballs for a comforting, filling, family-friendly dinner.
---
Scale
Ingredients
1 tablespoon vegetable oil
1 cup diced onion
1/2 cup diced carrot
1/2 tablespoon tomato paste
1 clove garlic, minced
1 tablespoon flour
1 1/4 cup beef or chicken broth
1 teaspoon Worcestershire sauce
salt and pepper
1 1/2 lbs (about 38) Casa Di Bertacchi Meatballs
2 1/2 lbs potatoes (Russet are best), peeled and cut into 2-inch cubes
1/4 cup butter
1 cup Parmesan cheese
1 egg
milk, as needed
1/2 cup frozen peas
---
Instructions
Heat the vegetable oil in a large skillet or Dutch oven over medium heat. Add the onion and carrot and cook until softened, about 5 minutes. Season with salt and pepper. Add in the tomato paste and garlic and stir for a minute. Stir in the flour and cook an additional minute. Slowly stir i the beef broth and then the Worcestershire sauce. Bring the mixture to a simmer, then add the meatballs. Cover, reduce the heat, and allow to cook for 25 to 30 minutes.
Meanwhile, add the potatoes to a large pot, then fill with enough water to cover the potatoes by a couple inches. Bring to a boil and cook until the potatoes are tender, about 20 minutes. Drain the potatoes, then return the potatoes to the same pan and let them sit for a minute or two. Add in the butter and parmesan. Mash with a potato masher until smooth, then stir in the egg. Add in milk, if needed, to reach your desired consistency. Season to taste with salt and pepper.
Preheat the oven to 400ºF.
Stir the peas into the meatball mixture. Pour the mixture into a 9×13-inch baking dish. Dollop spoonfuls of the potatoes on top of the meatball mixture, then spread out gently with a spoon to cover the top. Bake until the top is golden brown, about 20 minutes. Let the casserole sit for 10 minutes before serving.
Thank you to Casa Di Bertacchi for sponsoring this post. Because of sponsors like Casa Di Bertacchi, I am able to bring you all of the recipes I feature here.