A recipe for traditional Shepherd's Pie – or Cottage Pie – with ground beef, gravy, vegetables, and a mashed potato topping.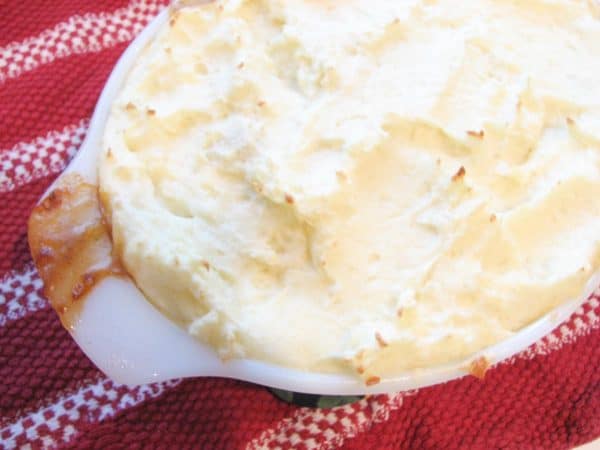 I was able to drive to work today with my sunglasses on. You are probably thinking – so what?? Well, for the last long while, it has either a) still been dark outside as I am driving in, or b) the sky has been covered with murky gray clouds, covering any chance of the sun climbing over the mountains. So now, the sun is rising earlier and earlier every morning, giving me a chance the see the sun, and the clouds were gone this morning. It truly feels like Spring is around the corner now!!
But it got me thinking of all of the "comfort food"that I have made this winter that I have not posted about. If the weather continues to be nice, I am going to have to start pumping out some posts so that I am not posting about stick-to-your-bones food when everyone is only thinking of lighter Spring foods!!
My husband rarely requests particular meals. So when he does, I will jump on the opportunity to make something for him that he has a particular craving for. Well, one day, not too long ago, we were both home and watching a rerun of Top Chef. If you are a Top Chef fan, it was the season 3 episode in New York, where Brian made a sort of peasant's pie. My husband then started talking about how long it had been since he had eaten shepherd's pie, and how it sounded really good. So it went onto the menu for that night, since I needed to go to the grocery store anyway.
I had never made shepherd's pie, so I started going through my cookbooks to find a recipe to use. I ended up going with one from The America's Test Kitchen Family Cookbook. I made up a grocery list, and my husband and I were off to the store.
The original recipe calls for boneless leg of lamb, but since there was no lamb at the store we were shopping at, I asked my husband if he would rather have ground beef, or another cut of beef that I would cut up for the filling. He said that he had only ever had it with ground beef, so that's what we went with. That was probably our mistake, because next to the recipe, it says:
"As a way of saving preparation time, most recipes for shepherd's pie call for ground meat in the filling, which leads to mushy texture and flabby flavor. Our filling consists of chunks of braised lamb, cooked with wine and herbs for a rich, hearty flavor. And by cutting the chunks small, the filling doesn't take that much longer to make than it does when ground meat is used."
Ooops. Looks like we were going with the "mushy texture and flabby flavor" version.
The only obstacle I ran into while making this was that when I added the butter, milk and egg yolk to the potatoes, it turned into a watery mess. I ended up throwing a couple more potatoes in to make it the correct consistency, which made the potato topping very high. But everything else came together well.
The taste? Not the very best shepherd's pie we had ever eaten, but it was pretty good. We had to add quite a bit of salt and pepper to our plates, but that is pretty typical for us. It was better the second day, after the flavors had melded in the refrigerator. I would like to try this again sometime, but I will make sure and follow the advice to not use ground beef!!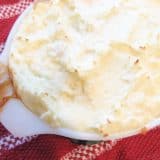 Shepherd's Pie
---
Author:
Prep Time: 20 minutes
Cook Time: 1 hour
Total Time: 1 hour 30 minutes
Yield: 6-8 servings 1x
Category: Main Dish
Method: Bake
Cuisine: English
Description
A recipe for traditional Shepherd's Pie – or Cottage Pie – with ground beef, gravy, vegetables, and a mashed potato topping.
---
Scale
Ingredients
Filling
1 1/2 pounds ground beef
salt and pepper
1/2 tablespoon vegetable oil
1 onion, minced
1 carrot, peeled and sliced to 1/4 inch thick
1/2 tablespoon tomato paste
1 garlic clove, minced
1 tablespoon all-purpose flour
1 cup chicken broth
1/8 cup dry red wine
1 teaspoon Worcestershire sauce
1 teaspoon minced fresh thyme, or 1/4 teaspoon dried
1/2 cup frozen peas
Topping
2 pounds russet potatoes, peeled and cut into 2-inch cubes
3 tablespoons melted butter
1/3 cup milk, hot
salt and pepper
1 large egg yolk
---
Instructions
FOR THE FILLING
Season the beef with salt and pepper. Heat a large Dutch oven over medium high heat. Brown the ground beef. Transfer beef to a bowl.
Add the 1/2 tablespoon oil to the pan and heat until shimmering. Add the onion, carrots, and a bit of salt and cook until softened. Stir in the tomato paste and garlic and cook until fragrant. Stir in the flour; cook for 1 minute. Whisk in the broth, wine and Worcestershire, scraping up any browned bits. Stir in the thyme and the reserved ground beef and bring to a simmer. Cover, reduce to low and cook for 25 to 30 minutes.
FOR THE TOPPING
Place the potatoes in a large saucepan and cover with water. Bring to a simmer and cook until tender, about 25 minutes. Drain the potatoes, return them to the pan, and mash. Stir in the butter, then the milk until incorporated. Season with salt and pepper, then stir in the egg yolks.
TO ASSEMBLE
Heat the oven to 400F. Stir the peas into the beef mixture, then pour into a baking dish. With a large spoon, drop spoonfuls of the potatoes over the filling, then spread them out to the edge of the dish to ensure a tight seal. Bake in the middle of the oven until the top turns a golden brown, 20 to 25 minutes. Let rest for 5 to 10 minutes before serving.