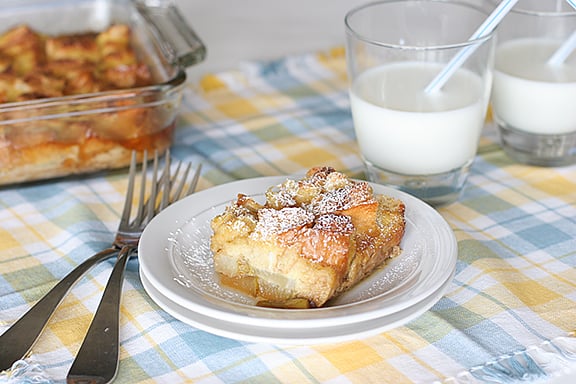 I don't usually post on Sundays, but it has been one of those weeks. We put our house up for sale this week, so we spent lots of time cleaning and decluttering and doing random repairs. And then I agreed to develop 5 recipes that are all due next week, so most of my kitchen time has been spent on those recipes. I went to make this recipe on Thursday, only to discover that it needed to be refrigerated overnight. (This is a classic reason why you should always read through the recipe beforehand!!) So, here I am, a few days late – but it's worth it!!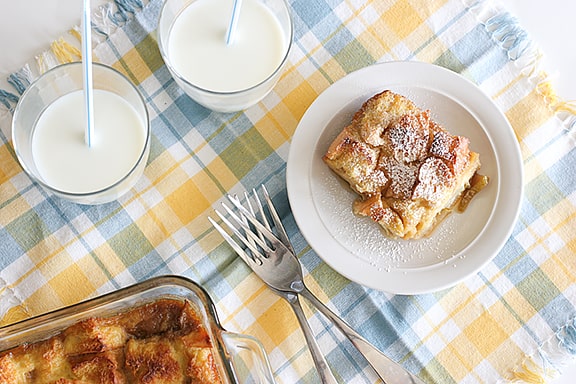 I am a fan of overnight breakfast casseroles. Not only are they delicious, but you get to do all the work ahead of time, so in the morning, all you have to do is pop the casserole in the oven. I've made a few variations of baked French toast before, but this one rates up at the top. I love that you start it with brown sugar and butter, making a caramel-ly base that the pears soak up. And I was really surprised at how much the vanilla flavor showed through. Pears aren't my #1 favorite fruit, and while I liked them in this, I can imagine that I would absolutely love it with apples!

Recipe Rating: 8.5 out of 10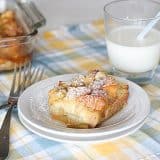 Baked Pear Vanilla French Toast
---
Prep Time: 10 minutes
Cook Time: 40 minutes
Total Time: 50 minutes
Yield: 6-8 servings 1x
Description
Pear and Vanilla flavors are infused in this delicious overnight breakfast casserole.
---
Scale
Ingredients
1 cup dark brown sugar
1/2 cup butter
2 tablespoons water
3 fresh pears, sliced
4 cups French bread, cut into small pieces (better to not use the crust)
1/2 cup pecans, finely chopped
9 eggs
2 cups milk
2 teaspoons vanilla
powdered sugar or maple syrup
---
Instructions
Melt the butter and brown sugar in a saucepan over medium heat. Add the water and continue heating until bubbly. Remove from heat and pour into a well-greased 9?x13? baking pan, making sure to spread it evenly. Arrange the pears on top of the brown sugar mixture. Sprinkle the bread evenly over the pears, then sprinkle with the chopped nuts. Beat the eggs, milk and vanilla together and pour evenly over the entire mixture.* Cover and refrigerate overnight.
Preheat the oven to 350F. Bake uncovered for 40 minutes or until it becomes puffy and the eggs are no longer runny. Serve with powdered sugar or maple syrup.
*I like to press the bread down with my hands or a spatula once I have poured the egg mixture on top to make sure the bread all gets soaked with the liquid.
———————