This Cranberry Orange Baked French Toast Casserole is an overnight breakfast casserole that is filled with cranberry and orange flavors.
This post has been sponsored by The American Egg Board
Can you tell that I'm a little bit obsessed with cranberry and orange this year? 🙂
I'm at it again, but this time I'm bringing you breakfast. We all know how crazy Christmas morning can be. I know when I was a kid, we would wake up hours before the sun came up. We would be so excited and wound up that it would be hard to go back to sleep. The rule was that we couldn't wake our parents up that early, so we would eagerly await our parents so that we could start unwrapping presents.

By the time my parents came downstairs, we would be beyond impatient and want to start with the presents right away. There were 5 kids in our family, and we would take turns opening presents, one at a time, so needless to say, this was not a quick process. By the time we finished, the majority of the morning would be gone.
We can't survive on that candy in our stockings, so we need a proper breakfast. But who wants to slave away on Christmas morning, especially if you've just spent hours opening presents?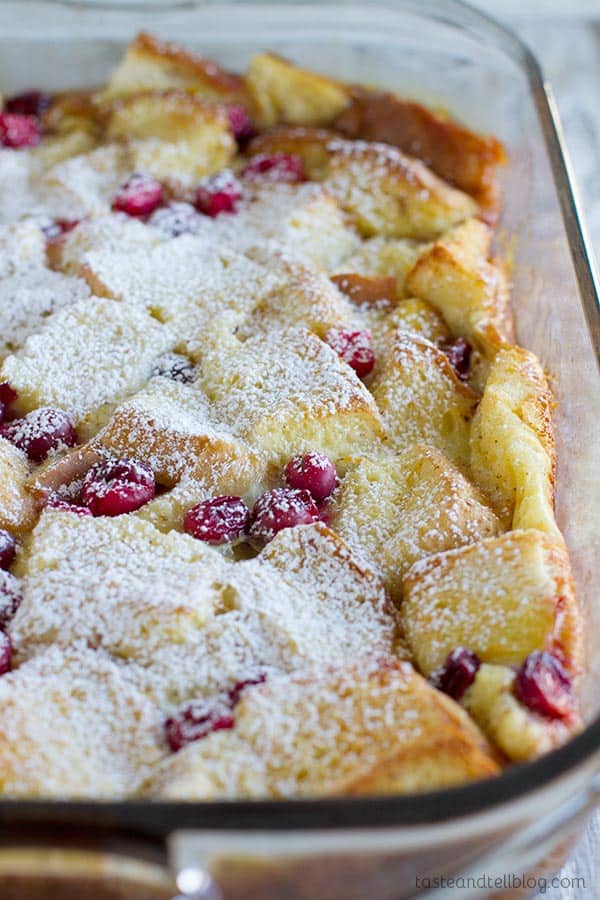 This Cranberry Orange Baked French Toast Casserole is your answer. Not only does it take virtually zero effort on the day you are going to bake it, but it's pretty darn delicious as well. You might we worried about how much work it takes to put the whole baked French toast together the night before, but don't worry, you should be done in 15 minutes flat. And the cranberry and orange flavors just scream holiday to me.
I used regular white bread for this casserole, but feel free to swap in French bread or Italian bread, or whatever you have on hand. This is a great way to use up bread that might be a day or two old, as well.
One of the things that I love the best about this baked French toast casserole is that even though it is sweet and it tastes like a splurge, it actually contains some great high-quality protein from the eggs. It's a great way to get some nutrition among all of the candy (that I know my kids will be wanting to eat all day.) The protein from the eggs helps you to feel full longer and helps to give you the energy you need to get through the day. Which is especially important on Christmas since there are festivities happening all day!!
This breakfast recipe is a great way to get your day started off on the right foot!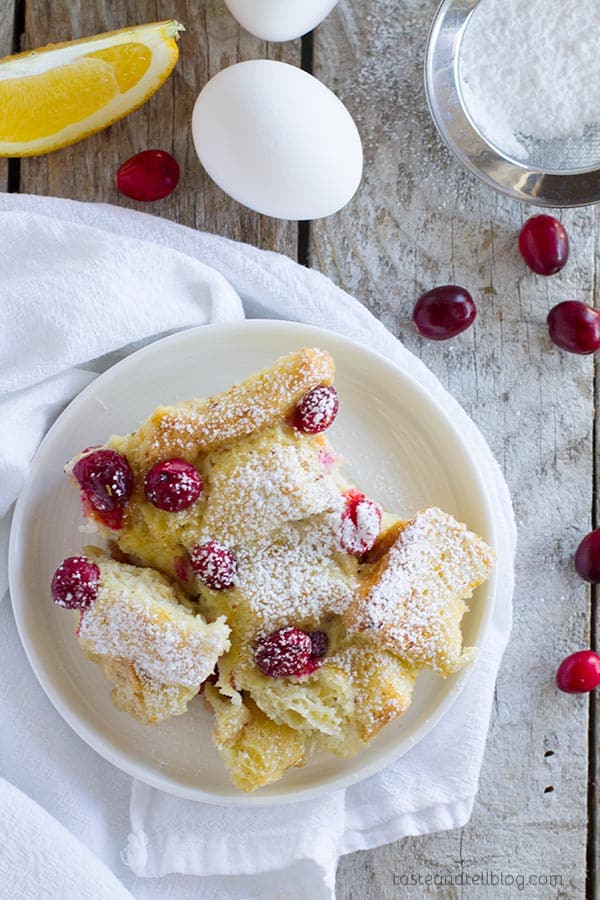 For even more egg-filled recipe ideas, make sure to check out www.incredibleegg.org.
Like what you see here? Make sure you are following Taste and Tell for more great recipes and ideas!!

Facebook ** Pinterest ** Twitter ** Instagram ** Google+
or you can subscribe to my newsletter or Feedly or Bloglovin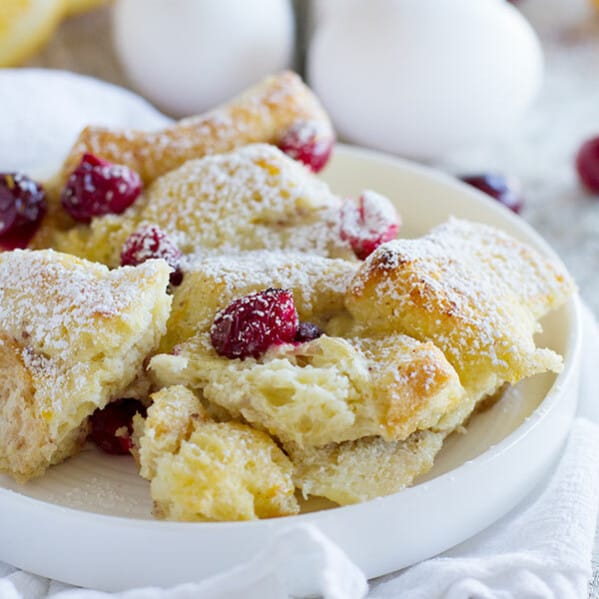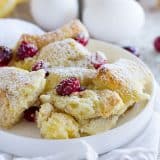 Cranberry Orange Baked French Toast Casserole
---
Author:
Prep Time: 15 mins
Refrigeration Time: 8 hours
Cook Time: 50 mins
Total Time: 9 hours 5 minutes
Yield: 6 servings 1x
Description
This Cranberry Orange Baked French Toast Casserole is an overnight breakfast casserole that is filled with cranberry and orange flavors.
---
Scale
Ingredients
1/4 cup butter, melted
1 cup light brown sugar
1 cup fresh cranberries, divided
1 (1 lb) loaf white bread, cut into 1-inch cubes
2 cups milk
6 eggs, lightly beaten
1 tablespoon orange zest
1 teaspoon vanilla extract
1/2 teaspoon cinnamon
1/2 teaspoon orange extract, optional
powdered sugar, for serving
---
Instructions
Pour the melted butter evenly into the bottom of a 9×13-inch baking dish. Sprinkle the brown sugar evenly over the top. Sprinkle 1/2 cup of the cranberries over the top of the brown sugar. Add the cubed bread to the baking dish. Sprinkle the remaining cranberries over the top.
In a large bowl, combine the milk, eggs, orange zest, vanilla extract, cinnamon, and orange extract (if using), and beat lightly to combine. Pour the mixture evenly over the top of the bread in the baking dish. Press the bread down into the liquid mixture if needed to make sure all of the bread is soaked. Cover the dish with foil and refrigerate overnight, at least 8 hours.
Bring the dish out of the refrigerator 30 minutes before baking. Preheat the oven to 375ºF. Bake the casserole, still covered, for 30 minutes. Remove the foil and continue baking until the top is browned and a tester inserted in the center comes out clean another 15-20 minutes.
Let the casserole sit for 10 minutes before serving. Serve topped with powdered sugar.
I am in a working relationship with the American Egg Board, and this post has been sponsored. I'm so glad to be able to work with companies and organizations that I truly believe in. Thank you for supporting them, too.