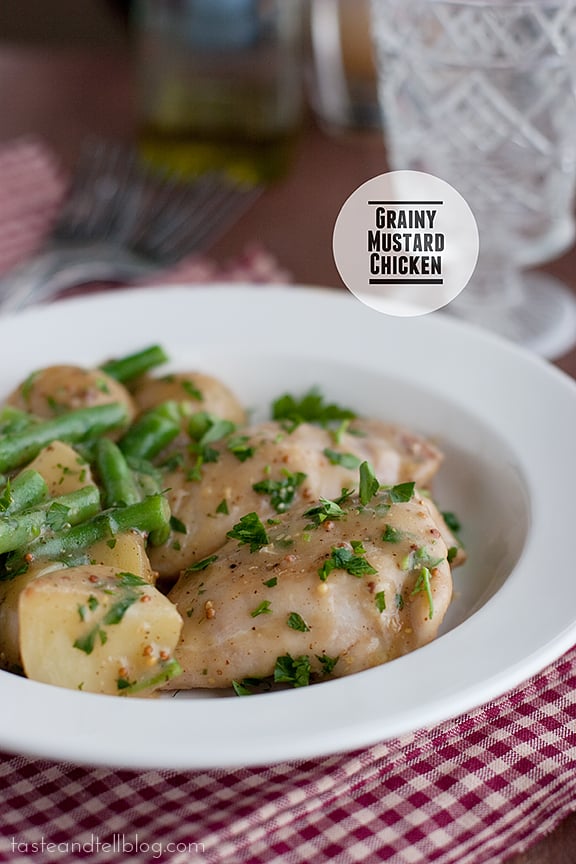 Ok, ok – it's true. My favorite condiment is mustard. And I guess I really like mustard with chicken, because this isn't the first time I've made a chicken dish that was covered in a mustard sauce! But what can I say – I like what I like!!
Truly, though, I was drawn to this recipe from the moment I saw it. One of those reasons is that I'm horrible with side dishes. I know we need to eat more veggies, but coming up with side dishes every night gets difficult for me. But with this dish, you don't even have to think about it, because the side is included in the meal!! You cook potatoes and green beans, you cook your chicken, and the you coat them all in a delicious grainy mustard sauce. This was a no-brainer for me!
And it doesn't hurt that it's done in half and hour, and it's a pretty budget friendly meal as well.  I think it's a winner!!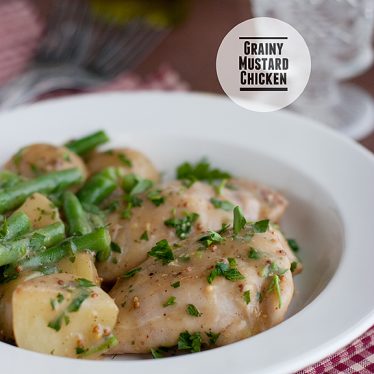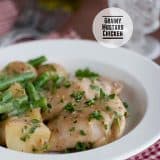 Grainy Mustard Chicken
---
Prep Time: 15 minutes
Cook Time: 15 minutes
Total Time: 30 minutes
Yield: 4 servings 1x
Description
Chicken thighs, potatoes and green beans are all cooked and coated in a mustard sauce. Recipe from The Rachael Ray Show.
---
Scale
Ingredients
1 1/2 lbs small potatoes, quartered
1/2 lbs green beans, trimmed and cut into thirds
1 tablespoon extra virgin olive oil
8 boneless, skinless chicken thighs
6 tablespoons butter
4 tablespoons butter
2 1/2 cups chicken stock
2 tablespoons honey
1 bunch parsley, chopped
4 rounded tablespoons grainy mustard
---
Instructions
Place the potatoes in a large pot and cover with water. Cook until the potatoes are tender. Add the green beans during the last 3 minutes of cooking time. Drain and return to the pot.
Meanwhile, heat the olive oil in a large skillet. Season the chicken with salt and pepper, then add to the hot skillet. Cook until cooked through, about 10-12 minutes, flipping once. Remove from the skillet to a plate and cover with foil.
Melt the butter in the same pan you used for the chicken. Brown the butter in the pan. Whisk in the flour, and cook for another minute or two. Slowly whisk in the chicken stock and cook until ti coats the back of a spoon. Stir in the honey, parsley and mustard.
Transfer the chicken and any accumulated juices into the pot with the potatoes and green beans. Pour the sauce over everything. Serve the potatoes and green beans alongside the chicken.
—————-
source: The Rachael Ray Show