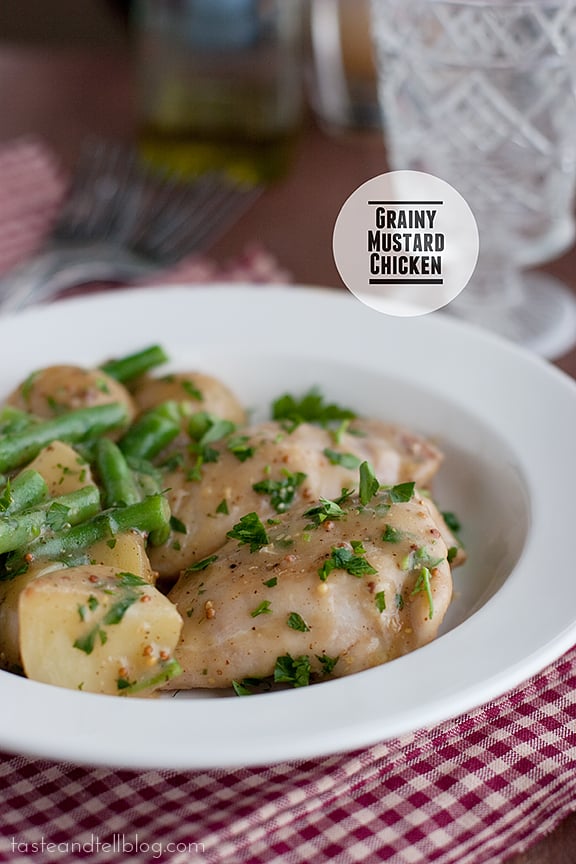 **Don't miss the giveaway below!!**
Ok, ok – it's true. My favorite condiment is mustard. And I guess I really like mustard with chicken, because this isn't the first time I've made a chicken dish that was covered in a mustard sauce! But what can I say – I like what I like!!
Truly, though, I was drawn to this recipe from the moment I saw it. One of those reasons is that I'm horrible with side dishes. I know we need to eat more veggies, but coming up with side dishes every night gets difficult for me. But with this dish, you don't even have to think about it, because the side is included in the meal!! You cook potatoes and green beans, you cook your chicken, and the you coat them all in a delicious grainy mustard sauce. This was a no-brainer for me!
And it doesn't hurt that it's done in half and hour, and it's a pretty budget friendly meal as well.  I think it's a winner!!
Grainy Mustard Chicken
Chicken thighs, potatoes and green beans are all cooked and coated in a mustard sauce. Recipe from The Rachael Ray Show.
Ingredients
1½ lbs small potatoes, quartered
½ lbs green beans, trimmed and cut into thirds
1 tablespoon extra virgin olive oil
8 boneless, skinless chicken thighs
6 tablespoons butter
4 tablespoons butter
2½ cups chicken stock
2 tablespoons honey
1 bunch parsley, chopped
4 rounded tablespoons grainy mustard
Instructions
Place the potatoes in a large pot and cover with water. Cook until the potatoes are tender. Add the green beans during the last 3 minutes of cooking time. Drain and return to the pot.
Meanwhile, heat the olive oil in a large skillet. Season the chicken with salt and pepper, then add to the hot skillet. Cook until cooked through, about 10-12 minutes, flipping once. Remove from the skillet to a plate and cover with foil.
Melt the butter in the same pan you used for the chicken. Brown the butter in the pan. Whisk in the flour, and cook for another minute or two. Slowly whisk in the chicken stock and cook until ti coats the back of a spoon. Stir in the honey, parsley and mustard.
Transfer the chicken and any accumulated juices into the pot with the potatoes and green beans. Pour the sauce over everything. Serve the potatoes and green beans alongside the chicken.
----------------
source: The Rachael Ray Show
And we are to the last day of giveaways to celebrate Carrian's birthday!  I have had so much fun sharing all of these giveaways with all of you, and am grateful to Carrian for letting me tag along.  I'm going to let her take it away for this last giveaway!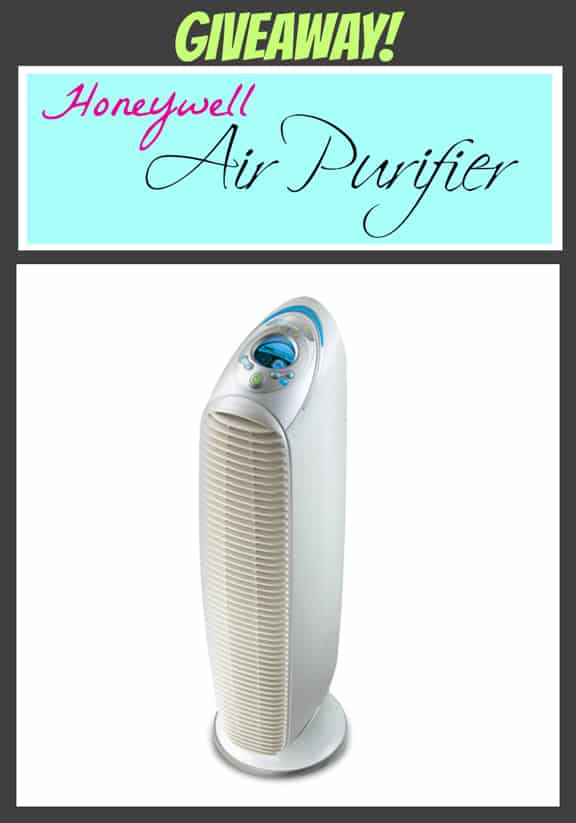 It's the final day of the giveaways! I hope you've been as excited and having as much fun as we have been. In case you are just tuning in, I turned 29 on April 16th so I've collaborated with a few of my favorite bloggers to bring you a week of my favorite giveaways. Make sure you enter the other days in case you haven't already.
Day 1: Magimix Food Processor-$400, Day2: Vacation for 4 to Deer Valley Ski Resort-$4,000, Day 3: A houseful of new appliances from Hamilton Beach, Day 4: Outdoor Grill with built in rotisserie from Lowes-$1200
I know, this has absolutely nothing to do with food, but it has a lot to do with this time of year. We are just pulling out of flu season, but heading straight into allergy season which are two major problems that our home suffers from. So, we decide to take charge and try out a Honeywell Air Purifier, the Honeywell True Hepa 5 in 1 Air Purifier to be exact. Oh my gosh, it works!!! I cannot tell you how much happier we've been!
So, obviously I wanted to provide you all the same opportunity. A healthy person is definitely a happier person and we for sure want you to be happy. Here are some awesome deets about the Air Purifier and one lucky winner will be receiving one themselves! And there will be 2 winners!!
True HEPA filter captures up to 99.97% of microscopic particles from the air that passes through the filter.
UV Technology helps reduce airborne bacteria, viruses, fungi and mold spores.
Enhanced odor absorbing pre-filter reduces unpleasant household odors faster.
Helps reduce household VOC's & certain gases.
Advanced electronic controls, 12 cleaning levels, 1-18 hour timer, filter-clean indicator and oscillation.

Replacement Filter 2 pack: HRF-N2.

Replacement odor reducing pre-filter: HRF-B1 or HRF-B2.
5 year limited warranty.
Honeywell True HEPA 5-in-1
Air Filter