An easy, delicious and family friendly Mexican-inspired casserole.
I'm beginning to think that there is no such thing as normality when it comes to life. I find myself always saying – "when this gets over, my life will be back to normal." But there is always something on the other side!! We moved out of our house last weekend, and I kept saying that things would be back to normal once the move was over. But then I had to get up early on Sunday morning to drive to a funeral in New Mexico. Then I said when I got back from the funeral, things would be back to normal. But now I am staying with my parents for the next month while my husband is staying in a hotel close to his job while we figure out exactly where we are going to move to. So the next month is obviously not going to be normal, while I'm cooking and working out of a different kitchen, and while the kids and I survive without my husband there. And after that, we'll have another move, and settling into a new neighborhood. So yeah, "normal" is just something that I don't think will be a part of my vocabulary for awhile!!
The good thing is that hopefully, things will be a little calmer over the next few weeks. I haven't cooked for about a week now, since everything was getting packed away. I'm not really a fast food lover, so even those few days of eating fast food on a daily basis put me over the edge. I'm definitely a lot happier (and I feel a lot better!) when I'm eating at home. So I'm so grateful that I get to get back into the kitchen today.
This casserole is one that I made prior to the move. It was yet another Pinterest find – and another winner! We love Mexican flavors at our house, and this is an easy and delicious way to have Mexican food night at your house. And it is yet another recipe that proves that cooking doesn't have to be complicated to be good!!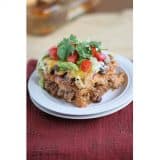 Enchilada Casserole
---
Prep Time: 25 minutes
Cook Time: 30 minutes
Total Time: 55 minutes
Yield: 8 servings 1x
Description
An easy, delicious and family friendly Mexican-inspired casserole
---
Scale
Ingredients
1 pound ground beef
1 large onion, chopped
2 cups salsa
1 15-ounce can black beans, drained and rinsed
1/4 cup Italian salad dressing
2 tablespoons taco seasoning
1/4 teaspoon ground cumin
6 8-inch flour tortillas
3/4 cup sour cream
1 cup shredded cheddar cheese
1 cup shredded lettuce
1 medium tomato, chopped
1/4 cup minced fresh cilantro
---
Instructions
Preheat the oven to 400F. Prepare a 2 quart baking dish by spraying with nonstick cooking spray.
In a large skillet, cook the ground beef and the onion until the beef is no longer pink. Drain, if needed. Add in the salsa, beans, dressing, taco seasoning and cumin. Stir together.
Place three of the tortillas in the prepared baking dish. Layer with half of the meat mixture, sour cream and cheese. Lay the remaining tortillas on top, then top with the remaining meat mixture, sour cream, and cheese. Cover with foil.
Bake in the preheated oven for 25 minutes. Uncover and then cook for an additional 5-10 minutes, or until heated through and the cheese is melted and bubbly. Let stand for 5 minutes before serving. Serve topped with lettuce, tomato and cilantro.
———————-
from Taste of Home