Pierogi with Brown Butter – homemade pierogi filled with mashed potatoes and cheese.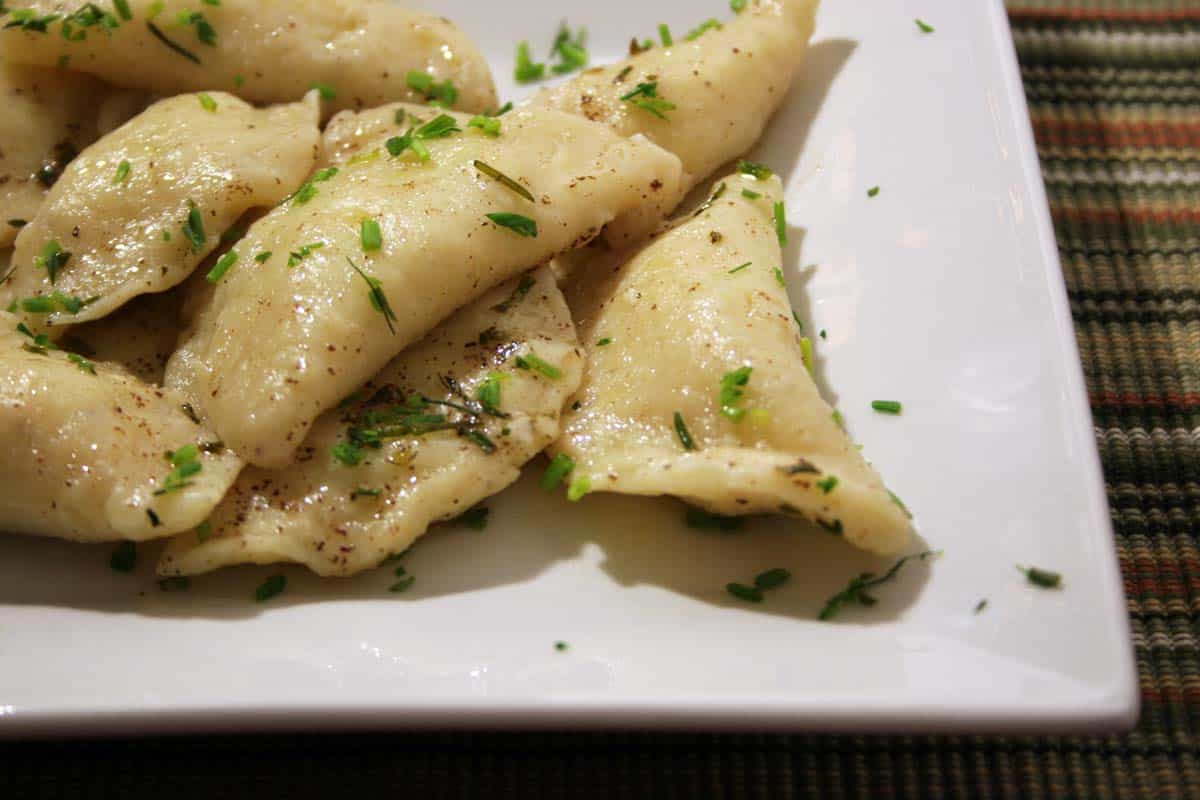 I have been a bit sporadic with my blogging lately, but I'm ready to get back into the swing of things. Maybe it's the New Year, or maybe it's my nesting instincts kicking in wanting to clear out my archives, but I've missed blogging regularly. Of course this is happening when a baby could be here any day – although I'm not technically due for 3 weeks – but hopefully I'll be able to keep up once she is here.
After completing my goal for 2008, I started thinking about what I wanted my food goals to be for 2009. What I came up with doesn't have a definite start or finish, but I'm really excited. For 2009, I want to try new things – new ingredients, new cuisines, new techniques. I tend to shy away from trying too many new things, but this will be my year to go out of my comfort zone. Like the dish above that I made. I had never had a pierogi, and I had never made my own pasta, so I hit two things in one on this one. And what did I learn? It's actually a lot easier than I thought it would be!! And I actually really loved this dish. If your goal for this year is to lose weight, than this one probably won't be on the approved list, but for a special splurge – it's definitely worth it.
I also want to thank everyone for sticking with me this past month or two that I haven't been around as much. I'm hoping to get back into the swing of things, and hopefully once the baby comes, she won't change things too much. I have some ideas of changes that I want to make to my blog, but those won't come until after the initial shock of having a new one around the house wears off.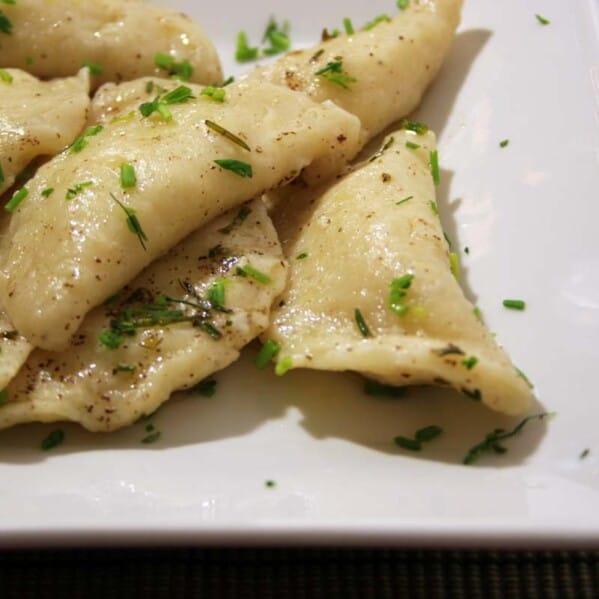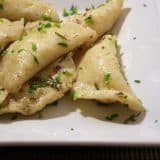 Pierogi with Brown Butter
---
Author:
Category: Main Dish
Description
Pierogi with Brown Butter – homemade pierogi filled with mashed potatoes and cheese.
---
Scale
Ingredients
1 pound baking potatoes, peeled and quartered
1 stick (4 ounces) plus 2 tablespoons butter
3/4 cup shredded white cheddar cheese
salt and pepper
2 3/4 cups flour, plus more for dusting
1 large egg
1 cup sour cream at room temperature
2 tablespoons chopped chives
---
Instructions
In a small pot of boiling salted water, cook the potatoes until fork-tender, about 8 minutes. Drain and transfer to a medium bowl. Mash with 2 tablespoons butter; let cool. Stir in the cheddar cheese and season with salt and pepper.
In a large bowl, combine the flour, 1 teaspoon salt and 1/2 teaspoon pepper. Make a well in the center of the flour, add the egg and sour cream and stir into the flour. Let the mixture rest for 10 minutes, then transfer to a work surface and knead until a smooth, stiff dough forms. Cut the dough into quarters, wrap each in plastic and refrigerate for 30 minutes.
Meanwhile, in a large skillet, cook the remaining 1 stick butter over medium heat until melted and brown, about 5 minutes. Stir in the chives.
On a floured work surface, working with one-quarter of the dough at a time, roll out each piece into an 11-inch circle. Using a 4-inch biscuit cutter, cut the dough into rounds. Place a tablespoon of potato filling slightly off center on each circle. Moisten the edge, fold the dough over the filling and press the edges firmly to seal.
In a large pot of boiling, salted water, cook the pierogi, about 9 at a time, for 5 to 7 minutes. Toss them in the brown butter before serving.
Recipe Notes:
from Every Day with Rachael Ray December/January 2009