Sometimes plain is the best – especially when it comes to these Glazed Doughnuts! A yeast raised doughnut is covered in the perfect doughnut glaze.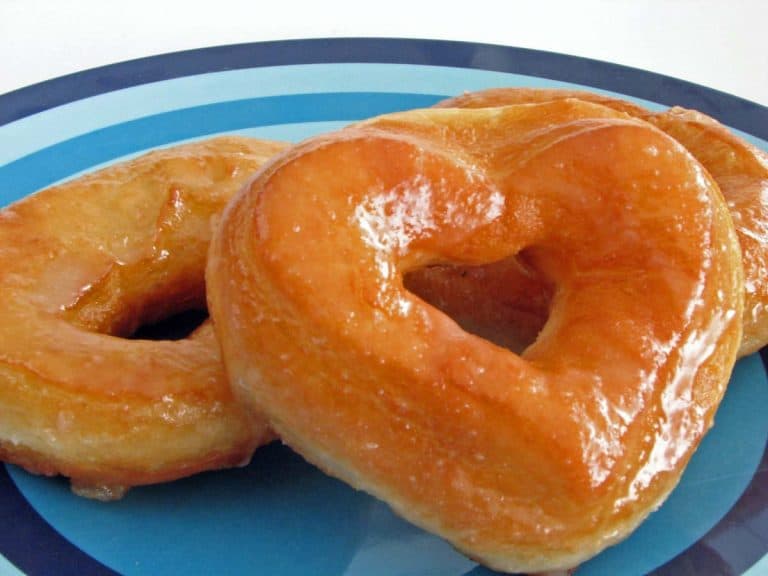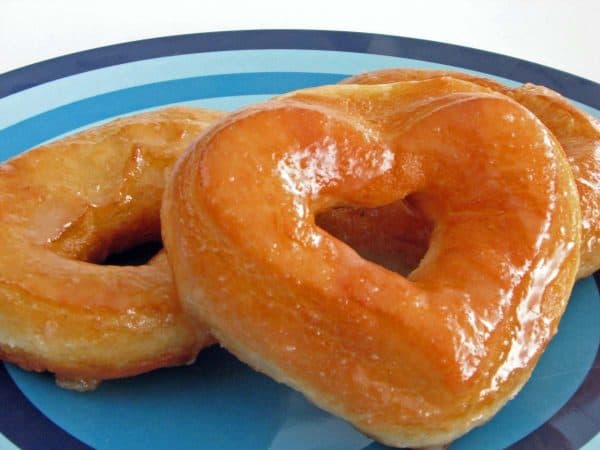 Doughnuts, donuts – I'm not quite sure which is the proper spelling, but either way – they are delicious!!
I've been really bad about participating in all of the food events lately, but when I saw Helen at Tartelette and Peabody at Culinary Concoctions by Peabody announce a doughnut event, I couldn't pass up the opportunity to get into the kitchen and get the deep fryer out!
I am a huge doughnut fan. When I was in high school, my parents owned a sporting goods store, and right next door was a Dunkin Donuts. My metabolism was definitely better back then, because donuts were a regular occurrence. There was another donut shop in the town I grew up in called Spudnuts (which unfortunately is gone now) that sold doughnuts made with a potato dough. They were my absolute favorite – especially the ones with cherry frosting. I have never seen another doughnut shop that sells cherry frosted doughnuts. I miss those days!! These days, I don't get many doughnuts. We do have a Krispy Kreme – and I love those – but my husband doesn't like them. And supermarket doughnuts just don't make the cut! So this was a perfect opportunity to test out my doughnut making skills.
I actually had a tasty sounding ricotta doughnut recipe all chosen out, but when I told my husband, he got a really disappointed look on his face. And then he asked me if I could make him some regular, yeast doughnuts. I couldn't resist him, so my plan was to make a half batch of each. But after this first batch, we had so many doughnuts that I knew we wouldn't be able to eat them all plus another kind as well! So the ricotta doughnuts will have to wait for another day, which is fine – because I could eat doughnuts every day!
I ended up choosing out a recipe from one of my cookbooks that sounded good. It is a little different from the normal yeast doughnuts, as it is made with buttermilk and there are no eggs in them. I found a double heart cookie cutter in my drawer, and thought it would be the perfect doughnut – a Valentine's Day doughnut!! Unfortunately, only one of the heart shaped doughnuts turned out. While these doughnuts were delicious (and we both ate way too many of them!), the dough was very difficult to work with. It was really sticky and I had a hard time keeping the shapes. They were some very deformed looking doughnuts!! But I was able to salvage a few of them for pictures luckily. The only change I made to the recipe was that I used lime zest instead of lemon zest. While I'm sure I could have left the zest out completely, I really liked what it added. It was enough flavor for you to notice something was there, but not enough to make the doughnut seem flavored. The glaze I used was an Alton Brown recipe that I found online – and it was perfect!! It tasted just like any doughnut glaze you would find at a bakery.
I have a feeling that this is going to be one of the tastiest round ups in food blogging history – so make sure to check out Helen and Peabody's blogs on the 15th!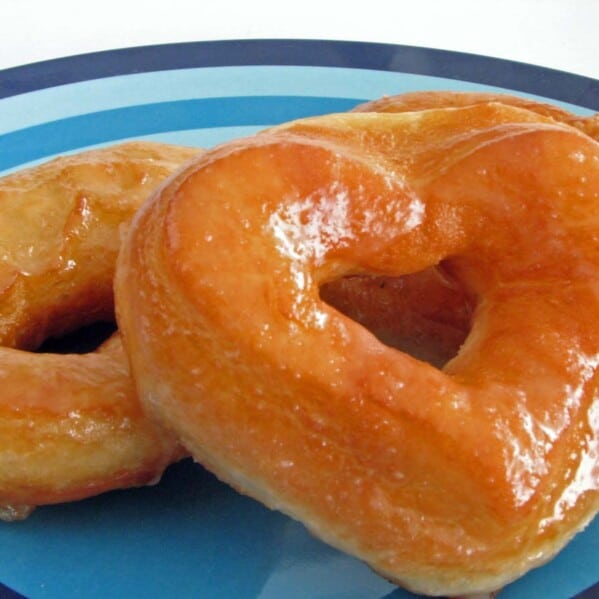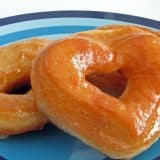 Glazed Doughnuts
---
Description
Sometimes plain is the best – especially when it comes to these Glazed Doughnuts! A yeast raised doughnut is covered in the perfect doughnut glaze.
---
Scale
Ingredients
Doughnuts:
2 teaspoons active dry yeast
1 cup milk, heated to lukewarm
1/3 cup sugar
4 cups all-purpose flour
1 cup buttermilk, heated to lukewarm
1 teaspoon freshly grated nutmeg
1 teaspoon grated lemon zest
1 1/2 teaspoons salt
2 ounces (1/2 stick) unsalted butter, cut into tablespoon-sized pieces, softened
Vegetable or peanut oil for frying
Glaze:
1/4 cup whole milk
1 teaspoon vanilla extract
2 cups confectioners' sugar
---
Instructions
Doughnuts:
In the bowl of a stand mixer, mix the yeast and 1/2 cup of the lukewarm milk. Let stand for 5 minutes, then stir in 1 tablespoon of the sugar and 1/2 cup of the flour. Cover with plastic wrap and let it stand at room temperature for 20 to 30 minutes, until bubbles form.
Reheat the remaining 1/2 cup milk to lukewarm. Stir in the milk, buttermilk, nutmeg, zest, and remaining 1/2 cup plus 1 teaspoon sugar. Place the remaining flour and the salt on top of the sponge. Put the bowl on the stand mixer, and using the paddle attachment, mix on low speed for 2 minutes. Scrape down the sides of the bowl and change to the dough hook. Increase the speed to medium and knead the dough for 5 minutes. The dough should be tacky.
Turn the speed to medium-low and add the butter, one tablespoon at a time. Scrape down the sides of the bowl. Mix for 5 minutes, or until the dough is smooth. Scrape down the sides of the bowl again and cover the bowl with plastic wrap. Let the dough rise at room temperature until doubled – 1 1/2 to 2 hours.
When the dough has doubled, turn it out onto a slightly floured surface. Roll into a 10-inch square and wrap with plastic wrap. Place it in the freezer for 20 minutes.
Take out of the freezer, and using doughnut cutter, cut out the doughnuts. Dip the cutter in flour each time to make cutting easier. Place the doughnuts on a sheet pan covered with parchment paper. Cover with lightly sprayed plastic wrap and let rise for 30 minutes.
In a deep heavy skillet or deep saucepan fitted with a deep-fry thermometer (or a deep fryer) heat oil to 350F. Cut the parchment that the doughnuts are sitting on into squares, each square holding a doughnut or a doughnut hole. Carefully slide 4 doughnuts off their parchment into the oil. After 30 seconds, turn the doughnuts over, cook for 1 minute, then flip it back over a cook for an additional 30 seconds. Remove from oil and let them drain on paper towels. Once they are cool enough to handle, dip them in the prepared glaze (recipe below). Repeat with the remaining doughnuts and doughnut holes.
Glaze:
Combine milk and vanilla in a medium saucepan and heat over low heat until warm.
Sift confectioners' sugar into milk mixture. Whisk slowly, until well combined.
Remove the glaze from the heat and set over a bowl of warm water.
Dip doughnuts into the glaze, 1 at a time, and set on a draining rack placed in a half sheet pan for 5 minutes before serving.