Hitting the road? Donut lovers will enjoy this guide to donuts from St. George, Utah, to San Diego, California. Raised, cake, old fashioned and buttermilk – I'm spilling all of my favorites from our donut crawl along the way.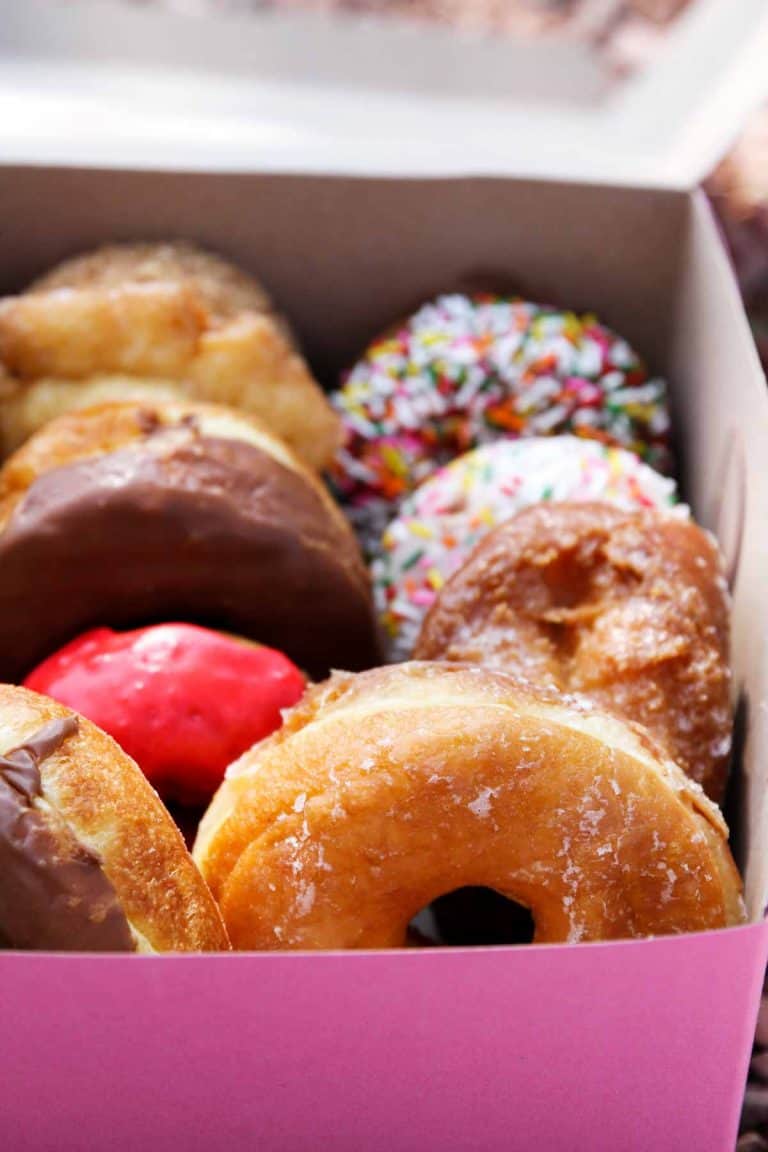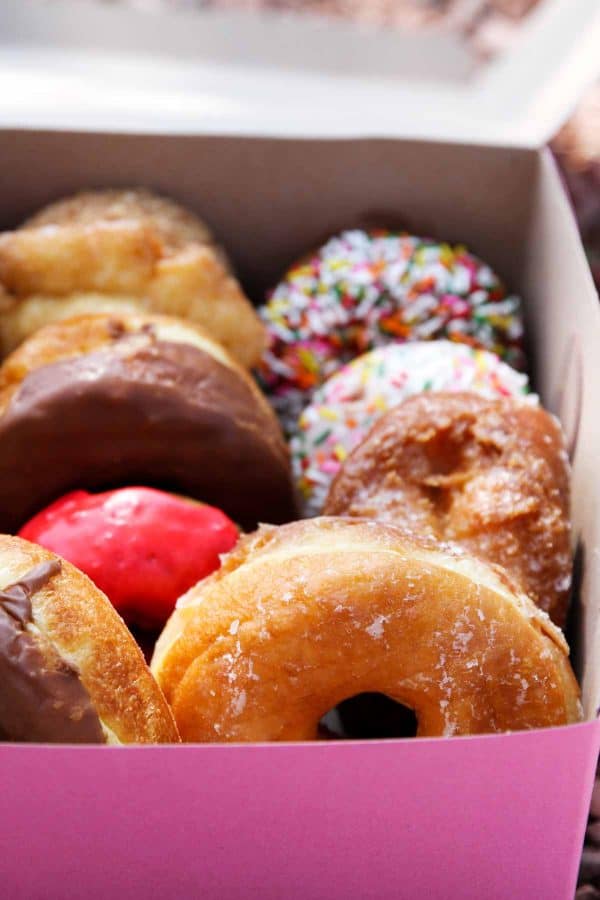 The Donut Crawl
I love donuts. I haven't kept that a secret at all. They are my thing.
So last month, when we took a road trip to California, of course part of my planning was finding all of the donut shops along the way. A donut crawl!
Ok, so first of all, I have to put a disclaimer up here that there are literally hundreds of bakeries and donut shops along the road from Utah to California. Hundreds. It would take years to find what are the "best" donuts along this stretch of freeway. So I'm not claiming these are the best stops. But instead, I'm sharing where we stopped, and what our favorites were at each of these stops.
I also have to preface this by telling you that I was travelling with kids. And without my husband. So while I would have loved to stop at twice as many places, my kids weren't completely into that idea. Not that they didn't want to stop for donuts. But they just just didn't want to stop. They were eager to get to our final destination each day, and every stop was just one more reason the trip was taking so long.
Even though we were winging it most the time, I really feel like we chose some winners. So here they are! If you hitting the road from Utah to California (or if you are going to be in any of these locations!) here is what we loved!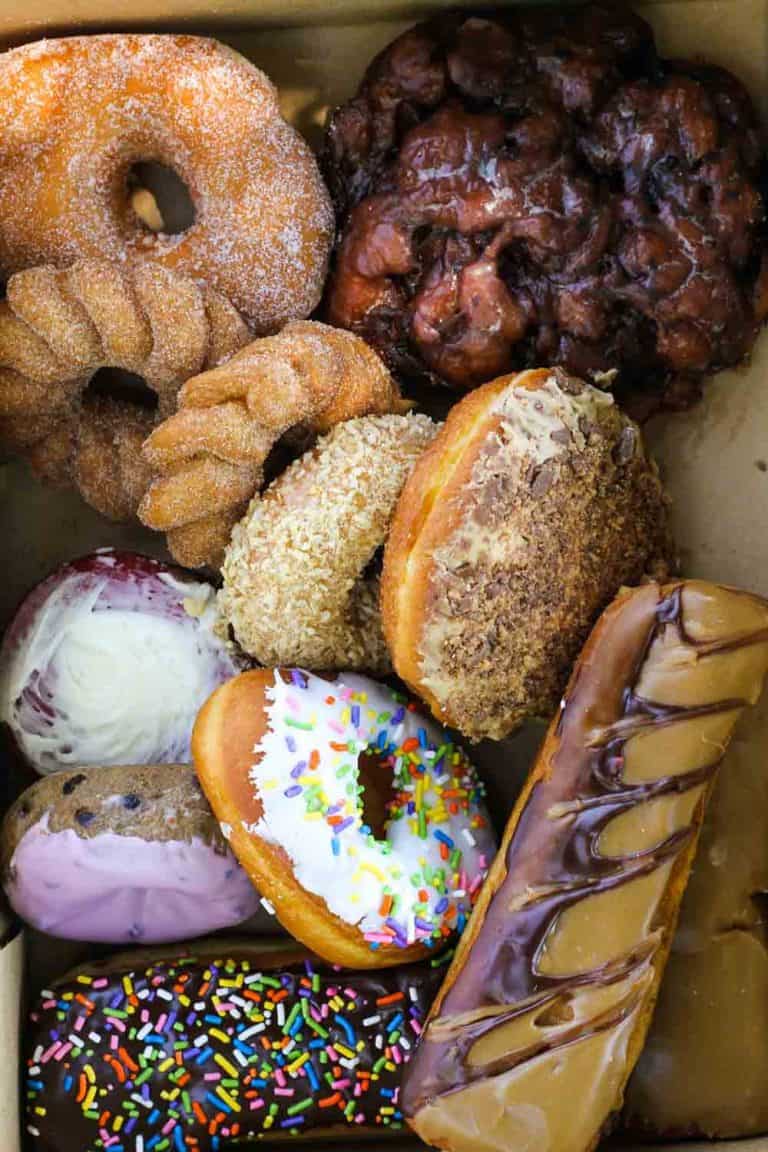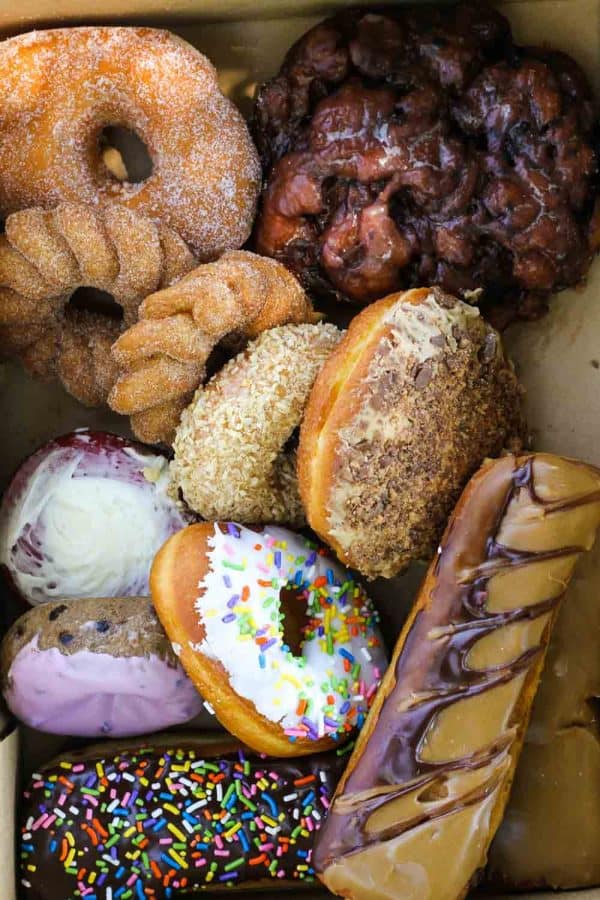 Lin's Fresh Market – St. George, Utah
Our first night, we stopped for the night in St. George. There were actually a couple of bakeries that I wanted to try, but it was a Sunday morning and most places were closed. So we headed to Lin's Fresh Market, a local grocery store. I know, I know. I'm always a skeptic when someone says they get their favorite donuts from a grocery store. I've had some ok donuts from a grocery store, but never any donuts that I've claimed are amazing. So I was really not expecting anything earth shattering.
Well, I was proved wrong. Grocery stores really do have the potential to make really good donuts. And Lin's is proof of that.
I heard through the grapevine that Lin's makes all of their donuts in house. They had a big selection, so that was definitely a plus. I grabbed a random assortment before we hit the road. If I had to choose a favorite, I'd probably choose the churro donuts, which surprised me. I wish they would have had an old fashioned to try, but I really did enjoy all of the donuts from Lin's. If I lived closer, I'd definitely be back for more!
Lin's Fresh Market
1930 W Sunset Blvd
St. George, UT 84770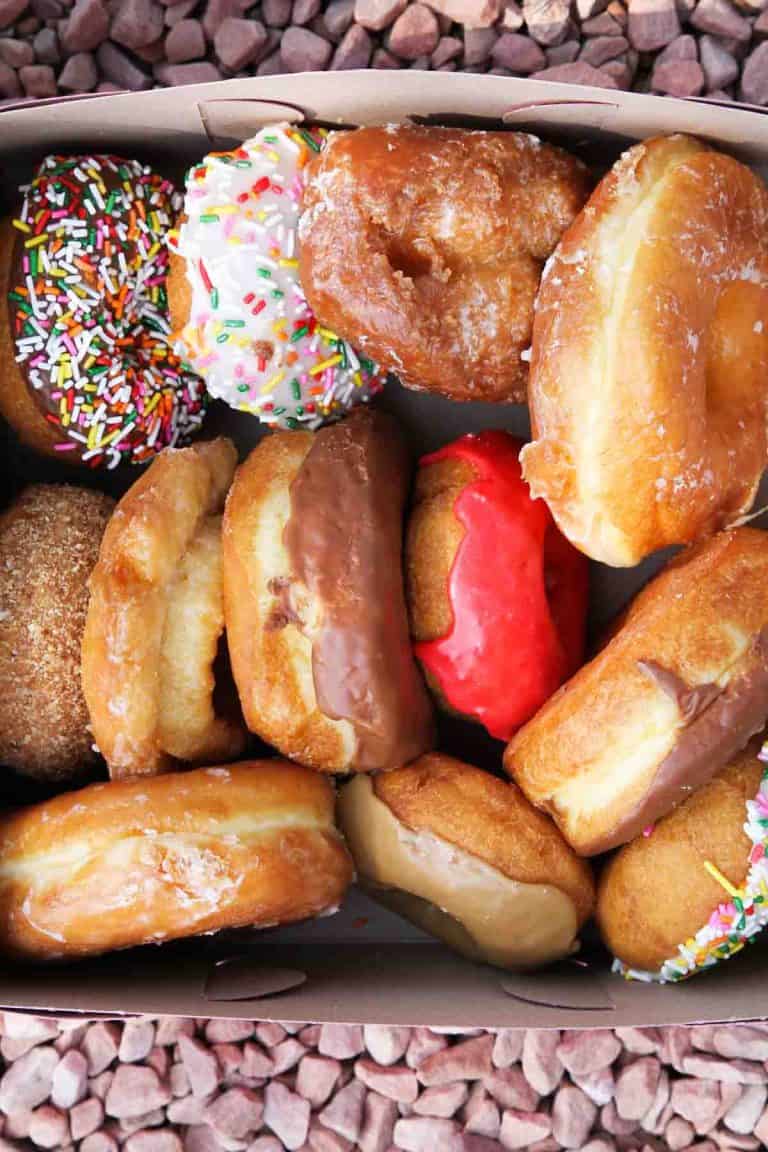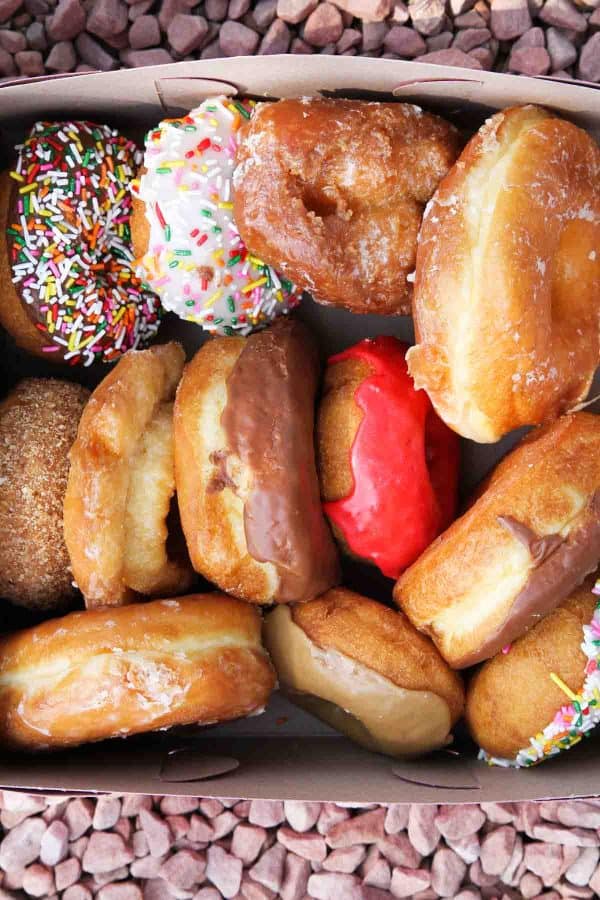 Ronald's Donuts – Las Vegas, Nevada
So, Las Vegas. My husband and I used to go to Las Vegas just for the food back before we had kids. But it had been many, many years since I had been there. And I had never been there with kids. We met my sister and her family for a day of fun, but didn't take into account that we were in Vegas with lots of little kids and 100 degree temperatures. For adults, walking from one part of the strip to another might not be a big deal, but it's far when you have little legs and hot temperatures. So we didn't make it to do half of what was on our list. Including the long list of donuts that I had written down.
We were only in Las Vegas for one night, and that first night, we didn't have any donuts. I had plans the next day to get donuts, but things just didn't go as planned. We found ourselves ready to leave town, but still didn't have donuts. I was determined, so I did a search online to find something that was still open and not on the strip. There was no way I was going to pay for parking, get kids out of the car again, and make them walk down the strip for donuts. So instead of the list that I had compiled, I found Ronald's Donuts.
Located not too far from the strip in strip mall, Ronald's Donuts was only open for another hour or so when I arrived. I was worried there wasn't going to be much of a selection left, but there were still quite a few donuts. It was cash only, but you guys – it was only $10 for a dozen donuts. They were already winning for me at that point. (That's a steal!)
I wasn't hungry, so I didn't dig into the donuts right away. But I made the mistake of putting the donuts on the seat next to me for our drive from Las Vegas to San Diego. A couple hours into our drive, boredom snuck in and I took a piece of the old fashioned. And yes – the price wasn't the only good thing about Ronald's Donuts. That old fashioned was seriously so good. One of the best basic old fashioned donuts I had ever had. It took every bit of my willpower to not eat the whole thing. And then I tried the buttermilk bar. Buttermilk bars are always really hit or miss for me – but they are usually misses. But this one was definitely a hit.
The rest of the donuts were good, but the old fashioned and buttermilk bar were where it was at for me. I would definitely stop back in for one of those (or both!)
Ronald's Donuts
4600 Spring Mountain Road
Las Vegas, NV 89102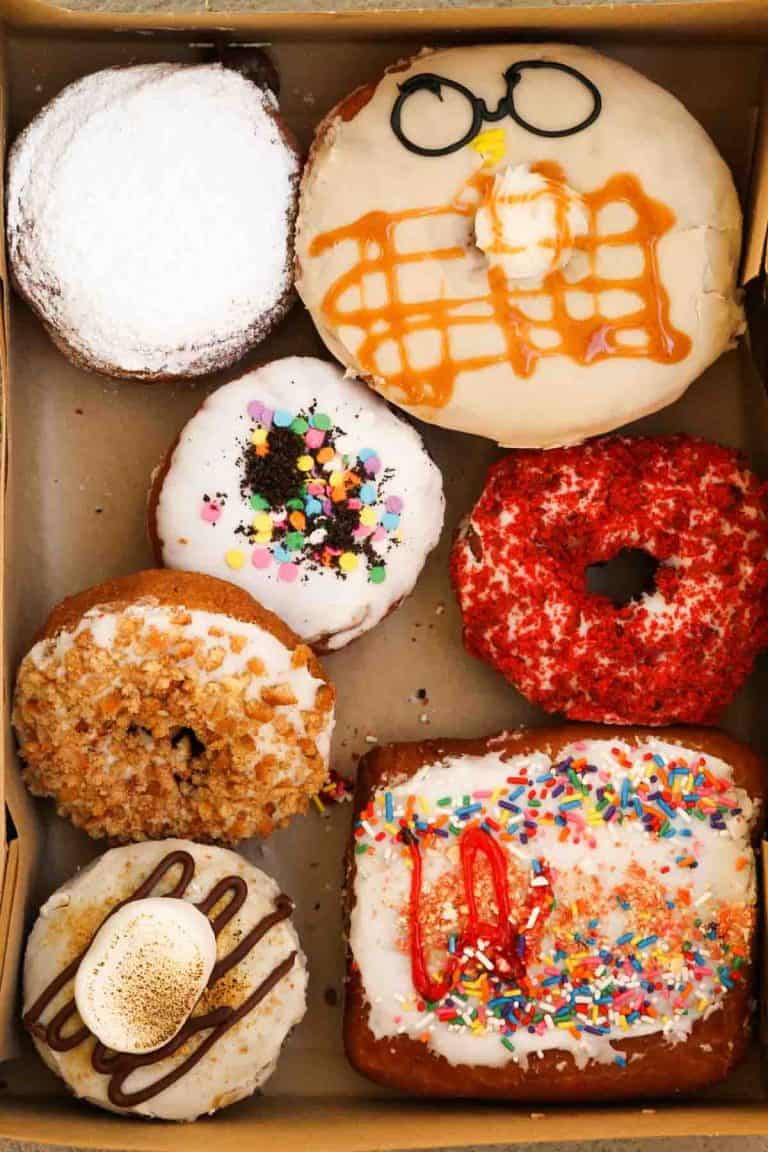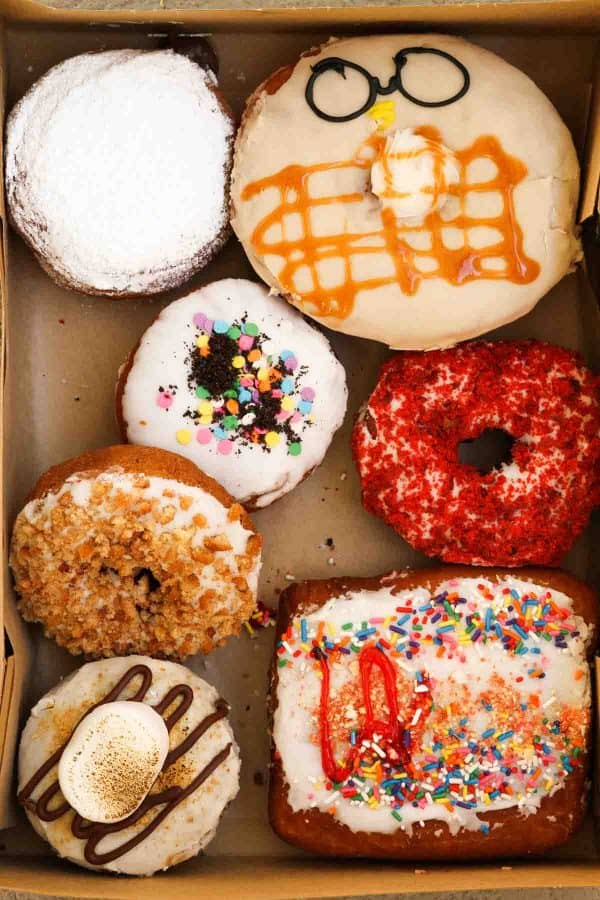 Donut Bar – San Diego
When we decided to do a family vacation in San Diego, I told myself that there was no way I was going to go to San Diego and not go back to Donut Bar. I went back in 2015 and had been dying to go back ever since. My family was actually going to be staying in Oceanside, but we had one night in San Diego before meeting up with the whole family. When looking for a hotel, I secretly looked for one that would make it easy to sneak over to Donut Bar.
My mom joined me as I headed over in the morning. It wasn't super early, but not super late, either, but there wasn't a line at all when I got there. As I walked in, I knew something was different. I knew I had been to that location, but it looked different. Sure enough, after talking to an employee, I found out that they had remodeled fairly recently because the space was too small before. She also told me that they are going to be franchising. I already knew there was a location in Vegas, but I didn't know that they would be expanding even further.
The donuts at Donut Bar are definitely more on the "fancy" or creative side, versus the traditional donuts at Ronald's. There are so many choices, I had a hard time deciding what to choose. I did choose the Pop Tart Donut, because I had wanted that the first time I went back in 2015 but they were out. And then I just chose a variety of donuts, and my mom chose several as well.
I stand by my original review that the donuts from The Donut Bar are some of the best. They really nail the raised donuts. Those, by far, are my favorite. I didn't have any that I didn't like, but the texture and flavor in their raised donuts is amazing. Donut Bar will remain a San Diego staple for me!
Donut Bar
631 B Street
San Diego, CA 92101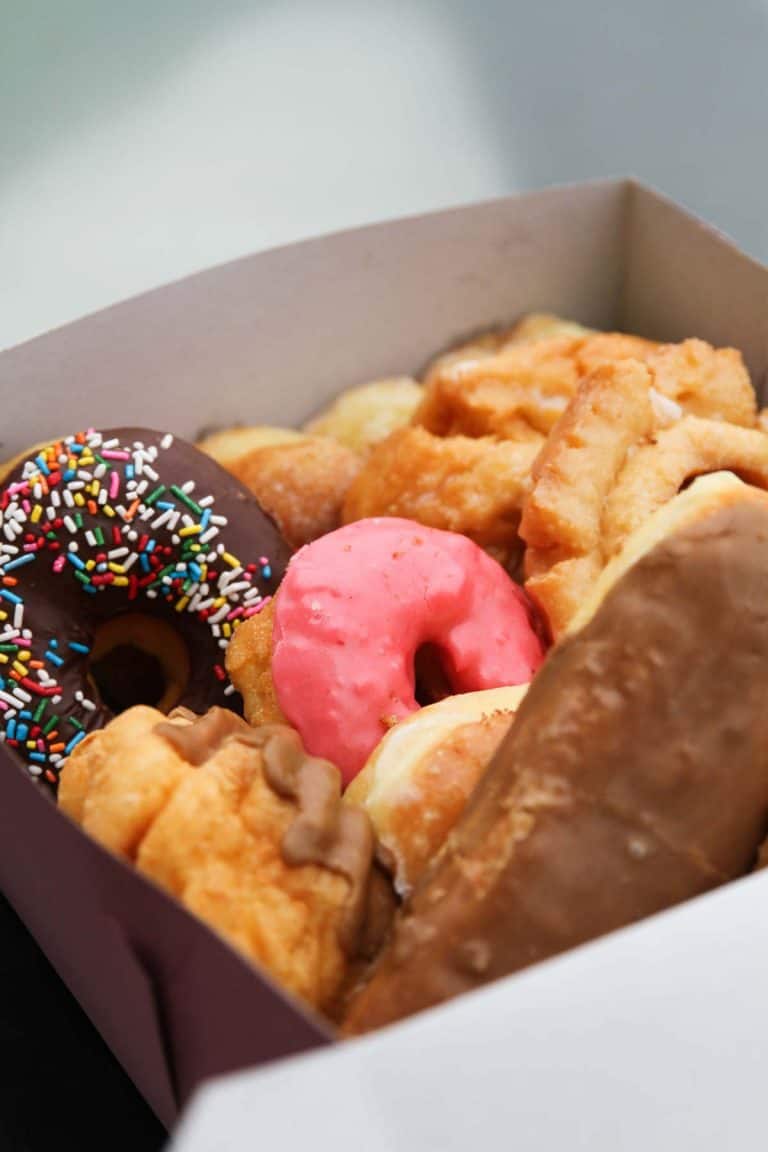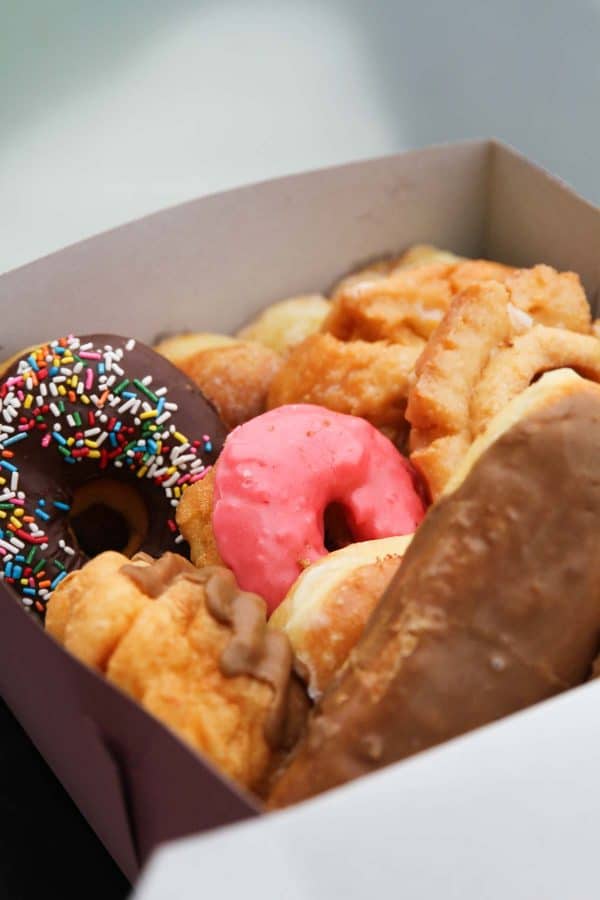 S K's Donuts – Oceanside, CA
Truth be told, the only reason I went to S K's is because I drove past it several times going to and from the beach house we were staying at in Oceanside. So one morning, after a run (haha) I went and picked up a dozen donuts.
These were good, solid donuts. I'm not sure I'd go out of my way to track them down, but I wouldn't complain if I ended up with another dozen. The donut shop is a true neighborhood donut shop. There was a cinnamon sugar donut that I really liked, and the old fashioned was solid, too. In fact, I think they were all good.
S K's Donuts
1129 S Coast Hwy #C
Oceanside, CA 92054
VG Donut and Bakery
I just have to mention these donuts, even though I only tried a couple of bites and I don't even have a photo. VG was on my short list of places I wanted to try, so I had to laugh when my sister stopped there after the beach one day, without even knowing that I wanted to go there. She got some donuts for her family, and brought a few back for us to try. I intended on going back, so I didn't take a photo, but unfortunately never made it back. But I had a bite of a blueberry buttermilk donut that was amazing. So, so good. There was another cake donut that I tried that was good, but that blueberry was amazing. I will be trying VG again next time I'm in San Diego and I can't wait!!
VG Donut and Bakery
106 Aberdeen Drive
Cardiff, CA 92007