Clean out the cabinets with these Loaded Caramel Pumpkin Blondies – filled with Pumpkin Spice Hershey's Kisses, chocolate chips, toffee and a caramel layer.
I will always love my classic blondie recipe, but this pumpkin version is perfect in the fall! Also try these Orange Blondies as well as these Marshmallow Butterscotch Blondies.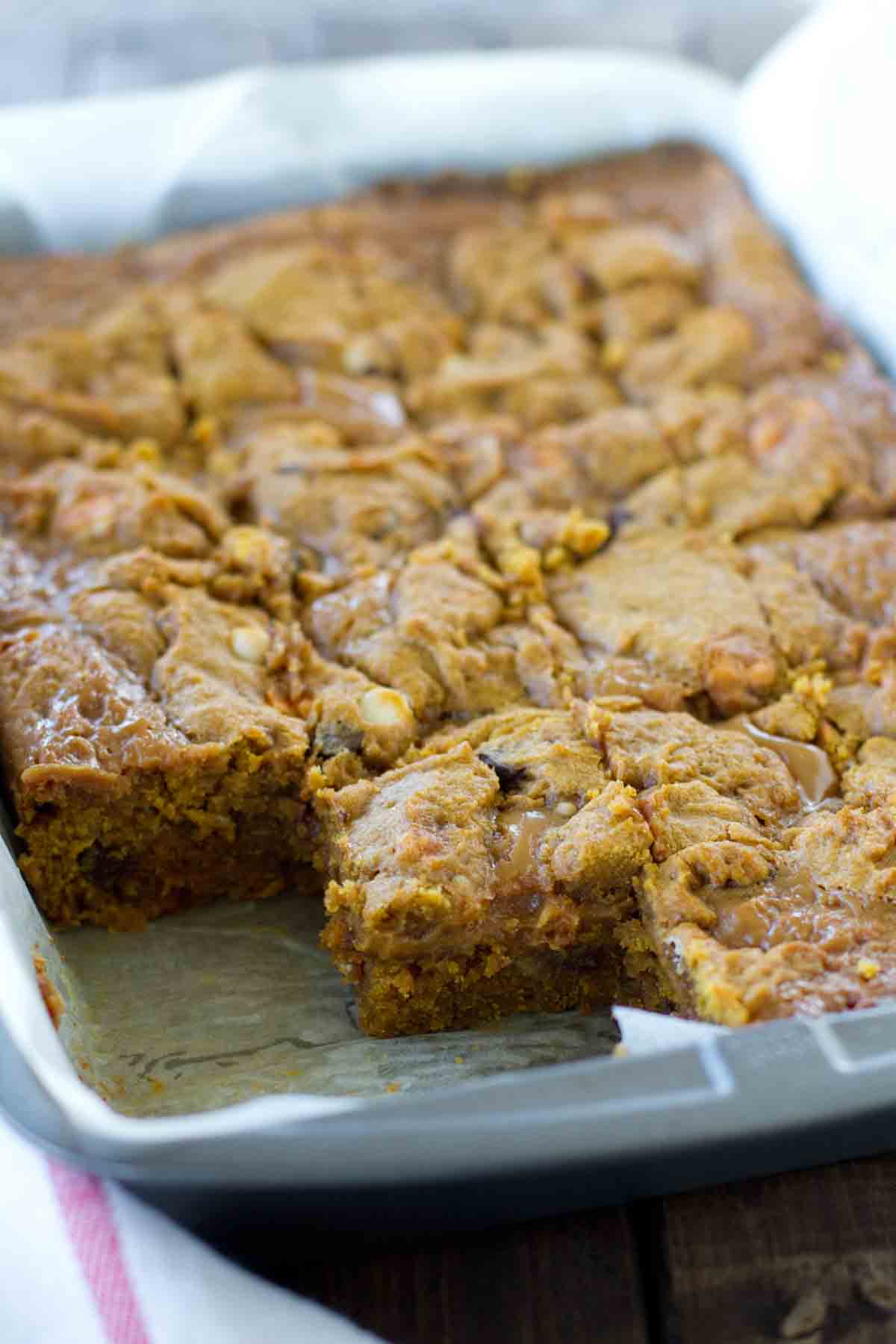 Target.
We all know the dangers of Target, right??
Last week, we had a birthday party to go to. It was about 45 minutes north of where we live, so instead of my husband driving all the way home after work and then turning around and driving up to the party, we decided to just meet up near the freeway and then drive together. This is all well and good – until you have time to waste.
Well, when you have time to waste, what better place to do that than Target?
I managed to be late meeting my husband, and I managed to buy things that I didn't really need. Like the inspiration for this recipe.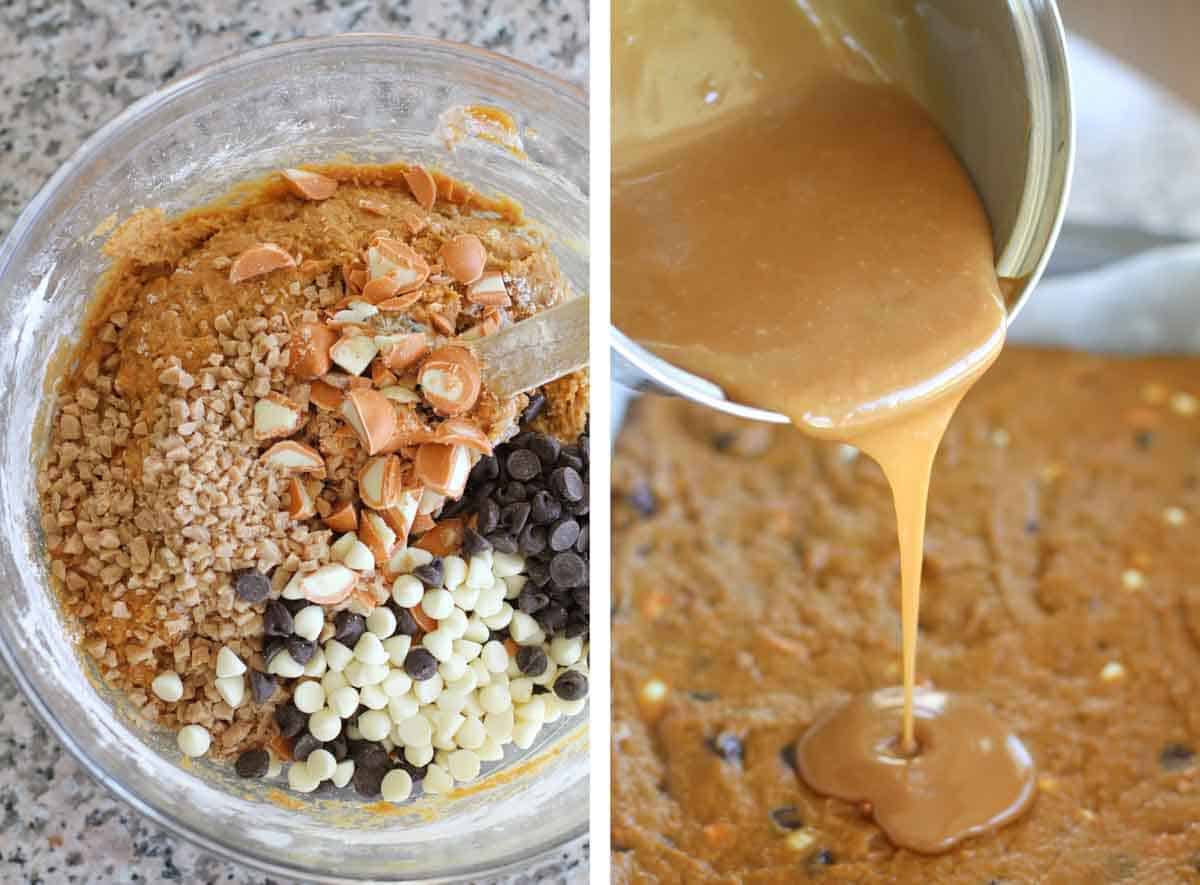 When it comes to holiday candy, I'm a sucker. I feel like I have to go crazy – it does only come around once a year, right?? And when I spotted a bag of Pumpkin Spice Hershey's Kisses, they went straight into my cart.
The next day, I knew I wanted to make something with them. And I knew that I wanted to make blondies. And really, the idea for these started simply as pumpkin spice kiss blondies. While I was preparing to bake, I went to my cupboard, and there sat all of these bags of almost empty treats – chocolate chips, white chocolate chips, toffee pieces… They were calling out to me, and these loaded blondies were born.
But it didn't stop there. I also had a bag of caramels that I had intended for a recipe that I never got around to making, and the thought came to me to do a layer of caramel, much like one of my favorite brownie recipes. I went to my husband, asking if the caramel layer was overkill, but he gave the green light and I decided it was a go.
Good thing, because these were amazing. Loaded, that's for sure, but loaded with all of the things I love. These are pretty rich and decadent, so a little goes a long way, but don't blame me if you keep sneaking another little piece here and there!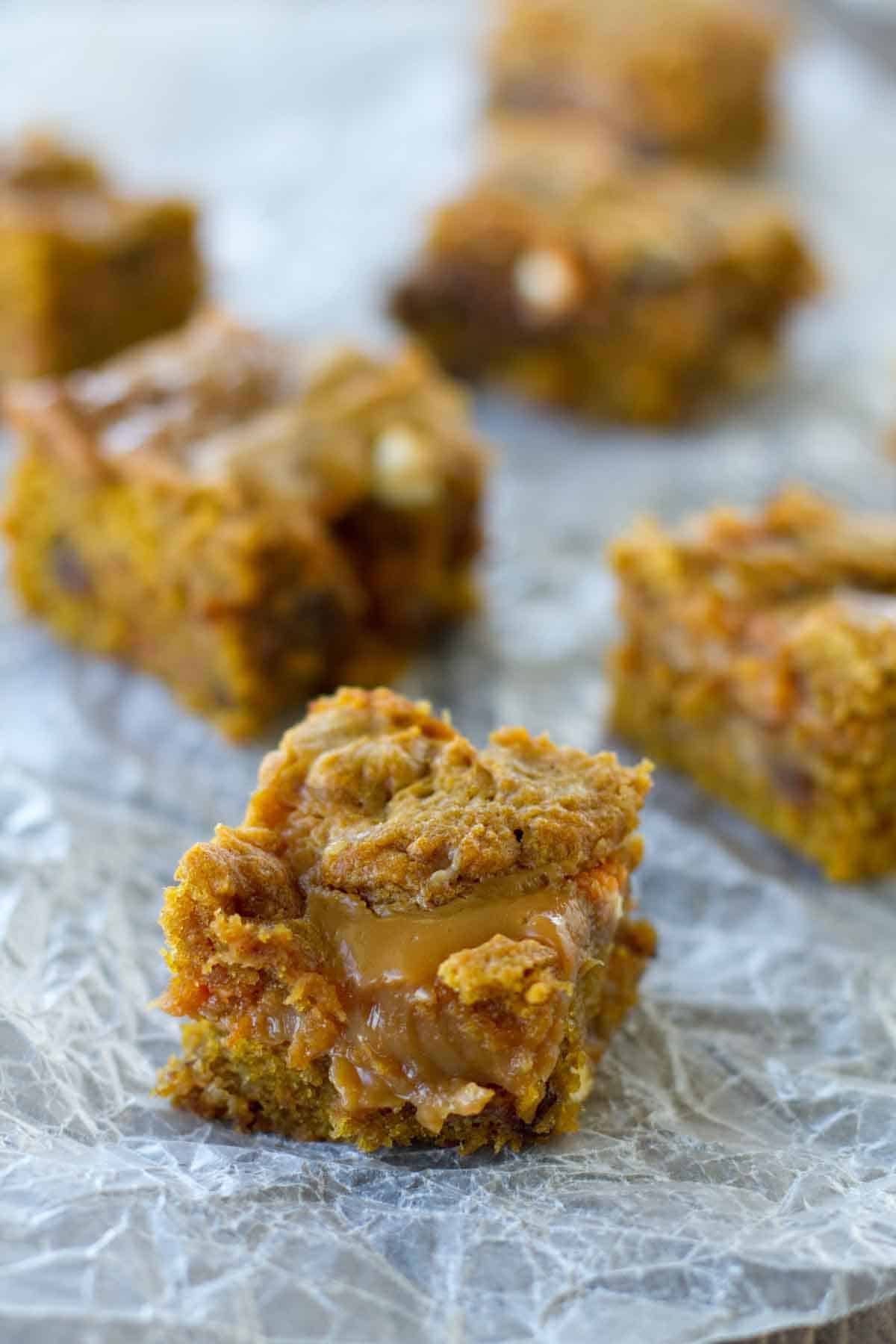 More Pumpkin Favs:
Pumpkin Cake with Cinnamon Cream Cheese Frosting
Quick and Easy Pumpkin Cupcakes
Pumpkin Coconut Bread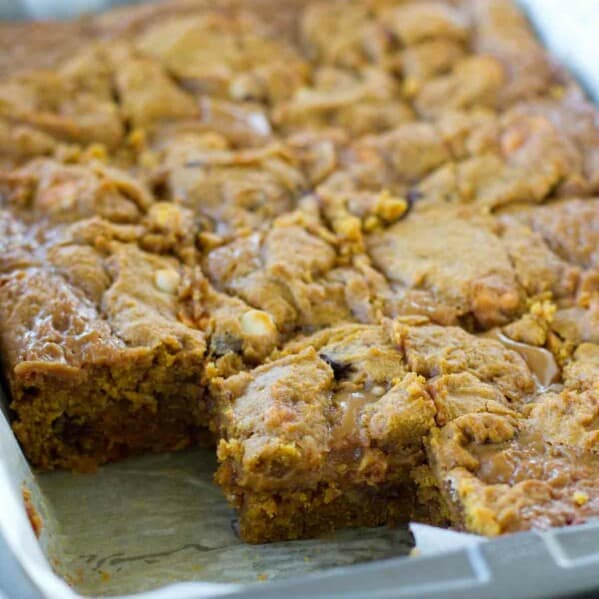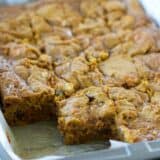 Loaded Caramel Pumpkin Blondies
---
Author:
Prep Time: 20 minutes
Cook Time: 40 minutes
Total Time: 1 hour
Yield: 24 servings 1x
Category: Dessert
Method: Baked
Cuisine: American
Description
Clean out the cabinets with these Loaded Caramel Pumpkin Blondies – filled with Pumpkin Spice Hershey's Kisses, chocolate chips, toffee and a caramel layer.
---
Scale
Ingredients
2 1/2 cups flour
2 teaspoons cinnamon
1/2 teaspoon baking soda
1/4 teaspoon salt
1/4 teaspoon nutmeg
Dash of cloves
1 cup butter, melted
1 cup brown sugar
1/2 cup granulated sugar
1 egg, lightly beaten
1 teaspoon vanilla
1 can (15 oz) pumpkin puree
1 cup Pumpkin Spice Hershey's Kisses, roughly chopped (about 28)
1/2 cup white chocolate chips
1/2 cup semi-sweet chocolate chips
1/2 cup toffee pieces
1 bag (11 oz) caramels, unwrapped
1/3 cup evaporated milk
---
Instructions
Preheat the oven to 350°F. Line a 9×13-inch baking dish with parchment paper or spray with non-stick cooking spray.
In a bowl, combine the flour, cinnamon, baking soda, salt, nutmeg and cloves. In another bowl, combine the butter, brown sugar and granulated sugar. Stir in the egg and vanilla, then add in the pumpkin. Add in the dry ingredients and stir just until combined. Add in the chopped Hershey's Kisses, white chocolate chips, semi-sweet chocolate chips and toffee pieces.
Pour about 2/3 of the mixture into the prepared pan. The mixture will be fairly thick – use a spatula to spread the mixture to the edges. Bake in the preheated oven for 10 minutes.
While the blondies are baking, combine the caramels and evaporated milk in a small saucepan over medium heat. Cook, stirring often, until the caramels are melted and the mixture is smooth.
After the blondies have baked for 10 minutes, remove and carefully pour the caramel over the top. Take the remaining dough and drop by spoonfuls over the top of the caramel. Return the pan to the oven and let bake an additional 30 minutes, or until cooked through.
Let cool completely before slicing and serving.
Keywords: pumpkin blondies