Pumpkin cupcakes are filled with a cheesecake center, and then decorated as spiders for this perfect Halloween dessert. These Pumpkin Cheesecake Cupcakes are scarily delicious!!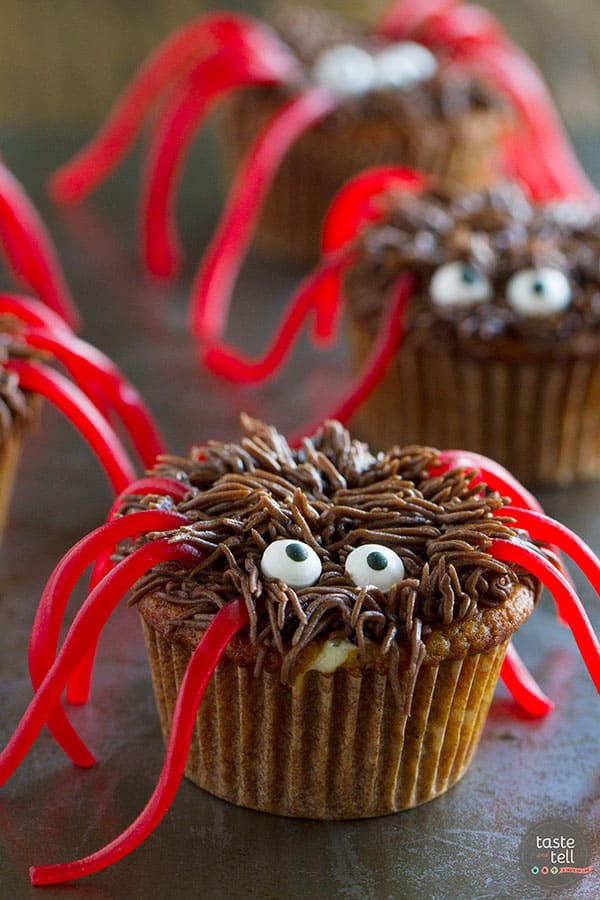 Growing up, Halloween was always a big deal. My brother was really into Halloween and would put on the best haunted houses. He liked to collect scary masks, and all things scary was the norm.
We never bought fancy costumes, but my mom was great at making us the best costumes. Sometimes scary, sometimes not – but I remember always looking forward to Halloween.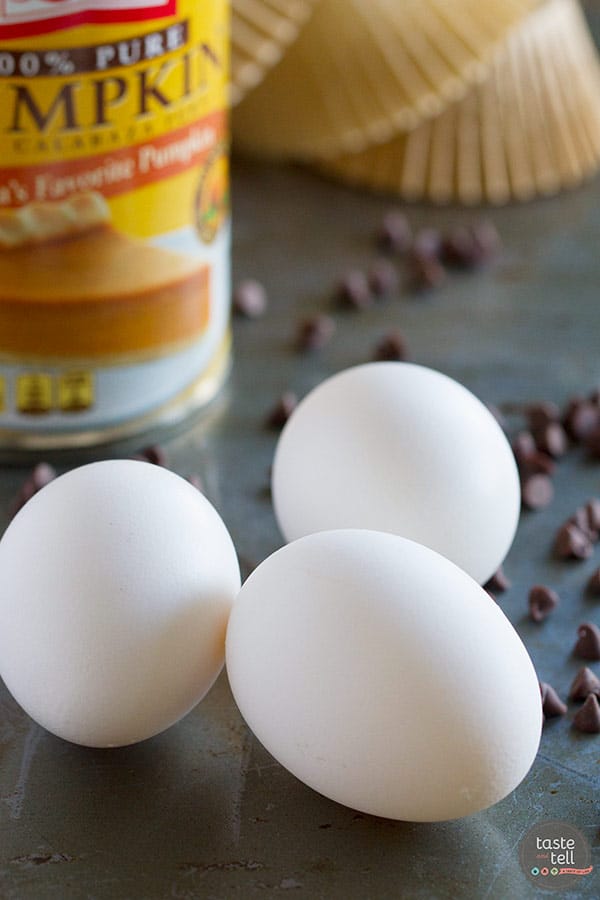 These days, I have the joy of watching my own children get excited about Halloween. Of course they love the trick or treating and all the candy that comes with it, but last year, they got tired of the whole door to door thing about 30 minutes in. (I wasn't complaining about that!) But the anticipation that leads up to Halloween, and trying to decide what they want to be – it's a fun process to watch.
My daughter is 6 years old and is in the middle of what I think are the best years for Halloween. She is so excited about it all, and I swear she has been talking about what she wants to be for the last 6 months. I think she looks forward to Halloween just as much as she looks forward to Christmas!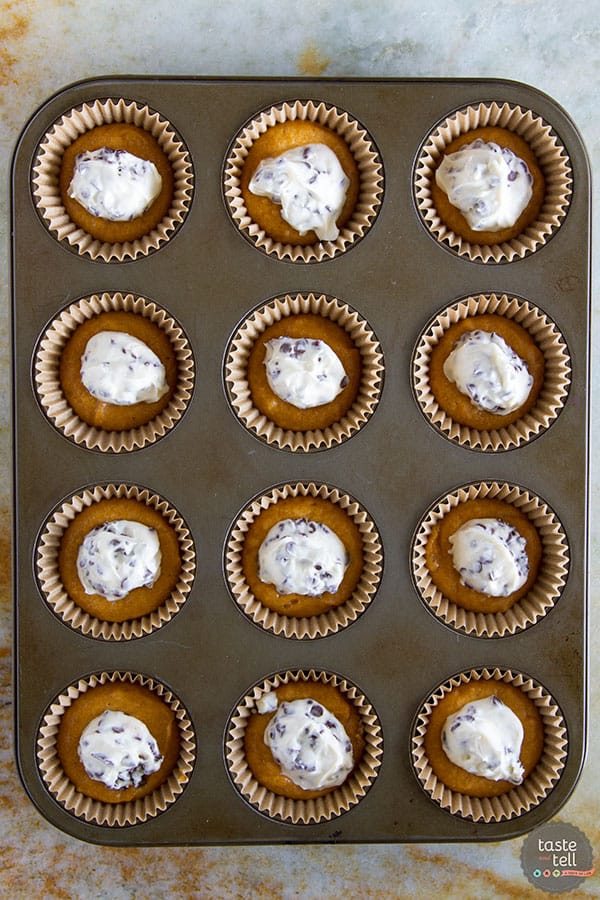 And just like you have your Christmas cookies and candies, I'm a believer that Halloween should be celebrated in the same way – with lots of fun treats. Starting with these Pumpkin Cheesecake Cupcakes.
These cupcakes are a spin off from one of my favorite childhood treats – chocolate cheesecake cupcakes. My mom would make them often on Sunday nights to take to my grandparent's house, and they were always one of my favorite desserts. For these cupcakes, I took the same idea but substituted a pumpkin cupcake recipe in place of the chocolate cupcake.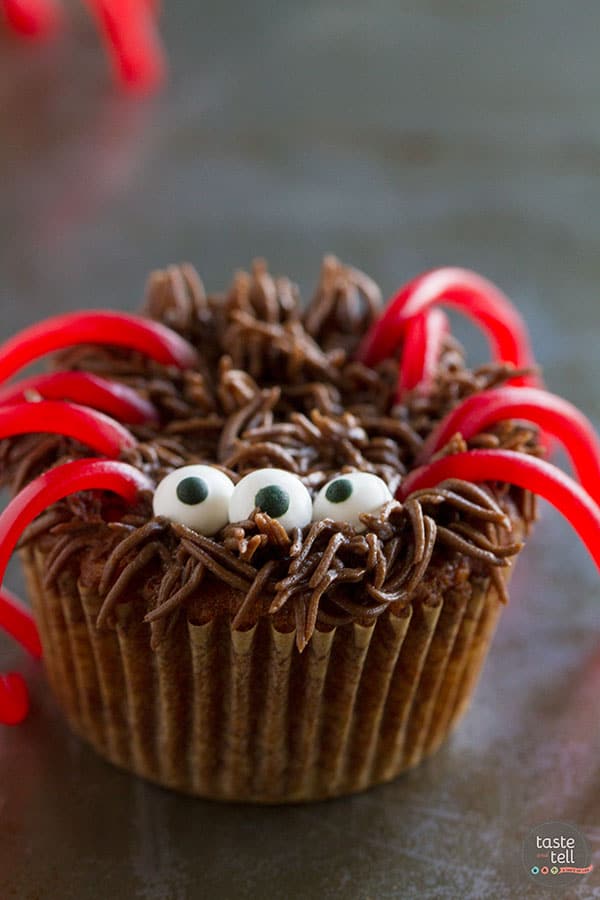 But I didn't stop there. Since we are all about Halloween right now, I had to give them a Halloween twist. I turned them into hairy spiders by using the "grass" tip while frosting the cupcakes, and then adding licorice and candy eyes to turn them into the cutest spiders. I'm way more into the cute Halloween than the scary Halloween these days. 🙂
Even if you leave the spider decorating off, the cupcakes themselves are heavenly. The cupcakes are super moist and the eggs give a nice richness. Since this is the beginning of the baking season for me (of course Halloween needs to be included in the baking season!) I make sure that I am always stocked up on eggs. It's funny sometimes because I'll always pick up eggs when I go to the grocery store. And sometimes I'll end up with 3 dozen eggs in my fridge, but I always know that I'll get through them all!
These cupcakes definitely need to go on your Halloween baking list. If you kids are anything like mine, they will go crazy when they see these little spiders. Let the holiday baking begin!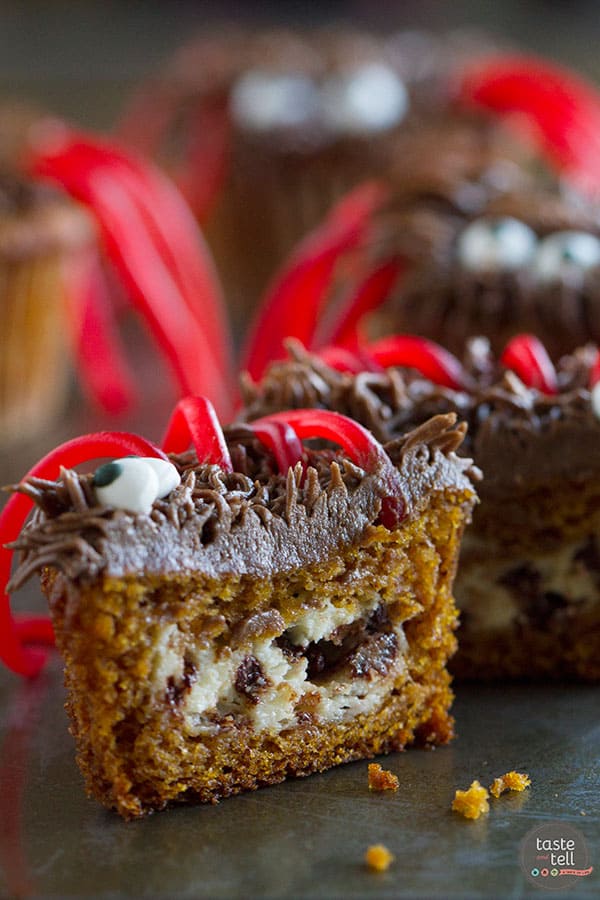 Like what you see here? Make sure you are following Taste and Tell for more recipes and ideas!
Facebook | Pinterest | Instagram | Twitter | Google+ | Weekly Newsletter | Feedly | Bloglovin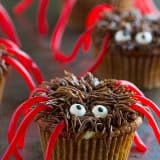 Pumpkin Cheesecake Cupcakes
---
Prep Time: 45 mins
Cook Time: 25 mins
Total Time: 1 hour 10 mins
Yield: 24 cupcakes 1x
Description
Pumpkin cupcakes are filled with a cheesecake center, and then decorated as spiders for this perfect Halloween dessert. These Pumpkin Cheesecake Cupcakes are scarily delicious!!
---
Scale
Ingredients
Filling
8 oz cream cheese
1/2 cup powdered sugar
1 large egg
pinch of salt
1 teaspoon vanilla extract
1 cup mini chocolate chips
Cupcakes
1 1/2 cups all-purpose flour
1 1/2 teaspoons baking powder
2 teaspoons pumpkin pie spice
3/4 teaspoon salt
3 large eggs, at room temperature
1 1/2 cups pumpkin puree
3/4 cup sugar
3/4 cup packed brown sugar
3/4 cup vegetable oil
Buttercream
3/4 cup butter, softened
1/2 cup unsweetened cocoa powder
4 cups powdered sugar
4–6 tablespoons heavy cream
Pull and peel licorice
candy eyes
---
Instructions
Preheat the oven to 350ºF. Line 24 muffin tins with cupcake liners.
In a small bowl, beat the cream cheese until smooth. Add the powdered sugar, egg, salt and vanilla and beat until smooth. Stir in the chocolate chips.
In another bowl, whisk together the flour, baking powder, pumpkin pie spice and salt. In a third bowl, beat the eggs, pumpkin, both sugars and the vegetable oil. Pour the dry ingredients into the wet ingredients and stir just until combined.
Fill each of the cupcake liners about 1/3 full with the pumpkin batter. Top each with 1 tablespoon of the cream cheese filling, then add the remaining pumpkin batter, dividing it evenly over the tops of the filling. Bake the cupcakes until a tester inserted comes out clean, 20-25 minutes. Allow the cupcakes to cool completely.
Meanwhile, make the buttercream: In a large bowl or in the bowl of a stand mixer, beat the butter until smooth. Add the cocoa powder and slowly beat until combined. Slowly add the powdered sugar. Add enough cream to make the buttercream the right consistency to pipe.
To decorate the cupcakes, use grass tip (#233) to make the hair on the spiders. Starting at the center and moving outward, pipe rows of hair: With tip on surface of cupcake, squeeze bag, then release while quickly pulling up to form 1/4-inch-long blades, making some slightly longer than others.
Divide the licorice into separate strands and cut into 3 pieces each. Use a pair of tweezers to insert one end into the cupcake. It works best if you push the licorice into the cupcake, not just the buttercream. Go back over the tops of the legs with the frosting to fix any hair that was flattened by inserting the licorice. Add the eyes.
Don't miss a thing! Follow me on Pinterest to see what I'm pinning!
Visit Taste and Tell's profile on Pinterest.



I am in a working relationship with the American Egg Board, and this post has been sponsored. America's egg farmers launched the good egg project to educate Americans about where eggs come from and encourage people to eat good and do good every day. They are committed to doing what's right for their hens, the environment and their communities and are proud to provide Americans with affordable and nutritious food. Visit http://www.incredibleegg.org/good-egg-project/ to learn more. I'm so glad to be able to work with companies and organizations that I truly believe in. Thank you for supporting them, too.