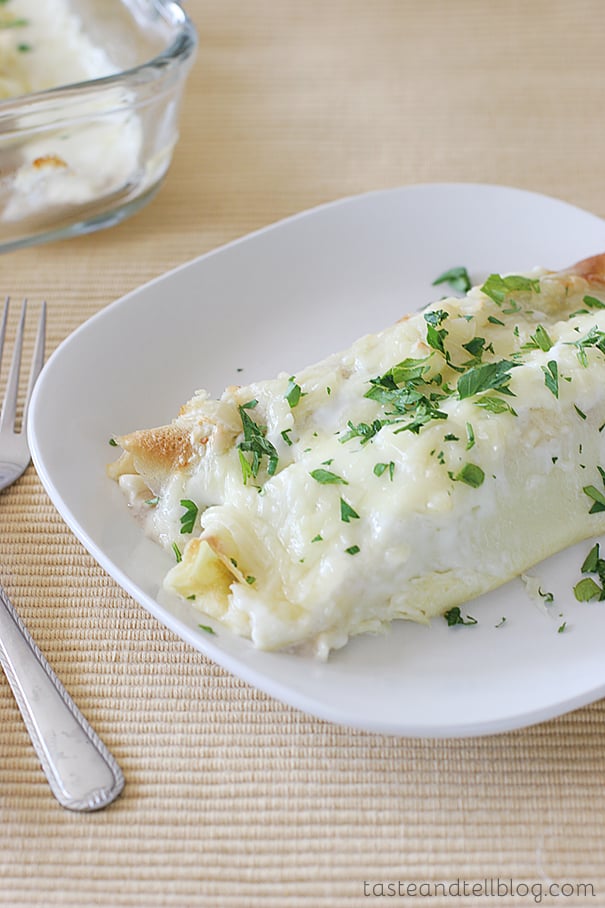 GIVEAWAY CLOSED!  CONGRATS TO TASHA HUDGEONS!!
Make sure you check out the giveaway at the end of this post!
If you have been reading my blog for awhile, you'll know that I love cookbooks. I love cooking magazines. I love other blogs. I am a recipe follower. My husband, on the other hand, is the complete opposite. He loves to cook when he can just throw things together. I'm kind of a wimp. That scares me. But, I have been trying to push myself in the kitchen lately. I have actually been coming up with more ideas and recipes of my own. It's a whole new game to me, but I have been having so much fun. I may not be very crafty, and I may not be very artistic, but cooking is becoming my craft, my art.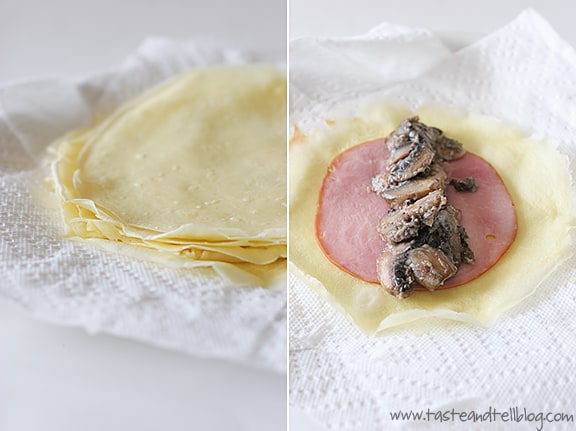 That being said, I think it's pretty rare to come up with recipe ideas these days that are totally original. But there is so much inspiration out there! This recipe was inspired by a recipe I came across in an old community cookbook. I have never had crepes rolled and covered in a sauce and baked – kind of like enchiladas. I loved that idea, and I rolled with it, and what I ended up was an amazing dinner. I gobbled these right down. And Abbi even ate them, which I thought she'd hate with the mushrooms. That's my idea of great inspiration!!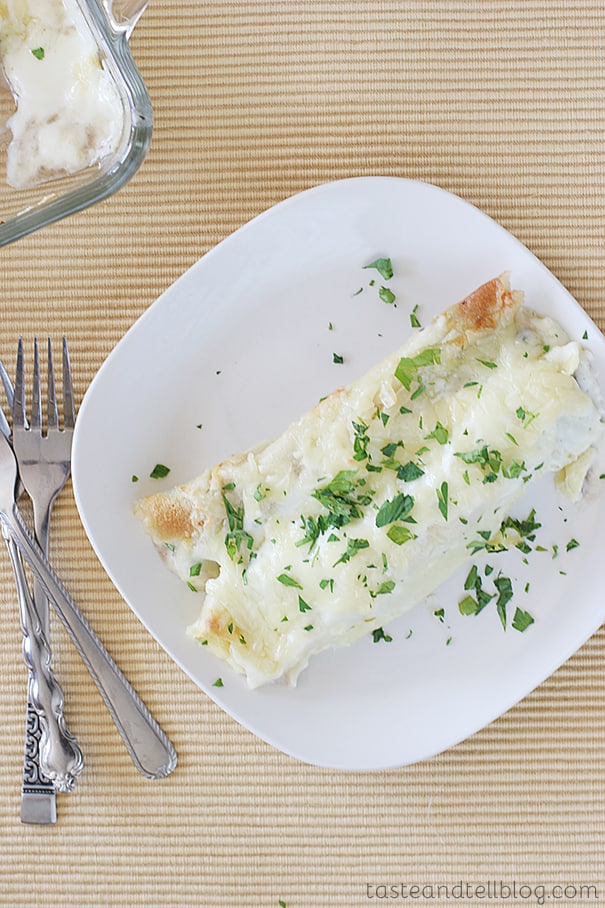 Ham and Mushroom Crepes
serves 6-8
total time: about 45 minutes
for the crepes
3 eggs
1 cup milk
1/2 cup flour
pinch of salt
butter, for the pan
for the filling
1 pound mushrooms, sliced
4 tablespoons butter, divided
2 tablespoons flour, divided
1 cup cream, divided
1/2 cup milk
freshly grated nutmeg
12 slices of ham
1 cup grated Gruyere or Swiss
parsley
Whisk together the eggs, milk, flour and salt. Set aside for at least 5 minutes.
Preheat the oven to 400F.
In a 6″ to 7″ non-stick skillet, heat a small amount of the butter. Add 2 tablespoons of the crepe batter and tip the pan around to cover the bottom. It will be thin. Let it cook until it is lightly browned, then flip over to cook the second side. Repeat, making a total of 12 crepes.
Make the filling: In a saute pan, melt 3 tablespoons of the butter. Add the mushrooms and cook until browned. Sprinkle 1 tablespoon of flour over the mushrooms and stir to coat. Cook for 1 minute, then add in 1/2 cup of the cream. Cook until thickened.
In a saucepan, melt the remaining 1 tablespoon butter. Stir in the remaining 1 tablespoon flour and cook for a minute or two. Whisk in remaining 1/2 cup cream and 1/2 cup milk. Grate in a small amount of nutmeg. Cook until thickened.
Assemble crepes: Spray a 9×13-inch baking dish with cooking spray. Put a piece of ham on each crepe. Top with the mushroom mixture. Roll each crepe and place, seam side down, in the prepared baking dish. Top with the sauce, and sprinkle with the cheese. Cook in the preheated oven until heated through and the cheese is melted, about 10 minutes. Garnish with parsley.
And the giveaway:
The National Pork Board is supplying an awesome pork prize pack for one of my readers. This one is full of all kinds of great things!
The National Pork Board has recently launched a campaign – Pork® Be inspired. Pork can be used for breakfast, lunch or dinner – it's a great ingredient to get you inspired in the kitchen!
This prize pack includes the following:
A gift card to a local retailer (to purchase the pork)
An 11″ square grill pan
A 16-jar revolving spice rack
A Pork® Be inspired cutting board
A digital thermometer
A a copy of the cookbook – How to Cook Like a Top Chef
Here's how you can enter:
Mandatory: Comment below and tell me what inspires you in the kitchen
Extra entries:
*Follow Taste and Tell on Facebook
*Share this giveaway with your Facebook friends
*Follow Taste and Tell on Twitter
*Tweet about this giveaway
*Follow Taste and Tell via RSS feed
Note: for any of the extra entries, make sure you leave a separate comment for each.
*This giveaway is open to US residents.
*This giveaway will be open from today until Tuesday, July 26th at midnight MDT. The winner will be emailed on July 27th.
Disclosure: I received a prize pack from The National Pork Board, but this is not a sponsored post. The National Pork Board is also providing the prize pack that is being given away. No monetary compensation was offered or accepted. The opinions above are my own. Others experience may vary.