If you're looking for the ultimate snack, this Soft Pretzel Recipe needs to be made in your kitchen! Buttery, salty, and soft, this pretzel recipe is easier to make at home than you'd think!
Looking to make any other classic snacks at home from scratch? You'll love this Crumpet Recipe!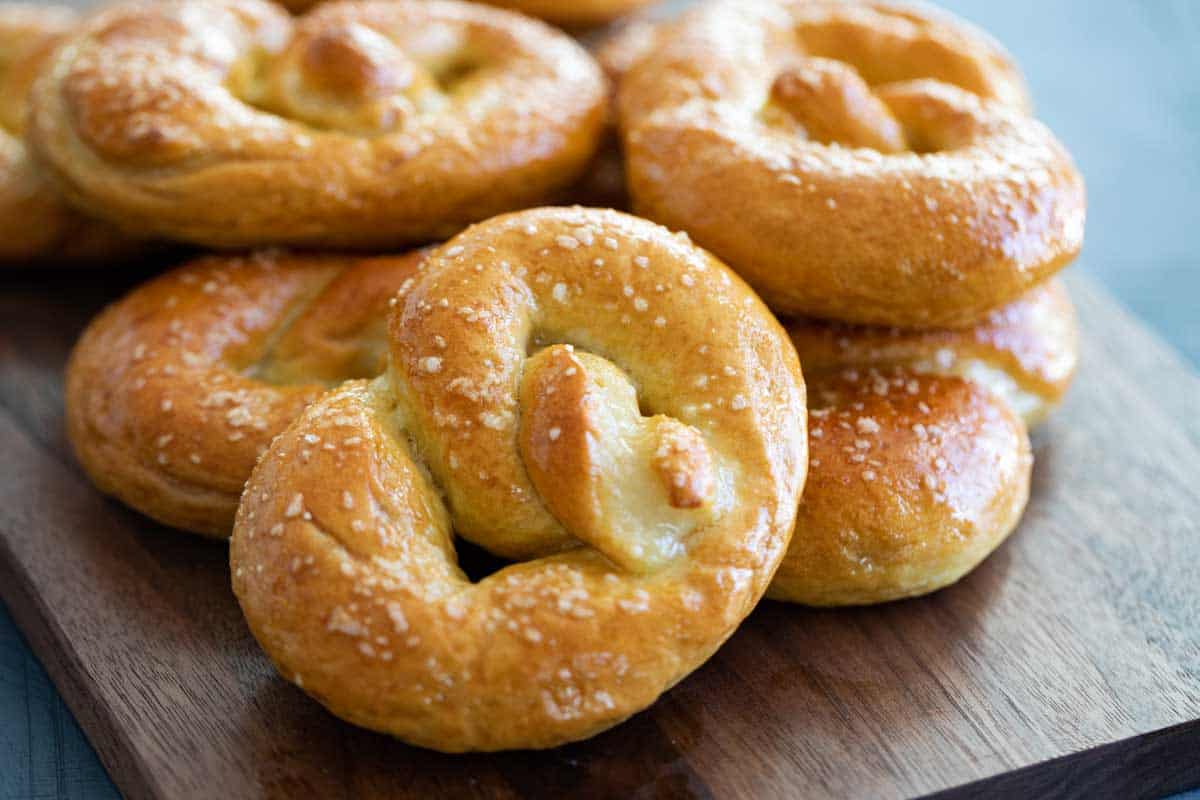 Do you have a cooking "bucket list"? A list of things you'd like to try making at home sometime in your life?
Mine has changed over the years – some things get added, some get taken away. But there is one that has remained on the list for a very long time – Homemade Soft Pretzels.
Now, I've made a version of homemade pretzels before. These Jalapeno Stuffed Taco Soft Pretzel Sticks are definitely delicious in their own right, but they aren't the classic soft pretzels.
Well, I can finally cross it off my list with this Soft Pretzel Recipe. They were surprisingly easier than I thought they would be – I don't know why it took me so long to try them!
Ready, Set, Dough! by Rebecca Lindamood
I'm pretty sure carbs are my love language, so when I was asked if I'd like a review copy of Ready, Set, Dough! I couldn't say no. That, and the fact that Rebecca's other cookbook – Not Your Mama's Canning Book (and these fabulous Candied Jalapenos!) – is such a favorite. I just knew this book would be amazing.
And I was right. Filled with everything from traditional breads (like whole wheat or sandwich bread) to English muffin dough and bagel dough to six different cornbread recipes, this really does have bread recipes for all occasions. I also love that it is catered to the beginning baker.
I have lots of recipes earmarked, and even my kids can't stop telling me which recipe to make next.
If you love to make any kind of bread, or want to learn, this is the cookbook for you!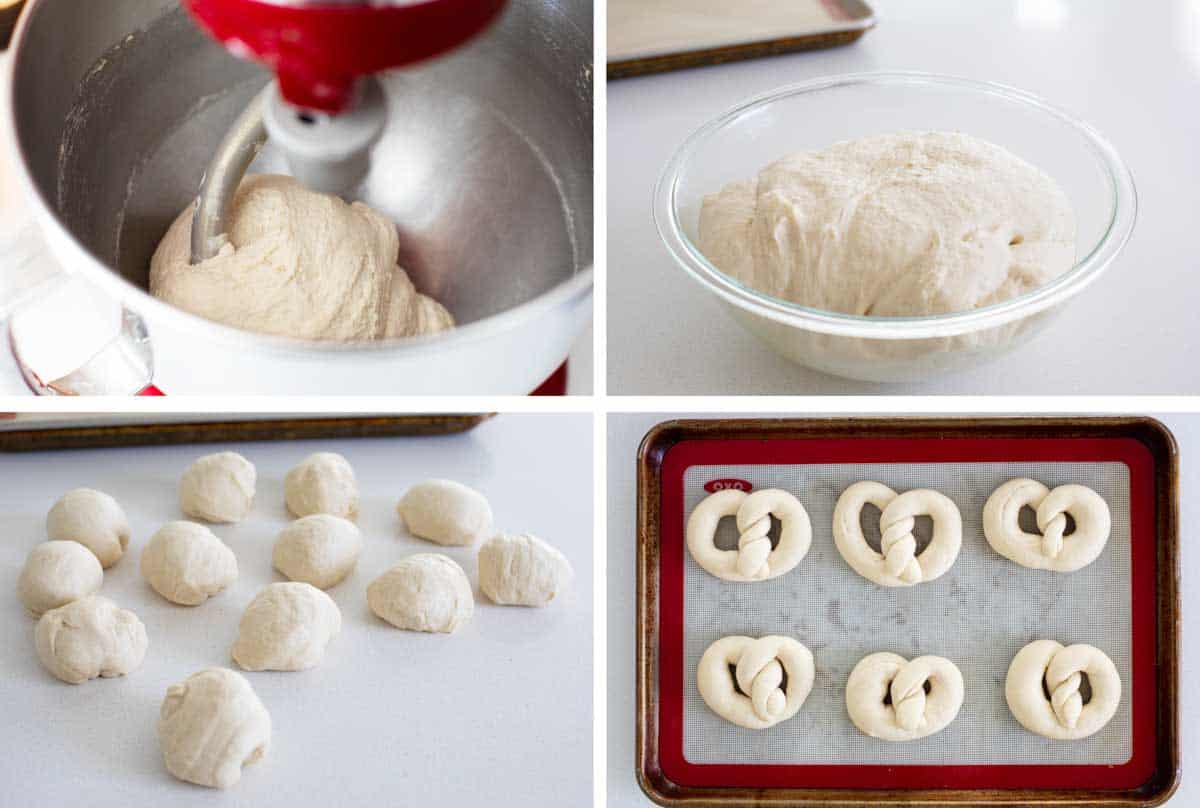 How to Make Soft Pretzels
Start by making your dough. I used my stand mixer, but this could totally be made by hand! All it uses is bread flour, sugar, salt, yeast, whole milk and water. These all get mixed together until the dough is soft and smooth.
Let the dough rise until it has doubled. This only takes about an hour. My house was pretty warm, so it was even faster for me.
Once the dough has risen, cut it into 12 equal pieces.
Then comes the shaping. I have instructions below on how to shape the pretzels. You'll let them rise again after they are shaped.

Pretzels get their chew from being boiled before they are baked. You'll add them to boiling water that has baking soda in it.
Once they have been boiled, brush them with egg white and sprinkle them with salt.
Into the oven they go, until they are golden brown.
The pretzels aren't done yet – once they come out of the oven, give them a good brush of melted butter.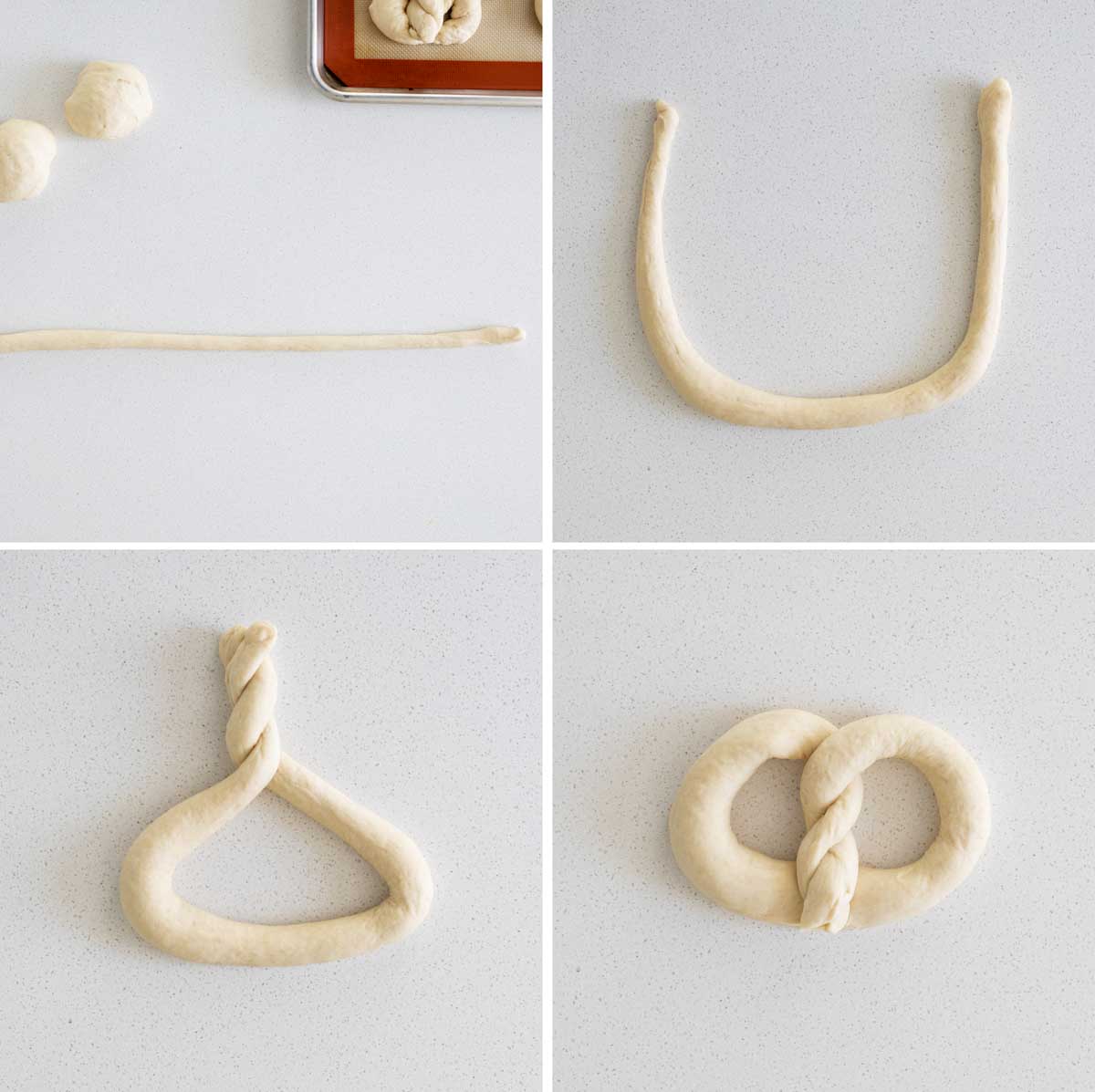 How to Shape Homemade Pretzels
I think the shaping of the pretzels was the most intimidating part for me, but after making a couple, it was actually quite easy!
The first step is to take one piece of the dough and roll it into a long, snake-like shape. It should be about the circumference of your index finger. I tried to make them as even as I could, but it doesn't have to be perfect.
Take the snake and shape it into a big U.
Hold each of the ends, and twist them together twice. You can see in my photos that some of my pretzels were twisted three times around – that totally worked, too, but the two times around is the more traditional shape.
Take that twisted part and fold it down so that the end of the twist is on the bottom of the U shape. Gently press it to secure.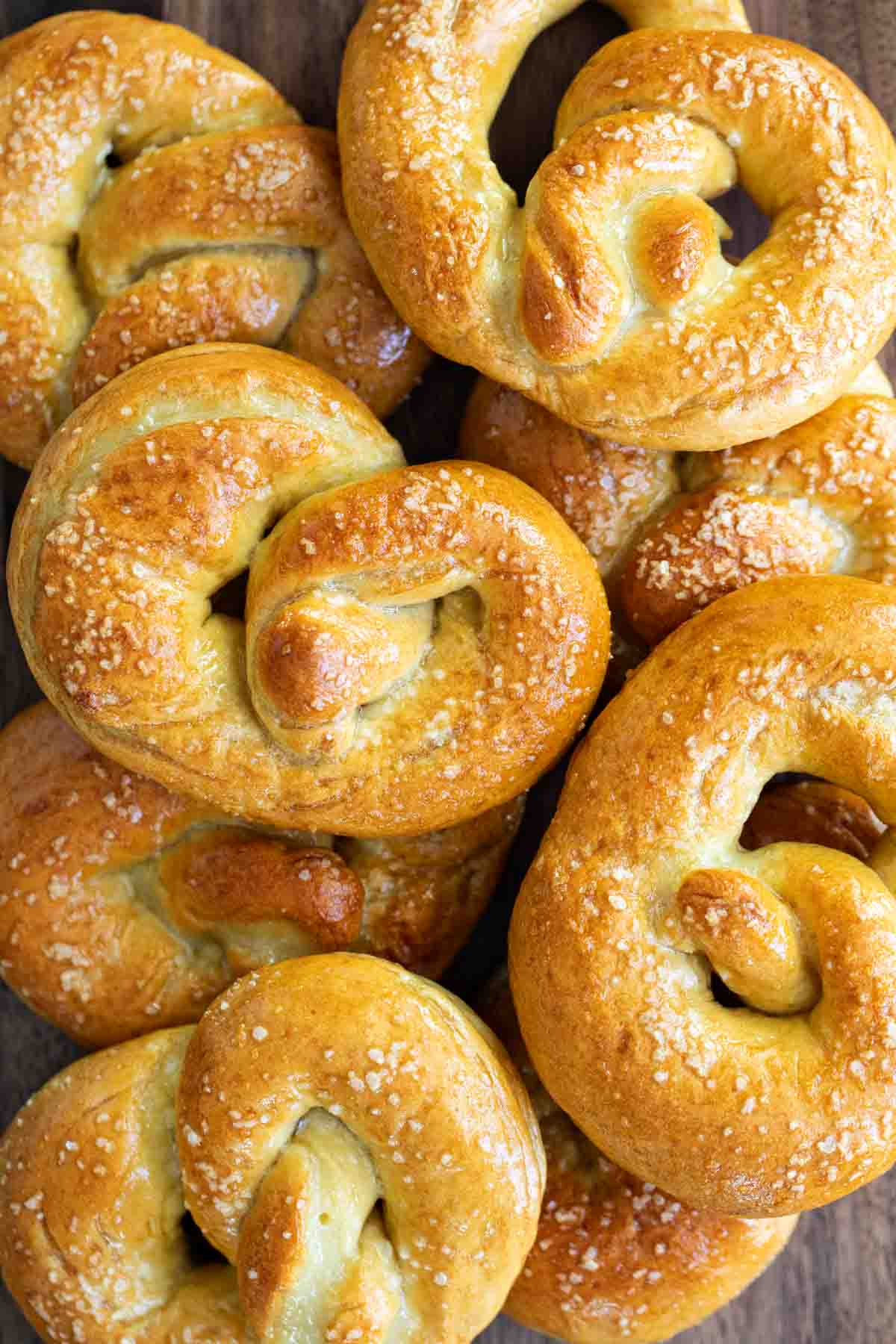 Tips and Tricks
If you want to skip the traditional pretzel shape, you can cut the dough into rods, or even in to pretzel bites. The pretzel bites will only need to boil for about 45 seconds per side, and they will bake in about 10 minutes.
My kids love cinnamon sugar soft pretzels, so we sprinkled some with a cinnamon-sugar mixture. The book also mentions that you can add garlic to the butter for garlic butter pretzels, or use everything bagel seasoning, sesame seeds or poppy seeds instead of the pretzel salt.
I didn't think ahead to get pretzel salt so I used coarse kosher salt. I was afraid I was going to miss the pretzel salt, but I actually thought these were pretty darn perfect. But you can get pretzel salt online (aff link) if you want to use that.
We literally ate and entire batch within a few hours, but if you happen to have any leftover, you can store them in a paper bag. Rebecca suggests reheating them in the oven by misting them with water then wrapping them in foil and baking them in a 250º oven for about 15 minutes.
Looking for More Perfect Dough Recipes?
The Best Homemade Pizza Dough
White Bread Recipe
Hamburger Buns
Easy Focaccia Bread Recipe
Monkey Bread Recipe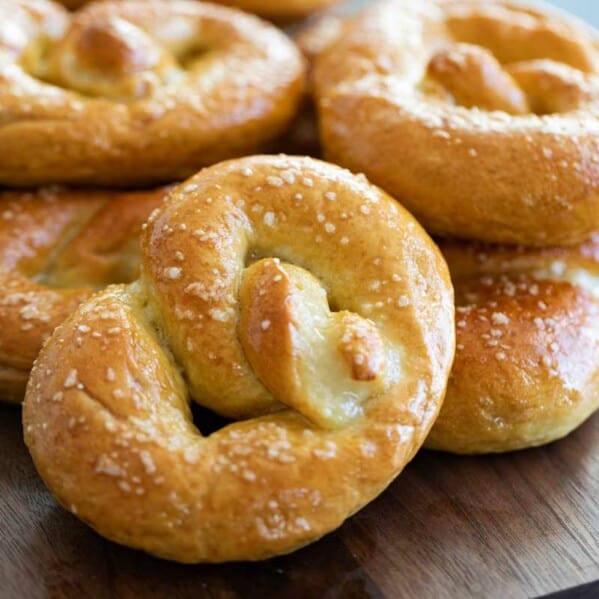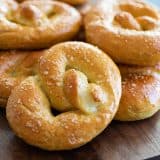 Soft Pretzel Recipe
---
Author:
Prep Time: 30 mins
Cook Time: 30 mins
Total Time: 2 hours
Yield: 12 pretzels 1x
Category: Bread
Method: Bake
Cuisine: American
Description
If you're looking for the ultimate snack, this Soft Pretzel Recipe needs to be made in your kitchen! Buttery, salty, and soft, this pretzel recipe is easier to make at home than you'd think!
---
Scale
Ingredients
4 cups (1 lb 1 oz or 482 g) bread flour
1 tablespoon (13 g) sugar
1 1/4 teaspoon (8 g) kosher salt
2 teaspoons (8 g) active dry or instant yeast
1 cup (240 ml) whole milk
1/2 cup (120 ml) hot tap water
2 quarts (1.89L) water
2 tablespoons (28 g) baking soda
1 egg white, whisked until frothy
Pretzel salt or coarse kosher salt
6 tablespoons (90 ml) melted butter
---
Instructions
Whisk the flour, sugar, salt and yeast together in the bowl of a stand mixer or in a large bowl.
With a wooden spoon, stir in the milk and water until you have a soft dough.
If using a stand mixer, use the dough hook and knead the dough for 5 to 8 minutes, or until the dough is soft and smooth but still a little tacky. If making by hand, knead the dough until it is soft and smooth, but still a little tacky.
Place the dough in a large, clean bowl and cover with a tea towel. Set it in a warm, draft-free location to rise until doubled and puffy, about an hour.
When the dough has risen, line 2 large baking sheets with silpat liners or parchment paper. Set aside.
Pour your dough onto a clean work surface. Use a bench knife to cut the dough into 12 equal pieces.
Working with one piece at a time, roll the dough into a long snake shape, about the circumference of your index finger.
Lay the dough in a U shape, then take the two ends and twist them together twice, leaving the bottom of the U still open. Fold the twisted ends down to the bottom of the U. Gently press it into place.
Transfer the dough to the prepared baking sheet, 6 pretzels to each sheet, leaving a bit of room between each of them to allow for rising. Repeat with the remaining dough.
When all of the pretzels are shaped, cover the baking sheets with tea towels and allow the pretzels to rise until they are puffy, about 20 minutes.
Preheat the oven to 400ºF.
In a large stainless steel pan, (or other non-reactive pan), bring the water to a boil. Add the baking soda.
Add the pretzels to the boiling water in batches to avoid crowding. (I did 3 at a time.) Let them boil for about 1 minute, flip to the other side and let them boil for another minute. Remove the pretzels with a slotted spoon and return to the baking sheet. Repeat until all of the pretzels have been boiled.
Brush the boiled pretzels with the egg white and sprinkle with salt.
Transfer the baking sheets to the oven and bake until the pretzels are golden brown. This will take about 20 minutes. If desired, you can bake them even longer until they are a deep brown.
Remove from the oven and brush with the melted butter while the pretzels are still hot. Transfer to a cooling rack to cool completely.
Recipe Notes:
You can cut the dough into pretzel sticks or pretzel bites if you'd prefer them over the traditional pretzel shape.
Recipe from Ready, Set, Dough! by Rebecca Lindamood
Nutrition information provided as an estimate only. Various brands and products can change the counts. Any nutritional information should only be used as a general guideline.
Nutrition
Serving Size: 1 pretzel
Calories: 216
Sugar: 2 g
Sodium: 572 mg
Fat: 6 g
Saturated Fat: 4 g
Unsaturated Fat: 2 g
Trans Fat: 0 g
Carbohydrates: 31 g
Fiber: 0 g
Protein: 6 g
Cholesterol: 18 mg
Keywords: Soft pretzel recipe, homemade pretzels, pretzel recipe