This Crumb Cake Recipe has a moist cake that is topped with a thick layer of crumb topping. This is the BEST crumb cake recipe!
I have about 3,438 cookbooks on my list that I would love to own and cook from. I own a wide variety of cookbooks – everything from baking books to healthy cooking to cookbooks that cover it all. But I have to say – lately, it's mostly been about the easy, fast recipes. As I get older, things just seem to be getting busier, and it's hard to find the time for super extensive recipes.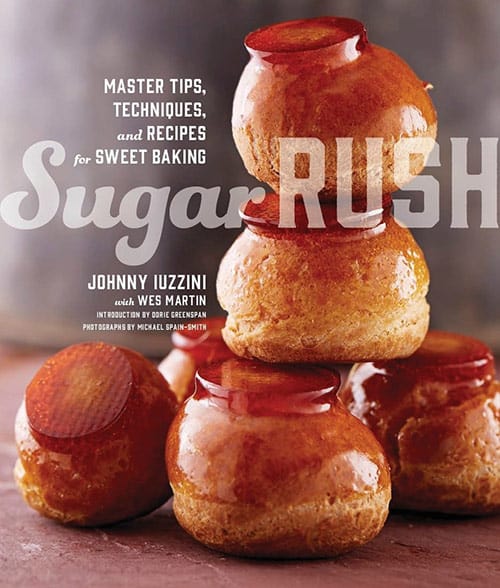 So when I first saw Sugar Rush hit the stands, I mentally added it to my cookbook wish list, but honestly, I kept going back and forth whether it would be a smart book for me to add to my collection. Sugar Rush is written by pastry chef Johnny Iuzzini (which I will totally admit I was crushing on when he was the head judge on Top Chef: Just Desserts). But as much as I love a cookbook filled with complex, amazing and impressive desserts, I just don't have time for them that often. And since this book is written by a pastry chef, I automatically assumed it would be full of the overly complicated, frou-frou desserts.
I am so glad that I decided to actually check this book out. Because I can tell you that I am absolutely smitten with it. Are there some more complicated recipes in it? Yes, but really, this book was written for the home cook, not for fancy trained pastry chefs.
This book is filled to the brim with creative recipes and so much invaluable instruction. There are quite a few recipes with step by step photos that help you to be a lot more confident and less intimidated by the recipes. Seriously – if you have a love for baking, you will love this book.
Here are the details:
Number of Photos: Many. There are big, beautiful photos throughout the book. I am pretty sure there is a photo of every recipe, as well as many recipes with step by step photos.
Difficulty Level of Recipes: Easy to Hard. There is such a wide variety of recipes in this book. You have some super easy recipes (like this crumb cake recipe) as well as more complicated recipes, like the macarons. I love the variety, though, because I can find a recipe for an easy Sunday night dessert or a recipe to play around with when I'm looking to spend some time in the kitchen practicing something new.
Availability of Ingredients: Easy. Since this is a baking book, most of the ingredients are basic ingredients that you would have in any baker's pantry – flour, sugar, butter, etc. I didn't see any ingredients that are out of the ordinary or that you wouldn't be able to find at any grocery store.
Other Recipes I Want to Try:
Toasted Almond-Cinnamon Panna Cotta
White Chocolate Mousse
Sticky Caramel Date Cake
Banana Cupcakes
Gooey Chocolate-Caramel Tart
Double-Lemon Tarts
Buy it on Amazon.
More information here.






And yes – I know. I get this beautiful baking book full of amazing desserts, and I choose to make the crumb cake? But you guys – this is not just a crumb cake. This is the only crumb cake recipe you will ever need. Seriously. Totally in love with this recipe.
I originally decided to try the macaron recipe. I made the macarons, but I ended up making a custom flavor, and for cookbook reviews, I try t keep the recipe pretty close to the original so I can truly judge. (But don't worry – that recipe will come sometime after the first of the year. And this macaron recipe was the best that I've worked with yet!!)
Once I decided that the macaron recipe wasn't going to happen for this review, I scanned back through the book to decide what I actually wanted to make to share. And for some reason, I just kept coming back to the Crumb Cake recipe. And I'm so glad I decided to go with it, because this cake is amazing. I'm always a sucker for a good crumb topping, and I think this recipe has about equal proportions of cake to topping. That's totally what I'm talking about. And the method for the crumb topping is a method I've never used before, but I will be using it often from now on.
This book? 5 stars from me. If you love to bake, this is the cookbook for you!!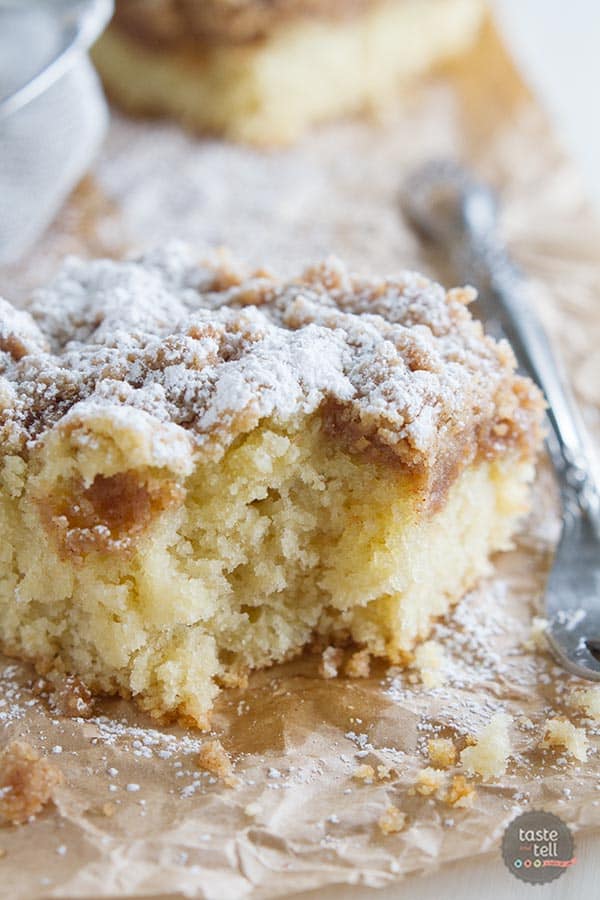 Like what you see here? Make sure you are following Taste and Tell for more great recipes and ideas!!

Facebook ** Pinterest ** Twitter ** Instagram ** Google+
or you can subscribe to my newsletter or Feedly or Bloglovin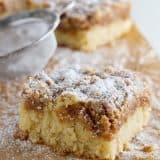 Crumb Cake Recipe | Sugar Rush Review
---
Prep Time: 20 mins
Cook Time: 30 mins
Total Time: 50 mins
Yield: 12-16 servings 1x
Description
This Crumb Cake Recipe has a moist cake that is topped with a thick layer of crumb topping. This is the BEST crumb cake recipe!
---
Scale
Ingredients
Cake:
2 cups all-purpose flour, plus more for the pan (250g)
5 1/2 tablespoons (1/3 cup) unsalted butter (75g)
1/2 cup granulated sugar (100g)
1 large egg, at room temperature
1/4 cup sour cream, at room temperature (60g)
2/3 cup milk, at room temperature (160g)
1 tablespoon vanilla extract (15g)
1 tablespoon baking powder (12g)
pinch of kosher salt
Topping:
2 1/4 cups all-purpose flour (280g)
1 1/4 cups packed light brown sugar (290g)
1 tablespoon ground cinnamon (6g)
1/2 pound (2 sticks) unsalted butter, melted (226g)
powdered sugar, for dusting
---
Instructions
Place the rack in the center of the oven. Preheat the oven to 350ºF. Spray a 9×13-inch glass baking pan with cooking spray, then dust with flour. Tap out the excess.
In a mixer with the paddle attachment, beat the butter and sugar until light and fluffy. Add in the egg and sour cream and mix until combined.
In a small bowl or measuring cup, combine the milk and the vanilla. In another bowl, whisk together the 2 cups flour and the baking powder. Add in the salt.
Turn the mixer on low speed and alternately add the wet ingredients and the dry ingredients, starting and finishing with the dry ingredients, stopping to scrape down the sides of the bowl several times.
Spread the batter evenly into the prepared baking dish.
In another bowl, whisk together the flour, brown sugar and cinnamon until completely combined. Add in the melted butter and stir until them mixture is completely moistened. Use your hands to roll the mixture between your fingertips until small balls form. Scatter the topping over the top of the batter in the pan, right from your hands as you roll it.
Bake for about 30 minutes, or until the center is firm to the touch and it springs back lightly when pressed. If the cake is not done after 30 minutes, reduce the oven to 325ºF and continue to bake in 5 minute increments until done.
Remove the cake from the oven and lightly dust with powdered sugar. Allow the cake to cool completely. Once the cake is cool, dust generously with powdered sugar, slice and serve.
I received this book from Blogging for Books for this review, but all opinions are my own. This post contains affiliate links. If you purchase an item from Amazon from the link Taste and Tell receives a small commission. Thank you for supporting Taste and Tell through your purchases!