Looking for a chicken dinner with a little bit of bold flavor? This Honey Curried Chicken is an easy chicken dinner with only 6 ingredients and 10 minutes prep time.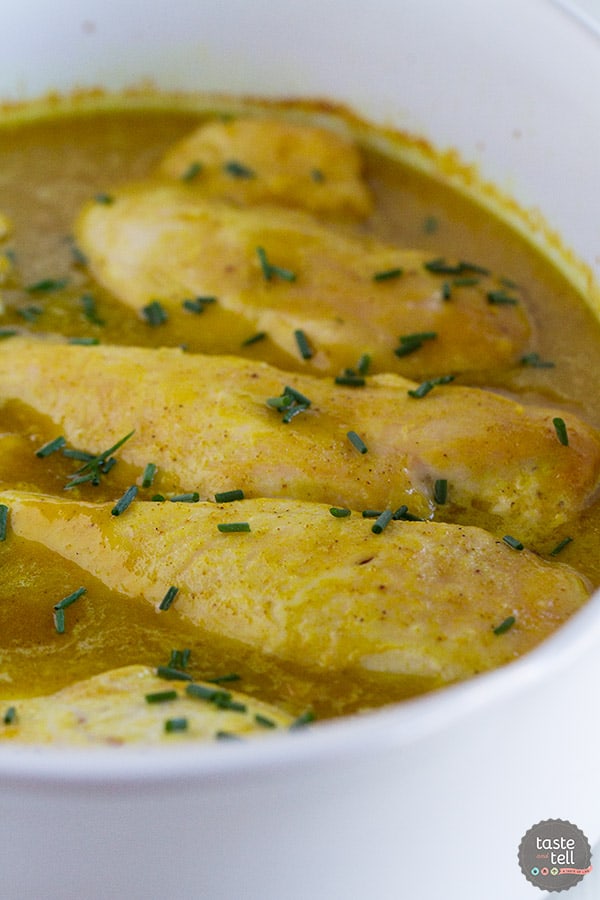 I think that most people think that since I cook a lot and I write a food blog, my family will automatically eat anything and everything. Which is unfortunately so far from the truth.
The truth is that I have 3 kids with varying levels of pickiness, and a husband that claims to like everything, but is actually picky in his own right.
There are some things that I know will be ok – like pizza, tacos, or most pastas. But outside of that, I can pretty much guarantee that there will be at least one person at the dinner table that doesn't want to eat. So I decided awhile back that there is just no way to please everyone. And since I'm the one that is cooking, I will get to make what I want. Most of the time, I'll try to find recipes that will be eaten by at least the majority of my family. But sometimes I just want something that I want. Even if I know it won't go over well with the rest of them.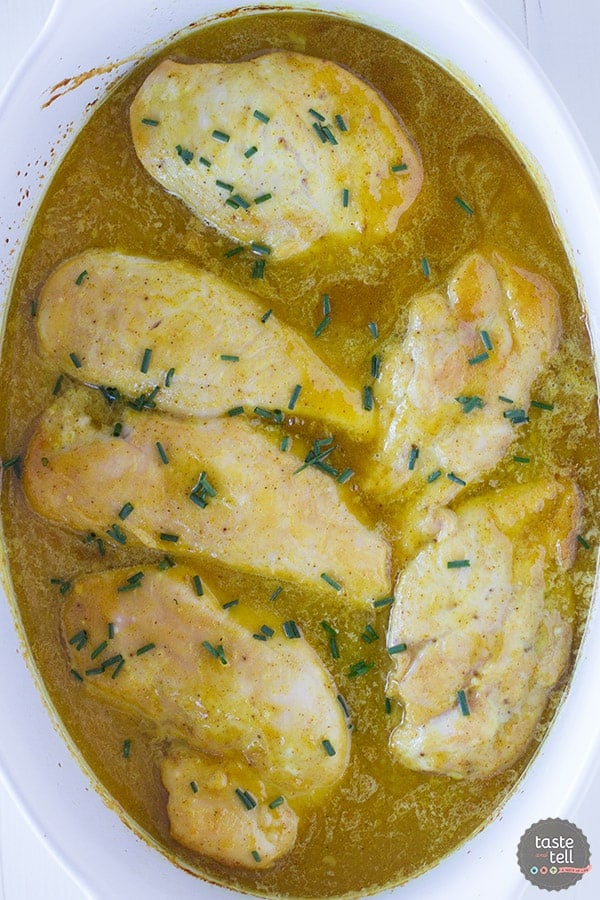 This Honey Curried Chicken is one of those recipes. While going through a recipe box that I have from forever ago that holds lots of handwritten recipes, I found this chicken recipe. Curry flavors don't always go over well in my house, but I love the flavor. And I loves how easy the recipe looked. Plus, I'm always a sucker for sweet and savory recipes ideas. So I knew it needed to be made.
I actually made this quite awhile ago, and just came across the photos hiding on my computer. I know it may not look like a lot, but if you are like me and are always on the lookout for recipes that are not only easy, but ones that very little hands on time, you will love this recipe. And you can't beat the bold sweet and savory flavors going on here!!
I served this Honey Curried Chicken over noodles, but I think it would be so good over mashed potatoes. That sauce is golden. You do want to make sure that you don't overcook your chicken. I have found that no matter how long I've been cooking, properly cooking chicken breasts is so hard to do. So it's helpful if you have a good thermometer on hand to make sure you don't take it too far. (I just bought this one, and can't wait to try it out. But I've heard nothing but good about it!)
Even though this takes a bit of time to bake, I think it is a perfect weeknight meal because hands on time is so minimal, and cleanup is pretty easy as well. And even though I thought no one else would like this chicken recipe but me, everyone actually ate some! Maybe I can slowly train them to be curry lovers… 😉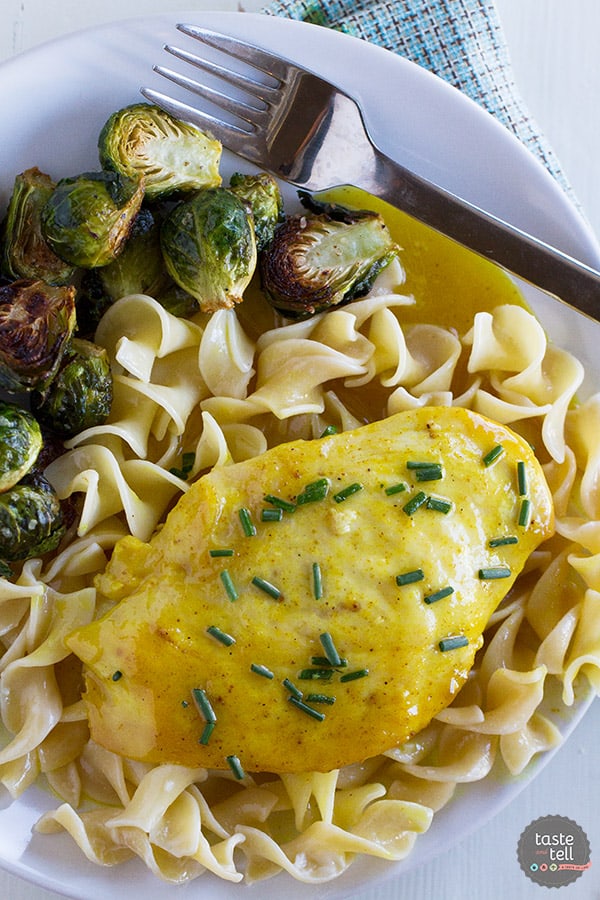 Like what you see here? Make sure you are following Taste and Tell for more recipes and ideas!
Facebook | Pinterest | Instagram | Twitter | Google+ | Weekly Newsletter | Feedly | Bloglovin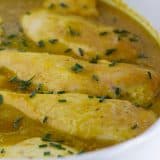 Honey Curried Chicken
---
Author:
Prep Time: 10 mins
Cook Time: 1 hour
Total Time: 1 hour 10 mins
Yield: 6 servings 1x
Description
Looking for a chicken dinner with a little bit of bold flavor? This Honey Curried Chicken is an easy chicken dinner with only 6 ingredients and 10 minutes prep time.
---
Scale
Ingredients
4 tablespoons butter, melted
1/2 cup honey
1/4 cup yellow mustard
1 teaspoon curry powder
1 teaspoon salt
2 lbs boneless, skinless chicken breasts
chopped chives
---
Instructions
Preheat the oven to 350ºF.
In a bowl, combine the butter, honey, mustard, curry powder and salt.
Place the chicken in a large baking dish in as much of a single layer as possible. Pour the sauce over the chicken. Bake in the preheated oven until the chicken is cooked through, about 1 hour.
Sprinkle with chopped chives, if desired
Recipe Notes:
Serve the chicken over rice or noodles, spooning some of the extra sauce over the top. I think mashed potatoes would be delicious as well!
Each chicken breast should be about 5-6 oz. If they are larger, you can cut them in half lengthwise, making 2 thinner pieces.
SHOP THIS POST!
More Easy Chicken Dinners: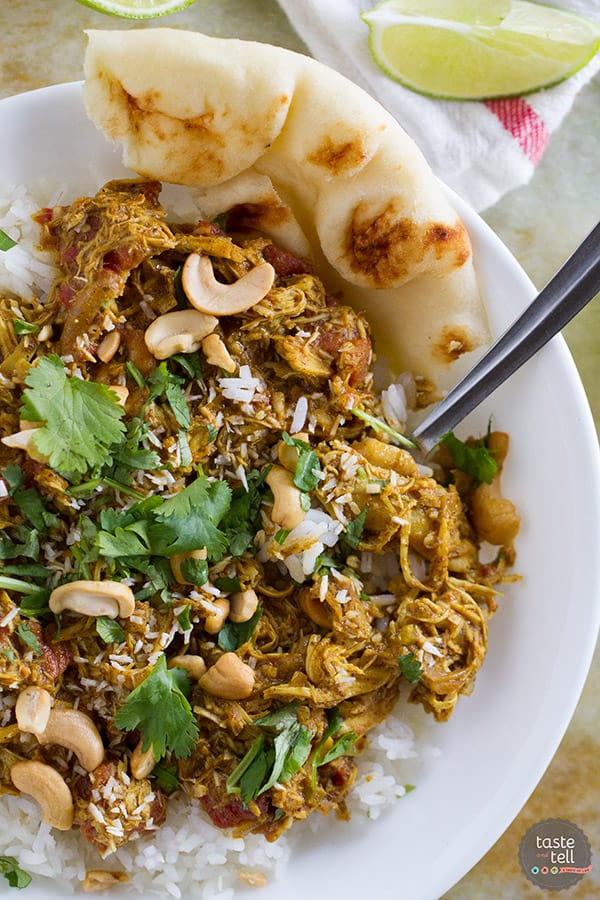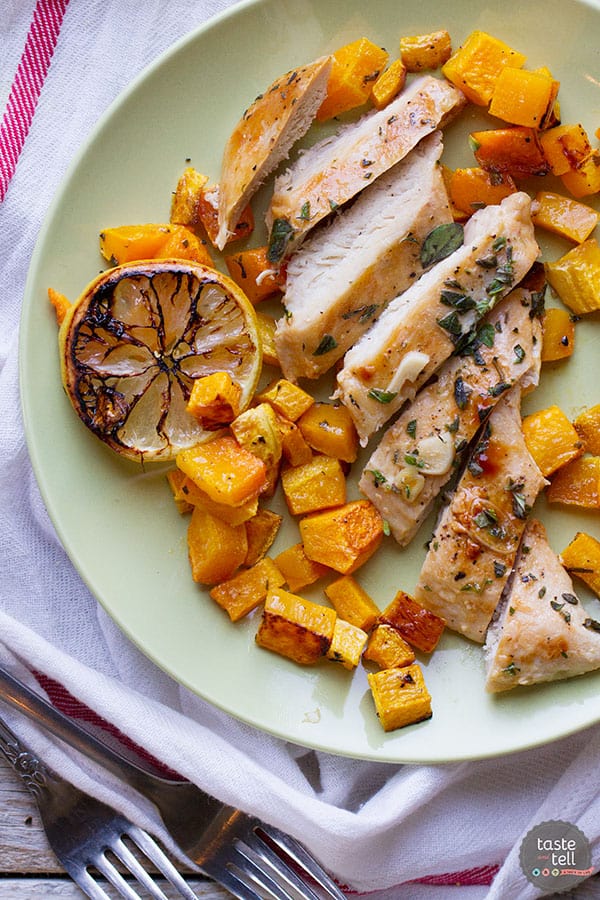 Easy Lemon Chicken with Butternut Squash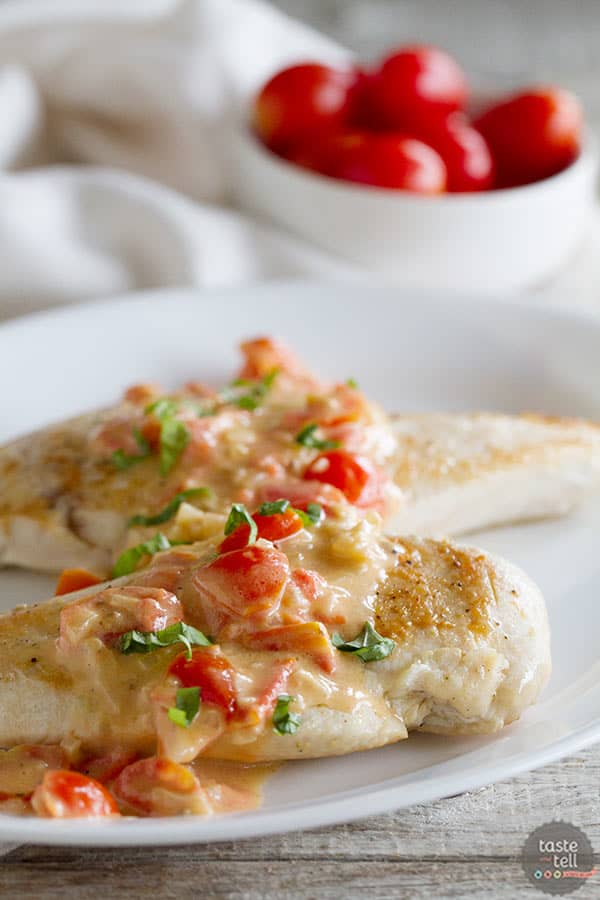 Chicken with Tomato Parmesan Sauce
Around the Web:
Easy Chicken Parmesan from Center Cut Cook
Foil Pack Creamy Salsa Verde Chicken, Rice and Veggies from Chelsea's Messy Apron
Sweet and Spicy Honey Dijon Glazed Chicken from Carlsbad Cravings
Don't miss a thing! Follow me on Pinterest to see what I'm pinning!
Visit Taste and Tell's profile on Pinterest.