Restaurant quality at home – these Baked Eggs with Creamed Spinach have an easy creamed spinach with an egg baked right on top. Serve with buttered toast for an unforgettable breakfast.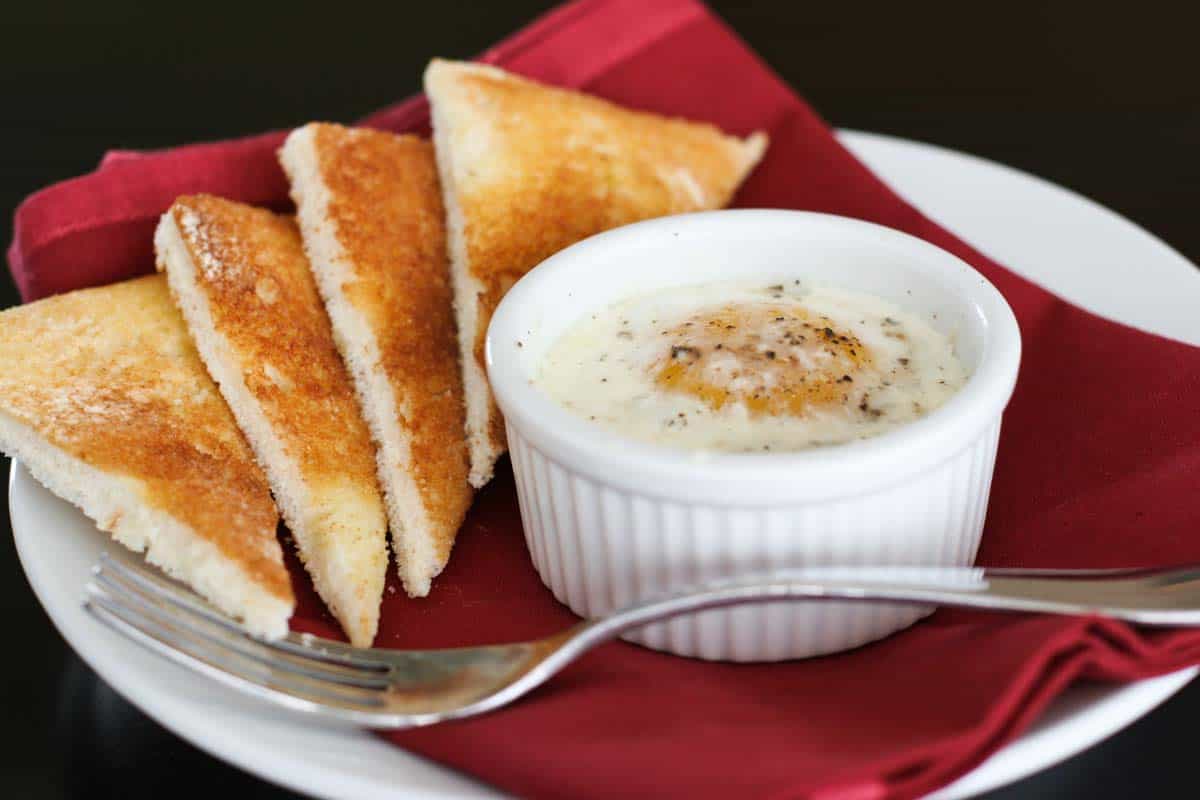 If this is what French food is like – I'm moving to France!
I wasn't even going to post this recipe today. My book is almost due at the library, so I've been trying to get ahead and cook up all the recipes from this book that I want to make before I have to return it. So I made these baked eggs last night. And I was still thinking about them this morning. I couldn't not post about them today. Let's just put it this way:
This was one of the best things that I have ever put into my mouth.
I always hesitate to make statements like that, because what if one of you try it and you are less than impressed, but I loved these eggs. I think that you'd have to be a fan of eggs with runny yolks to really appreciate this dish. But this recipe felt restaurant worthy to me. In fact, if I was served this at a restaurant, I would become a loyal customer. It's so simple, but the combination of the egg and the cream and the spinach and the toast – heaven.
While I was making this, I kept thinking what a pain it is to make it from fresh spinach. I was all prepared to tell you that you could take a shortcut and use frozen chopped spinach, but once I took my first bite, I knew that the extra work was worth it. If you make this – please use fresh spinach. The freshness really shines through and I just don't think this dish would be the same without it. Now – I need to run back to the grocery store to get more spinach – I want more!!
Recipe Rating: 5 out of 5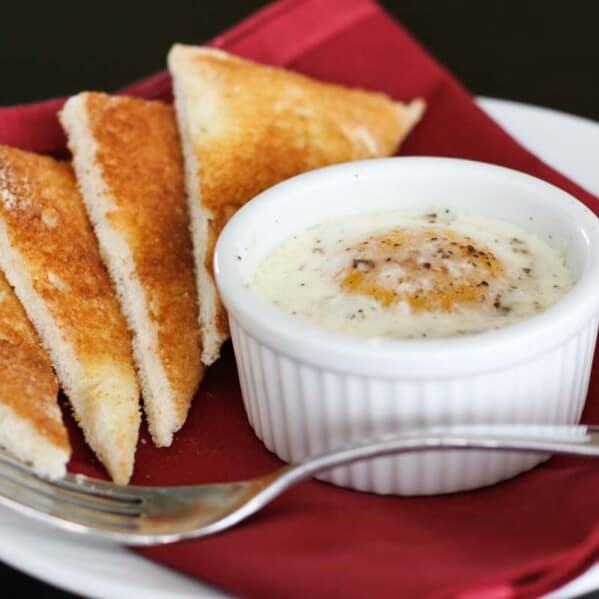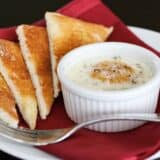 Baked Eggs with Creamed Spinach
---
Author:
Prep Time: 15 minutes
Cook Time: 12 minutes
Total Time: 30 minutes
Yield: 6 servings 1x
Category: Breakfast
Method: Baked
Cuisine: French
Description
Restaurant quality at home – these Baked Eggs with Creamed Spinach have an easy creamed spinach with an egg baked right on top. Serve with buttered toast for an unforgettable breakfast.
---
Scale
Ingredients
salt
1 pound fresh spinach
2/3 cup heavy cream
salt
pepper
1 tablespoon butter, softened
6 large eggs
1/2 cup freshly grated Parmigiano-Reggiano or grana padana
6 slices white bread, crusts removed, toasted and buttered, each slice cut into triangles
---
Instructions
Bring about 3 quarts of salted water to a rapid boil.
Take the stems of the spinach leaves by pinching the leaf at the base between thumb and forefinger and pulling back the stem with the other hand so that you remove the stem where it runs up the center of the leaf instead of just breaking it off at the base. Wash the leaves thoroughly, plunge them in the boiling water, and simmer them until they "melt", about 30 seconds. Immediately drain in a colander and rinse with cold water. Gently squeeze the leaves in small bunches to get rid of excess water. Slice the small bunches into 2 or 3 pieces each, so the spinach ends up coarsely chopped.
Bring 1/4 cup of the cream to a simmer in a saute pan, season it with salt and pepper, and cook it down until it's so thick it looks almost like a paste. Stir in the fresh-cooked spinach for about 30 seconds then turn off the heat.
Use a brush or your finger to smear the insides of 6 ramekins or custard cups with the softened butter. Distribute the creamed spinach among the ramekins and crack an egg into each ramekin. Spoon the rest of the cream, about 1 tablespoon per ramekin, over the eggs. Sprinkle with salt and pepper and the grated Parmigiano-Reggiano.
Line the bottom of a lidded saute pan with a kitchen towel, (to keep the ramekins from moving around, arrange the ramekins in the pan), and pour in enough water to come about one-third of the way up the sides of the ramekins. Put the pan over high heat, and as soon as the water comes to the simmer, turn the heat down to low and cover the pan. Cook until the egg whites set but the yolks are still runny, 10 to 12 minutes. Because of the cream, the eggs may look runny on top, so judge doneness by quickly touching the egg white with your finger, not by how they look on top. Serve on little folded napkins set on small plates, with the toasts passed at the table or arranged around the rim of each plate.
Keywords: creamed spinach, baked eggs