Yellow Chicken and Rice – Chicken thighs are served with rice that is seasoned with toasted pasta, saffron and turmeric.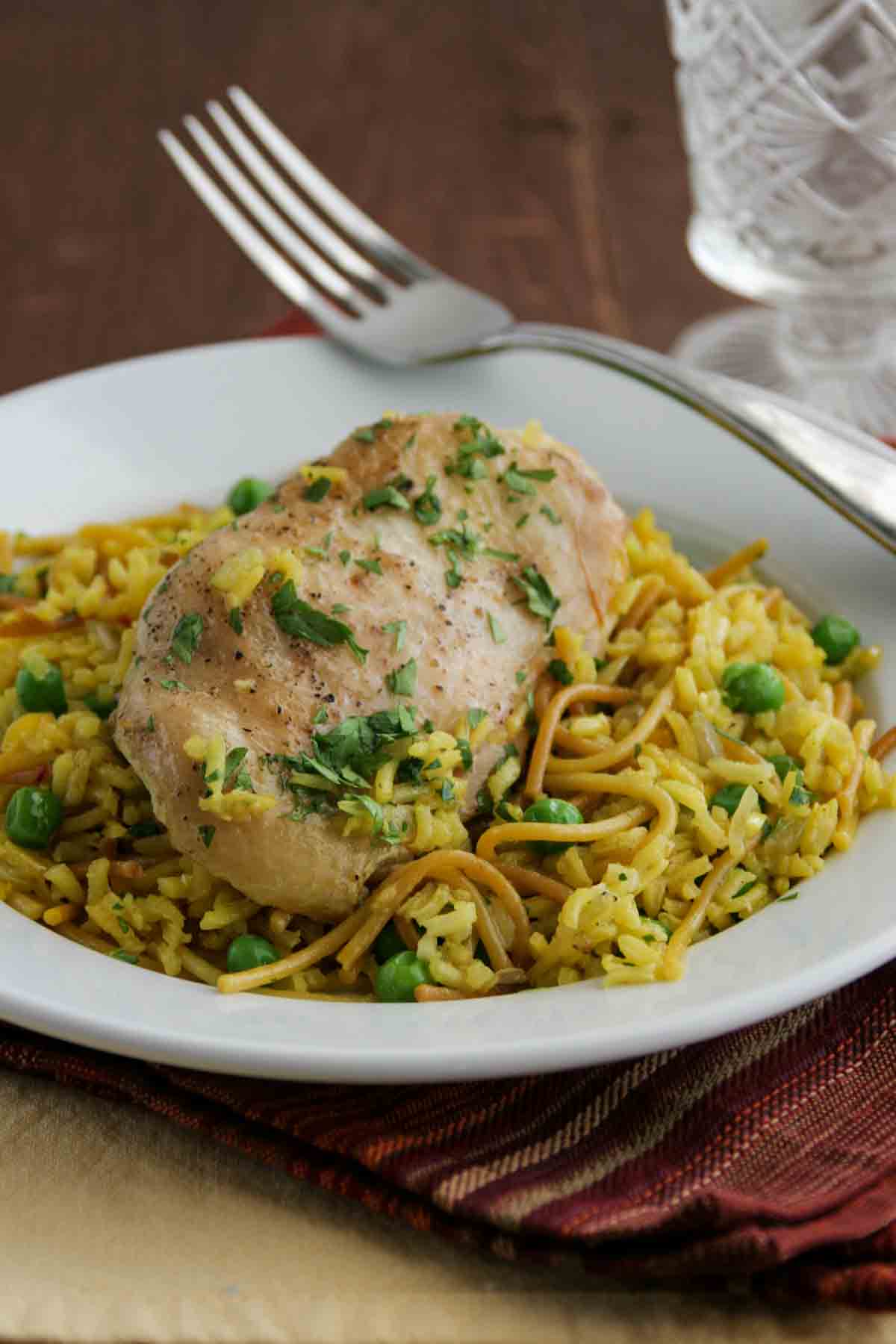 One thing that I really try to do is plan our menu with some variety. If we eat chicken today, we won't have it again for several more days, or even the next week. It may be Italian today, but Mexican tomorrow. If it's meat free on Monday, it will probably be protein filled on Tuesday. The last thing I want is to get bored with what we are eating, or feel like we are eating the same thing every day.
I know – now you are asking – then why in the world are you posting a 4th chicken recipe this week? The truth is – I actually had to laugh when I saw the way that the schedule rolled out this week. I normally have about 2 weeks of recipes planned at a time to bring to you. Sometimes I'm able to stick to the schedule quite well, while sometimes, things come up and things have to be switched around. That is what happened this week. And, well, I figured that most of you like chicken, so we'll just call this chicken week, ok?? 🙂
If you are a chicken lover like I am, add this one to your line up. I know the weather hasn't quite cooled off yet, but this is perfect for a night when you are looking for a good comfort meal that isn't going to totally pack in the calories. I had some bone-in chicken thighs in the freezer that needed to be used up before the move, but if thighs aren't your thing, you could also use breasts. I'm guessing it will even work with boneless chicken breasts, although you may need to add them a few minutes later so they don't overcook.
And that concludes the influx of chicken recipes – for now. I'll probably steer clear of them for a week, but I'm not promising anything after that!! 🙂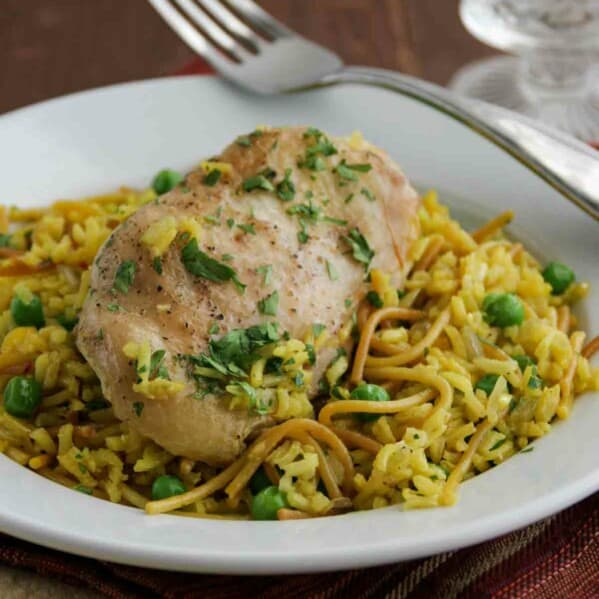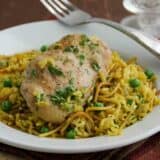 Yellow Chicken and Rice
---
Author:
Prep Time: 15 minutes
Cook Time: 30 minutes
Total Time: 45 minutes
Yield: 4 servings 1x
Category: Main Dish
Method: Stove Top
Description
Yellow Chicken and Rice – Chicken thighs are served with rice that is seasoned with toasted pasta, saffron and turmeric.
---
Scale
Ingredients
1/2 teaspoon saffron threads
4 cups chicken stock
1 tablespoon extra virgin olive oil
3 tablespoons butter, divided
4 bone-in, skin on chicken thighs
salt and pepper
1/2 cup broken spaghetti
1 cup long grain rice
1 medium onion, chopped
2 cloves garlic, minced
1 bay leaf
1 pinch cinnamon
1 pinch turmeric
1 cup frozen peas
1/4 cup flat leaf parsley, chopped
---
Instructions
Combine the saffron and chicken stock in a small saucepan. Bring to a simmer over low heat; keep warm.
Meanwhile, heat the olive oil and 1 tablespoon of the butter in a large, high-sided skillet over medium heat. Season the chicken with salt and pepper. Add to the pan and cook until chicken is browned on both sides, cooking about 4-5 minutes per side. Remove chicken and cover with foil to keep warm.
Melt the remaining butter in the skillet and add the spaghetti. Cook, stirring, until the pasta has toasted and browned, 2-3 minutes. Add the rice and stir to coat in the butter Add the garlic and onion and cook until the vegetables are soft, about 5 minutes.
Add the bay leaf, cinnamon, turmeric and the saffron-infused stock. Add the reserved chicken back into the pan. Heat until boiling, the cover the pan and reduce the heat to medium. Cook until the rice is tender and the chicken is cooked through, 15-18 minutes. Discard the bay leaf then stir in the peas and parsley; serve.
Recipe Notes:
slightly adapted from The Rachael Ray Show