Strawberry Cheesecake Cookies – Fresh strawberries are added into cheesecake pudding cookies for a fun summertime treat.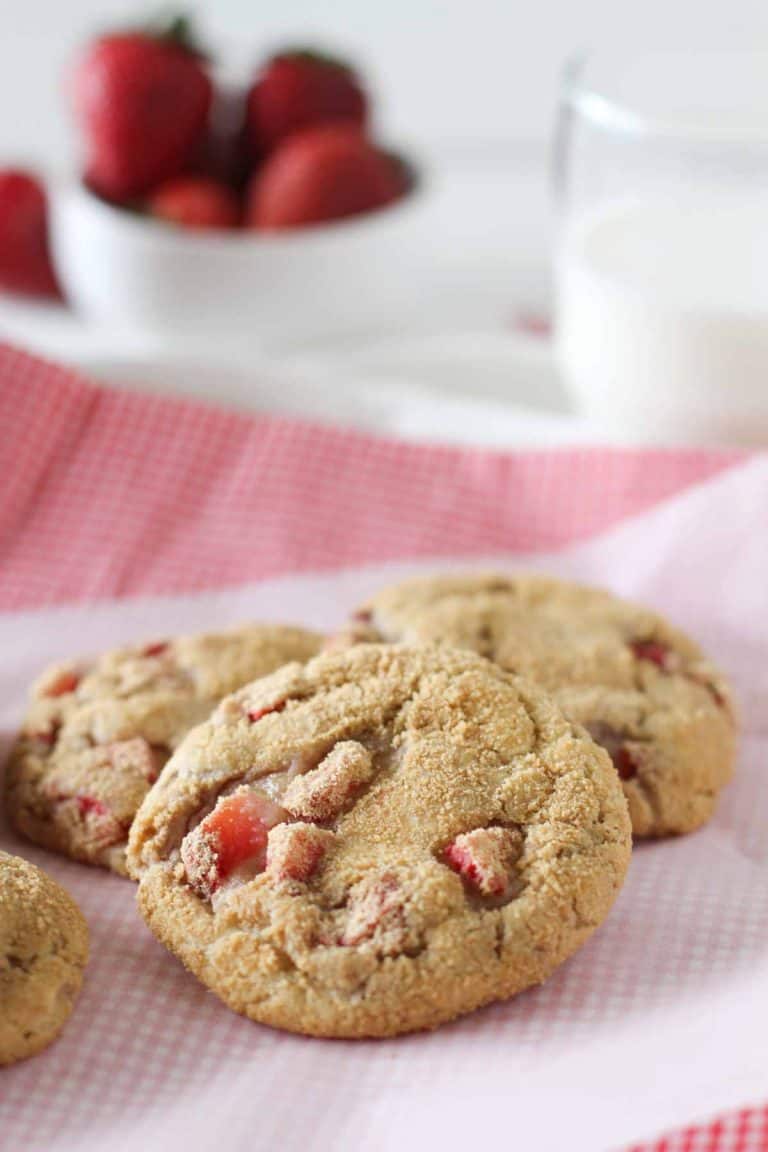 One of my favorite things about summertime in Utah are the summer festivals. Each of the towns has its own festival different times during the summer months, so you could literally spend each weekend in the summer in a different town, at a different carnival. One of my favorites is in a town called Pleasant Grove. Every June, they have Strawberry Days.
If you can't guess from the name, the strawberries are one of the highlights of this summer festival. Which also means that this is when the strawberries here in Utah are normally at their prime.
I know for some of you, you may be at the tail end of strawberry season. But right now, it's all about the strawberries for me. And I know I've done the strawberry thing a couple times this year already, (hello pancakes and strawberry cups), but I'm back with one more. And this time, in the form of cookies.
I'm not quite sure where this idea came from, but one day, it popped into my head. And these were one of those recipes that kind of evolve as you are making them. I started off with one idea, but ended up with something a little different. But it's all good, because these cookies are all good!!
If you've never had a pudding cookie, they are super, super soft. So if you are a crispy only cookie lover, these might not be for you. Combine a super soft pudding cookie with fresh strawberries, and the end result is a tender, moist cookie, full of summertime flavor. Since I did the cheesecake pudding mix, I decided to go with a cheesecake theme. And since you can't have cheesecake without the graham cracker crust, I thought it would be fun to give these a graham cracker coating to really give them that cheesecake flavor.
My strawberry loving daughter definitely approved of these, and if they wouldn't have been stored in the refrigerator and out of sight, I'm sure they would have been gone in record time. Here's to strawberry season!!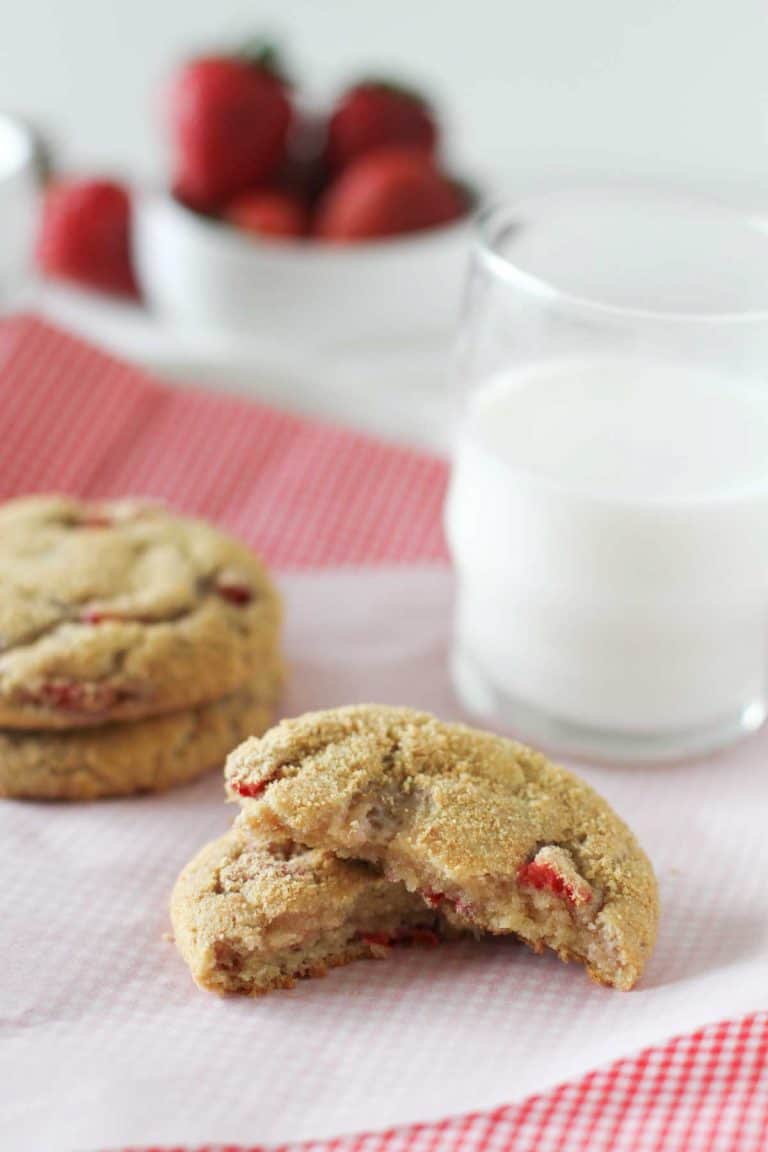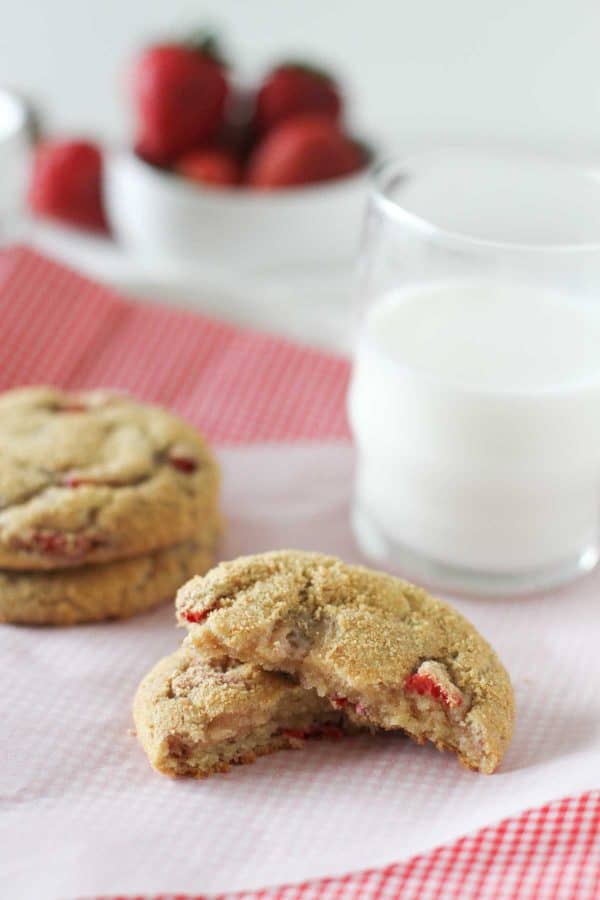 More Pudding Mix Cookies:
Banana Split Cake Mix Cookies
Chocolate Chip Pudding Cookies
Cookies and Cream Pudding Cookies
Chocolate, Peanut Butter and Marshmallow Pudding Cookies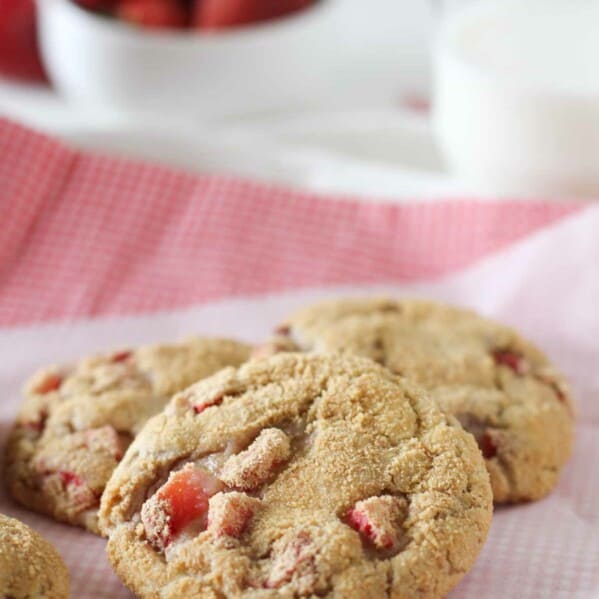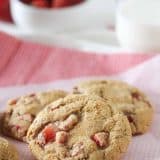 Strawberry Cheesecake Cookies
---
Author:
Prep Time: 15 minutes
Cook Time: 12 minutes
Total Time: 1 hour
Yield: 18 cookies 1x
Category: Dessert
Method: Baked
Cuisine: American
Description
Fresh strawberries are added into cheesecake pudding cookies for a fun summertime treat.
---
Scale
Ingredients
3/4 cup butter, at room temperature
1/2 cup brown sugar
1/2 cup granulated sugar
2 eggs
1 teaspoon vanilla
2 1/4 cup all-purpose flour
1 package (3.4 oz) instant cheesecake pudding mix
1 teaspoon baking soda
1/4 teaspoon salt
1/2 cup chopped strawberries
10 whole graham crackers, processed into fine crumbs
---
Instructions
Preheat the oven to 350F. Line a cookie sheet with parchment paper.
In a bowl, cream together the butter and both sugar until light and fluffy. Add the eggs, one at a time, scraping down the sides of the bowl in between additions. Beat in the vanilla.
In another bowl, combine the flour, pudding mix, baking soda and salt. Add into the butter mixture and mix just until combined. Fold in the strawberries.
Place the graham crackers in a shallow bowl or dish. Roll the cookie dough into 2 tablespoon sized balls and roll in the graham cracker crumbs. Place on the baking sheet, about 3 inches apart. Flatten slightly. Bake until set around the edges, about 12 minutes.
Recipe Notes:
for best results, store the cookies in the refrigerator.