Simple and rustic, this Cranberry Pudding Cake is a homestyle cake loaded with fresh cranberries and a hint of orange. Top with a warm butter sauce for the ultimate holiday cake.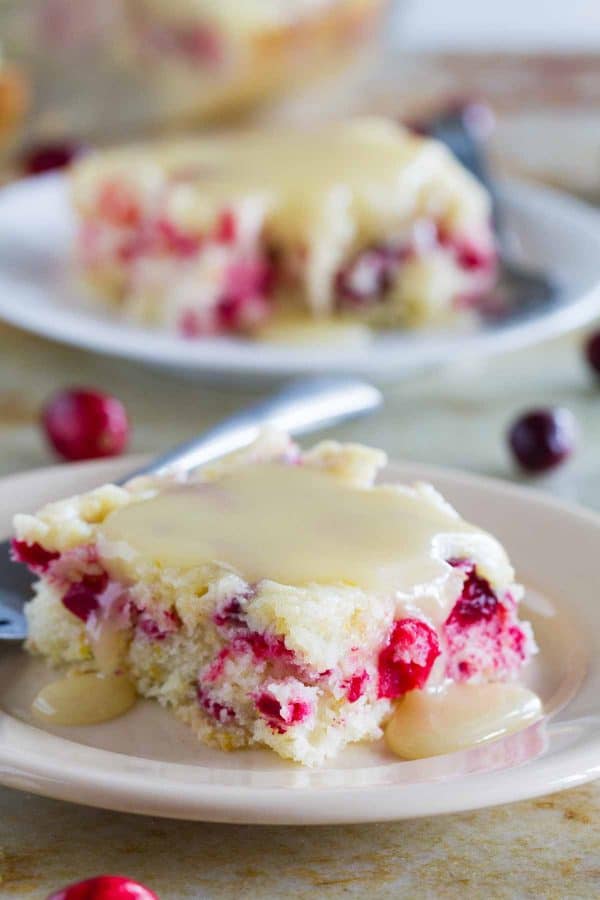 You guys – I feel like the biggest slacker this December. I'm dying that it's already the 9th, and I am barely getting to Christmas "stuff". We just bought a Christmas tree 2 days ago, and just decorated it yesterday. I did get online and buy a few Christmas presents yesterday, but I still have so much more to go. And I have a list of one hundred million holiday desserts that I want to make this year, and I've barely even started on it.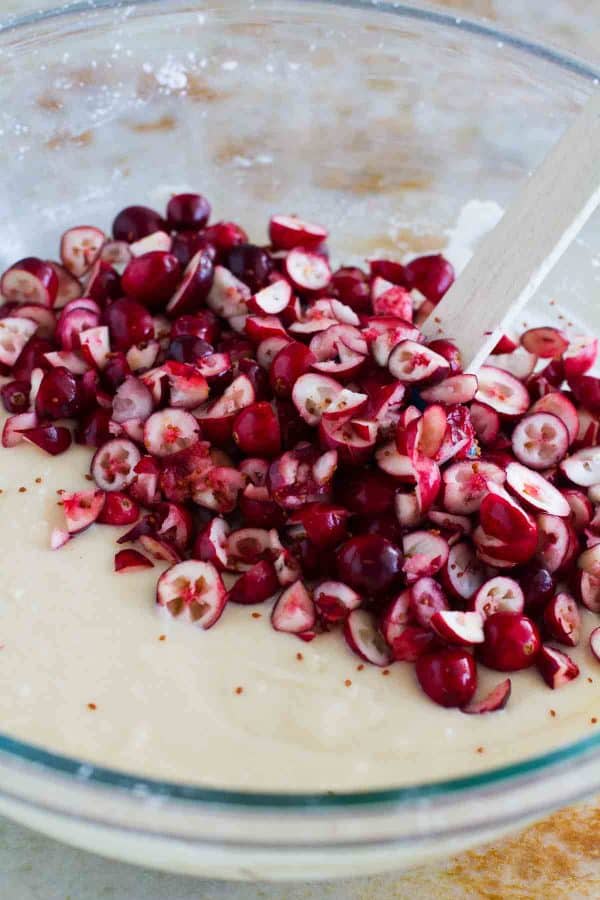 I am actually really grateful to have my children – who are incredibly excited for Christmas. In fact, Easton, who is 5, doesn't let a day go by without complaining about how far away Christmas is, and how he wishes it would come faster. I totally remember feeling that way as a kid. And now, as an adult, I wish time would slow down.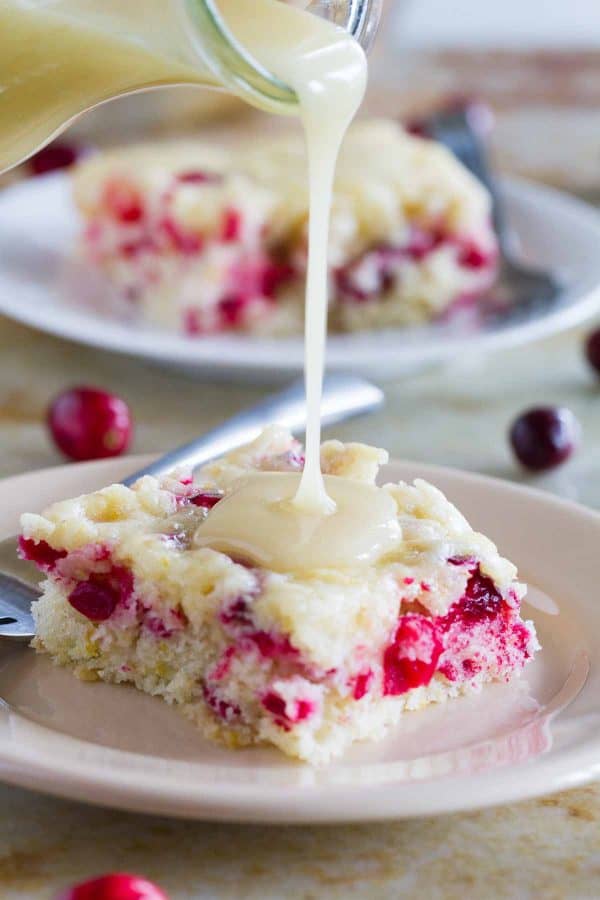 Luckily, we still have 16 days. Which means I technically have 16 days of baking in front of me. I just need to figure out where to start. 🙂
If you are like me, and still have lots of holiday baking you want to do, you definitely need to add this Cranberry Pudding Cake with Warm Butter Sauce to your list. You all know that I'm a sucker for a good old-fashioned, homey dessert. They are my favorite. Like that Oatmeal Cake. Or even the retro Tomato Soup Spice Cake Recipe. This Cranberry Pudding Cake falls in that same category for me. A simple cake, baked in a 9×13 baking dish.
But then it gets exciting.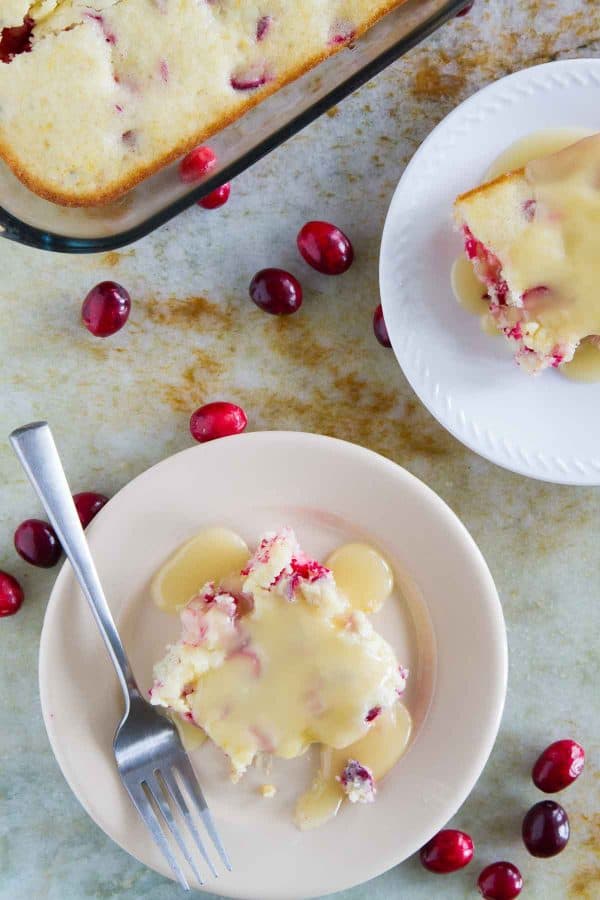 Because of 3 words. Warm. Butter. Sauce.
Seriously – that sauce totally makes this cake. Don't get me wrong – the cake on its own is actually very good. And I'm not sure why it's called a pudding cake. But that's what the original cake was called, so I thought I'd stick with it. But then you add this sweet, buttery, warm sauce, and it turns that piece of cake into a little piece of heaven. SO good. You may want to just eat the sauce with a spoon.
This sauce will thicken up as it cools, and you may not be able to pour it. And I have issues with it crystallizing after it cools, as well. So just make sure to keep the sauce warm, or warm it back up before serving.
Now it's time to get your holiday baking on!!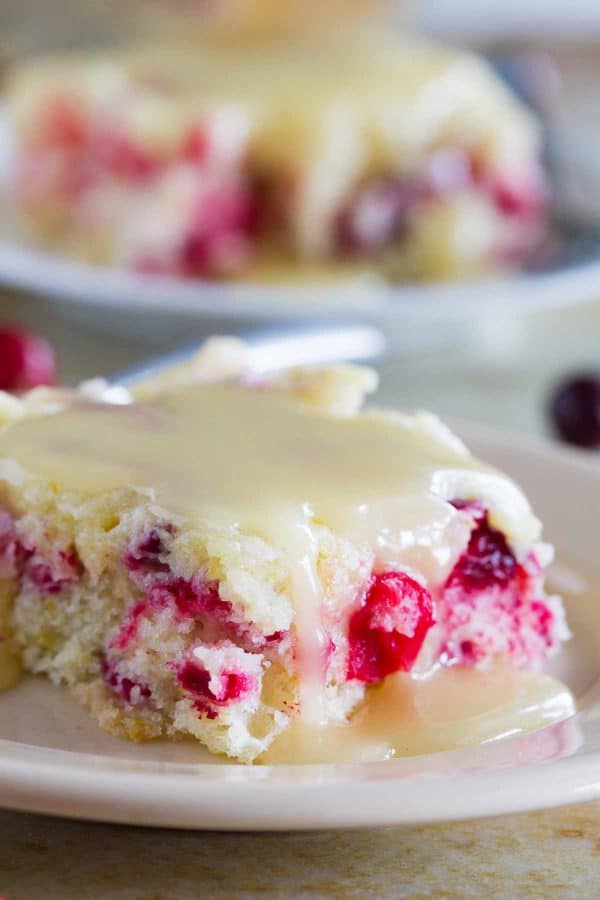 Like what you see here? Make sure you are following Taste and Tell for more recipes and ideas!
Facebook | Pinterest | Instagram | Twitter | Google+ | Weekly Newsletter | Feedly | Bloglovin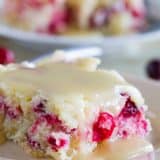 Cranberry Pudding Cake with Warm Butter Sauce
---
Author:
Prep Time: 20 minutes
Cook Time: 30 minutes
Total Time: 50 minutes
Yield: 15 servings 1x
Category: Dessert
Description
Simple and rustic, this Cranberry Pudding Cake is a homestyle cake loaded with fresh cranberries and a hint of orange. Top with a warm butter sauce for the ultimate holiday cake.
---
Scale
Ingredients
Cake:
3 tablespoons butter, (softened)
1 cup sugar
1 egg
2 cups all-purpose flour
2 teaspoons baking powder
dash salt
1 cup milk
2 teaspoons orange zest
2 cups fresh or frozen cranberries, (roughly chopped)
Warm Butter Sauce:
1 cup butter
1 cups sugar
1 cup heavy whipping cream
1/2 teaspoon vanilla extract
---
Instructions
Preheat the oven to 350ºF. Spray a 9×13-inch baking dish with nonstick cooking spray.
In a large bowl, beat the butter and sugar together until crumbly. Beat in the egg. In another bowl, combine the flour, baking powder and salt. Beat in 1/3 of the flour mixture, followed by 1/2 of the milk. Beat in half of the remaining flour, the remaining milk, then the remaining flour. Add the orange zest. Fold in the chopped cranberries.
Pour the batter into the prepared baking dish. Bake for 25-28 minutes, or until a tester inserted in the center comes out clean.
To make the butter sauce, combine the butter, sugar and cream in a saucepan. Place over medium heat and bring to a boil, stirring constantly. Once it comes to a boil, reduce the heat to low and continue to cook until thick, 10-15 minutes, stirring very regularly.
Serve the warm sauce poured over each slice of cake. The sauce will get thicker as it cools, and may crystallize. Re-warm the sauce as needed for serving.
SHOP THIS POST:
More Cranberry Favorites: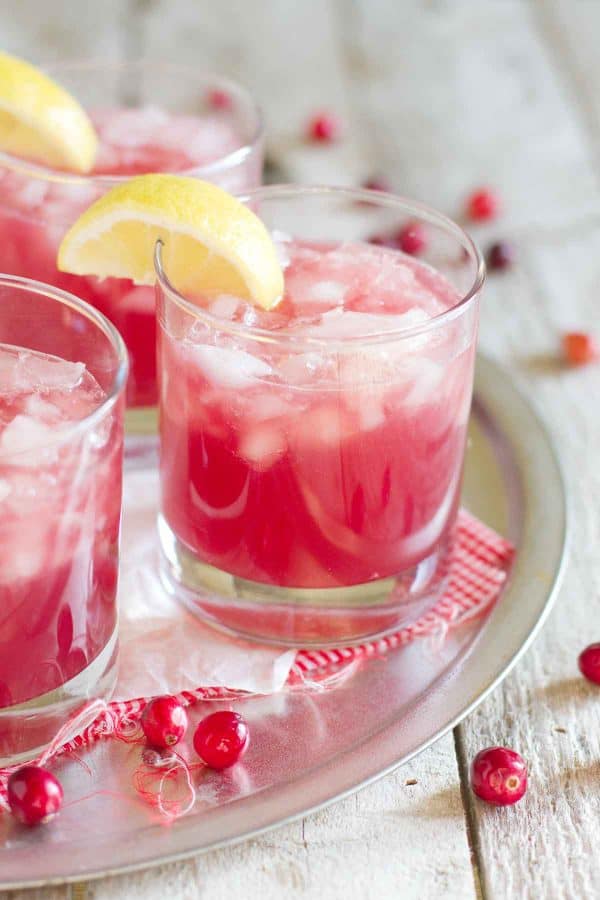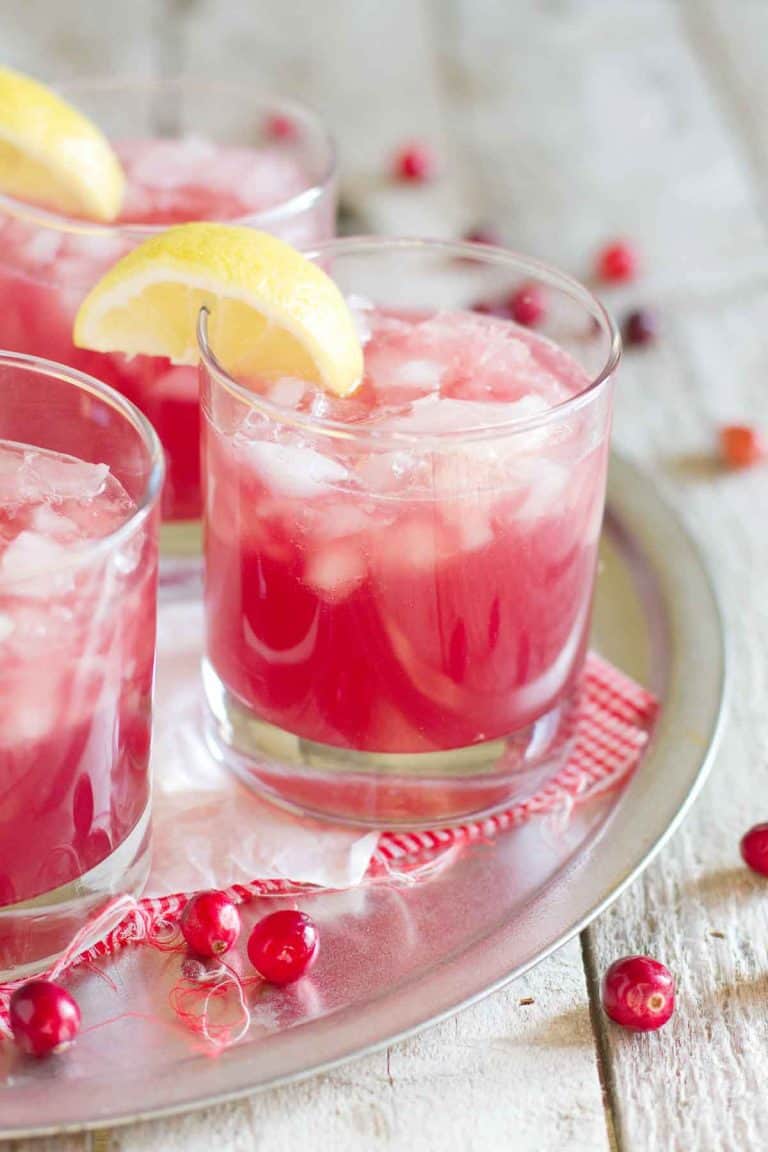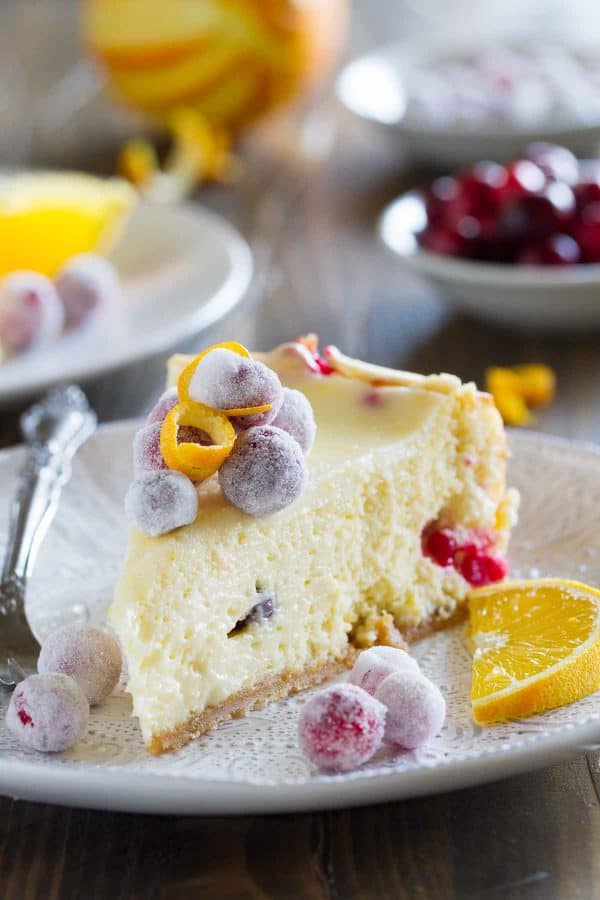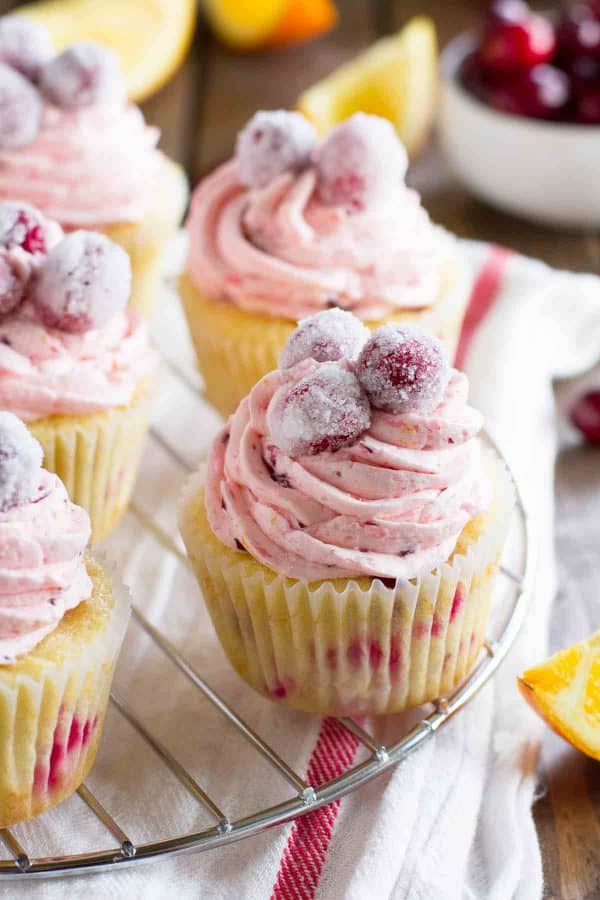 Around the Web:
Cranberry Christmas Cake from Barefeet in the Kitchen
Cranberry Buttermilk Breakfast Cake from Alexandra's Kitchen
No Bake Cranberry Cheesecakes from My Baking Addiction
Don't miss a thing! Follow me on Pinterest to see what I'm pinning!
Visit Taste and Tell's profile on Pinterest.