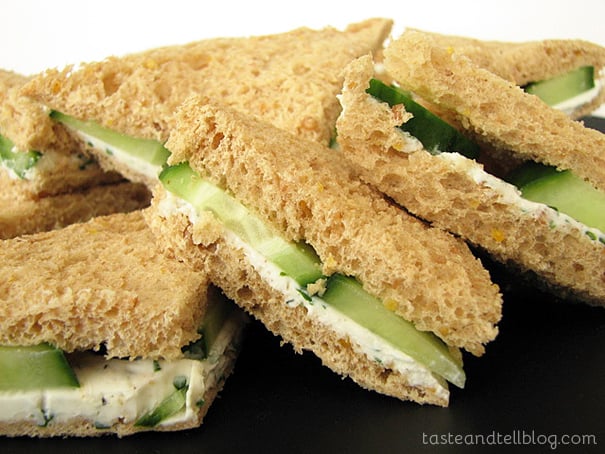 I already know what you are thinking: "Deborah – have you seen this cookbook?? It is full of all kinds of fabulous recipes, and for one of your featured recipes from this book, you choose a little sandwich? What are you thinking??"
Well, let me tell you what I was thinking. First of all, I was a goat cheese virgin. Yup, I had never had goat cheese before this sandwich. I wasn't completely sure what to expect. It was a bit stronger than I was expecting, but once I got over the shock of expecting a milder cheese, I really liked it. My husband loved it.
The second reason I chose this is because earlier this week I had a dentist appointment for my semi-annual cleaning. I don't know if it is just me and I have sensitive gums, but whenever I get my teeth cleaned, I have very sore teeth and gums for the whole day. I used to think it was because the hygienist is rarely gentle when flossing, but the hygienist that my dentist has now is really gentle. And my gums still hurt. So I wanted something that would be easy on my mouth and easy to chew, and this perfectly fit the bill.

Even though this is a little sandwich that would be perfect on a buffet table, we actually ate them for dinner. My husband wanted his bread toasted, and liked it better that way. They were surprisingly filling!
I inadvertently doubled the thyme, parsley and garlic, but I think it was that much better for my error. So the recipe below is how I made it. I halved the original recipe and still ended up with a ton of the spread left over. Ina does say that it will keep for weeks in the refrigerator, and I'm excited to see what else it will go well on!!
Herbed Goat Cheese Sandwiches
adapted from Barefoot Contessa Parties!
For the Spread
4 ounces cream cheese, at room temperature
5 1/4 ounces Montrachet or other mild goat cheese, at room temperature
1 1/2 teaspoons minced garlic (about 2 cloves)
1/2 teaspoon fresh thyme leaves
3 tablespoons minced fresh parsley
5 to 6 tablespoons milk, half-and-half, or heavy cream
1/2 teaspoon kosher salt
1/2 teaspoon freshly ground black pepper
For the Sandwiches
1 loaf 7-grain bread, thinly sliced
1 English cucumber, not peeled
To make the spread: Place the cream cheese, goat cheese, garlic, thyme, parsley, 5 tablespoons milk, salt and pepper in the bowl of an electric mixer fitted with the paddle attachment. Beat on medium speed until well mixed. Add an additional tablespoon of milk if the spread is very thick.
To make the sandwiches: spread each slice of the bread with the goat cheese spread. Slice the cucumber into thin rounds and arrange on half of the bread slices. Top with the remaining bread and press slightly. Cut the sandwiches into halves, thirds, or triangles.
Others who have made this recipe: