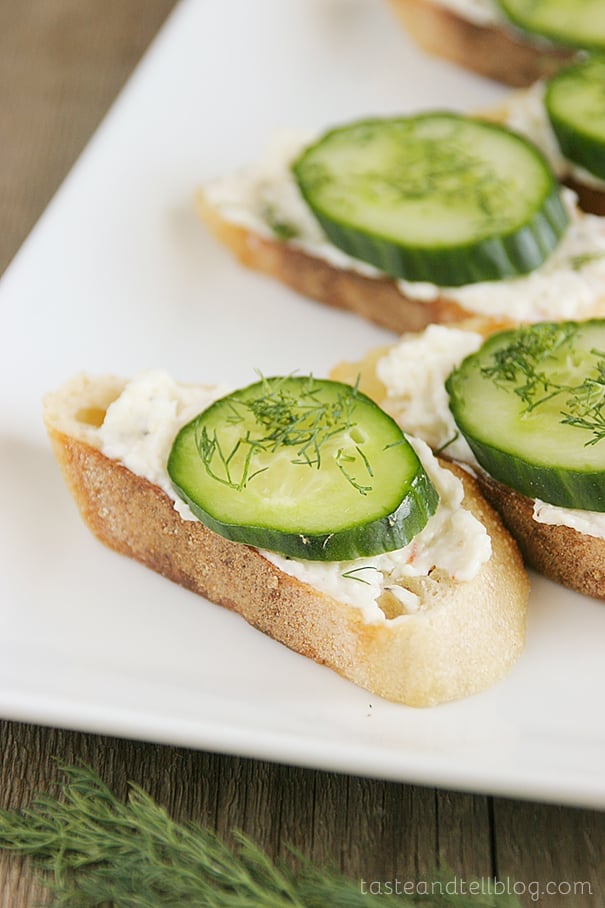 What do you do when you are bringing an appetizer to a group of food bloggers?  As much as I love trying new recipes, I have to admit that it's a little nerve wracking to try something new when you are around a group of food bloggers.  So of course, you dig into you family favorites and decide on something that you know will be a crowd pleaser!
This is a recipe that my family has been making for years.  For wedding receptions, for baby showers – and it's even a family favorite when we just get together as a family.  And the plate is always cleared.  They are super easy and fast to make, and they are fairly inexpensive as well.
I have to say – the majority of the time that we make these, we use dried dill.  But I had some fresh dill on hand for another recipe I was making, so I used the fresh.  I didn't think it would make a huge difference either way, but I really did love the fresh dill.  It added so much, that I think that I'll stick with fresh dill from now on!
Next time you are looking for a crowd-pleasing appetizer, try these Cucumber Dill Toasties!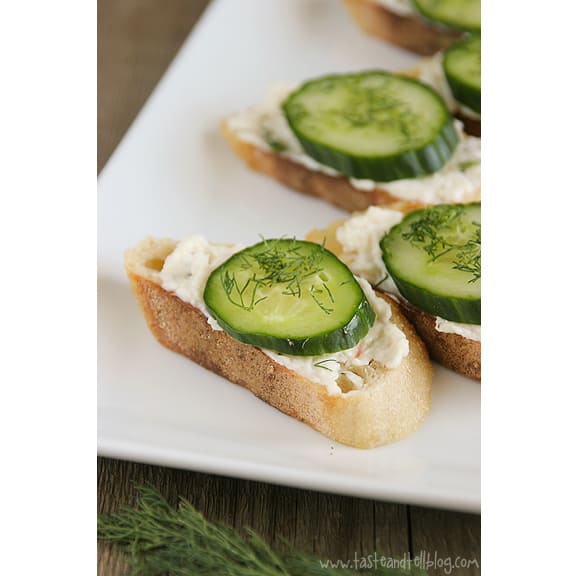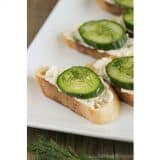 Cucumber Dill Toasties
---
Prep Time: 20 minutes
Cook Time: 10 minutes
Total Time: 45 minutes
Yield: about 45 appetizers 1x
Description
A crowd pleasing appetizer – bread slices are topped with a creamy mixture, followed by a cucumber, and a pop of fresh dill.
---
Scale
Ingredients
1 (8-oz) package cream cheese, at room temperature
1 (0.6-oz) package dry Italian salad dressing mix
1/2 cup mayonnaise
1–2 baguettes
1–2 English cucumbers, sliced
3 tablespoons fresh dill (dry can be substituted)
---
Instructions
Preheat the oven to 350F.
Cut the baguette into 1/2-inch slices. Drizzle with olive oil and toast in the oven until golden, about 10 minutes. Allow to cool.
Mix together the cream cheese, Italian dressing mix and mayonnaise. Spread on the toasted baguette slices. Top with a slice of cucumber and sprinkle with dill.

How about some more appetizer ideas?
Individual Seven-Layer Dips from The Girl Who Ate Everything
Caramelized Onion Dip from Simply Recipes
BLT Kebabs from Family Fresh Cooking
Cheesy Corn Bites from Taste and Tell
Strawberry Balsamic Appetizer from Never Enough Thyme