Perfect for a party, this layered Jello treat is not only fun to make, but it's fun to eat!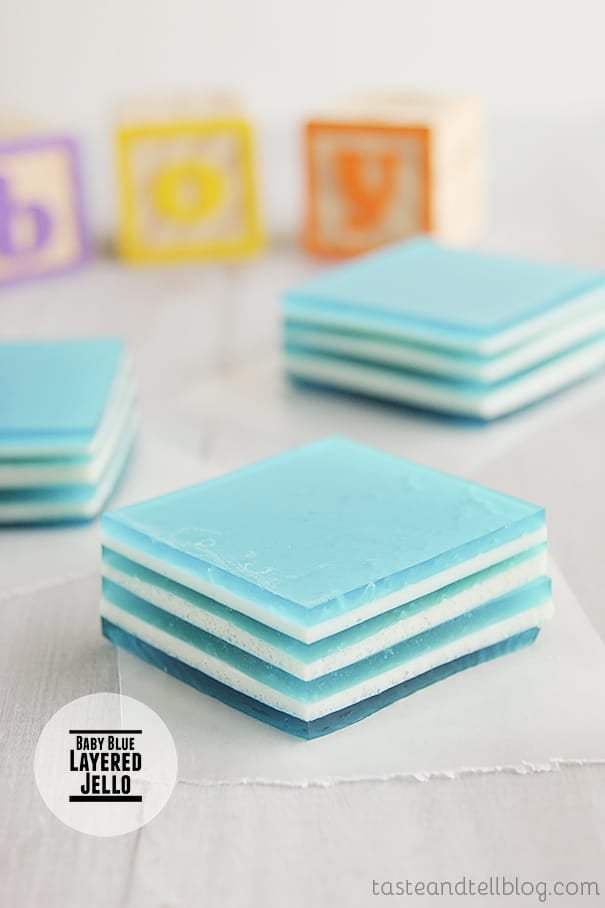 If there is one thing that is worth celebrating, it's the birth of a new baby. (And for once, I'm not talking about the arrival of my little one. As of the time I am writing this post, he still has yet to make his appearance!) But today – along with some of my favorite bloggers – I am celebrating Rachel from Rachel Cooks and throwing her a "virtual" baby shower!!
What is a virtual baby shower, you ask? Well, each of us has made a tasty treat to share with all of you and to tell Rachel that we are all so excited for her and her baby blue arrival next month. Let me tell you – it has been so fun to be amongst a whole group of pregnant bloggers. Now I only wish we all lived close to each other so that our little ones could all be the best of friends!!
For my contribution, I thought it would be fun to bring something that not only looks fun, but is fun to eat. I'm definitely not the first one to make layered Jello, but I've always wanted to try it and this was the perfect excuse! This fun recipe sounds and looks a lot harder than it actually is. It does take a little bit of time, and you do need to make sure your refrigerator is level (which I quickly found out that mine is not, but I was able to level out my dish with a towel…). But the payoff is totally worth it!
Like what you see here? Make sure you are following Taste and Tell for more great recipes and ideas!!

Facebook ** Pinterest ** Twitter ** Instagram ** Google+
or you can subscribe to my newsletter or Feedly or Bloglovin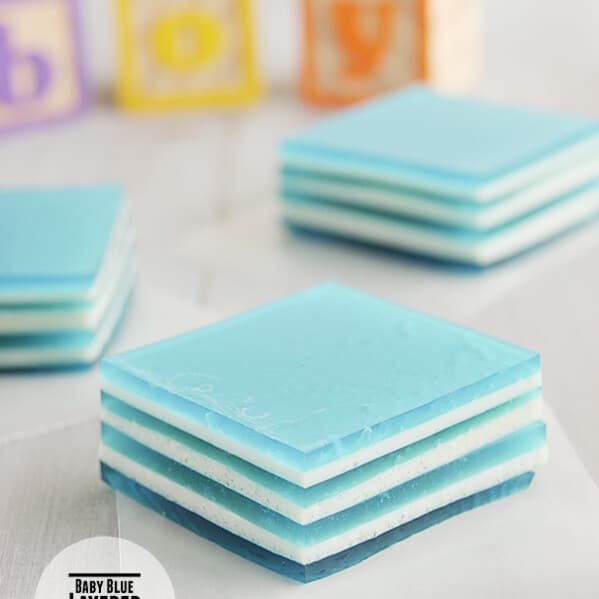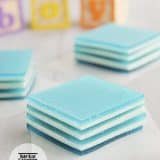 Baby Blue Layered Jello
---
Total Time: 2 hours 20 minutes
Yield: 20 servings 1x
Description
Perfect for a party, this layered Jello treat is not only fun to make, but it's fun to eat!
---
Scale
Ingredients
4 (3 oz) packages berry blue Jello
4 (2 1/2 teaspoons each) packets unflavored gelatin
1 (14 oz) can sweetened condensed milk
5 cups water
---
Instructions
Spray a 9×13-inch baking dish lightly with nonstick cooking spray.
Mix 1 3-oz package of Jello with 1 1/4 teaspoons unflavored gelatin. Add 1 cup of boiling water and stir until dissolved. Pour into the prepared pan. Refrigerate for 20 minutes.(Make sure the shelf is level!)
Meanwhile, mix the can of sweetened condensed milk with 1 cup of boiling water.
In another bowl, combine 1/2 cup cold water and 2 packages of the unflavored gelatin. Let stand for 2-3 minutes. Add in 1/2 cup boiling water and stir to dissolve. Add the sweetened condensed milk and let the mixture come to room temperature. (If the mixture ever sets up too much during the process, stick it in the microwave for 5-7 seconds to loosen it back up.)
After the first layer of Jello has set up for 20 minutes, pour 1 cup of the sweetened condensed milk mixture evenly over the layer of Jello. Return to the refrigerator for 20 minutes.
Repeat the Jello steps above to create another layer of Jello. Refrigerate for 20 minutes.
Continue to repeat until you have 4 layers of Jello and 3 layers of the sweetened condensed milk mixture. Keep refrigerated until completely set up. Cut into squares or desired shapes for serving.
————————
method mostly taken from Our Best Bites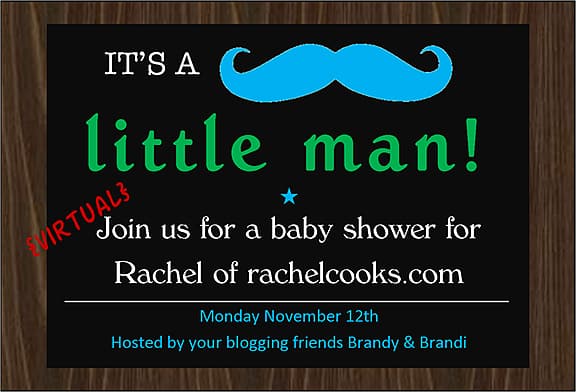 Make sure you check out all of the bloggers who are celebrating Rachel's little man!
Nutmeg Nanny | S'mores Popcorn
Creative Culinary | White Chocolate "Quilted" Cupcakes
Sarah's Cucina Bella | Apple Asiago Proscuitto Bites
Miss in the Kitchen | White Chocolate Biscoff Muddy Buddies
Fake Ginger | Snickerdoodle Scones
Cookistry | Walnut Streusel Coffee Cake
Bake Your Day | Caramel Cashew Popcorn Bars
Bread & Butter | Primal Pumpkin Whoopie Pies
A Spicy Perspective |Turtle Pumpkin Ice Cream Cake
30A Eats | Southern Cheese Straws
Sweet Basil | Mini Blackberry Pies
Bakeaholic Mama | Salted Caramel Cashew Popcorn
Steph's Bite By Bite | Baby Blueberry Pies on a Stick
Susie Freaking Homemaker | Cucumber Sandwiches
Diabetic Foodie | Cranberry Citrus Meatballs
Chip Chip Hooray | Itty Bitty Chocolate Thumbprint Cookies
The Lemon Bowl | Hermit Bars
Budget Gourmet Mom | Baby Blue Cheeseburgers
Mother Thyme | Pumpkin Cinnamon Rolls
Pass the Sushi | Sweet Poato Soup with Maple Cream
Bran Appetit | Bourbon Toffee Popcorn
Thrifty Veggie Mama | Roasted Butternut Squash & Sage Pesto Crostini
Cooking with Books | Curried Salmon Phyllo Cups
The Spiffy Cookie | Sweet Potato Pie Dip with Pie Crust Dippers
Farmgirl Gourmet | Dark Chocolate Cashew Brittle Cookies
London Bakes | Mini Onion and Feta Pizzas
Eat2Gather | Chicken Salad