Perfect as a light supper or as a side dish, this Tomato Tart with Bacon and Gruyere is as tasty as it is beautiful!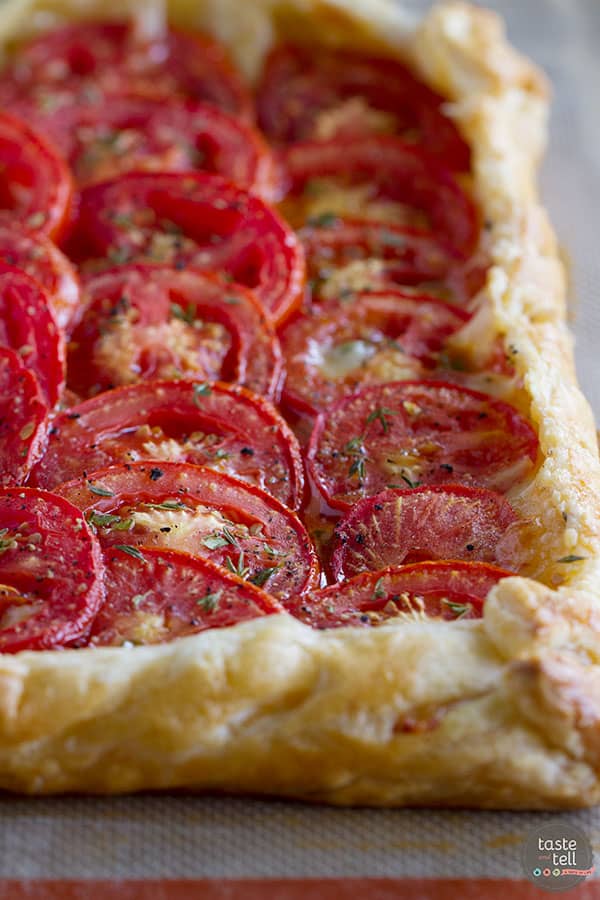 I am at that point in the year where I can't decide if I want it to stay summer for longer or for fall to come crashing in. I was all about summer. I still have things that I want to do before it gets cold. (The mountains are calling my name!) But then I had a box of pumpkin candles delivered a couple of days ago, and I wanted to just light those babies up and make it smell like all things fall. And I'm itching to get cooking with the pumpkin and the apples.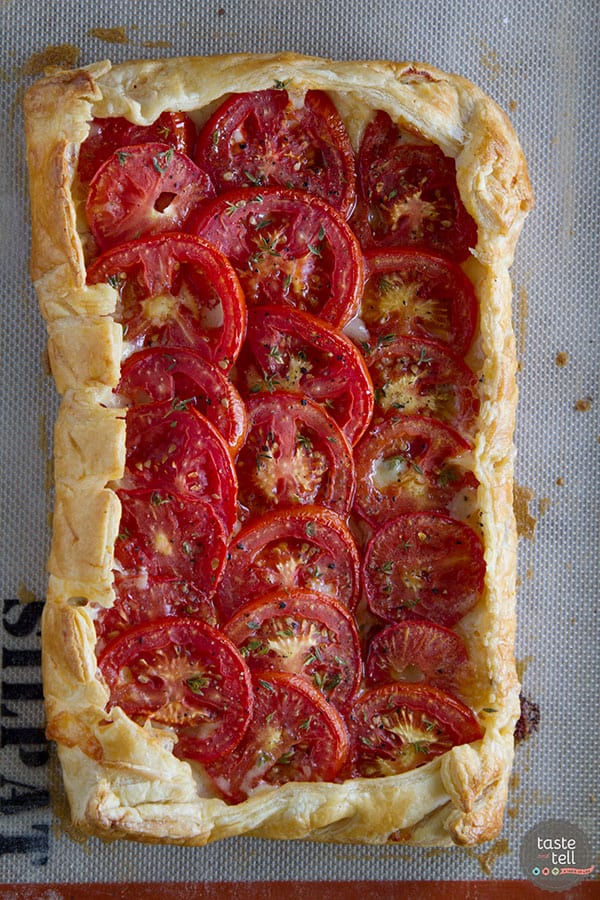 And then I go to family dinner and have our annual garden dinner – mom's chile rellenos, squash, fresh garden tomatoes… it's my favorite dinner of the year! I came home with some tomatoes, and so now I'm loving the end of summer and want it to stick around a little longer. But that could change in a snap! 😉
But I do know what I want to do with those garden tomatoes – make another Tomato Tart with Bacon and Gruyere! When tomatoes are in season, I just can't get enough of them. And this tart is a great way to get a punch of tomato flavor, plus a lot of other great flavors. You really can't go wrong when you combine bacon and cheese – but then adding tomatoes and puff pastry into the mix? You definitely have a winner on your hands.
When I made this tart, I had planned on serving it alongside dinner, serving it like a side dish. But really, this is hearty enough to serve as dinner itself. And can we talk about how pretty this is? If you are someone that eats with your eyes first, this tomato tart is definitely one that you need to check out!
I know fall is right around the corner, but living out the rest of summer when you have fresh garden tomatoes makes it easy to stick with summer!
More Recipes Using Fresh Tomatoes
Tomato Tart Recipe
Caprese Pizza
Polenta Crust Tomato Tart
Tomato and Basil Bake
Avocado and Tomato Salad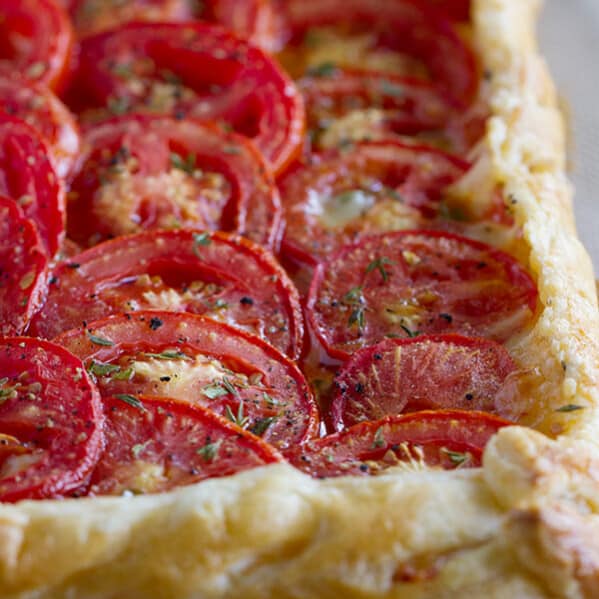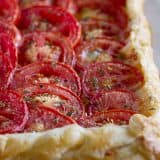 Tomato Tart with Bacon and Gruyere
---
Prep Time: 10 mins
Cook Time: 30 mins
Total Time: 40 mins
Yield: 4–6 servings 1x
Description
Perfect as a light supper or as a side dish, this Tomato Tart with Bacon and Gruyere is as tasty as it is beautiful!
---
Scale
Ingredients
1 sheet of puff pastry (from a 17.3 oz box), thawed
1 1/2 cups shredded gruyere cheese
4 slices cooked bacon, crumbled
3 thinly sliced small tomatoes
2 teaspoons fresh thyme leaves
1/2 teaspoon kosher salt
freshly ground pepper
1 egg
---
Instructions
Preheat the oven to 400ºF. Line a baking sheet with parchment paper or a silpat liner.
On a lightly floured surface, roll the puff pastry into a 10×14-inch rectangle. Transfer to the lined baking sheet.
Sprinkle the cheese on the puff pastry, leaving at 2-inch border around the edges. Sprinkle on the bacon, then line the tomato slices down over the cheese and bacon. Top with the thyme leaves, salt and pepper. Fold the long ends of the pastry slightly over the filling, then the short ends, pinching to seal. Cut vents in the pastry.
Beat the egg lightly with a splash of water, then brush over the pastry. Bake in the preheated oven until golden brown, about 30 minutes.