Filled with chocolate chips and dried cherries, these Triple Chocolate Cookies with Dried Cherries are a chocolate lover's dream! Keep them slightly under-baked for a gooey, brownie-like center.
If you have extra dried cherries, make sure to check out my recipe for Lemon Scones with Nutmeg and Cherries and my Chocolate Cherry Streusel Rolls!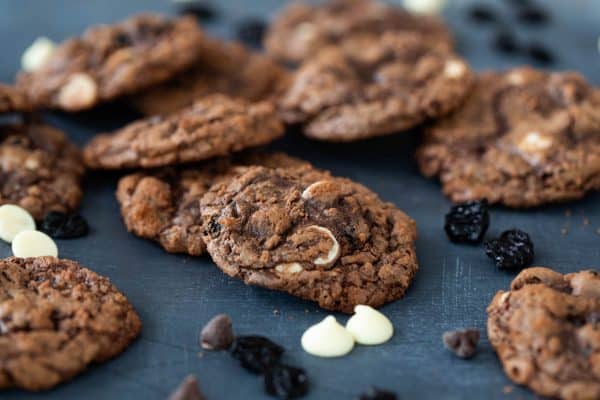 I've said it before, but I'm more of a citrus/coconut person vs a chocolate person.
Unless you are talking about these Triple Chocolate Cookies with Dried Cherries.
I don't know what it is about the combination of chocolate and cherries, but it gets me every time.
I originally posted this recipe back in 2009. And they were called Black Forest Cookies then. I love black forest anything, so that is what drew me to this recipe.
I don't think these cookies totally resemble black forest cake, besides the fact that they are chocolate and cherry, but that doesn't make me love them any less. The cookies are almost brownie-like. I underbake them slightly so they remain a bit gooey. That gooey chocolate combined with semi-sweet and white chocolate chips, and the dried cherries makes such a decadent cookie.
I can only imagine how obsessed I'd be if I were a chocoholic!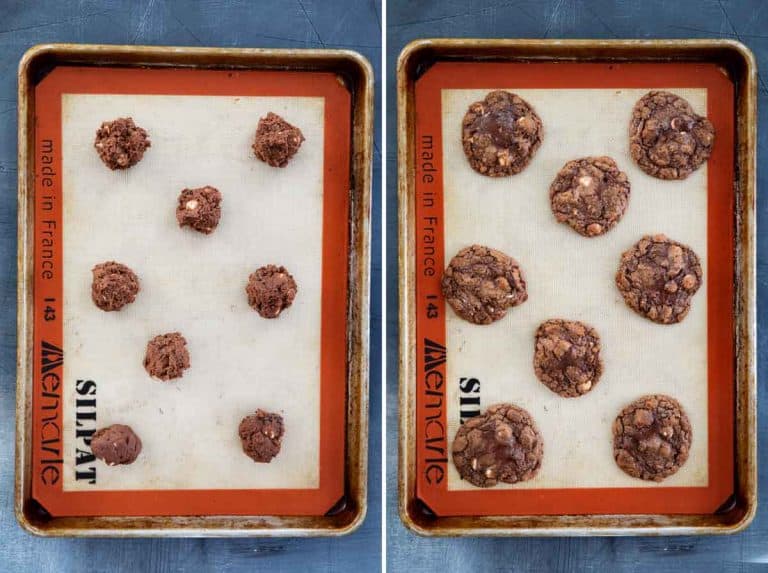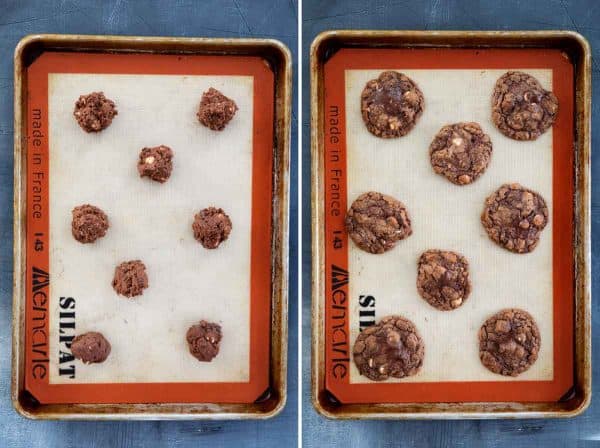 What You'll Need
These Triple Chocolate Cookies with Dried Cherries will probably take a little bit of planning because you probably won't have everything on hand. But here is what you'll need!
All-Purpose Flour – I use unbleached flour all-purpose flour, but for this recipe, bleached all-purpose will work just fine as well.
Baking Powder – this is the rising agent for these cookies.
Salt – this doesn't make your cookies salty at all, but helps to balance the flavors.
Dark Chocolate – Ok, so if you use the good stuff in this recipe, your cookies will be amazing. And also very expensive because you need 16 oz. Since I don't want to spend that much on a batch of cookies, I use dark chocolate chocolate chips. They are super easy to find these days and I haven't had any problems using them in this recipe.
Butter – I use unsalted. If you use salted, cut back on the salt just a bit.
Eggs – yes, this recipe calls for 6 eggs. These cookies are super rich and almost brownie like, so you'll need all the eggs.
Sugar – you'll need both granulated sugar as well as light brown sugar for this recipe. The mix helps with flavor and texture.
Vanilla Extract – this calls for a whole tablespoon of vanilla, and I do like to use the full tablespoon for flavor.
Semi-Sweet Chocolate Chips – more chocolate! You could also use chocolate chunks, as well.
White Chocolate Chips – these bring in some extra sweetness and cut through the chocolate a bit.
Dried Cherries – You should be able to find dried cherries in the baking aisle.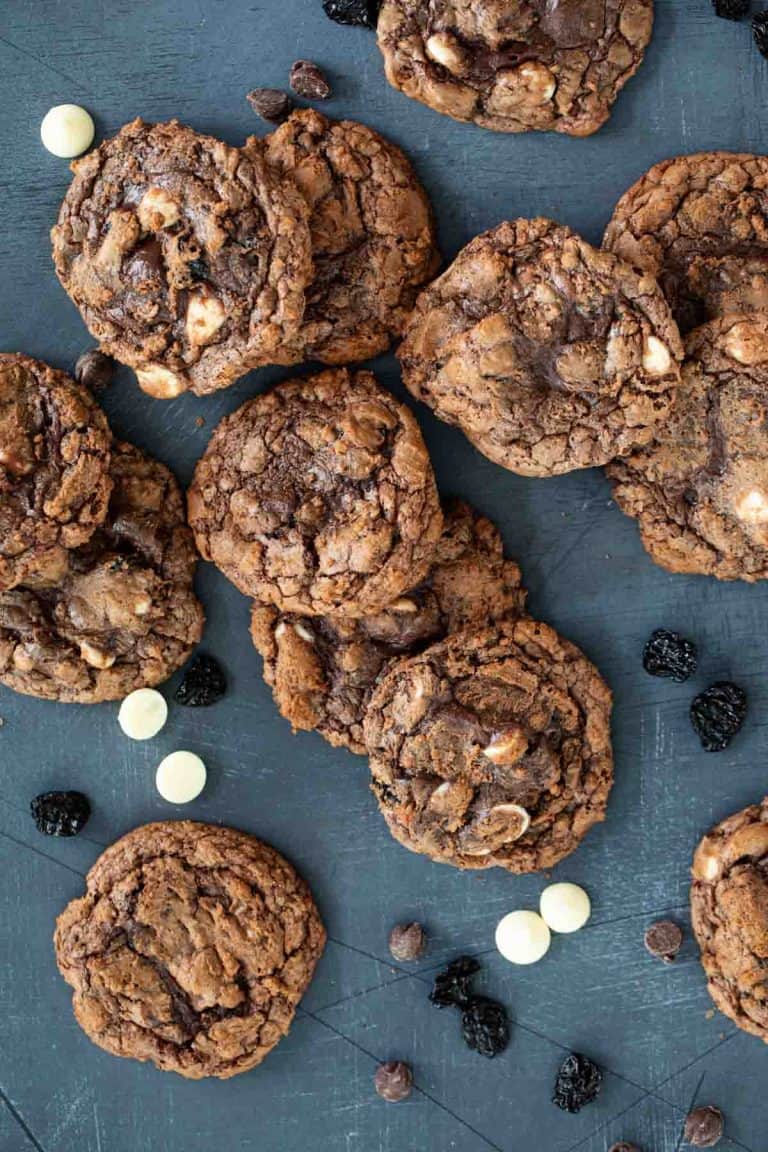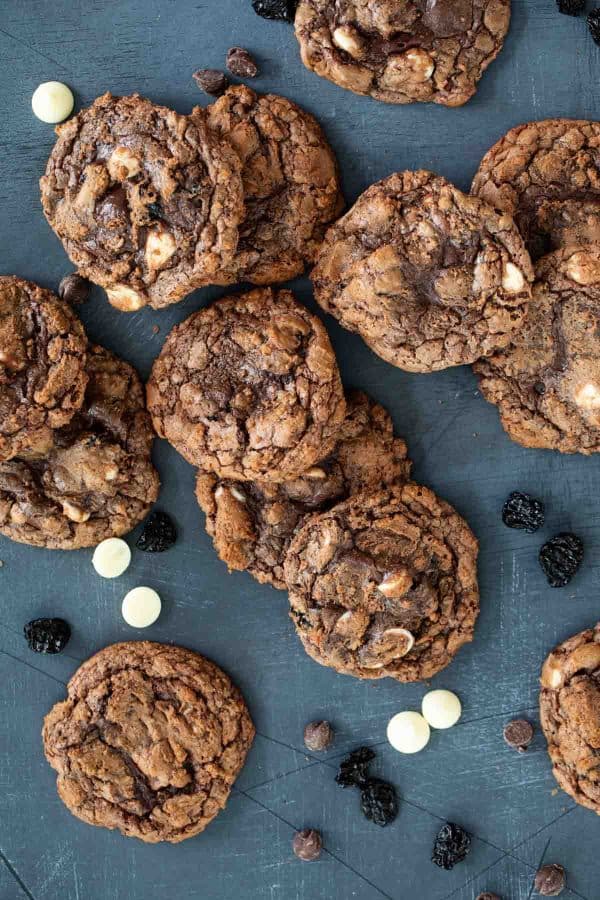 Tips and Tricks
These Triple Chocolate Cookies with Dried Cherries are not like your normal cookies – they aren't a cookie you'll make at a moment's craving. They do take some time, but trust me – they are worth it!
You'll need a double boiler to melt the chocolate. Don't worry – I don't have one either. What I do is put a glass bowl (or you could use a nonreactive metal bowl) over a pan that has an inch or two of simmering water in it. The bowl needs to be big enough that it just sits on top and doesn't touch the water. The chocolate goes in the bowl and is gently melted.
You can also melt the chocolate in the microwave at 50% power, but it will scorch easily, so watch it carefully.
Do not be alarmed if this doesn't look like cookie dough when you are done mixing the dough. It is very loose and very sticky. It will set up as it is chilled, so be careful to set aside at least 6 hours for the dough to refrigerate.
Even after it has been in the refrigerator for 6 hours, the dough is quite sticky. I usually use a cookie scoop, but I can't with this recipe. I will use 2 spoons to scoop the dough and shape it carefully with my hands.
I like to underbake these so that the center is still super soft and even gooey. You can bake them until they are set a little more than what I like, but don't overbake as they will end up hard instead of chewy.
Store the cookies in an airtight container at room temperature.
You can find instructions and tips for freezing cookie dough in my guide – How to Freeze Cookie Dough.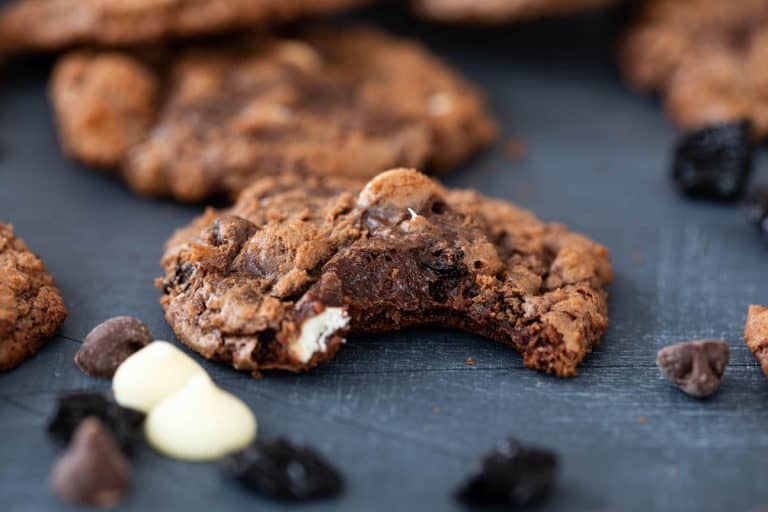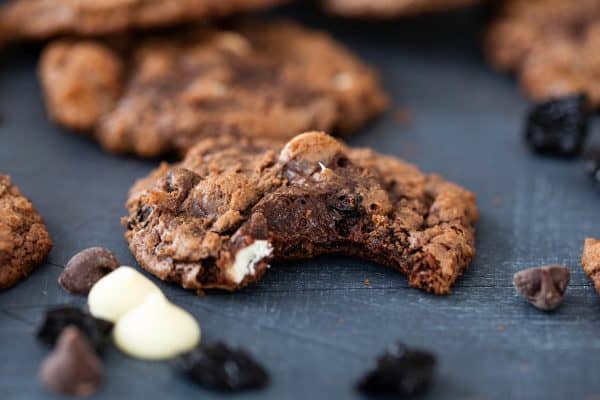 More Chocolate Cookies You Have to Try
Hot Cocoa Cookies
Chocolate Peanut Butter Cookies
Soft Chocolate Gingersnaps
Chocolate, Peanut Butter and Marshmallow Pudding Cookies
Chocolate Covered Cherry Delights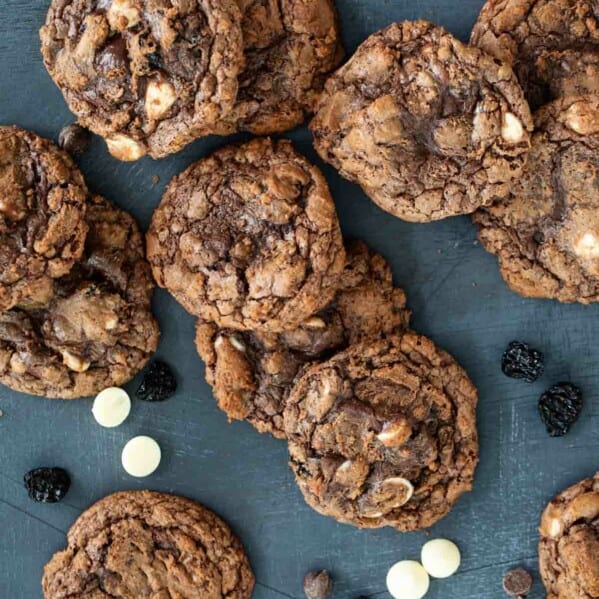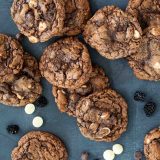 Triple Chocolate Cookies with Dried Cherries
---
Author:
Prep Time: 15 minutes
Cook Time: 10 minutes
Total Time: 6 hours 30 minutes
Yield: 48 cookies 1x
Category: Dessert
Method: Bake
Cuisine: American
Description
Filled with chocolate chips and dried cherries, these Triple Chocolate Cookies with Dried Cherries are a chocolate lover's dream! Keep them slightly under-baked for a gooey, brownie-like center.
---
Scale
Ingredients
1 1/2 cups all-purpose flour
1 teaspoon baking powder
1/2 teaspoon salt
16 oz dark chocolate, chopped
10 tablespoons unsalted butter
6 eggs
1 1/4 cups sugar
1 cup packed light brown sugar
1 tablespoon vanilla extract
1 cup (6 oz) semi-sweet chocolate chips
1 cup (6 oz) white chocolate chips
1 cup (6 oz) dried cherries
---
Instructions
Combine the flour, baking powder and salt in a bowl and whisk to combine.
Place the chocolate in a nonreactive metal or a glass bowl that fits on top of a small saucepan (to make a double boiler). Cut the butter into pieces and add it to the bowl. Fill the saucepan with an inch or two of water and place it over medium heat. Place the bowl on top. (Make sure the bowl is not touching the water on the bottom.)
Cook, stirring often, until the chocolate and butter are both melted and smooth. Set aside to cool slightly.
Place the eggs and both sugars in the bowl of a stand mixer (or you can do this in a large bowl with a hand mixer.) Beat until the mixture is pale and has thickened, about 5 minutes.
Add the chocolate mixture that has slightly cooled as well as the vanilla to the egg mixture. Beat until combined, then scrape down the sides of the bowl.
Add the flour mixture and beat just until combined. Do not overmix.
Remove the bowl from the mixer and add the chocolate chips, white chocolate chips and cherries. Use a spatula or wooden spoon to incorporate the chips and cherries into the dough. The dough will be very loose – but don't worry, that is how it is supposed to look.
Cover the bowl with plastic wrap and refrigerate the cookies at least 6 hours, or overnight.
Preheat the oven to 350ºF. Line baking sheets with parchment paper or silpat liners.
Using 2 spoons, scoop out balls of the dough about 1 1/2 tablespoons of dough each. Place on the prepared baking sheets, about 2 inches apart.
Bake the sheets, one at a time, for 10-12 minutes, or until set on the edges. (I like to leave these a little gooey in the centers, but you can bake them longer if you'd like.)
Remove from the oven and let the cookies sit on the baking sheet for a couple of minutes before removing to cool completely.
Recipe Notes:
Slightly adapted from Baked: New Frontiers in Baking
Nutrition information provided as an estimate only. Various brands and products can change the counts. Any nutritional information should only be used as a general guideline.
Nutrition
Serving Size: 1 cookie
Calories: 177
Sugar: 19 g
Sodium: 47 mg
Fat: 8 g
Saturated Fat: 5 g
Unsaturated Fat: 1 g
Trans Fat: 0 g
Carbohydrates: 24 g
Fiber: 1 g
Protein: 2 g
Cholesterol: 30 mg
Keywords: Triple Chocolate Cookies