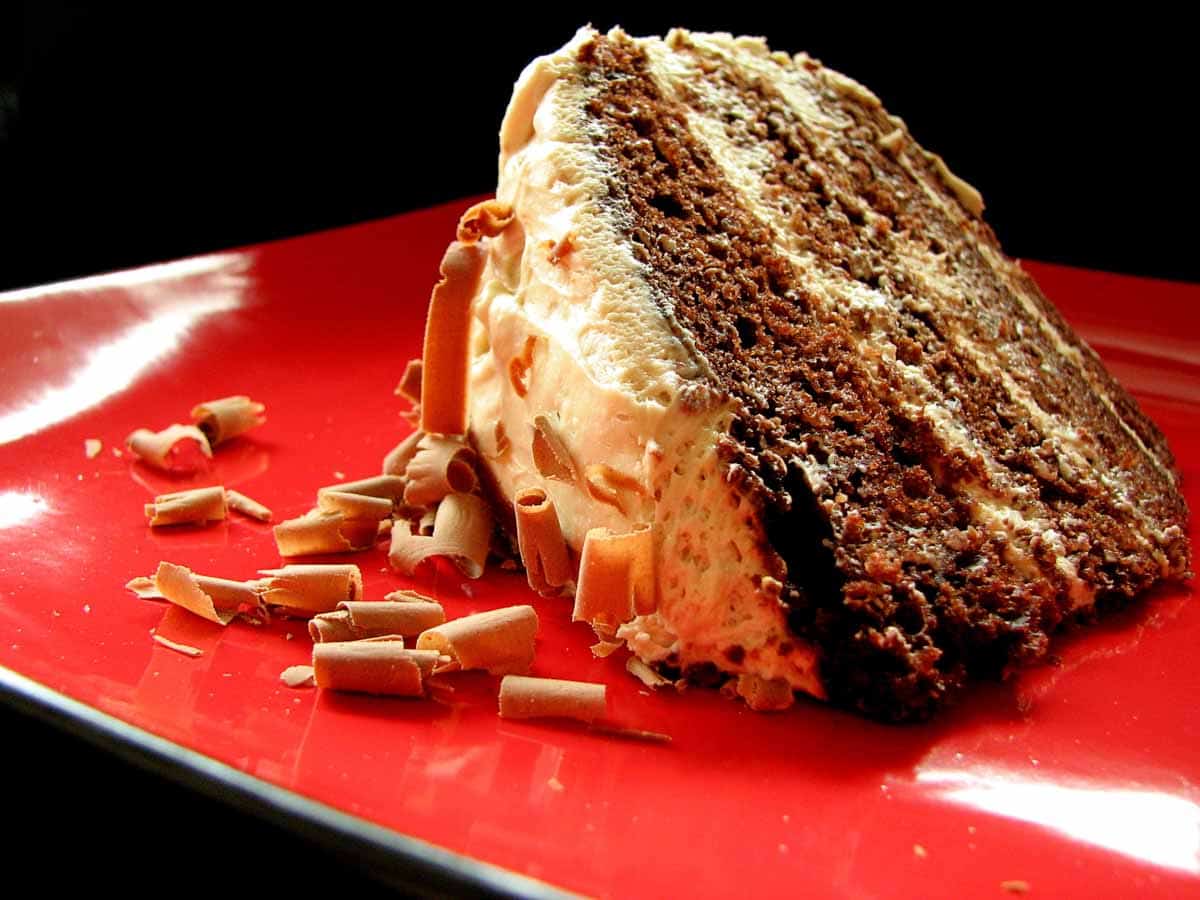 I always love it when I have the opportunity to bake. I don't bake very much at home these days, seeing that there is just the two of us, and we can't (nor should we!) eat a whole cake ourselves. I used to bake all of the time – share with roommates, co-workers, family, but these days, a cake is pretty rare.
It was a co-worker's last day today, so we were throwing a shin-dig, and I volunteered to bring a cake because I have been dying to try this chocolate torte recipe I ran across. I have never made a "torte" (a cake with many layers) and the frosting on this just sounded divine. So I used this chance to make my torte. I think it was a big success. Everyone that ate some complimented me, and I was even able to manage a small slice to try out. The cake portion is just a plain old cake mix (sometimes I love to take a shortcut) but any chocolate cake recipe would work just fine. My biggest complaint about this cake had to do with my abilities, not so much with the recipe. I made the two cake layers, which I later cut into two – forming the four cake layers. I just wish that I knew how to make the layers more uniform. Once you sliced into the cake, you could tell where the layer with the rounded top of the cake was. I was worried about this when I was putting it together, and thought about cutting the top off to make it level, but that wouldn't leave as much cake. Hmmmm, dilemma. If anyone out there is a cake baker – the solution to this would be welcome!!!
My other trick that I just learned – although it is probably well known out in the cooking world – is a great trick to making the chocolate curls to adorn the cake. I heard years ago to use a vegetable peeler, but when I tried that, all I got was chocolate powder. I read (in the reviews on allrecipes.com) to heat the chocolate in the microwave for a few seconds before trying for the curls. It worked magic!!
Anyway, the recipe is listed below. I definitely would make this again!!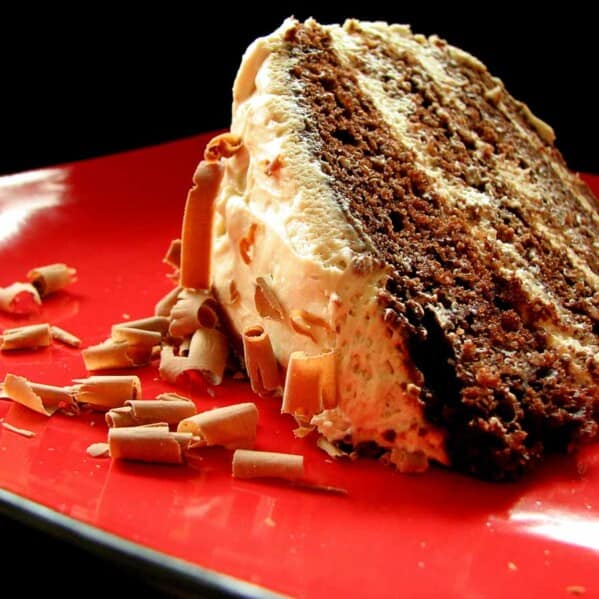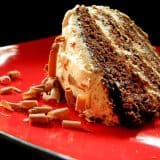 Chocolate Torte
---
Author:
Prep Time: 30 minutes
Cook Time: 20 minutes
Total Time: 7 hours
Yield: 12 to 16 servings 1x
Category: Dessert
Method: Baked
Cuisine: American
Description
Chocolate cake layers are filled and frosted with a light, whipped cream and cream cheese frosting.
---
Scale
Ingredients
1 (18.25 oz) chocolate cake mix, plus ingredients called for on the box
12 oz cream cheese, softened
1 cup packed brown sugar
1 1/2 cups heavy whipping cream
1 1/2 teaspoons vanilla extract
1 (1 oz) square milk chocolate
---
Instructions
Prepare the cake mix as according to the package directions. Bake in 2 9-inch round cake pans. Cool completely. Cut each of the cakes in half, forming 4 layers.
In a bowl, combine the cream cheese, brown sugar and vanilla. Beat until soft and well combined.
In a separate bowl, beat the whipped cream until soft peaks have formed. Fold in the cream cheese mixture.
Place the bottom cake layer on a serving dish. Spread some of the whipped cream on top of the cake. Top with another layer. Add more of the whipped cream. Add the third layer, more whipped cream, and then the last cake layer. Use the remaining whipped cream to frost the top and sides of the cake. Grate the chocolate on top.
Refrigerate for 6 hours before serving.
Keywords: chocolate torte