Chicken thighs are slow cooked in a honey, soy and garlic mixture, then shredded for the best Honey Garlic Chicken Tacos.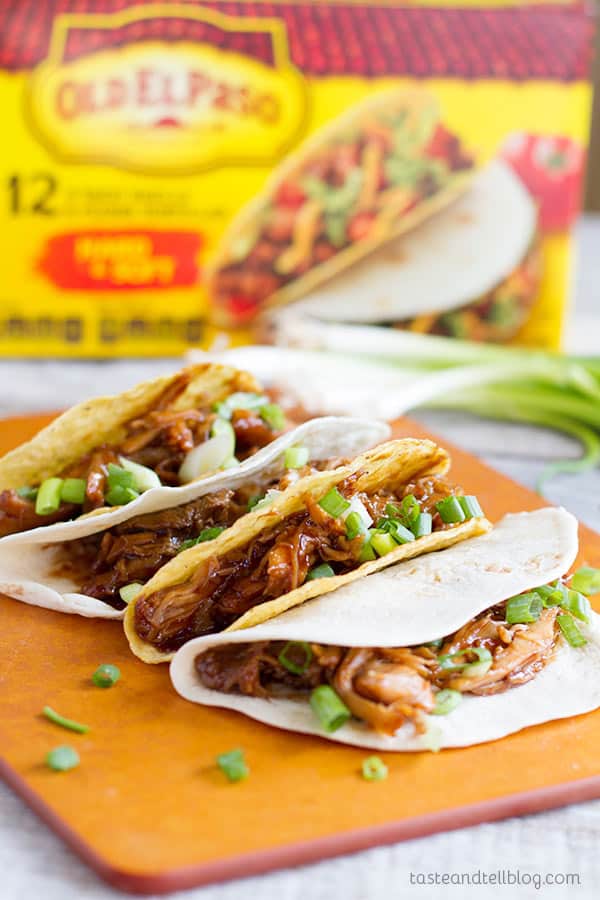 How about another idea for Taco Tuesday?
We are a taco loving family. There is no secret there. And as much as I love your typical ground beef tacos, I think it's so fun to come up with new and exciting taco recipes. Sometimes, the recipes turn out really well and the family loves them, and sometimes, my family thinks I'm nuts.
Today, though – I am sharing one that I wasn't sure how it was going to turn out. I did have a few doubts. But I'm happy to report that these Honey Garlic Chicken Tacos turned out so well. I actually have no idea where the idea to add honey garlic chicken to tacos came from. I think it's just part of the job. Recipe ideas will come to me at all times, and I find little pieces of paper all over the house with little notes and recipe ideas. Ideas that I had to write down before I forgot them. 🙂

These Honey Garlic Chicken Tacos have chicken thighs that are slow cooked in an Asian-inspired sauce. The chicken itself is packed with so much flavor. I use chicken thighs because I think they are more flavorful, and I also think they cook so well in the slow cooker. Then you take that super flavorful sauce that the chicken was cooked in and reduce it. This recipe makes a ton of the sauce, so you'll want to make sure you don't mix all of the reduced sauce back into the chicken, or you'll have more sauce than chicken. My husband loves things really saucy, so I pass the extra sauce at the table so people can add as much sauce as they want. Don't skip the fresh green onions on top. They give these Honey Garlic Chicken Tacos a burst of freshness that I think is always necessary when you are serving something that is slow cooked.
And let's talk taco shells. Growing up, we mostly had hard taco shells. But then I met my husband, and he is not a hard taco shell lover. We switched to almost exclusively soft tacos. And then my daughter came around. While she does like soft tacos, she definitely prefers hard tacos.
So we have one that likes hard tacos best, one that likes soft tacos best, and the rest of us fall somewhere in the middle.
Well, Old El Paso is very smart – they sell a box of taco shells that has both hard AND soft taco shells. Seriously – why haven't I been buying these for years? Not only does everyone get to choose if they want hard or soft tacos, but the Old El Paso taco shells are the best tasting. I seriously can't get enough of their flour tortillas!!
Next time you are looking to change up taco night, give these tacos a whirl. You won't regret it!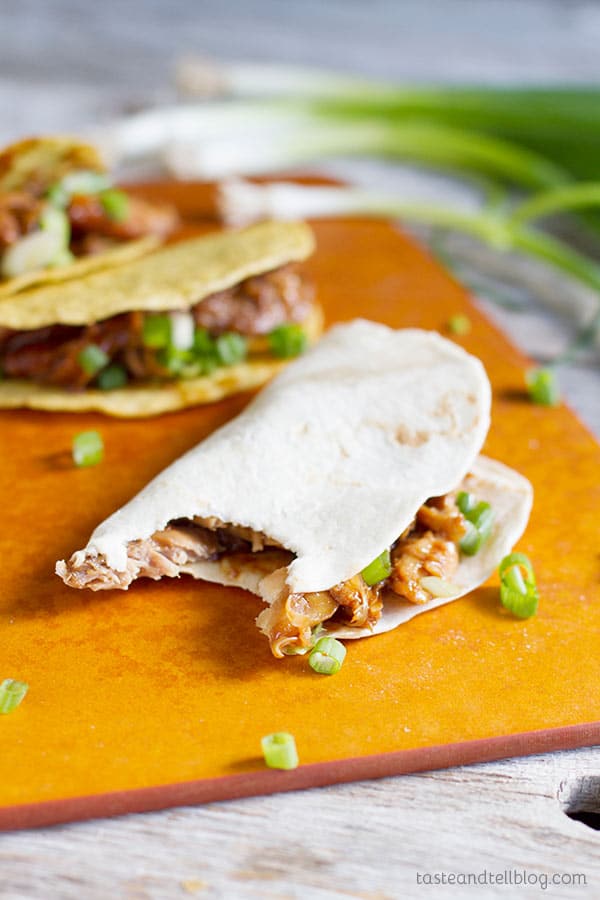 Like what you see here? Make sure you are following Taste and Tell for more great recipes and ideas!!

Facebook ** Pinterest ** Twitter ** Instagram ** Google+
or you can subscribe to my newsletter or Feedly or Bloglovin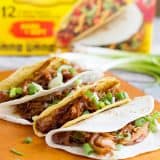 Honey Garlic Chicken Tacos
---
Prep Time: 10 mins
Cook Time: 6 hours 10 mins
Total Time: 6 hours 20 mins
Yield: 6 hours 1x
Description
Chicken thighs are slow cooked in a honey, soy and garlic mixture, then shredded for the best Honey Garlic Chicken Tacos.
---
Scale
Ingredients
1 1/2 lbs boneless, skinless chicken thighs
1/2 cup low sodium soy sauce
1/2 cup honey
1/4 cup ketchup
1/4 cup hoisin
3 cloves garlic, minced
1 tablespoon cornstarch
3 tablespoons water
1 box (7.4 oz) Old El Paso™ Hard and Soft Taco Shells
sliced green onions
---
Instructions
Place the chicken thighs in a single layer in the bottom of a slow cooker.
In a bowl, combine the soy sauce, honey, ketchup, hoisin and garlic; mix well. Pour the mixture over the chicken thighs.
Cook on low for 6 hours, or until the chicken thighs are cooked through and shred easily.
Remove the chicken thighs from the slow cooker and shred with 2 forks. Pour the liquid that is remaining into a saucepan. Place the pan over medium heat. In a small bowl, whisk together the cornstarch and water. Pour into the pan and cook until the mixture thickens 3-5 minutes.
Return the chicken to the slow cooker. Pour half of the sauce mixture over the chicken and stir until the chicken is coated. (Reserve the other half of the sauce to pass at the table).
Fill each taco shell or soft tortilla with some of the chicken mixture and then top with sliced green onions. Serve warm.

I am in a working relationship with Old El Paso, and this post has been sponsored. I'm so glad to be able to work with companies and organizations that I truly believe in. Thank you for supporting them, too. This post contains affiliate links. If you purchase an item from Amazon from the link Taste and Tell receives a small commission. Thank you for supporting Taste and Tell through your purchases!