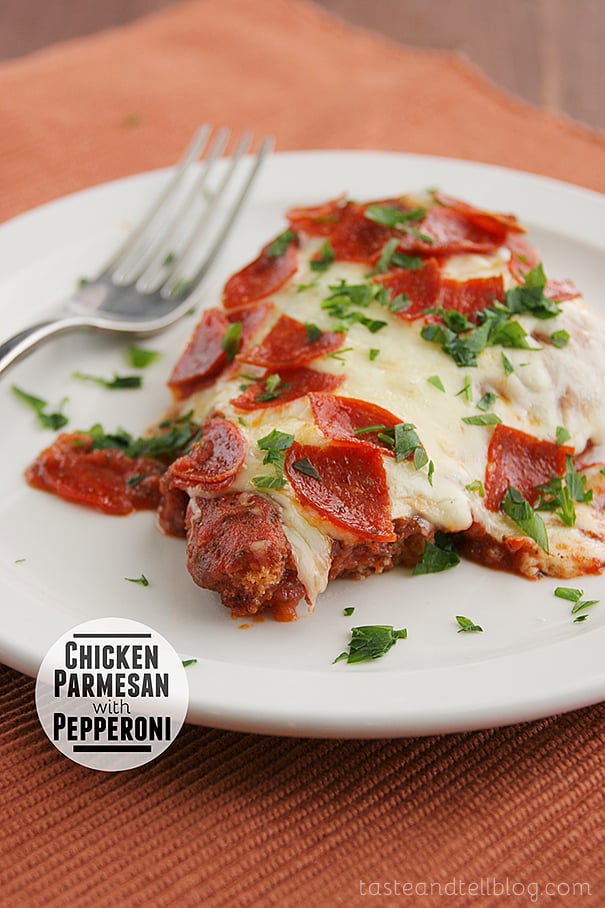 It's no secret that I love cookbooks.  And that I love to collect them.  In fact, my husband knows that in my dream house, I'd have an office with a whole wall with built in shelves – full of cookbooks.  And lucky me – as part of my job – I am often sent cookbooks to review.  I love reviewing cookbooks.  I really do.  I love going through them and choosing out which recipes to make.  I've done my fair share of cookbook reviews in the last 5+ years, and I've had fun doing them.
But lately, things have been stacking up.  And I've finally had to call "uncle".  I usually try to choose at least 3 recipes from the cookbook that I am reviewing – wanting to give a fair review.  But I have been sitting on 3 cookbooks.  I know that with my schedule the way it is right now, there is no way I'm going to be able to dedicate that much time to each cookbook.  So instead of pushing any of them aside until things calm down, I decided to do a sort of mini cookbook review on each of them.  I did manage to make one recipe from each, and I wanted to make sure I shared these three cookbook with you all.  And of course – I'll be sharing my favorite recipe of the 3 that I tried!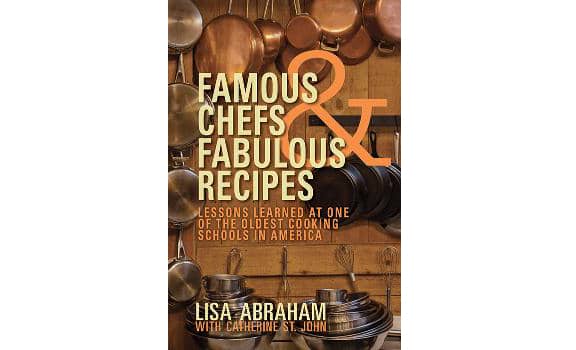 Up first – Famous Chefs & Fabulous Recipes by Lisa Abraham.  This is more than just a cookbook.  Yes, it is full of recipes, but it is also full of stories and histories from many of the famous chefs that attended the Western Reserve School of Cooking – one of the oldest cooking schools in America.  I have to admit that I wasn't familiar with many of the chefs, but there were many recognizable names like Michael Symon, Nick Malgieri and Alice Medrich.  And despite the word "chef" in the title of the book, the book is full of recipes that I would make at home – not fussy restaurant recipes.
Number of Photos:  none.  I'm not sure if this was a review copy and just didn't have any photos, or if the book just doesn't have photos in it.  But this was the only downfall of the book for me, because I believe that a pretty picture says a thousand words!
Difficulty Level of Recipes: easy to medium:  Like I mentioned, I was afriad that I would be faced with a bunch of fussy restaurant recipes.  But they were mostly easy, home-cook friendly recipes like Macaroni and Cheese, Devil's Food Cake and Jam-Filled Butter Cookies.
Availability of Ingredients: easy.  I was surprised that the majority of the recipes called for very basic ingredients – a lot of them pantry staples!
Here's what I made: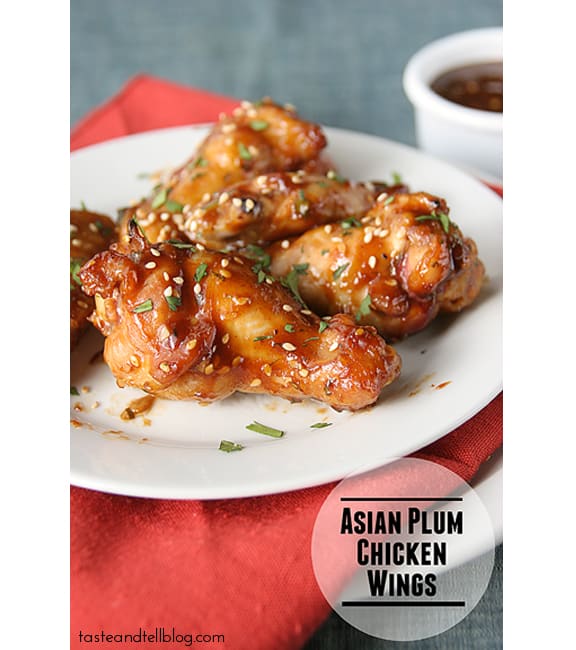 Asian Plum Chicken Wings: Let me preface this by saying that I didn't originally plan on reviewing all three of these cookbooks together, and didn't realize until I started writing this that I tried two chicken wing recipes and one chicken breast recipe. I guess it shows that I like chicken, right??
These wings were actually quite tasty, and very easy. The wings are baked, which makes them simple to prepare.  You do have to marinate the wings, but as long as you remember to throw the marinade together in the morning, it's very little hands on time.  Definitely a recipe I'd make again!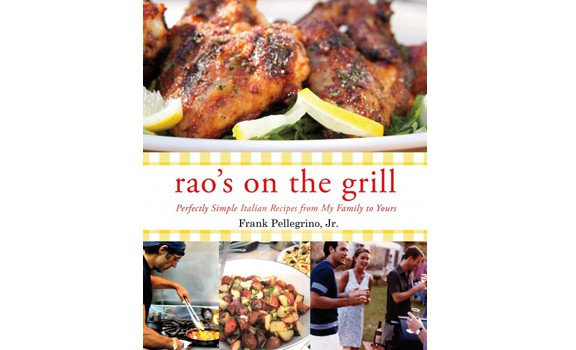 Next up: Rao's on the Grill by Frank Pellegrino, Jr.  I know that summer is winding down, but I'm a believer in grilling year round.  In fact, I actually find that it's more enjoyable to grill when it's not so hot outside, so you're not stuck out in the heat standing by a hot grill!!
I've said it a few times, but this summer, I was determined to grill more.  My husband has always been the one to man the grill, but I can honestly say that I've been out there more than he has this summer!  This cookbook came to me at the perfect time!  Rao's on the Grill, by Frank Pellegrino Jr, is full of grilling recipes that are perfect both for family dinners and entertaining.  And while the book is full of meat recipes, you also get lots more – everything from salads to pizza, pasta and desserts.  If you like to grill, this is a cookbook that you definitely need on your shelf!
Number of Photos: lots.  Not a photo of each finished dish, but pretty close.  And they were all taken by the author of the cookbook!
Difficulty Level of Recipes: medium.  Ok, this one all depends on how comfortable you are on the grill.  If this was last year, I would have been scared to do many of these, simply because I was not comfortable on the grill.  I still wouldn't call myself comfortable, so it was a medium difficulty level for me.  But if you are a grill master, most of the recipes should be pretty easy for you.
Availability of Ingredients: easy to medium.  You will find a few ingredients that might be harder to find, (like littleneck clams aren't super easy for me to find here in Utah), but for the most part, you should be able to find most of the ingredients at any grocery store.
Here's what I made: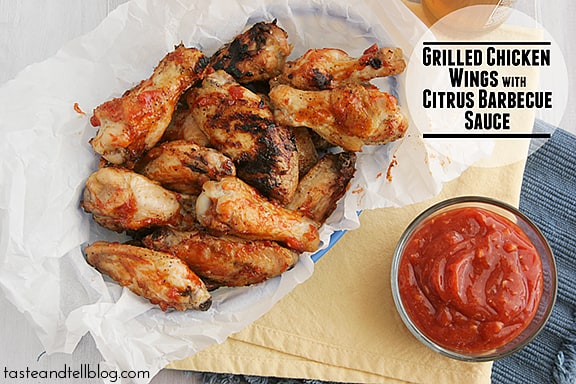 Grilled Chicken Wings with Citrus Barbecue Sauce: I have to admit that I was so proud of myself.  This was my first time grilling wings, and I cooked them perfectly.  I was worried that they would be either over-cooked or underdone, but they came out perfect!  The barbecue sauce was a little different – it tasted more like cocktail sauce to me than a citrus sauce, but it's a good thing I like cocktail sauce!  But I made a full recipe of these, and my husband managed to put down about 3/4 of them in less than 24 hours.  I think that says everything!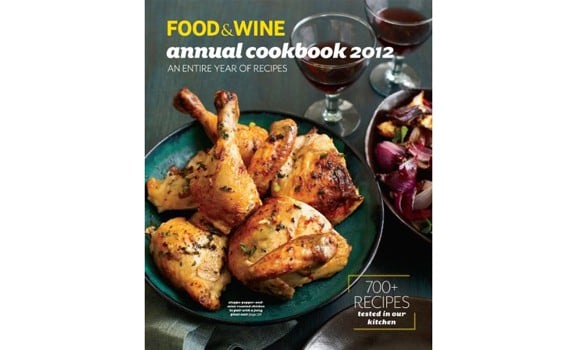 And last, but certainly not least, is the Food and Wine Annual Cookbook 2012.  I actually love these kinds of cookbooks – the ones that take a whole year's worth of magazines and put them into an easy to access cookbook.  Don't get me wrong – I love the magazines and usually buy them as well, but I love how easy it is to look recipes up, and I love having that whole year of recipes together.  So if you are a Food and Wine lover, this is definitely a cookbook that you need in your collection.
Number of Photos:  lots. Ok, not as many as you get from the actual magazines, but there are still a decent amount of photos.  And the Food and Wine photographs are always so stunning and appealing – they are definitely beautiful!
Difficulty Level of Recipes: Easy to Medium.  For some reason, I always think of Food and Wine recipes being a little more refined, a little more sophisticated.  And I usually associate that with more difficult in my head.  But really, when you get down to it, they are not as hard as I'm thinking they are going to be in my head.  So I'd say overall, they are easy to medium.
Availability of Ingredients: Easy to Medium.  I only say medium because there are some ingredients that might be harder to find, like fresh sardines (which, ok, I wouldn't want anyway…) or banana leaves.  But probably 98% of the ingredients should be easy to find.
And…here's what I made!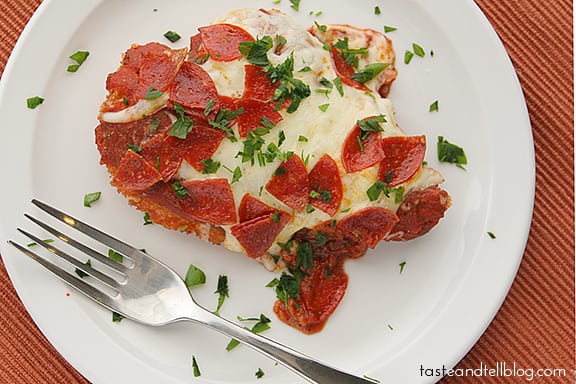 Chicken Parmesan with Pepperoni: Seriously, I was just flipping through the pages and my eyes landed on this recipe.  I knew immediatly that I wanted to make it.  Really – what could go wrong when you combine chicken parmesan and pepperoni?  Well, nothing at all!  Besides the mess that it makes, (it does take a lot of dishes), this was easy peasy.  And so amazingly full of flavor.  This is a recipe that I would eat over and over again.  Which is why this is the recipe that I am sharing with you today.  I'm pretty sure it would be a family pleaser – pepperoni is a great way to get your kids to eat their chicken, right?  And mom and dad will love it as well.  I know I did!!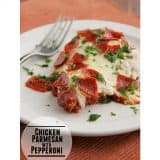 Chicken Parmesan with Pepperoni
---
Prep Time: 30 minutes
Cook Time: 17 minutes
Total Time: 50 minutes
Yield: 4 servings 1x
Description
Chicken parmesan with a twist – chicken parmesan is topped with pepperoni for an exciting and different twist to a classic.
---
Scale
Ingredients
2 eggs
1/4 cup milk
1/4 cup all-purpose flour
1 1/2 cups panko breadcrumbs
2 (8-oz) boneless, skinless chicken breasts
salt and pepper
3/4 cup canola or vegetable oil
1 can (15 oz) tomato sauce
1 teaspoon dried basil
1 teaspoon dried oregano
1 teaspoon dried parsley
1/4 cup freshly grated Parmesan cheese
1 cup grated mozzarella cheese
1 1/2 oz pepperoni, chopped
2 tablespoons chopped parsley
---
Instructions
Preheat the oven to 425F.
In a shallow dish or pie plate, combine the eggs and the milk. In another shallow dish, place the flour. In the third shallow dish, place the panko bread crumbs.
On a cutting board, butterfly the chicken breasts open, making 4 thin pieces of chicken. Season on both sides with salt and pepper.
In a large, heavy skillet, heat the oil over medium-high heat. Dip each piece of chicken first in the flour, then the egg mixture, then coat in the panko mixture. Add to the hot oil. Fry in the oil unitl browned and crispy on both sides, about 7 minutes, flipping once. Drain on a paper-towel lined plate, then transfer to a rimmed baking sheet.
In a bowl, combine the tomato sauce with the dried basil, oregano and parsley. Top the chicken with the tomato sauce, then the Parmesan and mozzarella. Sprinkle the pepperoni pieces over the top.
Bake in the oven for 10 minutes, or until the cheese is melted and bubbly. Transfer to plates and sprinkle with parsley; serve.
—————–
adaped from Food and Wine Annual Cookbook 2012