This potato chip chicken has chicken breasts that are coated in crushed potato chips and then cooked until golden brown and crunchy.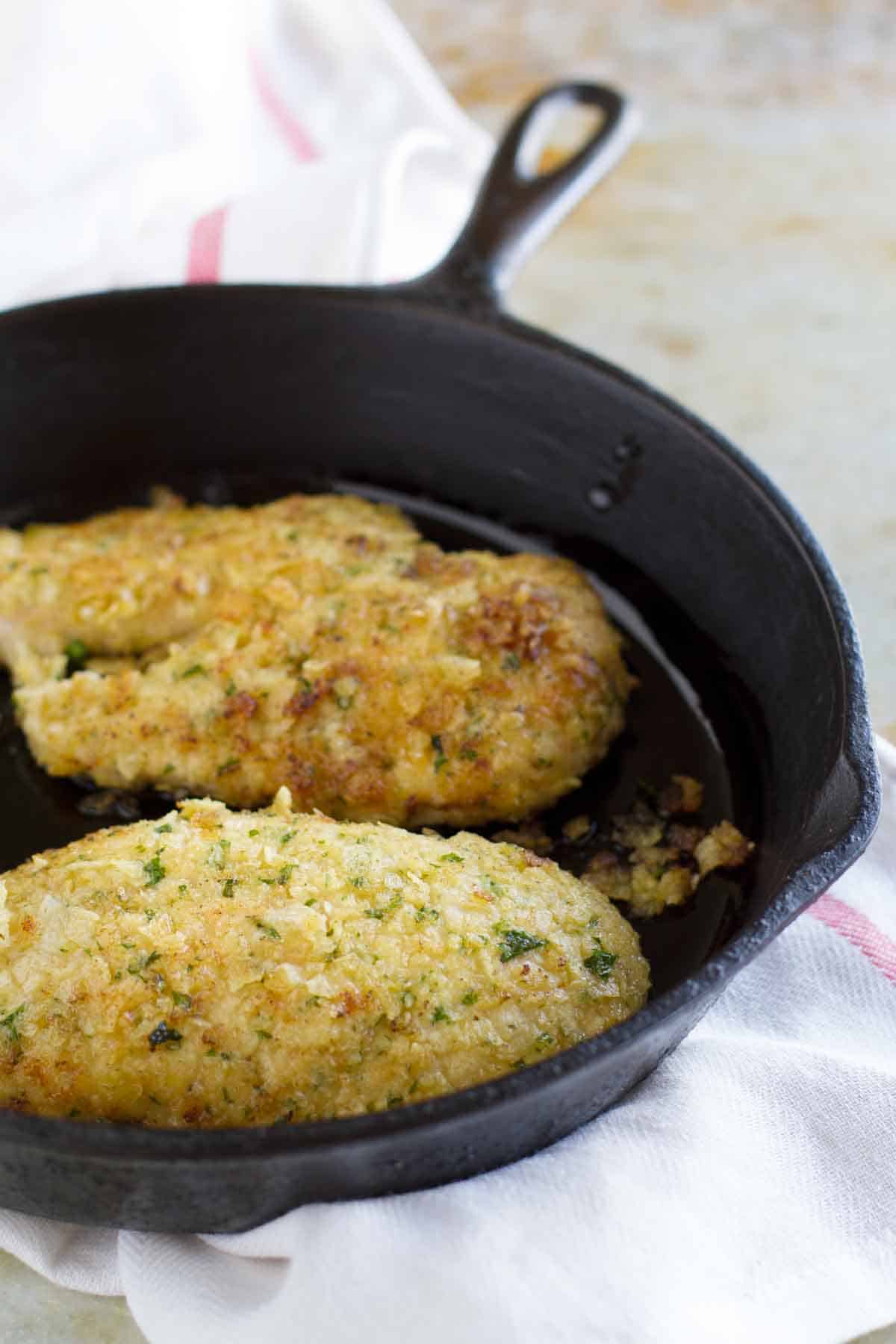 Update July 2014 – You can now find the Maple Mustard Sautéed Asparagus Recipe and the Sour Cream Breadstick Recipe in their own posts.
I've mentioned before that I have a hard time coming up with side dishes to go along with our dinners. Sometimes we just won't have a side dish, and sometimes I just use frozen veggies. But I've been trying to be better lately. One thing I've been doing that has been fun is planning a whole meal from one cookbook. Now, sometimes this is a pain because I have to flip back and forth through my cookbook so much during that preparation, but I find that it's a good way to get some good use out of the cookbook you are using.
I had no trouble finding recipes I wanted to make from this cookbook. I know I used it a few times when I first started my blog, but I think it's been quite some time since I opened this book, so it was fun to flip through the pages and choose out something to make for dinner. And this Potato Chip Chicken came together super fast and was very tasty!
The chicken is coated in a potato chip crust. Very simple, and I had never tried this before. The only thing I was disappointed about was that the sour cream and onion flavor didn't really come through. You could taste the potato chip flavor, but just not the flavor that was on the potato chips. To save a few calories, I'm sure you could use baked potato chips as well. Serve it up with some homemade Chick Fil A for a real treat!
The side dishes were super easy and delicious. I especially loved the biscuit sticks – but then again, I'm a bread lover! – and we have been eating asparagus like crazy lately. This is a great way to change it up. Overall, I would totally recommend this meal!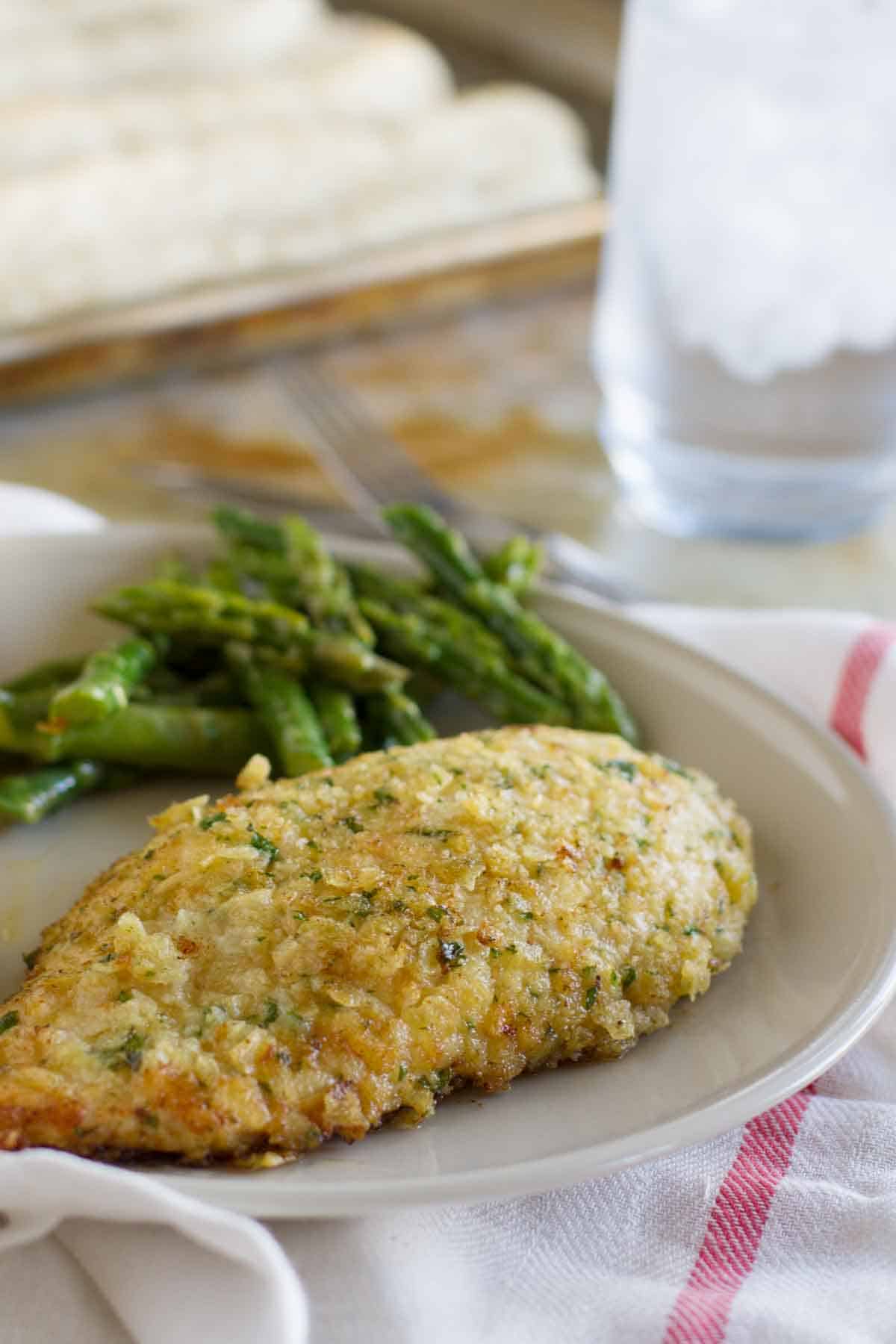 More Family Friendly Chicken Recipes:
Grilled Brown Sugar Mustard Chicken
Chicken with Tomato Parmesan Sauce
Sweet and Sour Chicken Recipe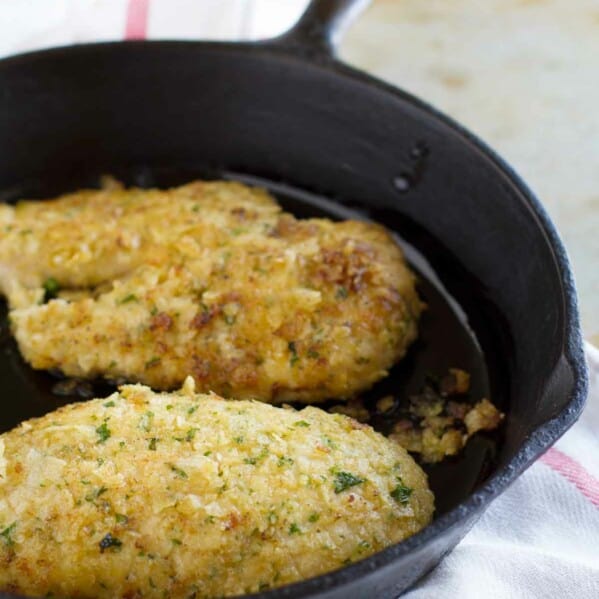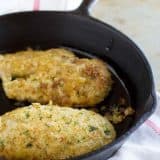 Potato Chip Chicken
---
Author:
Prep Time: 15 mins
Cook Time: 10 mins
Total Time: 25 mins
Yield: 4 servings 1x
Category: Main Dish
Method: Stove Top
Cuisine: American
Description
This potato chip chicken has chicken breasts that are coated in crushed potato chips and then cooked until golden brown and crunchy.
---
Scale
Ingredients
2 boneless, skinless chicken breast halves, 8-12 ounces each
4 cups sour cream and onion flavored potato chips, crushed (about 1 cup)
2 tablespoons minced parsley
1 egg
2 teaspoons Worcestershire sauce
2 tablespoons vegetable oil
---
Instructions
Butterfly the chicken breasts open to make 4 thinner portions.
Mix the potato chip crumbs with the parsley in a shallow bowl. Lightly whisk the egg in another shallow bowl, then whisk in the Worcestershire sauce.
Add the vegetable oil to a large skillet over medium-low heat. Dip each chicken piece into the egg mixture, then dip into the potato chip mixture, pressing the crumbs into the chicken if needed to form a crust. Add to the hot oil and cook for 6-10 minutes, turning once, until deep golden brown and the chicken is cooked through.
Recipe Notes:
*Cook the chicken in batches, if needed, to not crowd the pan. Heat the oven to 250F and place a wire rack over a baking pan. Place the cooked chicken on the rack and place in the oven to keep warm while the second batch is cooking.
adapted from Betty Crocker's Quick and Easy Cookbook
Keywords: potato chip chicken