Pretty in pink – these Coconut Cherry Cupcakes are sure to be a hit. Easy coconut cupcakes have a creamy coconut center and a cherry pink frosting – pink never looked so perfect!
Also try my Cherry Coconut Smoothie if you love coconut and cherry together!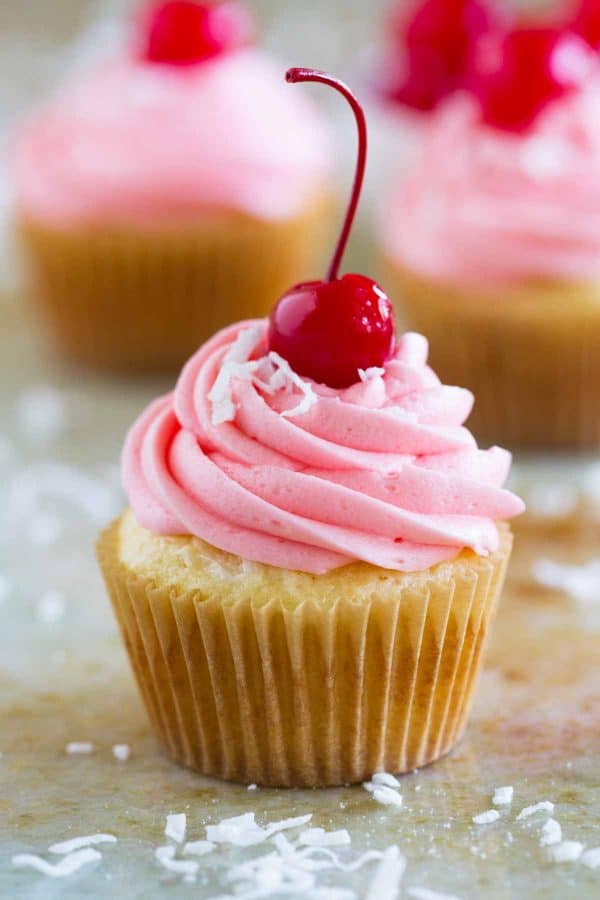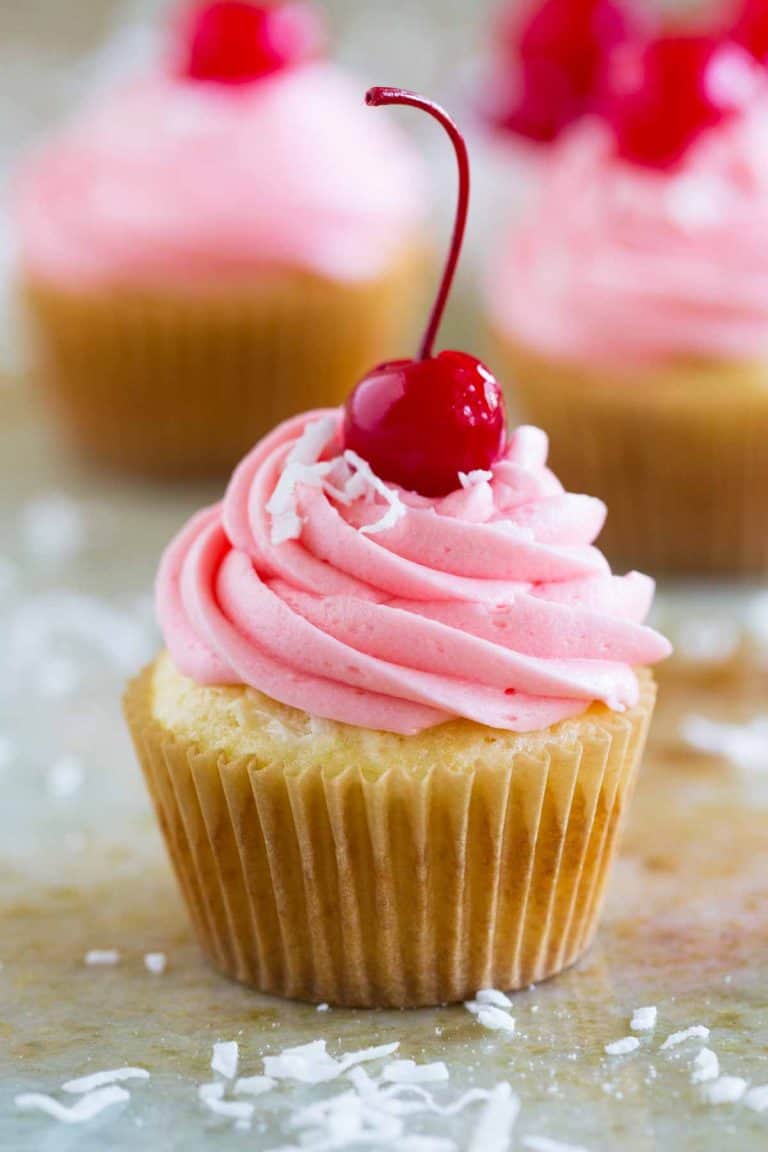 Why, hello there, February!
Somehow January is already over, and it's time for all things pink and red and covered in hearts. Or maybe I'm already behind on the Valentine's Day recipes (I seem to be behind a lot lately), but I'm ready to catch up.
The last few years, I've done my yearly Red Velvet Week around this time. And believe it or not, I'm still trying to make that happen before Valentine's Day. But my life is crazy town right now so we'll see what actually happens.
Besides an overabundance of red velvet, I don't normally do a lot of Valentine's Day themed desserts. But I was reading to my kids the other night, and the book of choice was Pinkalicious. If you haven't read the book, it's about a girl who loves pink, but after eating too many pink cupcakes, she turns pink. At first, it's all fun and games, until she decides that she just wants to be herself again. But every time we read that book, I always start craving pink cupcakes. Every. Single. Time.
Well, my chance finally came. There was a neighborhood bake sale, and I volunteered to bring a treat. And since Valentine's Day was near, I thought it would be fun to do a Pinkalicious inspired cupcake. I would normally do something tried and true, knowing these cupcakes would be sold, but I went out on a limb and decided to make something new.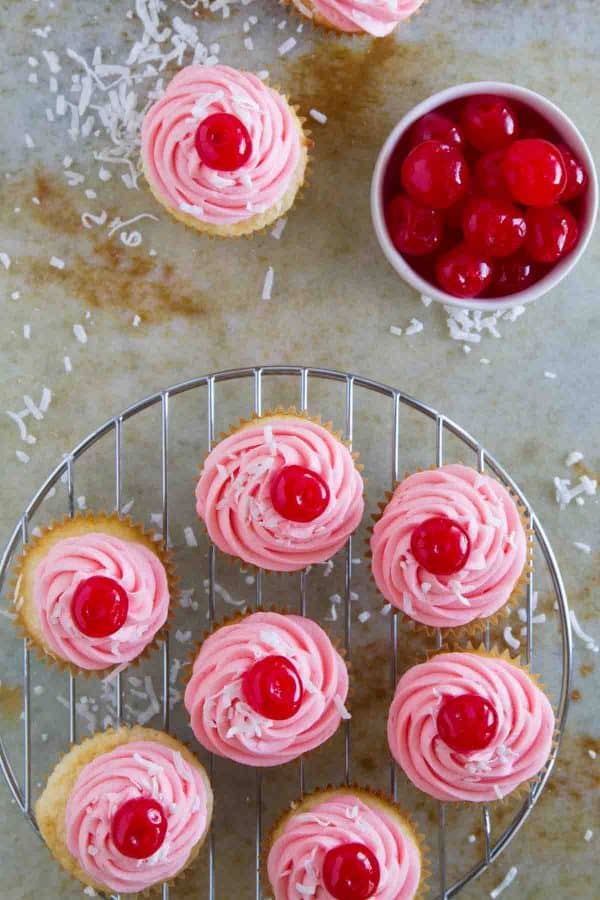 I knew I wanted pink, so the cherry part was a given. But I wanted something more than just cherry cupcakes. And just in case you don't know, I'm kinda obsessed with coconut. I knew coconut and cherry would be a match made in heaven, so I got to work. And luckily, these turned out just as good as I was hoping for.
I didn't get a chance to take photos of the cupcakes that time, but when it was another neighbor's birthday, I decided to use that as an excuse to bake them up again. And now I may need to find a third reason to bake them yet again, because these are just that tasty.
I started with a cake mix, simply because I knew I didn't have time to mess with a fussy recipe. It worked perfectly. I flavored them with a little bit of almond extract, and mixed in some coconut. Then the cupcakes are filled with a dreamy coconut filling. And don't forget the pink cherry frosting – they wouldn't be Pinkalicious cupcakes without it!!
These Coconut Cherry Cupcakes belong at every Valentine's Day party this year. So pretty in pink!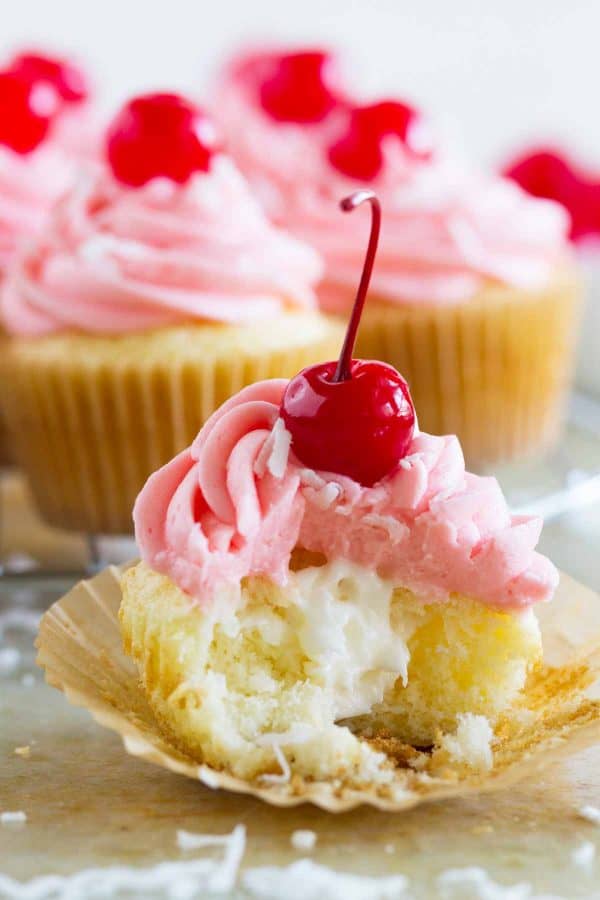 More Cherry Recipes:
Chocolate Cherry French Macarons
Cherry Chip Cake with Fluffy Frosting
Chocolate Cherry Sandwich Cookies
Baked Chocolate Donuts with Cherry Glaze
Cherry Cheesecake Tarts
Almond Cupcakes with Fresh Cherry Frosting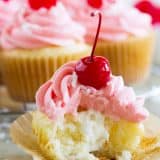 Coconut Cherry Cupcakes
---
Author:
Prep Time: 30 minutes
Cook Time: 20 minutes
Total Time: 50 minutes
Yield: 30 cupcakes 1x
Category: Dessert
Method: Baked
Cuisine: American
Description
Pretty in pink – these Coconut Cherry Cupcakes are sure to be a hit. Easy coconut cupcakes have a creamy coconut center and a cherry pink frosting – pink never looked so perfect!
---
Scale
Ingredients
Cupcakes
1 white cake mix
3 large eggs
2/3 cup sour cream
1/2 cup milk
1/3 cup vegetable oil
2 teaspoons almond extract
1 cup shredded sweetened coconut
Filling
1 1/3 cups powdered sugar
1/4 cup heavy whipping cream
1 teaspoon coconut extract
1/4 cup shredded sweetened coconut
Frosting
1 cup butter, softened
5 1/2 – 6 cups powdered sugar
1/2 cup maraschino cherry juice ((from the jar with the maraschino cherries))
1/2 teaspoon almond extract
30 maraschino cherries
---
Instructions
Preheat the oven to 350ºF. Line 30 cupcake tins with paper wrappers.
In a large bowl, combine the cake mix, eggs, sour cream, milk, vegetable oil and almond extract. Beat until completely combined. Stir in the coconut.
Divide the mixture evenly between the prepared cupcake wrappers. Bake until a tester inserted in the center comes out clean, 15-20 minutes. Remove from the oven and let the cupcakes cool completely.
To make the filling – stir together the powdered sugar, cream and coconut extract. Stir in the shredded coconut.
Cut a cone shape out of the center of each cupcake about ¾" in diameter and ¾" deep with a sharp paring knife. Cut off the pointed end of the cone and reserve the top. Fill each hole with about 1 heaping teaspoon of the coconut filling, then cover with the reserved tops.
To make the frosting, beat the butter until light and fluffy. Start adding in the powdered sugar, 1/2 cup at a time. When the mixture gets too thick, start adding in the cherry juice. When all of the juice and powdered sugar is incorporated, beat in the almond extract and continue to beat until the frosting is light and fluffy.
Pipe the frosting on the filled cupcakes.
Place the cherries on a paper towel to drain. Once dry, place a cherry on top of each cupcake.