Creamy and easy, these Slow Cooker Cheesy Potatoes are a great side dish recipe, perfect for feeding a crowd!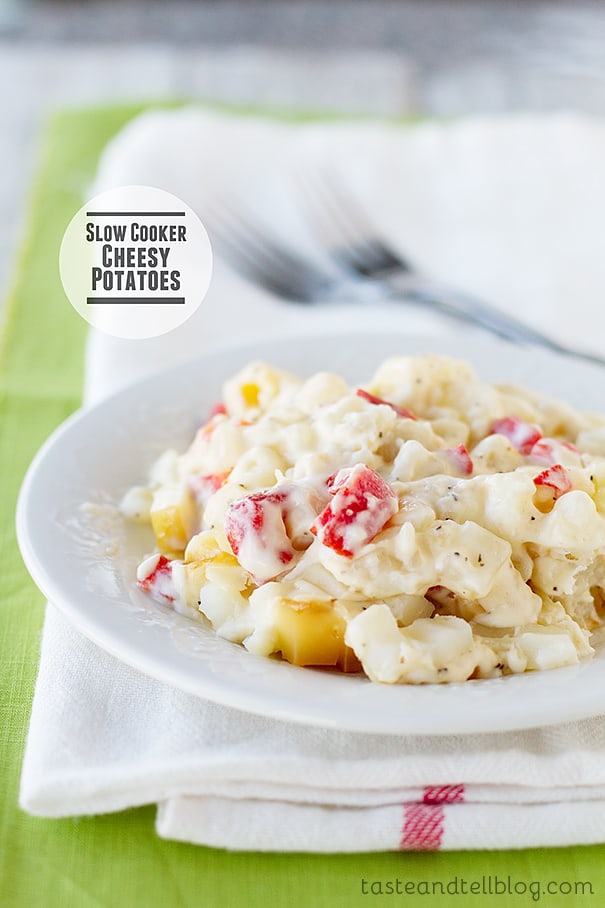 This post has been created in partnership with Pacific Foods
According to a Facebook poll I took many weeks ago, most of you have had your Thanksgiving menus planned for weeks, if not months, now. I truly admire that. I wish I was that organized. I know that a lot of Thanksgiving is all about tradition, too, so much of that menu stays the same, but I'm guessing that even if you are adding new things to your menu, that menu may already be full.
So I hope you aren't tired of being bombarded with Thanksgiving recipes.
But… this recipe – well, it could be used well beyond Thanksgiving. And really, it's so good, and so easy that you may just want to change up your menu right now and add these potatoes. And bonus – no oven needed!! These potatoes are cooked in the slow cooker – starting hours before the craziness of the day starts, and leaving that all important oven open.
Really, though, if you aren't going to make these for Thanksgiving, you really should make them another time. They are so good. So good, in fact, that I have been craving them for over a week now. I used a smoked gruyere, which I highly suggest, and these potatoes ended up creamy and cheesy and smoky and creamy. I could have eaten them all alone for dinner. So yeah – I kinda liked them. 😉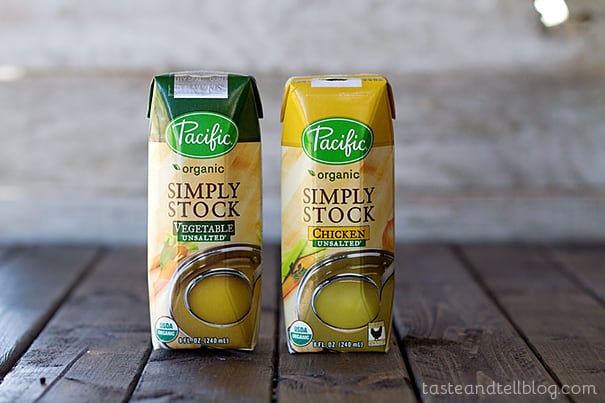 I haven't always been a label reader. Maybe it's the fact that I have kids now, or maybe just that my eyes have been opened, but I'm now that girl that you will see at the grocery store, reading over the labels of what I put in my cart. I'm not crazy strict, but if there is a choice that is better than something I normally choose, I'm going to choose the better product.
Take chicken broth, for example.
I used to always buy generic. I'm all about saving a penny or two. And then my mom pointed out to me that the generic brand of chicken broth had sugar in it. And sure enough, there it was. Sweetener in chicken broth. I was kind of taken for a loop. You think that when you are buying chicken broth, you are just getting chicken broth. Not the case.
So really, that box of chicken broth is what turned me onto reading labels. And falling in love with brands that I would be happy serving to my family.
Enter Pacific Foods. Pacific has been a favorite of mine for a long time now. The ingredient lists are short, organic, and full of real foods. There is no added salt, seasoning or sugar. Just pure ingredients. And bonus that they are fat free and gluten free, and come unseasoned so that you can control the amount of salt in your food. I can't think of anything better!
And now, Pacific sells these cute, 8 oz boxes of stock. They take up less pantry space than cans, and are an easy 1 cup size. It is the perfect size for my family of 5!
The stock is used in a simple, creamy sauce that is combined with cubed cheese and roasted red bell peppers. I love the cubes because you get little pockets of cheese throughout the dish, but you could always shred the cheese as well. Combine that all with the potatoes, and then slow cook for hours – this is truly a winner!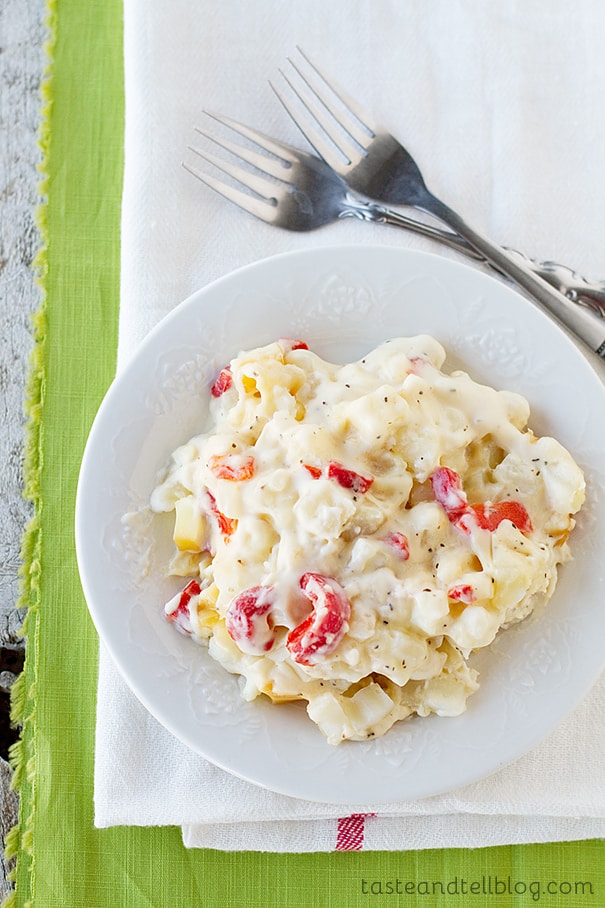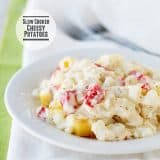 Slow Cooker Cheesy Potatoes
---
Prep Time: 15 minutes
Cook Time: 5 hours 15 minutes
Total Time: 5 hours 30 minutes
Yield: 14 servings 1x
Description
Creamy and easy, these Slow Cooker Cheesy Potatoes are a great side dish recipe, perfect for feeding a crowd!
---
Scale
Ingredients
1/4 cup butter
1/4 cup flour
3/4 cup milk
1 cup (8 oz) Pacific Organic Simply Stock Chicken Stock
1 teaspoon salt
1/2 teaspoon pepper
1 cup sour cream
8 oz Gruyere cheese, cut into small cubes
1/2 cup diced roasted red peppers
32 oz frozen Southern Style Hash Brown Potatoes
---
Instructions
Melt the butter in a large skillet over medium heat. Whisk in the flour. Cook for a minute or two. Slowly whisk in the milk, followed by the stock. Season with salt and pepper. Cook until it is starting to thicken. Remove from the heat and stir in the sour cream. Add the cheese and the roasted red peppers and stir to combine.
Spray a slow cooker with non-stick cooking spray. Spread half of the potatoes in the bottom of the slow cooker. Carefully spread half of the creamy mixture over the potatoes. Layer on the second half of the potatoes, then cover with the remaining creamy mixture.
Cook on low for 5-6 hours, or on high for 3 hours.
Other favorite side dish recipes: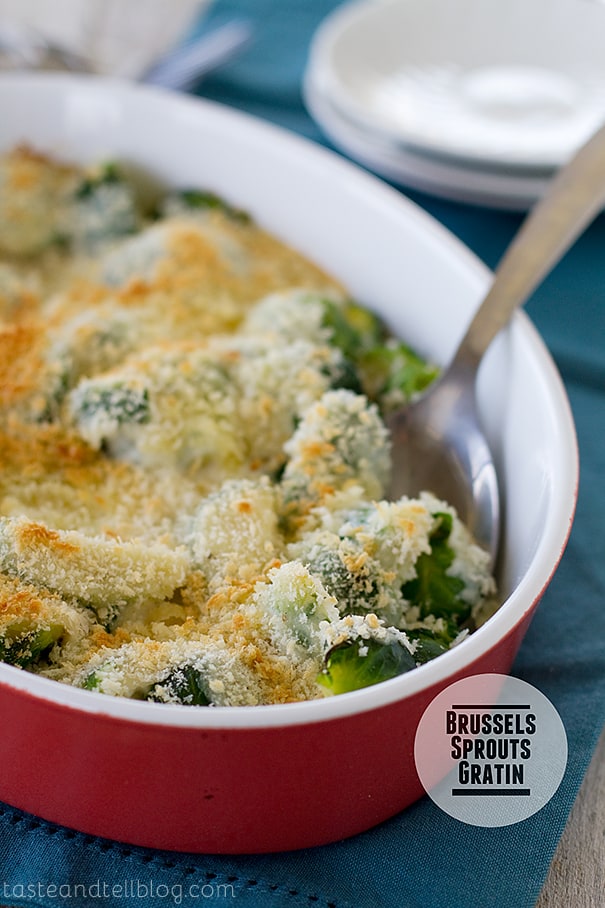 Brussels Sprouts Gratin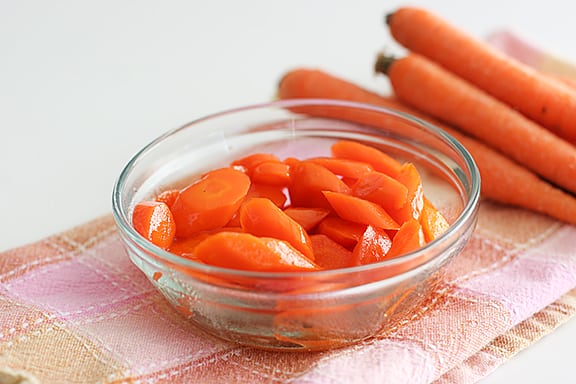 Glazed Carrots
Funeral Potatoes
Around the Web:
Roasted Dill Potato Wedges from Aggie's Kitchen
Jo Jo's from Sweet Basil
Maple Mustard Roasted Sweet Potatoes and Shallots from Rachel Cooks
**Thank you to Pacific Foods for sponsoring this post. Because of sponsors like Pacific Foods, I am able to bring you all of the recipes I feature here.**