Sweet and creamy, these Coconut Lemon Pudding Parfaits are perfect for sharing with friends and family. And the pudding is super easy and made from scratch!
This is sponsored content written by me on behalf of Reddi-wip. The opinions are all mine.
If there ever was a time when I needed to find joy in life, I think now is that time.
As you know, things last couple of months have been a bit trying. There is one thing that I have learned, though – that in the midst of trials and tribulations, the only way to make it through it all is through finding joy in the small things around you.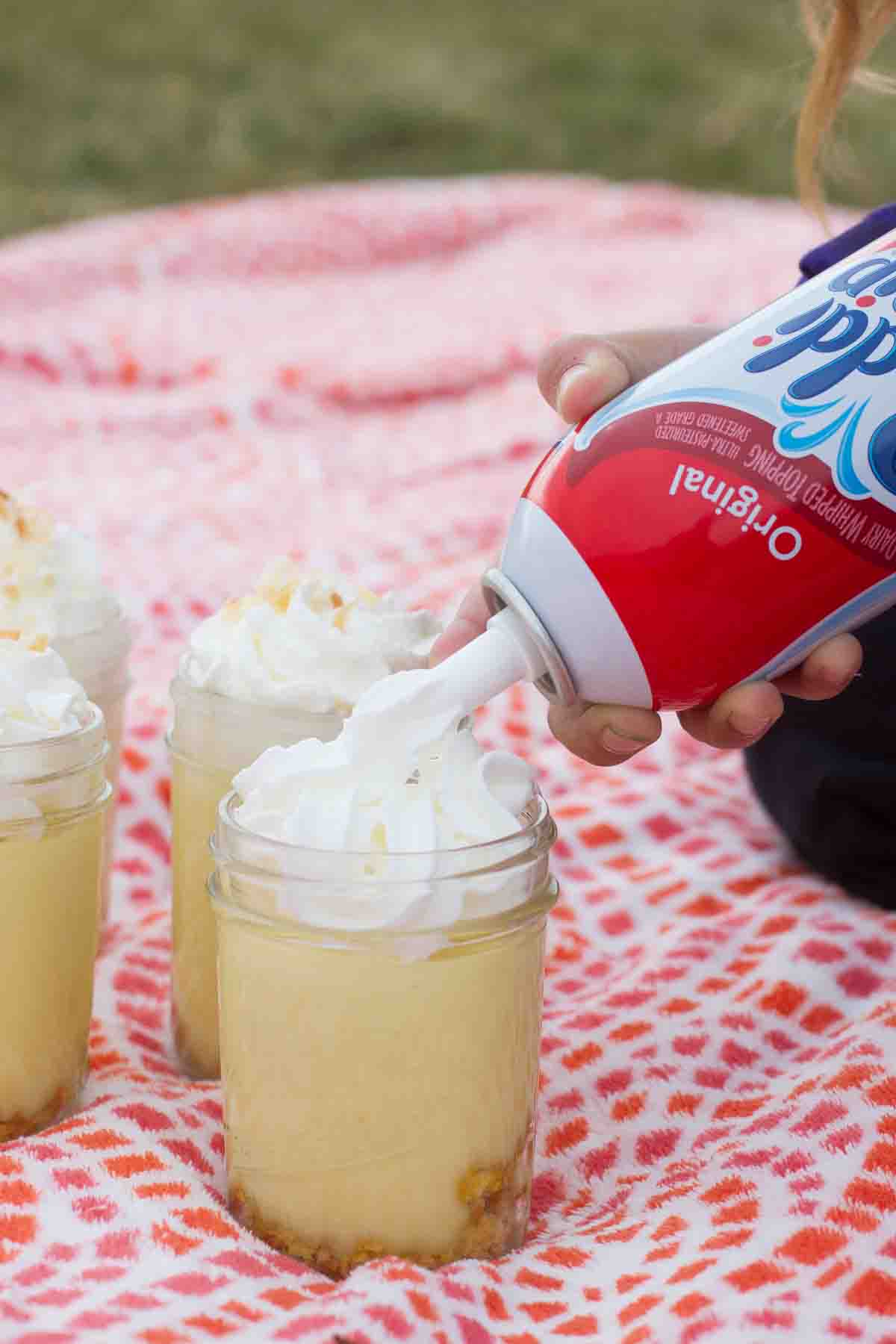 Over the past few months, I have teamed up with Reddi-wip, talking each month about ways to Share the Joy. Well, this month, I want to share a secret with you. In order to share joy with those around you, you need to be feeling some of that joy yourself. It's a crazy idea, but oh, so true. As a mom, it's one of those concepts that is sometimes hard to grasp, because I so often want to spend all of my time and energy on my kids. But I have found that I am a better mother when I spend time taking care of myself, as well. Whether that is taking the time for a workout everyday, going out for a girls night out every once in awhile, or even just hopping into the car and heading to the grocery store all by myself. Through those small moments, I can regain my sanity and feel so much happier, and in turn, I feel like it makes me a better mother.
 
Well, after Easton's cancer diagnosis, my whole world shifted, and he became my #1 focus. All else was forgotten or pushed aside. Even after we got home from the hospital, and we tried to live our lives as normal as possible, my focus didn't change.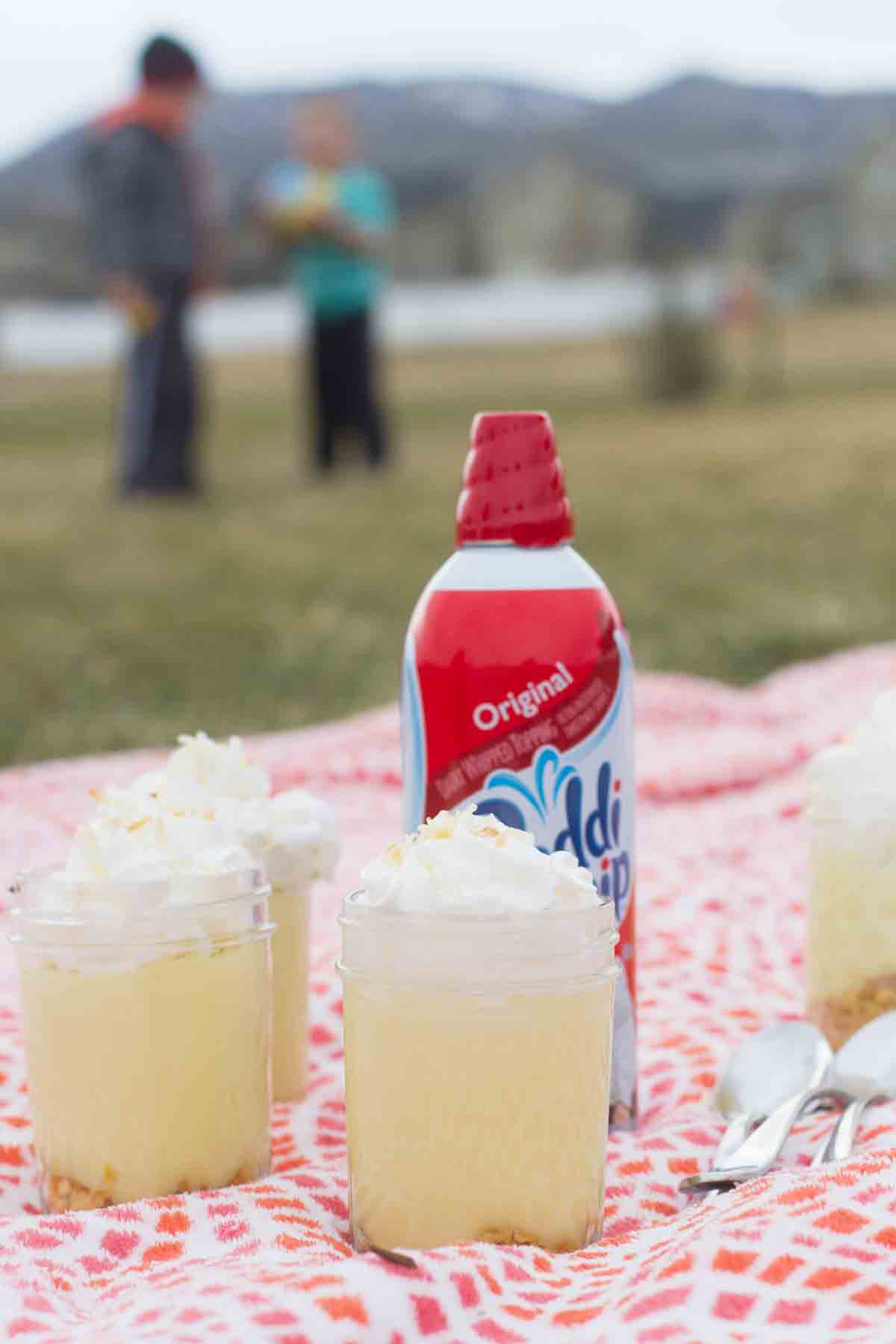 The first 28 days of treatment I was pretty strict about limiting visitors and not letting Easton leave the house. But this also meant that I was stuck inside as well. I snuck out a few times when my husband would get home from work to run to the store or run an errand, but I was pretty much on house arrest right alongside Easton.
I wish I could say that I was the perfect mother and had all the patience in the world and handled everything with grace, but a couple of weeks into it, I knew that I needed to take back some of that "me time". A way to find my balance.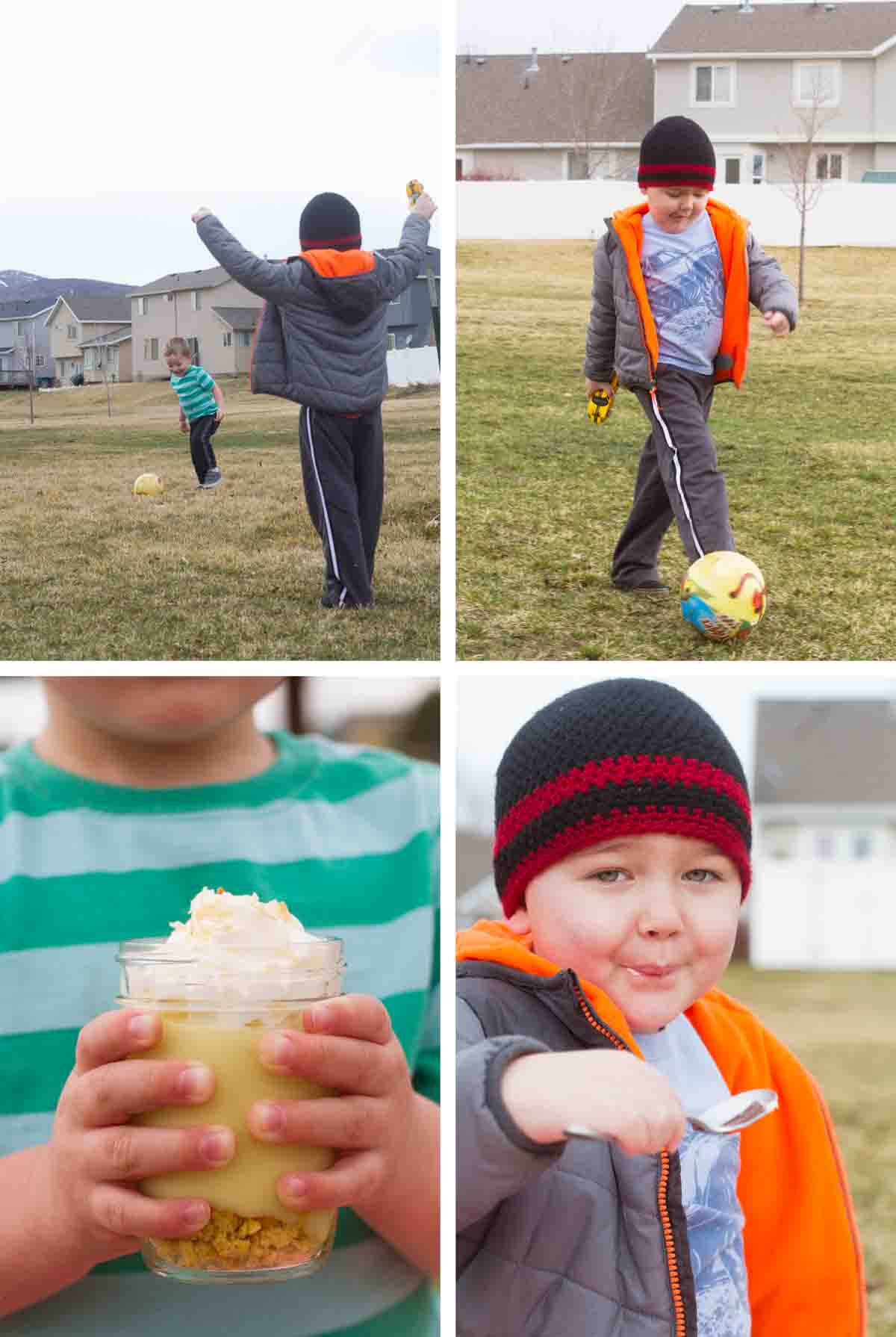 So I did the only thing I could think to do. I started moving. I knew that some physical movement would revive me and bring that joy back into me. But since we we were stuck at home, I had to make things work – even if that meant going for a walk around the neighborhood after I had put the kids to bed.
Now, let me tell you – the results were almost immediate. I was happier. I had more patience. I was more productive throughout the day. Taking that "me time" not only brought more joy to me, but also to my family.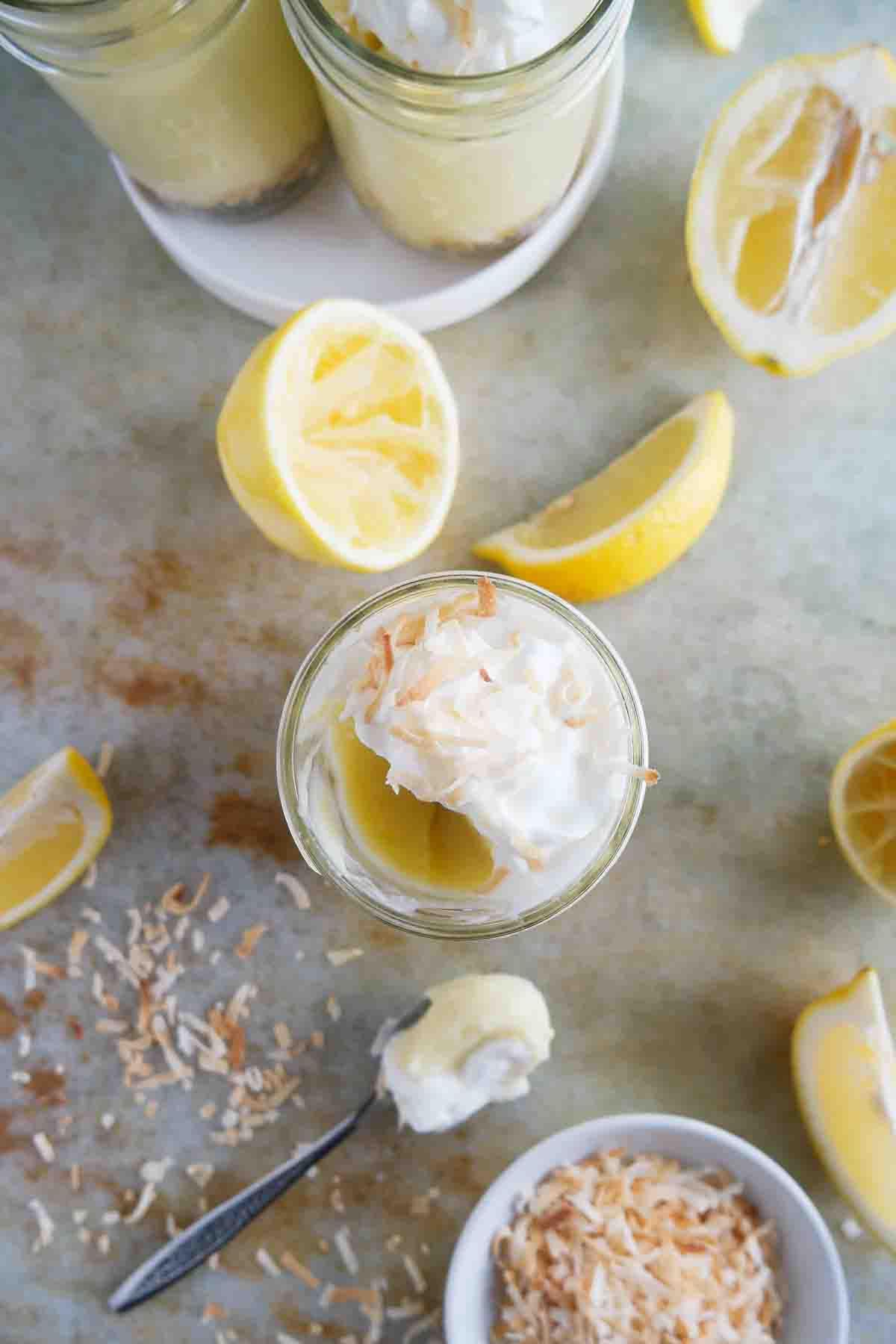 So when the weather warmed up a little bit, I decided to make it a family affair. Easton still gets tired pretty quickly, so I bought a wagon, and we started to go on walks together. Just getting out into the fresh air and feeling some sunshine on our faces has been amazing. Many days we will end up at the park, running and playing in the grass. There is not a lot that we can get out and do together right now, but this is one thing that we have found that brings us all joy. And it's a great way to spend time together!!
The kids kept begging to turn our daily walk into a picnic, so one day, I decided that a dessert picnic was needed. And since I'm on such a lemon kick this month, of course I turned to something lemon. 🙂 I had been craving some good, homemade pudding, so I decided to make these Coconut Lemon Pudding Parfaits, complete with a whoosh of Reddi-wip on top!!
I went through quite a few tries, trying to come up with the best lemon pudding. Of course, I tried to complicate it too much in the beginning, but by the time I got to this perfect version, I concluded that easiest and simplest is the best. There are no crazy techniques to make this pudding – just mix the ingredients, cook them until it starts to thicken, then let it spend some time in the refrigerator. No tempering eggs in this recipe!
I decided to make a simple parfait with crushed cookies in the bottom, but feel free to just make the pudding in individual ramekins. But do not leave off the Reddi-wip, because Reddi-wip on pudding is a must. Reddi-wip is my favorite because not only is it made with real cream, but it only has 15 calories per whoosh!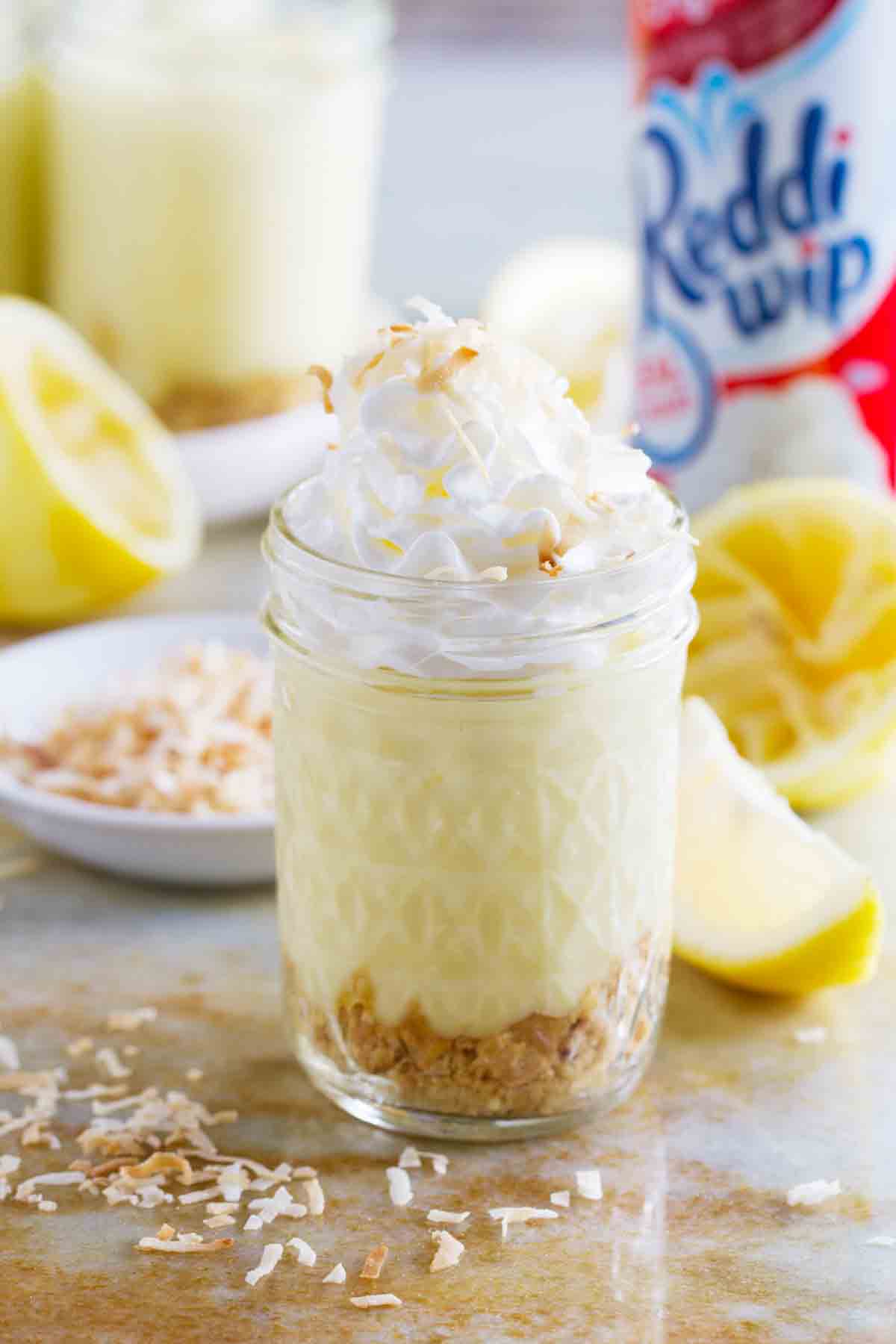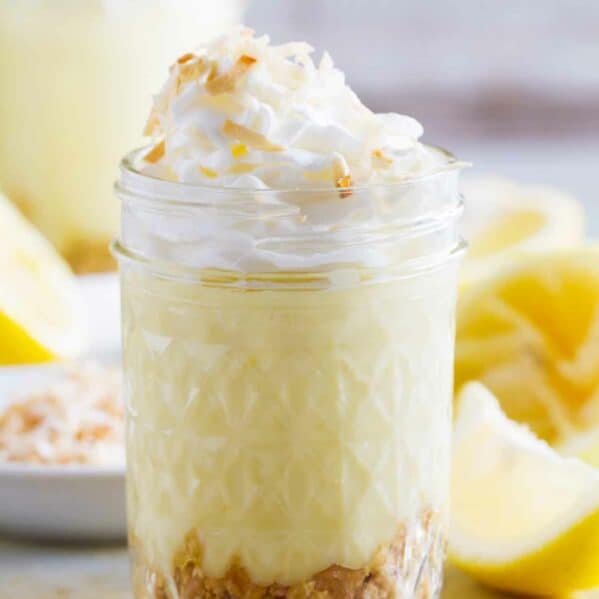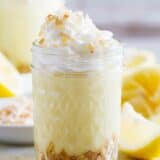 Coconut Lemon Pudding Parfaits
---
Author:
Prep Time: 1 hour 10 minutes
Cook Time: 10 minutes
Total Time: 1 hour 20 minutes
Yield: 4 servings 1x
Category: Dessert
Method: Stove Top
Cuisine: American
Description
Sweet and creamy, these Coconut Lemon Pudding Parfaits are perfect for sharing with friends and family. And the pudding is super easy and made from scratch!
---
Scale
Ingredients
8 lemon sandwich cookies (can substitute vanilla)
3/4 cup sugar
1/4 cup cornstarch
1 can (13.5 oz) coconut milk
1 cup heavy cream
3 egg yolks
1 tablespoon lemon zest
1 tablespoon butter, cut into small pieces
1 tablespoon lemon juice
Reddi-wip
toasted coconut
---
Instructions
Place the sandwich cookies in a ziplock bag and break into small pieces with a mallet or a rolling pin. Divide the cookies between 4 small jars or parfait cups.
Whisk the sugar and the cornstarch together in a large pan. In a large liquid measuring cup, combine the coconut milk, cream, egg yolks and lemon zest. Whisk to combine. Slowly pour the liquid into the sugar mixture, whisking the whole time to avoid clumps.
Place the pan over medium-low heat and slowly heat, whisking often. Once it starts to thicken a little bit, change to a rubber spatula and stir continuously until the mixture thickens enough to coat the back of a spoon. Remove the pan from the heat and stir in the butter until melted, then stir in the lemon juice. (You can also add a few drops of yellow food coloring, if desired.) Carefully pour the mixture into the jars over the cookie crumbs.
Press a piece of plastic wrap over the surface of each jar, and refrigerate the pudding until it is set up, at least 1 hour.
Before serving, top the pudding with a whoosh of Reddi-wip and a sprinkling of toasted coconut.
Keywords: lemon pudding, pudding parfaits
This is sponsored content written by me on behalf of Reddi-wip. The opinions are all mine.