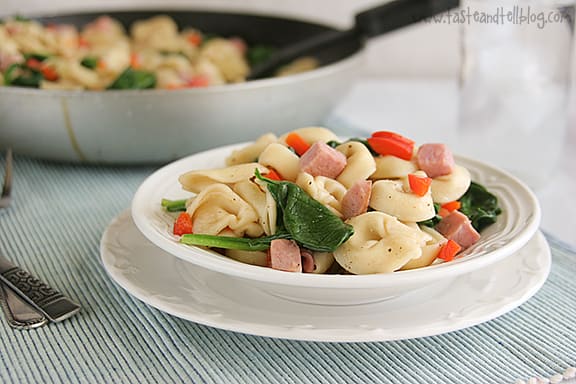 So, do you have your Easter menu planned yet?  Hopefully you are on top of it, because I sure am not prepared!  But I figured that most of you are a lot more organized.  So now we'll start talking leftovers!!
I love ham leftovers.  For some reason, we don't have ham very often, except for on big holidays – like Easter or Christmas.  So I look forward to those leftovers.  Ummm, a leftover ham sandwich on a leftover roll – that is what I'm talking about!!
But don't use up all of that ham on sandwiches.  Save some for this easy and quick dinner idea.  This is the perfect day after Easter meal.  You probably spend so much time on the Easter meal that you don't really want to think about cooking the next night.  That is when this meal is exactly what you need.  Less than 30 minutes to the table.  No fussy ingredients.  Family friendly.  And did I mention brown butter???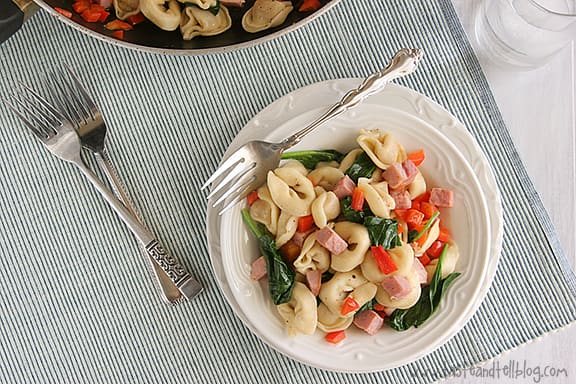 Don't fret if you don't celebrate Easter, or if your family doesn't have ham for Easter.  Just pick up a ham steak at your grocery store, and this recipe is still as easy as can be!  Or use some leftover chicken.  It's versatile, fast and easy – you can't get much better than that!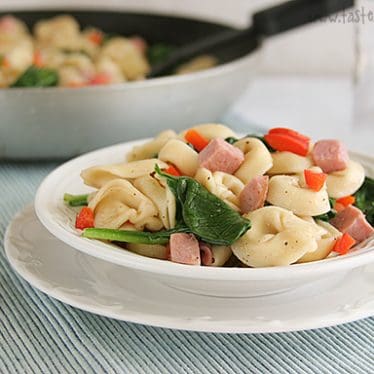 Brown Butter Tortellini with Spinach and Ham
---
Prep Time: 10 minutes
Cook Time: 10 minutes
Total Time: 25 minutes
Yield: 4-6 servings 1x
Description
A great use for leftover ham, this easy dinner recipe comes together in less than 30 minutes. You can even substitute in leftover chicken, instead!
---
Scale
Ingredients
1 package (20 oz) frozen or refrigerated cheese tortellini
6 oz fresh baby spinach
1/2 pound cooked ham, cubed
1 cup diced red bell pepper
1/4 cup butter
pepper
---
Instructions
Bring a large pot of salted water to a boil. Cook the tortellini according to package directions.
Place the spinach in a large colander, and when the tortellini is done cooking, drain it over the spinach.
Meanwhile, in a large skillet, heat the butter over medium heat until it is a deep brown color, about 5-7 minutes, swirling the skillet occasionally. Add in the bell pepper and ham and cook for 1-2 minutes. Add in the tortellini and the spinach. Toss gently to coat.
——————-
adapted from Pampered Chef 29 Minutes to Dinner