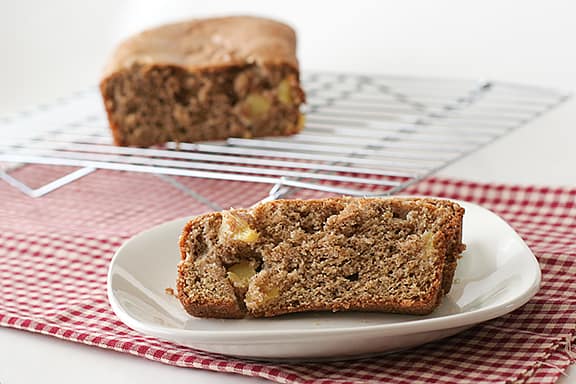 When I got this month's Cookbook of the Month home from the library and started looking through it, I decided that I'd do a recipe from each chapter, since there are 4 chapters.  Well, this chapter was so hard to choose from!  There were seriously so many recipes in this chapter that sounded so good.  Which may have you asking why I went with such a simple recipe.  Well, in the heading of this recipe, it says that mango bread is to Hawaiians what banana bread is to a lot of us.  And I started imaging how nice it would be to have a bunch of ripe mangoes laying around all the time…
I was so excited to try this recipe, until I started making it.  As I cut into my mango, I realized it wasn't very ripe.  In fact, it was barely even sweet at all.  And I only bought one mango, and the recipe calls for 1 1/2 cups of mango chunks, and I wasn't sure the 1 mango would do it.  But I persevered.  I added a little bit of extra sugar to make up for the mangoes not being very sweet, and I was just short the 1 1/2 cups, but I figured it should still work out.  And it did!!  And as much as I liked this bread, I can only imagine how good it would be with a nice, juicy, ripe mango.
This recipe is a little heavy on the spices.  I like nutmeg and cloves, but the nutmeg and cloves in this are quite strong.  I would probably cut back a bit next time, but that's all I would change!
Recipe Rating:  4.25 out of 5


Mango Bread
from The Food of Paradise
makes 1 loaf
1 1/4 cups flour
1/2 cup sugar
1 1/2 teaspoons baking powder
1/2 teaspoon baking soda
1 teaspoon ground cinnamon
1 teaspoon ground cloves
1 teaspoon ground nutmeg
1 egg, beaten
1/4 cup vegetable oil
1/2 cup milk
1 1/2 cups ripe half-inch mango cubes
Preheat oven to 350F. Grease and flour a 9×5 inch loaf pan.
Combine flour, sugar, baking powder, baking soda, and spices in a large bowl.  Stir in egg, oil and milk.  Fold in the mango cubes.  Pour the batter into the pan.
Bake in the preheated oven for 50 minutes, or until a toothpick comes out clean.  (You might have to put a piece of foil over the top if the bread is getting too dark before it is done cooking through.)  Cool for a few minutes, remove from the pan, and allow to cool completely on a wire rack.