Recipe for banana bread that is covered in a caramel glaze.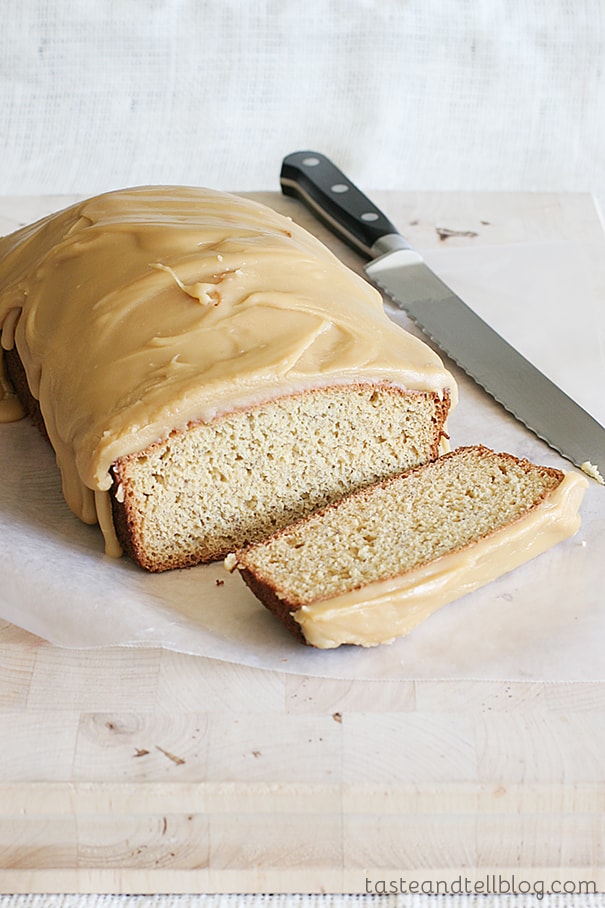 Remember back when I talked about those banana cookies? I said that sometimes I want to switch it up instead of making banana bread every time the bananas start to go brown. Well, this was another time that I happened to find some overripe bananas in my kitchen. (Is it just me or do bananas just go brown way too fast??) And honestly, I don't know where this idea came from, but the idea of caramel banana bread popped into my mind.
I couldn't get into the kitchen fast enough to make this bread that I was picturing in my head. I started with my go-to banana bread recipe, but substituted brown sugar for the white. Then, after the bread was baked and cooled, I coated it with a thick layer of caramel glaze. I won't even admit to you how much of this bread I ate. No wonder I'm struggling to lose the last few pounds of baby weight!!
Just a few notes about this recipe. Do not over bake your banana bread. There are very few things that are worse to me than dry banana bread. Also, this glaze stiffens up fast, so you'll want to pour and cover the loaf of bread pretty quickly. And it will break off a bit when you cut slices, but I didn't mind. That just meant I could snack on the little pieces!!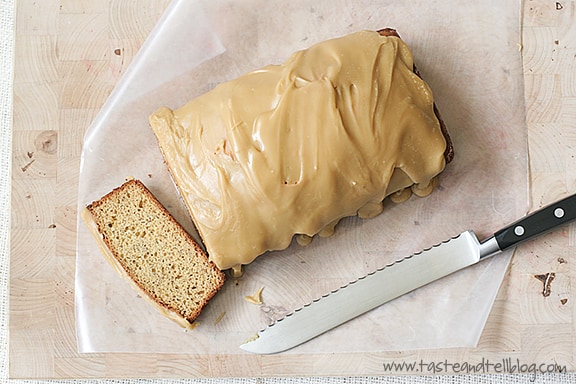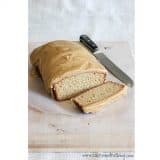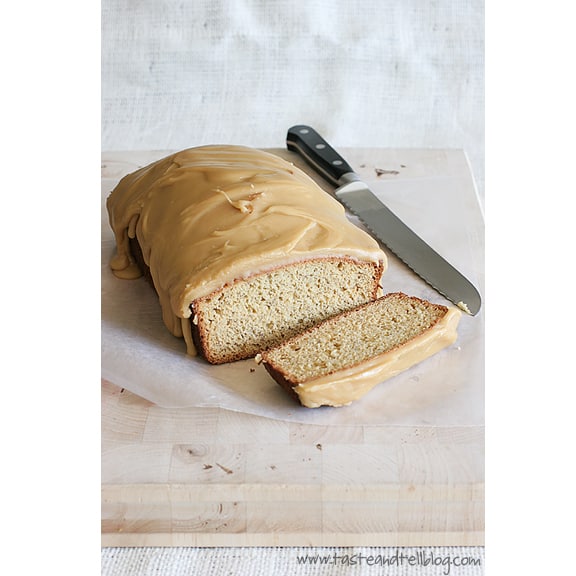 Caramel Banana Bread
---
Prep Time: 15 minutes
Cook Time: 1 hour
Total Time: 2 hours
Yield: 1 large loaf 1x
Description
Banana bread is taken to a new level with a delicious caramel glaze
---
Scale
Ingredients
for the banana bread
1 3/4 cups flour
2/3 cup packed brown sugar
2 teaspoons baking powder
1/2 teaspoon baking soda
1/4 teaspoon salt
1 cup mashed bananas
2 tablespoons milk
2 eggs
for the glaze
1/4 cup butter
1/2 cup brown sugar
2 teaspoons heavy cream
1 cup powdered sugar
---
Instructions
make the banana bread:
Preheat the oven to 350F. Prepare a large loaf pan by spraying it with non-stick cooking spray.
In a large bowl, combine the flour, brown sugar, baking powder, baking soda and salt. Mix well. Add in the bananas and milk and mix with a stand or hand-held mixer for 2 minutes. Add in the eggs and mix to combine.
Pour the mixture into the prepared pan and cook just until a toothpick inserted in the middle comes out clean, about 1 hour.
Cool completely then remove from baking pan and top with caramel glaze.
to make the glaze:
In a saucepan, combine the butter and brown sugar. Bring to a boil, then remove from the heat and let it sit for 5 minutes.
Whisk in the cream and powdered sugar until no lumps remain. Immediately pour over the loaf of banana bread.
———————————
Want more banana bread? Check out these other fabulous recipes!
Coconut Banana Bread with Lime Glaze from Our Best Bites
Chocolate Chip Banana Bread from Tidy Mom
Strawberry Banana Streusel Bread from All Day I Dream About Food